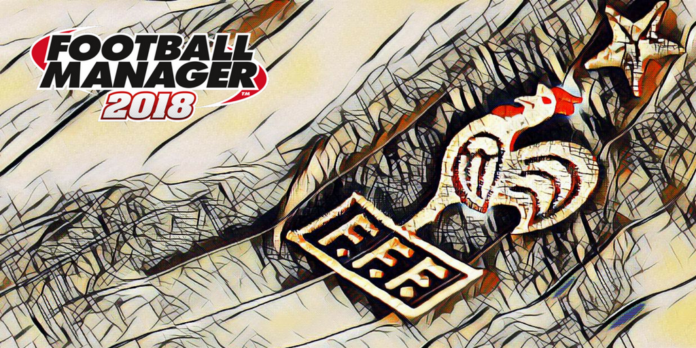 "Oh I do like to be beside the seaside, oh I do like to be beside the sea…." It's beautiful is Cannes. Don't get me wrong, I liked Brescia for the ten minutes I was allowed to stay there. I loved Mumbai, full of life and a different culture entirely. Hamburg was a bit meh. Cannes equals suntans and the higher in the league you go, the closer to the sun you get. And Cannes are getting sunburned, I can tell you".
---
THE SECOND SEASON
Not many amateur teams get promoted when playing a whole load of semi-pro sides. Not many sides end up staying amateur when they are playing in the 4th tier of a country like France, especially when there are so many "fallen giants" in the lower levels of the French game. But hey, we obviously like to be different on the Riviera. The chat with Johan Micoud about becoming semi-pro never happened and it felt like we were both avoiding having the conversation and, most likely, our first argument. I didn't want to go semi-pro where all logic suggests we probably should. But then, as ever, I have a closer eye on the purse strings than the guys actually running the club. No, I want this job to remain as difficult as possible for as long as possible and hey, I even had a plan for the second season.
I devised a new recruitment system that was fit for purpose for the CFA 2 when you are a bunch of amateurs.
I know, I know – I promised you some of my original "searching the stats" methodology but, quite honestly, I can't afford to go that way yet. You see, for some reason my scouts are so lame that they only know about 150 players in our area and 90% of them are free agents. The time it would have taken to go through every single club in Division 4 and 5 to find manually check out statistics and draw up shortlists would have been a killer. So I went this way, instead.
Automatically shortlist every single player released by a Ligue 1 or Ligue 2 club
Why? Well, according to my scouts none of them exists so I started to work on the simple logic that if PSG have released you then there is a small chance you'll probably be good enough for me at Cannes. The problem is, when you automatically shortlist about 177 players from a higher level guess how many actually want to join you there and then? One. Yes, one. And he was a goalkeeper.
How could this even work? Well, as the season got underway I was hoping that players got to the point where they'd actually rather have a club than not, so I expected some of them to appear when the shortlist was filtered by "interested in transfer". Low and behold, they started to appear as time went on and I've slowly but surely gone about improving the squad that won CFA 3.
Let's take a look at a few of them.

These were the original crew that I brought in before the season kicked off.
Cedric was brought in to play left midfield – he is ex-PSG, Red Star FC (Paris) and OB (Denmark I think) and did well in a couple of trial games.
Nico is ex-Marseilles and our new number one having displaced Montay.
Baptiste is a striker from St Etienne who actually was a bit of "StS" as he scored 8 in our division last time but had something like 68% of his shots on target in a team that finished bottom of the league.
Dylan impressed on trial, can play anywhere in midfield.
Chryst was released by Marseilles and was ear-marked for the CM/A role.
Then, as the season went on…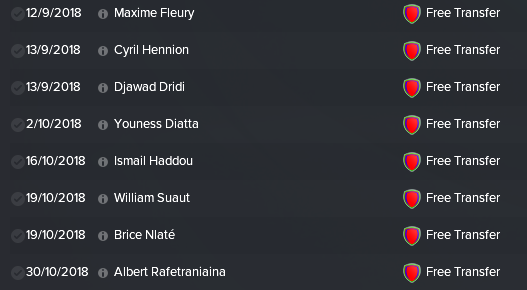 All of the above are under-22 and have been released from higher level clubs. I've started hoarding a little bit for a couple of reasons. Higher level clubs are sniffing around us as they can take our better players for nothing (part of the sacrifice I committed too internally for staying amateur). Although I prefer running a small squad, I would rather have a player at the club already as a replacement rather than have to panic recruit. The other reason is, each signing is, in theory, an upgrade on a position and even if they don't all come into the side immediately I can slowly phase them in at the right time.
We've already seen these two lads poached.

Lenzini was our best player last season and Idris was scoring for fun at the start of this season before QRM came in. Both sides are Ligue 2 so I cannot begrudge the lads move on.
To avoid the squad becoming unmanageably big I have released a few as well.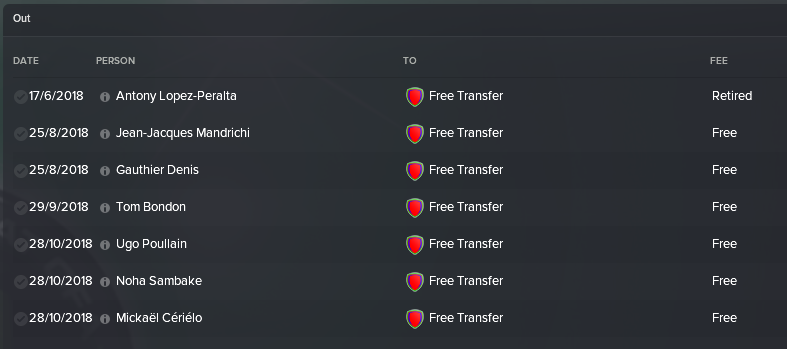 The two at the bottom were regulars last season really, but with the new talent coming in were never going to play again so it was only fair to wave them goodbye.
Something that has surprised me however – the number of my players choosing not to leave and accept a pro/semi-pro deal at a higher level club.
I am not sure if that is a good thing or not, where's their ambition?!
Let's see how the season has gone…
---
THE BEGINNING
It's probably best to provide a little context to the season.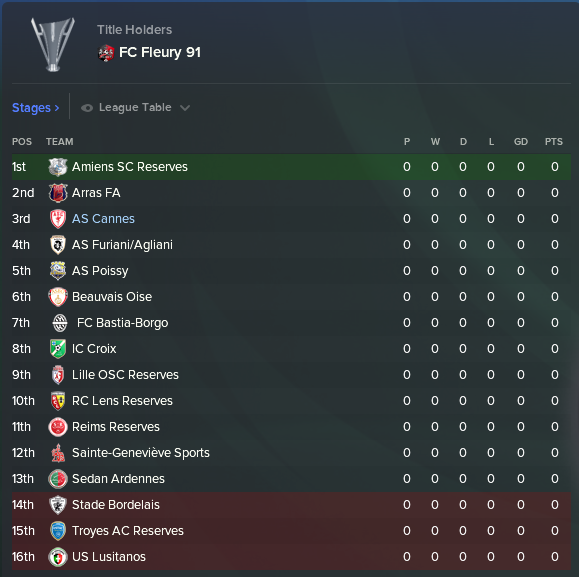 We have five higher level B teams in the league. However, the one I have my eye on is Sedan Ardennes.
They also have a proud history, not quite as proud as ours, but all the same still pretty proud. I can't believe for a second they will finish 7th.
I'm also paying little attention to the fact that those "in the know" seem to think we will finish bottom. I don't finish bottom.
Before we got underway, there was a little reshuffle in the backroom resulting with a new coach being appointed.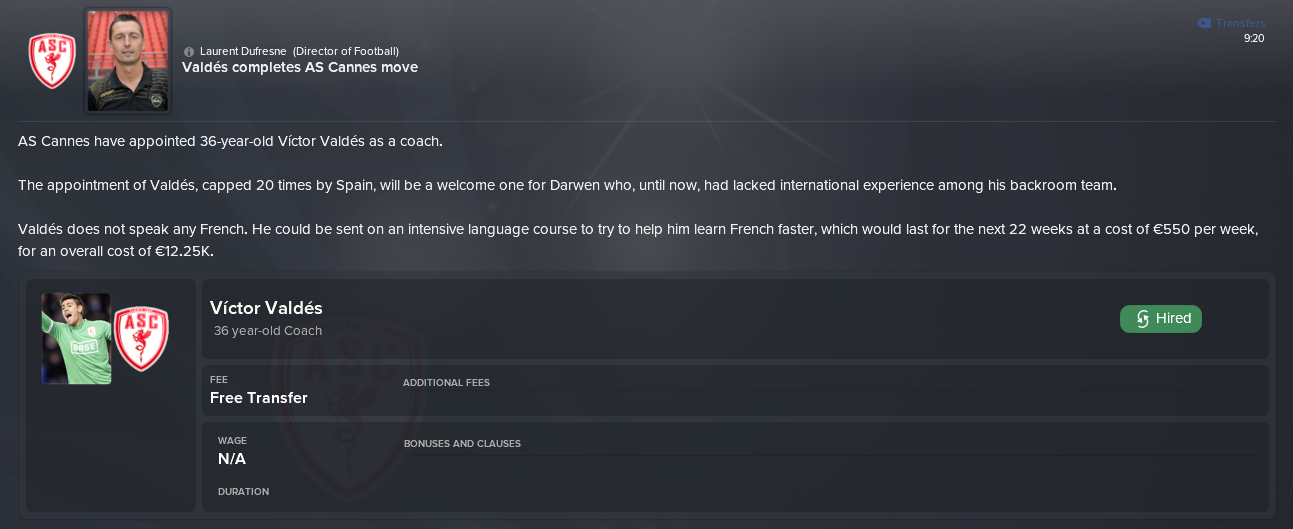 ---
THE SEASON SO FAR
We are two games shy of the exact half-way point.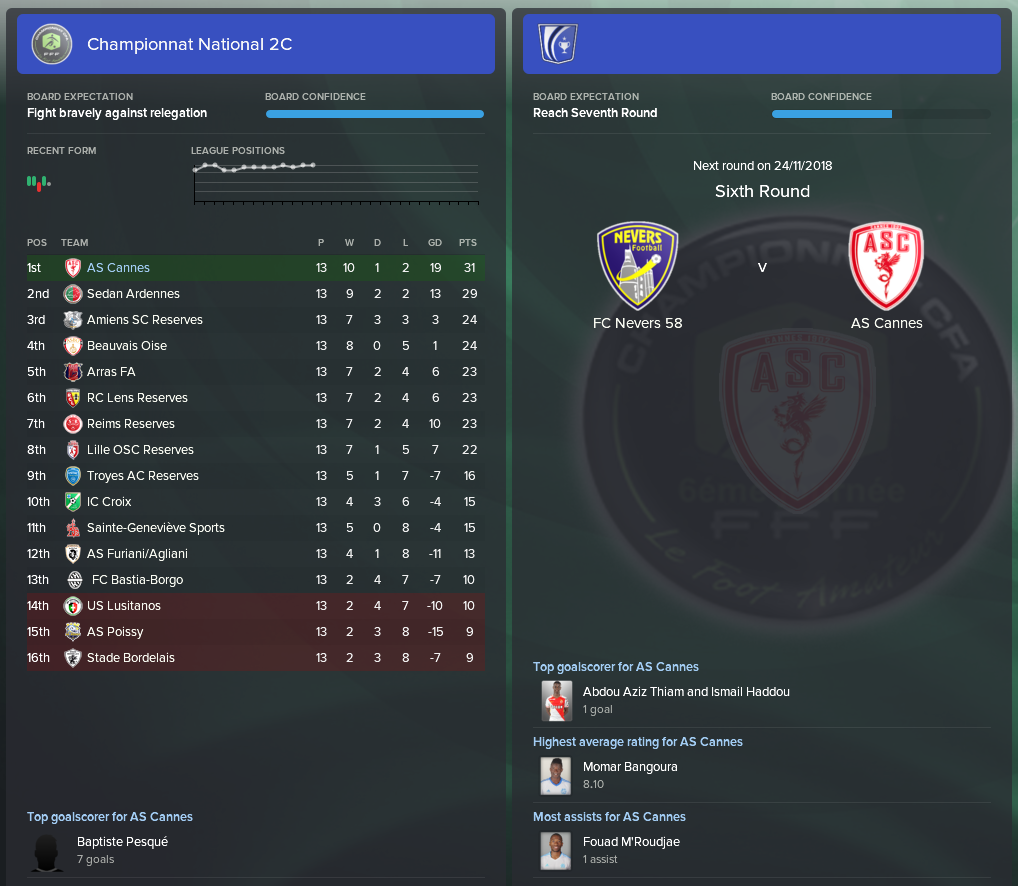 Only one team goes up, again. And it is going to be close, very close.
Sedan have a better team than us, so much so they beat us 4-2. Yet they keep dropping points when I least expect it hence us being top at the moment.
As you can see, our two defeats saw us shed four goals. The first one saw me change the goalkeeper permanently and the second saw me introduce some of the new defenders recruited. Incredibly, the left-back Carmona got dropped then got an offer from Ligue 2 which he turned down. Madness, especially as he is now sitting in the stands on match day.
The main source of goals is coming from Baptise, who is a bit of a Pesque up top, Thiam from the penalty spot and then from various corner routines. It's a bit of a mishmash right now to be honest, but it is working.
We have 17 games left – can we do it? I genuinely do not know.
---
BALANCING THE BOOKS
As you should know by now, I am running this save with two key rules – the second of which is being focused on balancing the books where possible.

At first glance, it feels like we are in better shape than we were in November of last year.
We've only lost €17k so far, which is pretty decent considering we were losing that a month last season.
Without looking, I am guessing the removal of paid staff has made a big difference.
Look at the bit in yellow – we will save ourselves €60k minimum.
The bits in red – I can't control. They are pretty much fixed costs. The youth setup frustrates me. I've asked again to reduce the size and Johan, he say no.
Scouting costs I am comfortable with, we are not going crazy – but we do have a larger scouting staff now so I will keep an eye on that.
Prize money in yellow – a top-five finish (anything less from here would be failure) delivers at the very least a €350k prize fund.
We are well on track to increase our gate receipts compared to last season as well as match day income. We pretty much doubled our season ticket income which must have meant prices went up as we didn't sell double the amount. "Other" is still a total mystery as is the random nature of grants. I think we will actually make profit this season.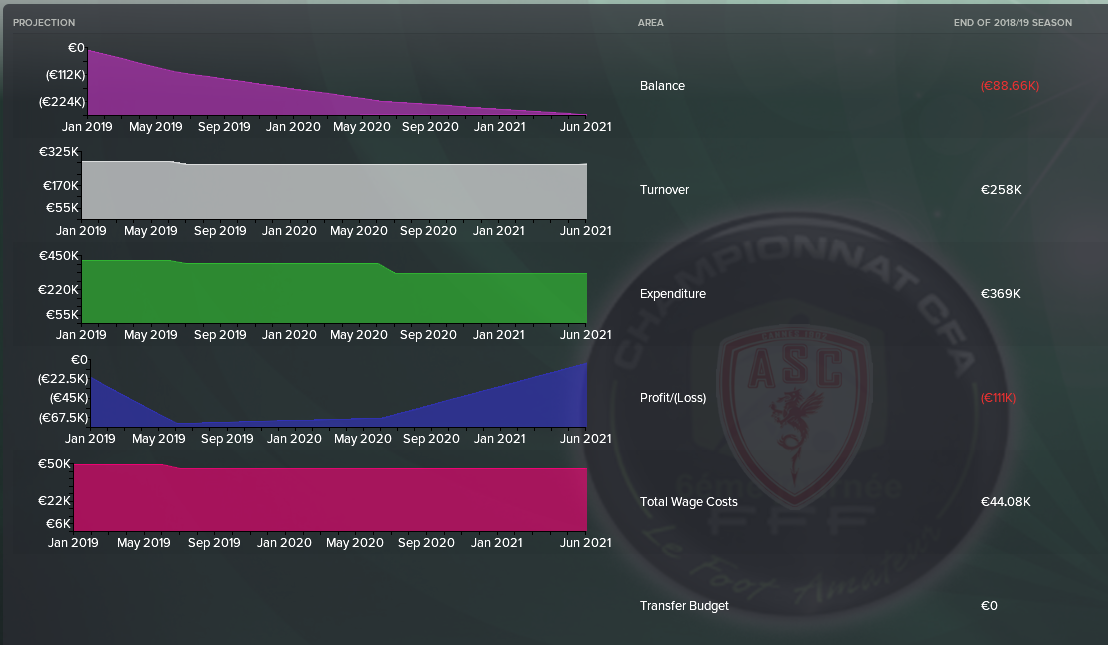 The above projection suggests we will finish €88k in the red but I don't expect that counts the €350k minimum I expect to pull in from a league finish.
One thing I need to start thinking about is the move to semi-pro. If we do get promoted, I cannot imagine we can get away with being amateur in the third tier, can we?!
Anyway, that's all for today. 17 league games and who knows what will happen!