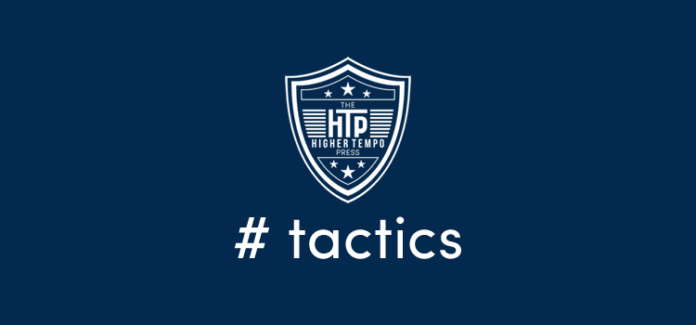 Years ago, when I was learning more about designing a website's User Experience, I was introduced to the acronym KISS – a phrase that has stuck in my mind more than most things I have learned and one that I believe is suitable in many scenarios including FM. Knowing my audience, you are reading a tactics blog on football manager so I assume you are a web designer/developer (and in a band) and you already know what it stands for. For those few who don't, it means Keep It Simple Stupid.
For me, in FM terms, KISS means 4-4-2, Big Man-Little Man up front. For me growing up near Glasgow, the first example that comes to mind of this approach is Walter Smiths' 9-in-a-row era Rangers with Mark Hateley and Ally McCoist upfront. This wasn't lumping it up and hope for the percentages football a la Wimbledon's Crazy Gang or Taylor's Watford. Rangers at the time were easily the dominant force in Scottish football and a packed Ibrox wanted entertaining football as long as the team won. And that is the thing about a Big Man-Little Man approach – watch back some of the McCoist-Hateley goals from the time on youtube – it's exciting to watch. It is also easy to recreate in Football Manager.
Hateley & McCoist:
A Target Man's Goal
To develop this tactic, I have taken over managerless Rangers on FM Touch 2018 (the tactics are available to download for full game and touch at the end).
---
The Tactic Shape, Roles and Instructions
The aim of the system is to supply the ball to the Target Man who will disrupt the opponent's defence and look to feed his poacher or get on the end of crosses himself. This, in turn, requires us to find time and space on the flanks to get quality crosses in.
The base tactic is 4-4-2, with two fullbacks, two wingers and a TMsupp/Poacher up front: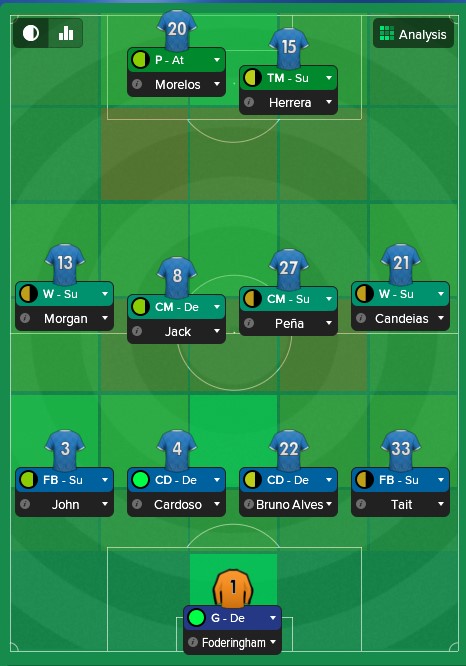 The split central midfield pair will see the CMdef drop back to cover the defensive line whilst the CMsupp will be choosey about when to go forward to support attacks – often finding space at the edge of the penalty area.
The team instructions are important here to move away from the Vanilla 4-4-2.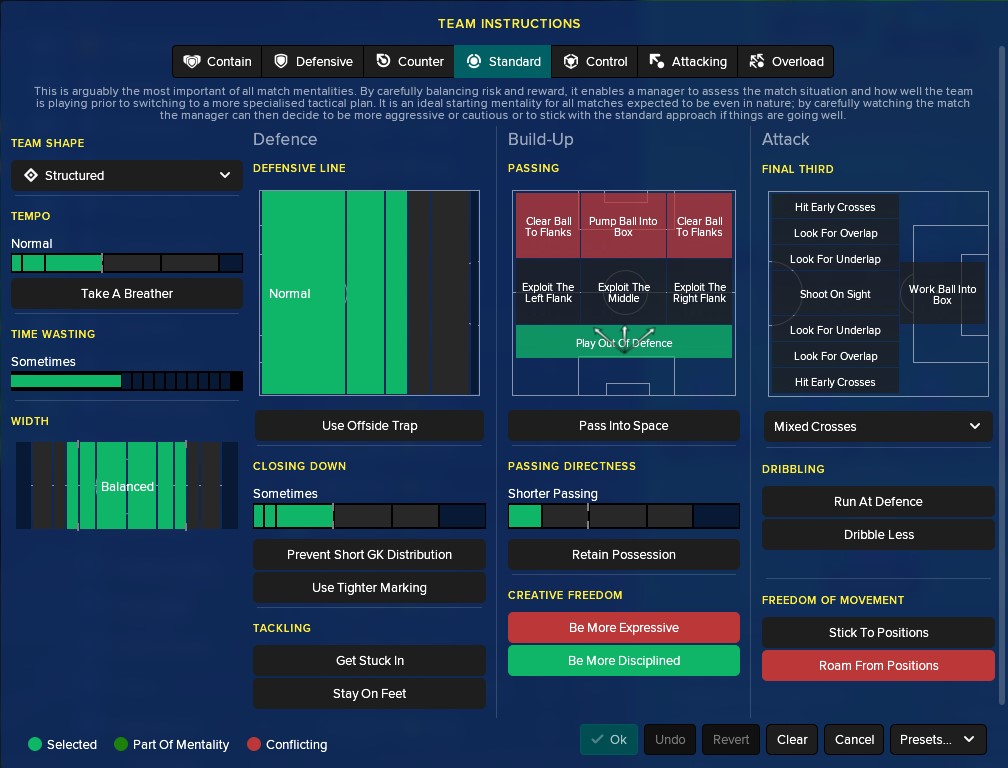 Standard mentality / Structured shape – we want a calm, unhurried approach. Anything higher than Control risks the team resorting to pumping the ball up. The Structured shape looks to stretch the game and increase the spaces between the opposition's defence and midfield for our wide players to exploit.
Play Out Of Defence / Shorter Passing – for the same reason as Standard Mentality – we want to avoid the long ball game. Crosses and passes to the Target Man should be of a high quality not quantity
Be More Disciplined – this is a tactic that has a simple, clearly defined strategy that the team needs to follow to the letter for it to work. Mavericks with your fancy-dan tricks can stick to futsal – this is Irn-Bru country.
---
Key Players Instructions
The Strikers – Poacher and Target Man
The Poacher is untouched from the game's default Player Instructions.
Nor do I change the PIs for the Target Man but instead I choose from the two variations – Support and Attack – depending on in-game scenarios.
TM Support is described as so:


The TM will drop deeper and look to play in his teammates from deeper position – usually out to the right wing – before pushing forward. This is my default option.
I like to use this to force the opponents d-line deeper. Chelsea used to use Drogba in this way. Once the TM has pushed the defence back into their own penalty area, he can cause a lot of disruption.
The Flanks – Wingers and Full Backs
This is where you earn your Tactical Genius credentials. We start the game with both flanks on support duties until it is clear how the opposition shape up. Watching the game in Full Game highlights you can see where the space is on the flanks – the aim is to get your winger or fullback in space with time to measure a cross into your Target Man.
Default Player Instructions
What you are looking for:
If opponent lines up with a fullback, is there space behind or in front of him?
Is there a covering WM or is the flank free for your fullback to push up into?
Is it a Wingback with space behind?
Is one flank more attacking/defensive than the other?
The choices you need to make:
Push your winger up using Attack mentality. He will try to get in the space behind the opp FB/WB. Even if he can't get behind, this occupies the FB – is there now space deeper to set your FB to Attack – this Watt/FBatt is great against a narrow system such as 4-4-2 diamond.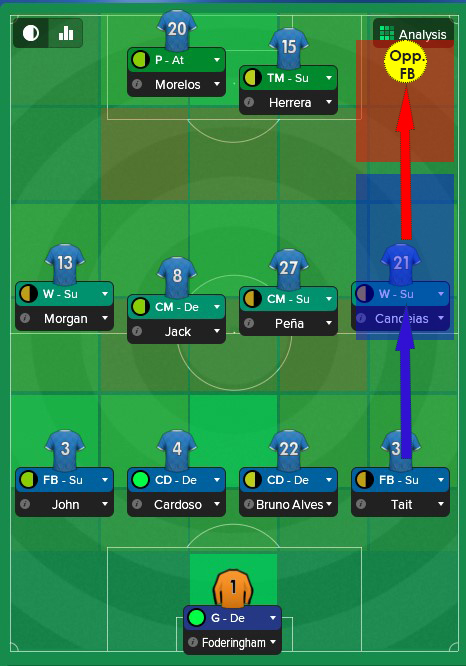 Caption: Opponents line up with a Full-Back without a Wide Midfielder, the Red shows areas the Winger on Attack will look to move into. The Blue shows space that can be exploited with Full Back on Attack.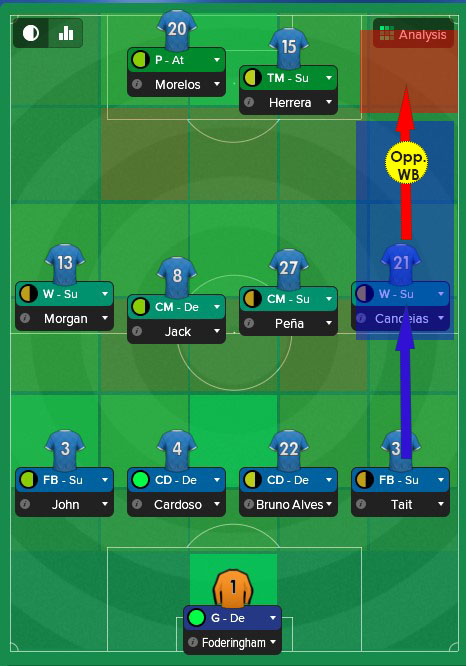 Caption: Here opponent has Wing Back so the Winger on Attack looks at the space behind. It will force the WB deeper giving your Full Back more space to exploit.
Keep your winger on Support and he will use the space in front of the FB. Useful if opposition using a WM. (NB look for opponents shape – are they fluid/very fluid – i.e. closer gaps between midfield and defence? Then the space is for the Full Back on support to cross from deep.) 
Caption: Winger on Support will operate in the Red area.
Combine Winger on Support with FB on Attack and look for overlap.
Use the Exploit The Left/Right Flank Team Instruction if you have seen a weakness that you want to exploit.
---
KISS Recruitment
The Rangers squad needed bolstering to be able to get the best out of this system. Another reason this system enables the KISS approach is it makes recruitment so much easier. The tactic needs three things:
Good crosses coming in from the flanks
A Target Man who can jump, head, pass
A Poacher who can anticipate, find spaces and finish
At the start of the game, Rangers need a Winger on the left and a Big Man upfront.
A left winger, as for most FMers in Scotland, is easy to find – bring back Lewis Morgan from St Mirren to join his boyhood club.
Herrera has decent target man attributes but is a bit more skilful at the cost to his brutishness. So I bought Scottish football's human elbow, Ryan Bowman from Motherwell. Wee Morelos will be his strike partner.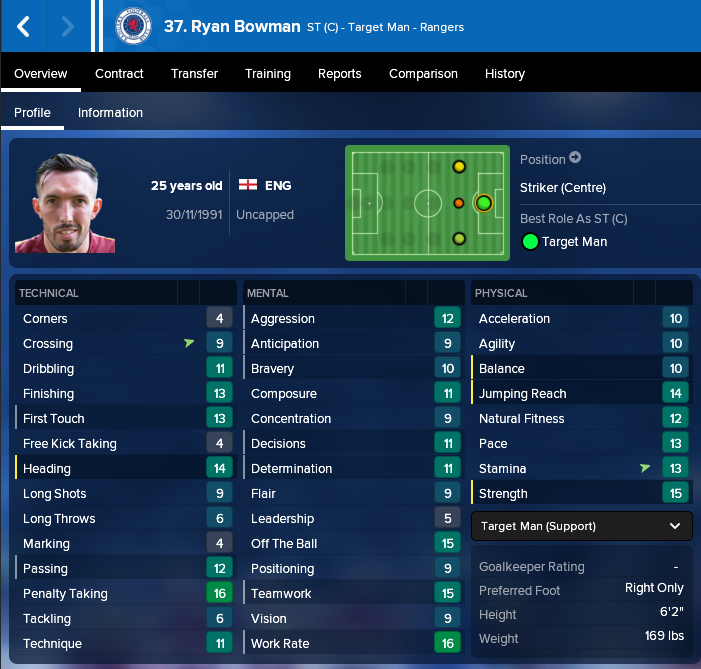 Also from Motherwell, I brought in Richard Tait to play right back as his 16 for crossing attributes are the best I could in the game and much better than Tavernier.
---
Some Experiments
For fun I ran the 2017/18 season three times with Rangers, going on holiday until May with the settings to use the Matchday Tactics and preferred first eleven (on the first two only). Experiments 1 and 2 I got sacked in February, No. 3 was third time lucky as I was still employed when the sim ended – the team won the Scottish Cup and were 2nd in the league. In Exp 1, the team were 2nd in Premiership but no Euro Cup group stage nor domestic trophies did for me. Exp 2 was poor with 4th place and no cup joy either. In defence of my simulated self, the board still have unrealistic expectations especially asking for Group Stage of the Euro Cup when the team starts in the July qualifiers!
In all honesty, its hardly surprising that I got sacked in the experiments – as I tried to emphasise above – this is not a plug in and play tactic. You need a lot of in-game management to maximise your team's strengths.
There were a few Old Firm wins in there but this was the standout games: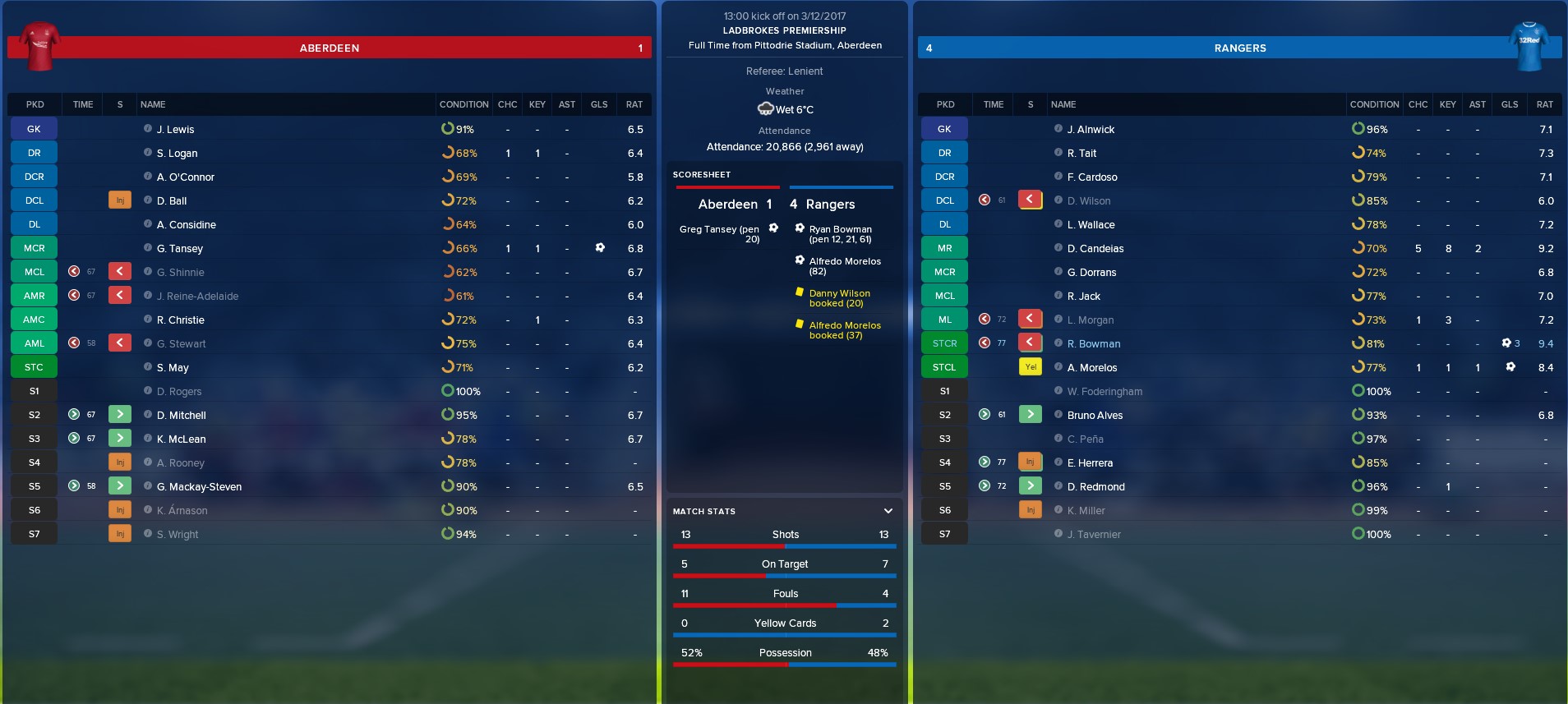 Some stats from the key players:
---
Conclusions
If you are struggling with FM 18 and your new save is going down a bomb, why not KISS. It's not as sexy as using Mezzalas and Segundo Volantes but it is a fun way to play whilst you build up game time.
Videos?
Normally I like to add videos showing the tactic in action, however, I found the highlights section of FM Touch 2018 to be HORRENDOUS. The experience of even trying to get an export was terrible but to cap it off look at what we ended up with. PS We're the team in the white 😉
So Instead here's a little video to enjoy and help remind you of KISS.
---
Download the Tactics
TMtactics-4-4-2TM-htp-base Ver FM 2018
TMtactics-4-4-2-base Ver FM Touch 2018