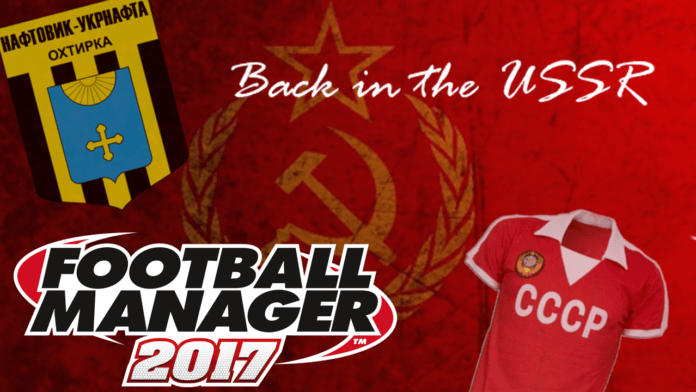 It can sometimes be difficult to think, stuck in the training shed; there's a lot going on. Trying to address our staggering lack of consistency is an almost impossible job. I decide to escape the intermittent sounds of power tools and screaming from the physio's room and the love-struck cooing of my head scout, as he watches Maxym Prykhodnoy in training, by going to the pub to think about how to change things.
Our next opponents are Desna. Rather worryingly, they're third in the league and we've just shipped four goals in one ludicrous 45 minute spell. I'd like to rely on my trusted ultra-defensive-give-them-nothing formation, but the last match proved that it's utter bollocks.
I stick with it none the less, mostly because, at the pub, I ended up just drinking and crying in the corner, rather than doing anything with the tactics but also because there's basically nothing I can do to improve it. The team remains largely unchanged too, Pasich is back from injury and I'm just hoping that the last week spent on the training ground, screaming at them to stop the ball going into the sodding net has made any difference.

No, no it hasn't.
As soon as the game begins Desna swarm forward and my startled defence stare helplessly towards the bench, pleading for some advice. My frantic instructions are only effective for 10 minutes. The defence switches off, leaving Kartushov unmarked at the back post. He makes no mistake, unlike my back line – the cretins.
After half time, I try to switch things and get back into the game. We go to 4-4-2 and play more attacking but it makes no difference at all, we manage just two shots on target. Things are so bad that not even Yuriy can spark us into life.
After the limp display against Desna, we need something to boost morale, a simple game in which we can dominate and score some goals. Poltava at home could provide just what we need, they're rock bottom of the table having won only once this season. We've lost Prykhodnoy to injury for three weeks, which is a bit of a blow, but Cherniy is an ample replacement.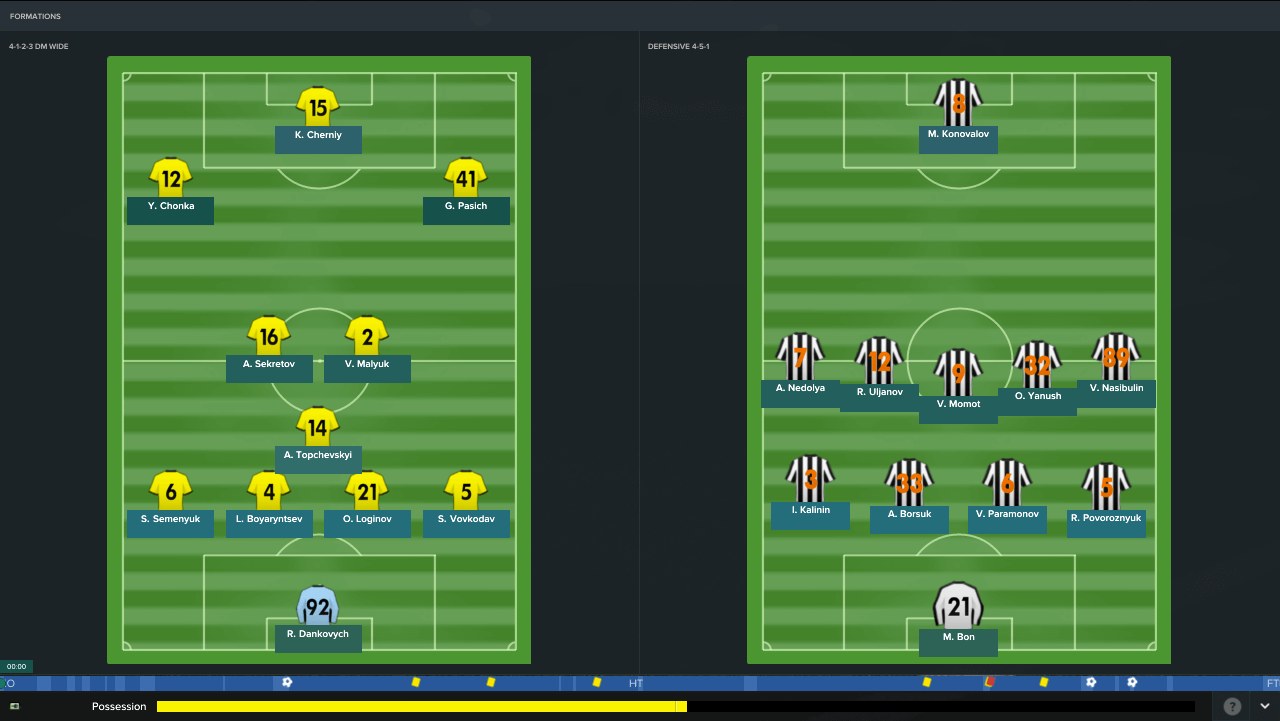 Well, that was bloody ridiculous. We dominated them from the start; by the 12th minute we'd had 4 shots on target. We had shots on target! By the 22nd minute we were ahead; Chonka's shot got deflected into the path of Vokodov, whose beautiful cross was smashed home, on the volley, by Cherniy. We were looking comfortable, composed, some might even go as far as to say classy.
Then, in the 72nd minute, it all came crashing down around our ears. Sekretov picked up a second yellow card for a moronic trip on one of their players and we were down to ten. We do not do well with ten men.
Eight minutes later Momot was played through and his shot sailed easily past my useless 'keeper, three minutes after that, Nedolya thumped a speculative effort at goal from about 20 yards which my idiot goalkeeper dived over and they pick up their second piggin' win of the season. I'm so angry, I leave my assistant to talk to the players and go to have a drink and a lie down.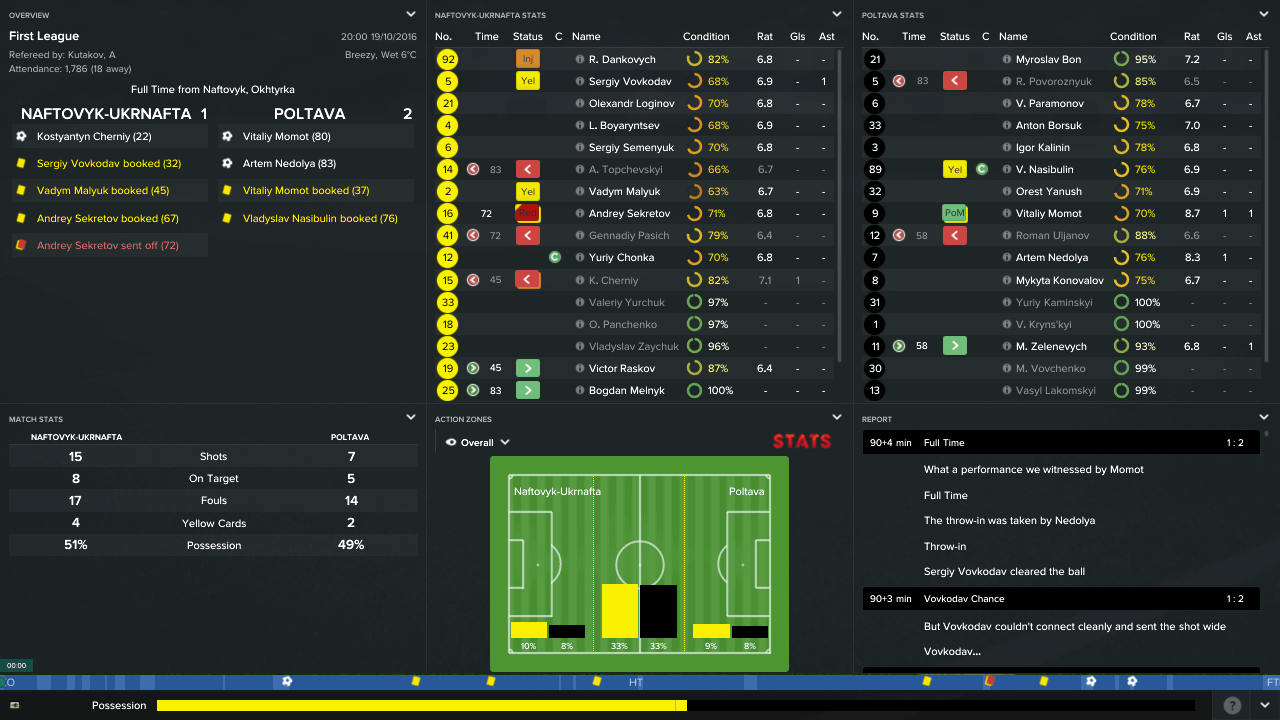 I fine Sekretov two week's wages; he's annoyed, but I don't care. The idiot.
We have to bounce back. A game away at MFC Mykolaiv is our next chance. It's only a two game break between the games and my boys are knackered.  They're just going to have to suck it up and get on with it. My days of pandering are over.
I get aggressive in the team talk; plates of chicken wings are thrown against walls. I order a pot of tea to be brought in just so I can fling it in the direction of the players. Get out there and win, you utter pillocks.

Well, maybe this lot are a fan of the tough love.
With the scolding tea still seeping through their shirts, we rocket into an early lead. Pasich's low cross from a cleared corner falls to the feet of Rastov and he slammed it home from 12 yards. A goal up and we looked in control. Sure, there are a few hairy moments, but nothing that threatens us particularly. Then, in the 25th minute, guess who rises highest to head home a Semenyuk cross? That lovely angel Yuriy Chonka. Is there anything he can't do?
I'm a lot calmer at half time and the second half is a pleasingly quiet affair. Dankovych is called upon to make a couple of saves but really, we look very comfortable and after they have their right back sent off, there was never any doubt. Thank goodness, we needed that.
Tough love seemed to do the trick. I'm off to polish my knuckle duster. Wait…that sounds…oh never mind.
Like what you read? You can follow me on Twitter. Even if you didn't, why not follow anyway? You can always just hurl some abuse. You can also read the same piece again on my site The Mazy Drivel it'll have more content one day.
This blog and the decision to head into the unknown was, in part, due to YouTuber Cultured Left Foot's NK Maribor series