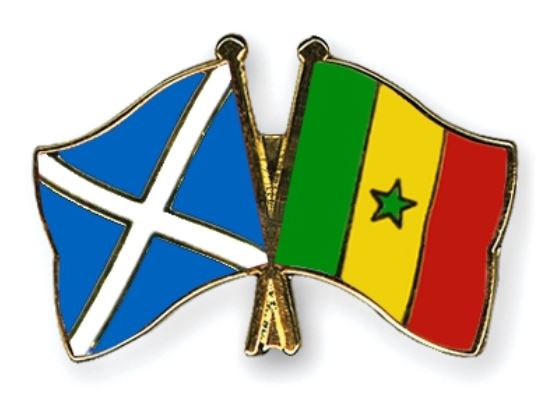 Welcome back to What About Scotland? One stat has plagued Scotland for many years – they've never made it out of the group stage of a major tournament. If they're going to manage that here in the 2002 World Cup, they need to beat Senegal. Can they do it? Let's find out with this (not) live text.
We're here in Seoul, South Korea for Scotland vs Senegal. Despite Scotland's first group game being in Japan, they've made the trip to Korea for the second group game. Senegal played in this stadium during their 1-0 defeat to India, will that be a factor? From a Scottish point of view, you'd hope not. Let's take a look at today's lineups.
A trio of changes for Scotland – Matt Elliott for Lee Wilkie, Craig Burley for Colin Cameron and Russell Anderson for Jackie McNamara. Robbie Winters is injured and is replaced on the bench by the uncapped Jim Paterson.
Meanwhile Senegal opts for a good old fashioned 4-4-2.
Here's a reminder of the predicament these two sides find themselves in after their opening round losses
With everything to play for, this is almost an eliminator. The teams are on their way out for the anthems, and then we'll be getting this one underway.
KICK OFF – Scotland, back in traditional blue, kick us underway
4 mins – GOAL FOR SCOTLAND! Scotland 1 – 0 Senegal (Barry Ferguson)
What a start! Russell Anderson justifies his selection with a powerful run down the right, beating Sarr in a foot race before sending over the perfect cross for the arriving Barry Ferguson to head home. Goalkeeper Tony Sylva came for the ball but got nowhere near it making Ferguson's task all the easier. The captain leads by example!
9 mins – Senegal are trying to regain their composure and they manage their first effort on goal, the hilariously named Fary striking a left footed volley straight at Rab Douglas.
14 mins – Senegal are a growing force in this game. Vie Diope goes on a mazy run, beating Matt Elliott worryingly easily before skipping Barry Ferguson. He then digs out a cross for that man Fary again but his header is into orbit. Worrying though for Scotland.
20 mins – That's better from Scotland. McPhee and Kerr combine well outside the box giving Kerr a yard of space to whip a cross in. Steven Nicholas gets his head to the ball but it's very wide. It's one of those where you think it's gone miles over at first but when you see it back, it just went really far wide. An awful header.
26 mins – Diope's on the run again, but he gets taken out by Matt Elliott. No card but a dangerous free kick. Ismael Bah lines it up and that is just awful, wayward doesn't cover it.
31 mins – This has been a much more ragged game than the Italy game, as you might expect. Neither of these teams are particularly good…plenty of endeavour but not much quality. At least Scotland lead.
35 mins – GOAL FOR SCOTLAND! Scotland 2 – 0 Senegal (Stephen McPhee)
He's done it! After lighting up Scotland's qualifying campaign, it's now 7 goals in 7 caps for Stephen McPhee. He owes a debt of gratitude to Mark Kerr though, Kerr goes on a great run before dinking a ball over the Senegal defence for McPhee to run onto. The striker takes a touch, sets himself and smashes the ball into the roof of the net. No danger of offside, and breathing space for the Scots.
38 mins – Senegal will be kicking themselves, they've had a lot of the play since Scotland's opener but they find themselves two goals behind now. They want a penalty here after Ferguson's tackle sends El-Hadji Diouf sprawling to the ground, but the referee Zoltan Toporan is unmoved. Diouf takes it in natural good grace.
42 mins – Another Senegal chance, this time Sarr takes aim from the edge of the box with a quickly taken effort which Douglas claws away. Clever effort.
45 mins – GOAL FOR SCOTLAND! Scotland 3 – 0 Senegal (Craig Burley)
Wow where did this come from? The game is drifting towards half time before Craig Burley picks the ball up 25 yards from goal. Burley takes aim and the ball nestles in the bottom corner. Tony Sylva is livid about something, maybe that he couldn't see? Or maybe that nobody got in the way of Burley's effort. Such a soft goal. Scotland don't care.
The board goes up for 2 minutes of added time. The Tartan army haven't noticed.
HALF TIME – Scotland 3 – 0 Senegal
Well, that's a decent half for Scotland.
The half time stats are fairly even – to be honest, it has never been a 3-0 game, but Scotland have been ruthless whilst Senegal haven't.
Unsurprisingly the Scots have rated highly, whilst Senegal's goalkeeper has a measly 4 after not saving a single shot.
Senegal, you'd think, will have to come out fighting. If they lose, they are as good as out. They would need snookers to stay in assuming Italy beat India later today, and they would definitely be eliminated if that match is a draw.
KICK OFF – Senegal get the second half underway.
47 mins – As predicted, Senegal have had the Senegalse equivalent to the hair dryer treatment. Diope whips a cross in that Fary heads wide under pressure from David Weir. It's not been his day.
51 mins – Good grief how has this stayed out? Ismael Bah skins Naysmith down the Scotland left and crosses for that man Fary again. This time his header is on target and parried by Douglas. Diouf is on the scene read to tap in before Mark Kerr slides from nowhere and blocks it. The ball gets stuck under bodies before going out for a corner. Big let off.
54 mins – DISALLOWED GOAL
Senegal do have the ball in the net but the offside flag preserves Scotland's clean sheet. The resulting corner after the goalmouth scramble  is headed away by Elliott but sent back in from Diope. Ismael Bah heads in and picks the ball out the net to get the game restarted, but is stopped in his tracks by the offside flag. It's a correct decision too.
59 mins – Bah again, this time from considerably further out. Douglas saves it low down, well held.
63 mins – Finally some possession for Scotland, taking the sting out of the game and edging closer to the end of the game.
68 mins – SUBSTITUTION
Senegal make a change, with Salif Diao subbed for Aliou Cisse of PSG.
74 mins – SUBSTITUTION
That first sub has made no difference, let's see if this makes any difference.  Omar Daf replaces Lamine Diatta. Diatta has had what is commonly known as a shocker.
77 mins – Scotland are very good at killing a  game. They've barely crossed half way in this half. They haven't needed to, to be fair.
79 mins – SUBSTITUTION
TRIPLE CHANGE! David Black takes the opportunity to freshen up his team for the last 10 minutes. It's Kerr, McCann and Naysmith off, replaced by Paul Rudden, Colin Cameron and Jim Paterson, who is getting his first cap.
80 mins – Now then, free kick for Scotland about 30 yards out. Barry Ferguson curls it over the wall and Silva makes a decent save, tipping it around the post for a corner. The corner is dealt with.
84 mins – The attendance is 64,647. Another canny turn out.
88 mins – The sponsors have seen enough, they've awarded Craig Burley man of the match. He's barely misplaced a pass and his goal was well taken. It's been a strange game.
89 mins – GOAL FOR SCOTLAND! Scotland 4 – 0 Senegal (Steven Nicholas)
Icing, meet cake. Cake, meet icing. Barry Ferguson feeds a ball down the line which Nicholas runs onto and fronts up the defender. A shimmy sends the defender for a hot dog and Nicholas curls the ball past Silva. Four!
90 mins – 3 minutes of stoppage time are indicated. It's been a good day for Scotland, their fans here in Korea are having a wonderful time.
92 mins – GOAL FOR SENEGAL! Scotland 4 – 1 Senegal (Diope)
Late pressure from Senegal and it finally pays off. First Diouf volley miles wide, and then straight from the resulting goal kick Fadiga finds Diope in the box but Douglas tips his shot away. Not to be put off by being 4-0 down in injury time, Bah takes the corner short to Diope who skins Rudden and David Weir before smashing his shot into the net. It's a great goal, worthy of winning a game. But it won't.
FULL TIME – Scotland 4 – 1 Senegal
What a win for Scotland. Let's see that in scoreboard form
But really, it was quite a tight game.
Senegal's defence and goalkeeper will have a lot to answer for, especially the goalkeeper.
All of that though and Scotland still sit 3rd, for reasons I don't really understand. Presumably something to do with India having only played once? Who knows, but I suspect Italy will beat them and leave us with an India vs Scotland shoot out next week.
Scotland now head back to Tokyo for that match, which is again tremendous scheduling  but Scotland won't mind if they can find the all important win. There is a scenario where a draw will be enough, but that will require Italy to beat India by a greater margin than the 2-0 they beat Scotland by last week. You'll want to keep an eye on our twitter for news of how that game plays out, plus any news from the Scotland camp ahead of the India game. We'll see you here for that!