Our journey through FM23 tactics continues today as we review the Joseph 3-5-2 by JosephVy. I have to say, before I stumbled across this tactic on sortitoutsi.net, I had never used a tactic by JosephVy, but after the results, I got from this tactic, I will be sure to check out more of their tactics available from Sortitoutsi.
The conditions of how I tested the tactic
I started this save with the original Everton squad, no transfers or tweaked were made to the squad. Any regular readers will know my thoughts on the Toffees squad and its limitations. I didn't think this tactic would work well with the available players.
In the test, I holidayed an entire season, with Everton predicted to finish in 16th place. It is fair to say we overachieved using this tactic, as we finished 3rd place in the Premier League table.
How was the tactic set up?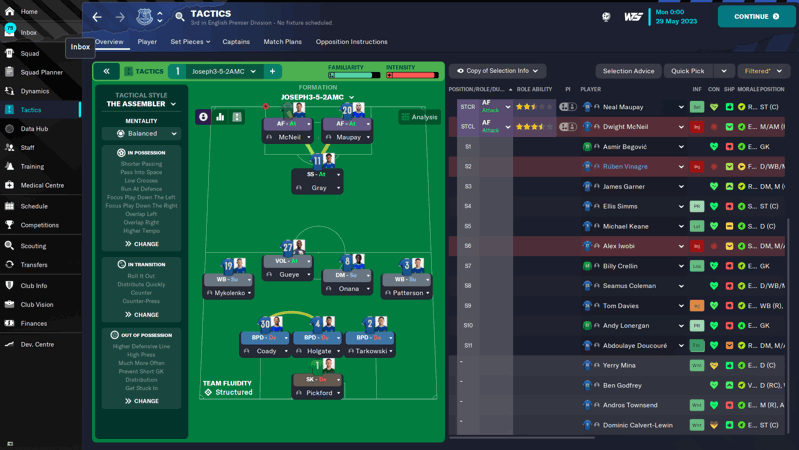 The creator went with a sweeper keeper in goal, with three ball-playing centre-backs on defend, flanked by two wing-backs on support. Alongside the wing-backs was a defensive midfielder on support, with a Volante in a slightly advanced defensive midfield position.
The main attacking roles were a shadow striker on attack supporting two advanced forwards, who were also on attack.
How did the tactic perform?
Looking at the tactic, it seems very solid defensive and has a nice balance to it, which is what many FM players are looking for in their tactics, including me, as it seems to be the key to success in FM games.
The fact that we finished third in the table with Everton says it all about the tactic. The team performed superbly in the English top flight, breaking a club record for points achieved in a Premier League season by accruing 76 points, compared to the old record, which was 72 points.
Only eventual champions Liverpool won more games than us in the English top flight, as we recorded 24 victories. Our goal difference of 30 was also bettered only by the Reds and was a highly impressive outcome for the available players.
Defensive-wise, we conceded the most goals in the top six, but that wasn't by much, as most teams that finished around us conceded around the same number of goals, apart from Everton's pesky neighbours from across Stanley Park.
Home and away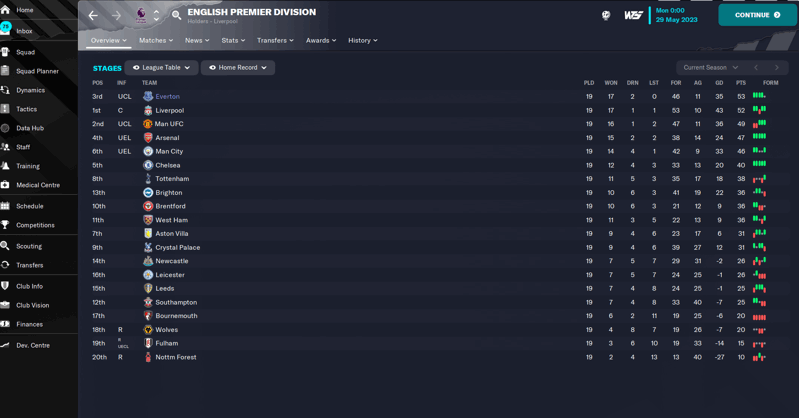 One interesting thing to note was that we were formidable on home soil, as we won 17 of our 19 Premier League matches at Goodison Park while remaining unbeaten. Not even champions Liverpool could match that unbelievably good home form.
The away form was not the best, but it was still the seventh-best in the Premier League, so it wasn't like we were awful on our travels. However, we did finish the campaign with a minus-5 goal difference away from home, which was a disappointing result compared to our home goal difference of +35.
What these stats suggest when put together is that this may well be a tactic that is better used at home than away. However, I have used this tactic occasionally on my personal save, and I have to say it has worked pretty well at home and away. That may be because the quality of my squad is far superior to Everton's at the start of this save.
Who were the best performers?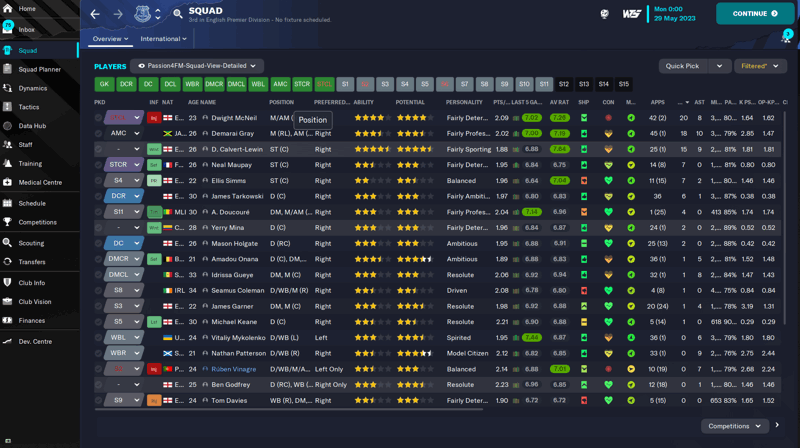 This formation brought the best out of a few of Everton's players. One of our old favourites from our Everton saves in the past has been Dwight McNeil. Despite playing most of his career as a wide player, the former Burnley man played most of the campaign as one of the advanced forwards in this formation.
His performances were admirable, as he scored 20 goals and produced eight assists, picking up an impressive 7.26 average rating for the season.
Shadow striker Demarai Gray didn't finish far behind McNeil in the scoring charts, scoring 18 times and producing ten assists while picking up a solid 7.19 average rating over the season.
Everton's injury-prone star striker Dominic Calvert-Lewin managed 26 appearances in which he scored 15 goals and produced nine assists. The England international also achieved the highest average overall rating of the season at an impressive 7.64. His form attracted the interest of German giants Bayern Munich, but with the 'reject all offers' instruction on, the former Sheffield United player stayed at the club.
Backup forwards Neal Maupay and Ellis Simms weighed in with a respectable seven goals each, which wasn't a bad return considering they made 14 and 11 starts, respectively. Centre-back James Tarkowski also scored six goals and even picked up an assist.
When it comes to assists from other players, only Demarai Gray could better wing-back Nathan Patterson's record of nine assists for the season. Idrissa 'Gana' Gueye also produced eight assists from his role as a volante in midfield. Left wing-backs Ruben Vinagre and Vitaliy Mykolenko also managed six assists apiece.
The fact that the wing-backs produced so many assists show just how important they were in making this formation a success. Without wide forwards, they provided the team's width and attacking threat from wide.
It would be interesting to see how this tactic would work with a team like Chelsea, with attacking full-backs/wing-backs like Ben Chilwell or Reece James. Maybe that's a test for another day, though.
What is our conclusion?
This may be the most successful tactic we have tested so far when the Premier League's final league position is considered, especially the extraordinary home record. This is a tactic that I will definitely be using in future saves.
I believe that with players better suited to this tactic, it could be extremely successful at any level of the game. I highly recommend that anybody use this tactic, especially if you have players that suit the system.
Have you ever used Joseph 3-5-2AMC by JosephVy, and if so, how did it go for you?