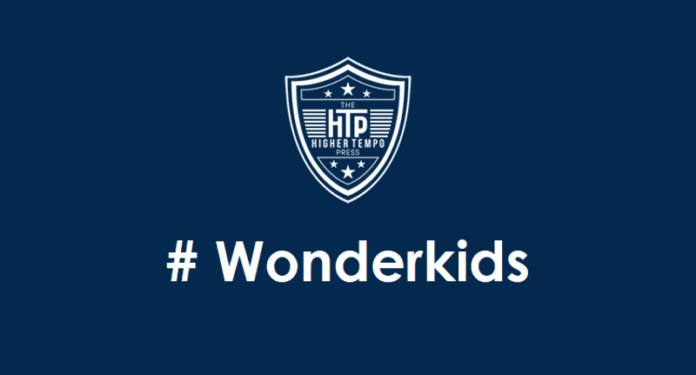 We all love Football Manager, and one of the game's best aspects is picking up that gem of a young player and developing him into a true world superstar. These players can sometimes come straight into your team and make an impact, depending on your starting club. Alternatively, they may be loaned out and come into your team at a later date.
Here are some of our favourite FM 23 wonderkids who will save your club money or you're your team's season:
Please note that we have omitted Brazilian wonderkids. There were so many that we wrote a separate article, which can be found here.
Antonio Silva (Benfica, centre-back)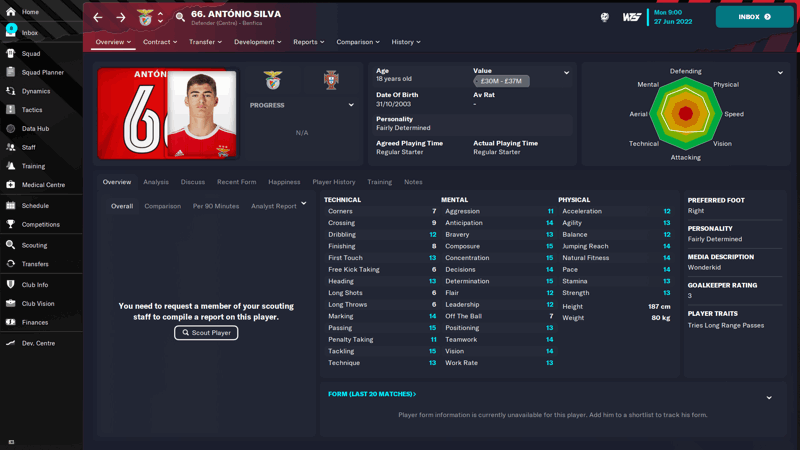 The Portuguese centre-back is not one of the cheapest wonderkids on our list. However, he can be picked up for around £30m if you have the cash, he is well worth it. He starts the game as an 18-year-old with lots of potential and encouraging initial stats, especially those vital defensive attributes.
By the time he reaches his early twenties, on many of our saves, he is one of the best centre-backs in the world and can play for virtually any team. He doesn't need much development, often, just playing first-team football in a decent team in one of Europe's top five leagues can help him develop into the player he is destined to be.
Martin Baturina (Dinamo Zagreb, central midfielder)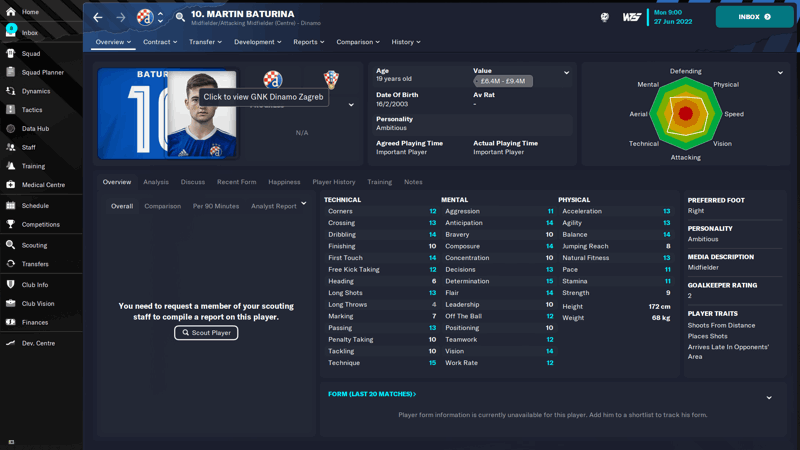 Baturina is 19 at the start of the game and is, for us, one of the bargain buys of any save. He can be picked up for less than £10m from Dinamo Zagreb, with a sell-on fee also included, as his club are obviously aware of his potential.
His starting stats are decent, but the key ones needed for a midfielder, like technique, composure, first touch and passing, are all there even at the start of the game. His versatility also adds extra value, as he can play virtually anywhere in midfield and on either wing. That versatility is often vital, especially if you want to use different formations during your save.
We have found him most effective in a central midfield role, where he regularly gets in double figures for goals and/or assists. Baturina is the sort of dependable player that can be in your team for a decade, playing in the best competitions in the game and still be a big influence.
Roony Bardghji (Kobenhavn, attacking midfielder)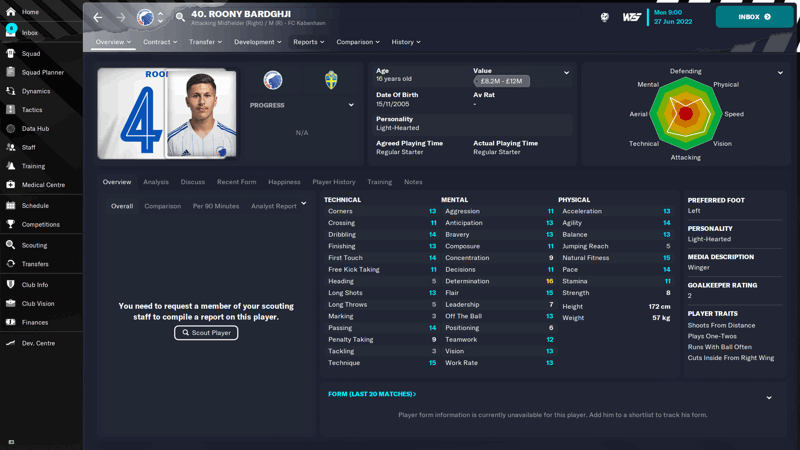 The versatile Swedish attacker may well be the bargain of the game when it comes to pound-for-pound value. The winger can often be picked up for under £10m at the start of the game, as he is just 16 years old.
As you would expect for a player of his age, his stats are not the best. However, some standout stats set him up to become a top attacking, such as good flair, technique, passing, off the ball, finishing and first touch.
By the time Bardghji reaches 17 or 18, we have found that he is often good enough to be part of a first-team squad at a mid-level Premier League club. At first, maybe as an impact substitute before developing into a star player in years to come with the proper development. Like Silva, it doesn't take much for the Swedish star to fulfil his potential.
Bardghji's position is listed as right-wing or right-sided midfielder. However, he usually develops into a player that can play on both wings, in the number ten role or even as a central striker. In all, he is a must-buy for any self-respecting FM 23 player.
Anatoilii Trubin (Shakhtar Donetsk, goalkeeper)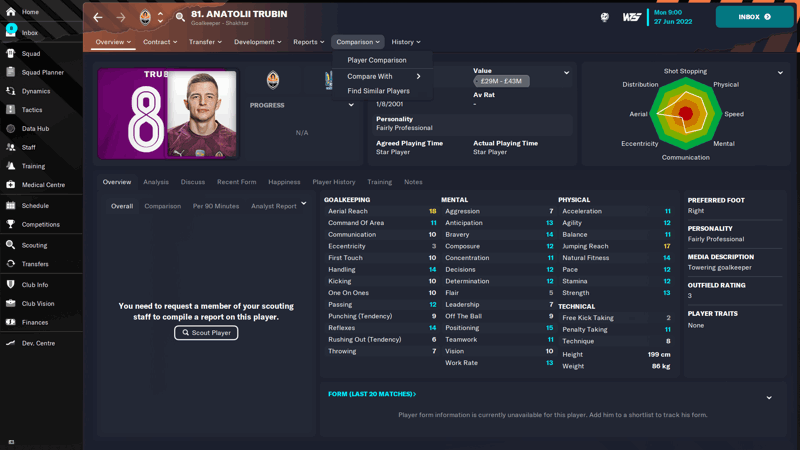 As we often play Everton saves, we have the conundrum of what to do with first-choice goalkeeper Jordan Pickford, whose contract expires in 2024. Although England's number one is pretty reliable, he often agitates for a move on many saves, unlike in real life, where he seems very settled on Merseyside, having signed a new contract with the Toffees.
That means bringing in a new goalkeeper very early in your save. In our last save, we turned to Shakhtar Donetsk youngster Anatolii Trubin in the second summer transfer window. At the start of the game, the Ukrainian goalkeeper is just 20 years old.
However, for such a young player, he has excellent stats, can come into your team at Premier League level, and develops into one of the best goalkeepers in the English top flight by his mid-twenties.
We picked him up for around £20m in the last save, but he can cost up to £30m, which sounds a lot for a young player, but he can be your starting goalkeeper for a decade and a half. His reliability means it's a position that you don't have to worry about for a long time.
Alex Scott (Bristol City, midfielder)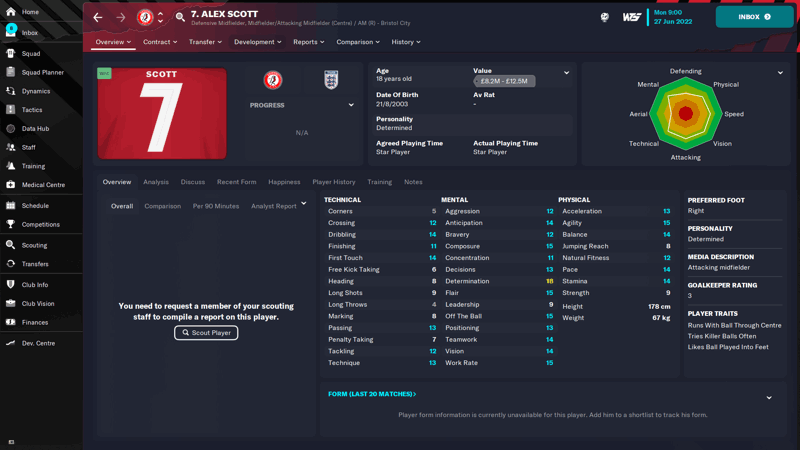 When the game begins, Scott is just 18 years of age, but the potential is there for all to see when you look at some of his key stats.
He is that rare animal of a midfield player who works hard and is technically gifted too. That is illustrated by his technique being 13, but his work rate is 15, and his teamwork is 14. These stats combined give him the potential to become a truly top player.
During the game, Scott's attributes quickly rise, and if he stays with the Robins, he becomes a standout player. However, he doesn't usually stay with Bristol City for long, as a Premier League club usually snaps him up in the first few seasons.
The likes of Liverpool and Manchester City have been known to sign the midfielder early in saves, so you have to be quick if you want to snap up. His fee is usually between £10-15m, with a likely sell-on fee due to his big potential.
Like many on this list, the young midfielder is versatile. He can play as a defensive midfielder, a central midfielder or an attacking midfielder and be comfortable on the right wing. Although he can play in many positions, we have found he excels in an attacking role more than a defensive one, as his attacking stats are good for a player of his age.
Let us know via our socials your favourite FM 23 wonderkids