Our latest tactic that we have tested out is a striker-less tactic, which in all honesty, in the past, I have not usually been a big fan of. I always thought of it as slightly cautious or defensive. That was maybe my tactical ignorance coming to the fore.
However, in recent years I have found out that nothing could be further from the truth. If you set up your team in the right way, your team can be devastating in attack and very solid in defence too.
With that in mind, we tried the Legendary Phoenix FM 23 by Babemocni1988, and I must admit it worked out pretty well.
The Legendary Phoenix FM 23 by Babemocni1988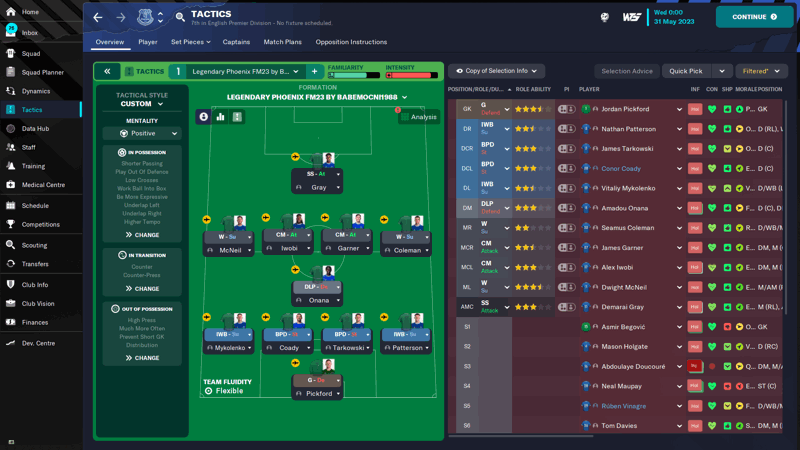 I have to say I am not familiar with the work of Babemocni1988, but his quest was to find a formation that produced good defensive results as he was frustrated with his team's defending in FM23. He managed this and produced a solid defensive tactic that also performed well in attack.
The tactical set-up
The formation is a 4-1-4-1, but the most attacking player is a shadow striker instead of a conventional forward. The defence is set up with two inverted wing-backs on support and two ball-playing defenders on defend.
In front of the backline is a deep-lying playmaker on defend. The midfield consisted of two wingers set on support and two central midfielders on attack supporting the shadow striker, who was, of course, on attack. This formation made the team relatively solid.
The crucial players in this formation when it comes to attacking play were obviously the two central midfielders, who got forward and aided the shadow striker, who was the main goal threat. Judging by the numbers (please see below), all three did an excellent job.
How did it fare on our test?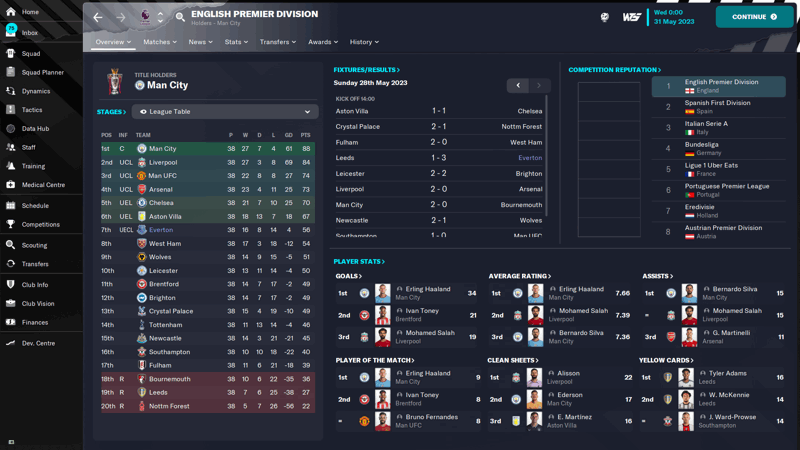 This formation helped Everton overachieve in the Premier League during a sim of the 2022/23 season. The Toffees were predicted to finish 16th place in the table, as, to be frank, they don't have the most incredible squad in the game.
This tactic worked well, as Everton doesn't have the best forward options if Dominic Calvert-Lewin is unavailable, which is quite often. With this formation, Everton finished seventh place in the table and earned a place in the Europa Conference League spot.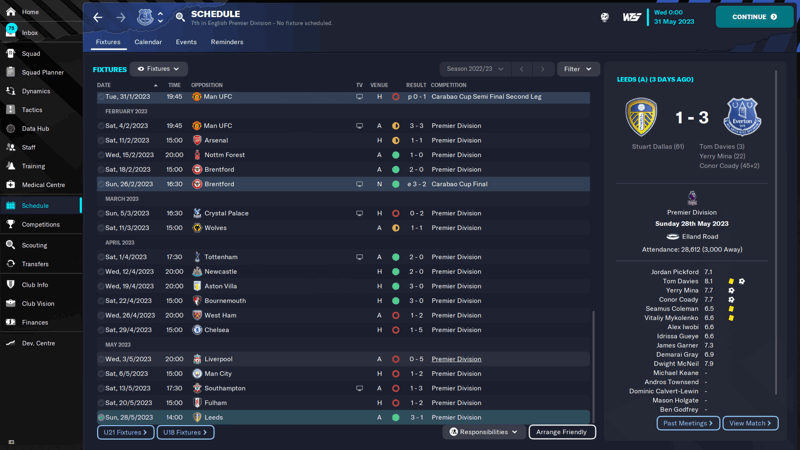 However, it could have been an even better season, but for a run of tough fixtures towards the end of the season that saw the team lose six of their last seven Premier League matches. The defence seemed to crumble in those late games, as they conceded at least two goals in all six of the defeats.
The late run did include games against Chelsea, Manchester City and Liverpool, so the poor results are maybe more understandable
The attacking and defensive records were relatively even overall, though, as the team scored 56 goals and conceded 52, with a respectable four-goal difference for a highly limited Everton squad.
Who were the best-performing players?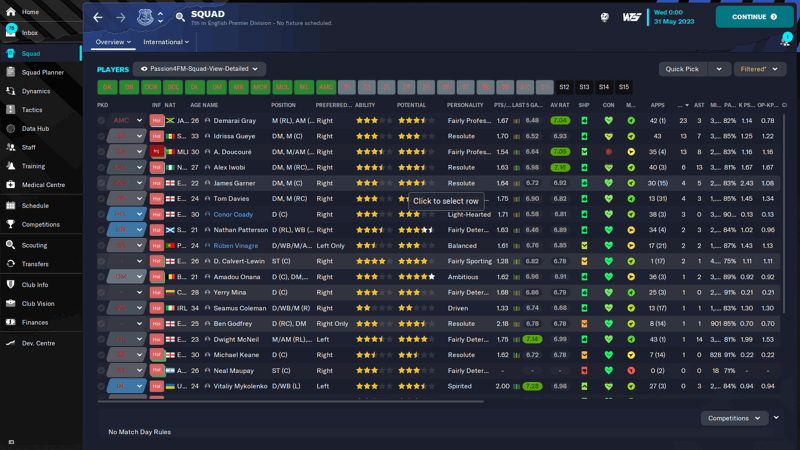 The best-performing player when it came to goals was the versatile Demarai Gray, who played most of the season as the shadow striker. He scored 23 times and produced three assists in 43 appearances in a fantastic campaign. I have never seen Gray perform this well in any of my previous Everton saves in recent years. This role and tactic brought out the best of him.
The next two highest scorers in this save were surprisingly Idrissa Gueye and Abdoulaye Doucoure, who both scored 13 times in all competitions while picking up seven and eight assists apiece. This was also an incredible overperformance for players, who don't usually feature that heavily among the goalscorers.
The fact that they played most of the season in those central midfield positions on attack had a significant effect on their goal and assist returns.
Alex Iwobi played in both the centre of midfield and as a winger, producing six goals and a credible 13 assists, which was a good return for the Nigerian international. Central midfielder James Garner also scored four goals and produced five assists from 30 starts and 15 substitute appearances.
Dwight McNeil deserves a mention, too, as although he only scored once all season, he produced 14 assists. This performance is not surprising, as the former Burnley star tends to perform well in what position he plays on the game from my previous experiences of playing as Everton.
The conclusion on the Legendary Phoenix FM 23
Overall, it was a positive test of the Legendary Phoenix FM 23 tactic. It could have yielded even better results with a team with more squad depth, as no doubt the Everton squad was a bit thin on the ground in the tough end of season run in. A team with a better squad may have got more points from those late-season games
Unlike some tactics I have used, I will undoubtedly use the Legendary Phoenix in the future as a defensive tactic. I believe it will help underdog teams overperform and could be a perfect tactic for those challenging games at the elite teams.
Have you used the Legendary Phoenix FM 23? If you have what are your thoughts on the tactic, let us know via our socials.