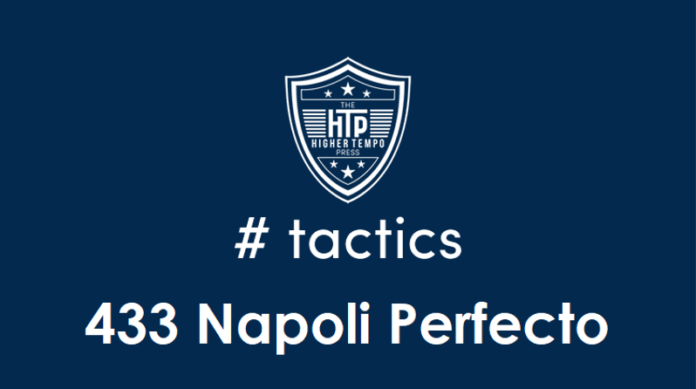 We are back with another tactic test, and it's from a familiar creator in RDF, who seems to have a knack for producing very effective tactics that can get the best out of any team. That is vital for Everton, who I use for my tactic tests as if it works for the Toffees, it can work for most teams.
I have struggled to find a successful tactic in my testing for Everton in FM 23. They have an extremely poor squad which lacks any depth. In my personal saves, I often start as Everton, as it's my team, but after around 18 months, there are usually few original Everton players left in my squad.
In a future article, I will write about my tactic fails with the Toffees. However, this article is about a really solid tactic for a limited squad, which turns out to be a good underdog tactic.
The tactical set-up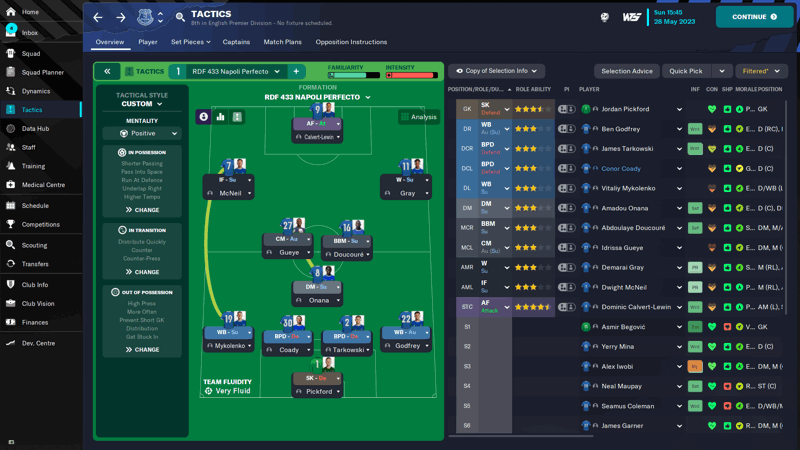 RDF 433 Napoli Perfecto's is set up with four in defence, a holding midfielder, two central midfielders, an advanced forward, a winger and an advanced forward. The formation is perfect for the starting Everton squad, as it utilises the little quality Everton has in their starting squad.
The goalkeeper is set to a sweeper keeper on defend, with two full-backs on support and two centre-backs on ball playing defender on defend. Shielding the defence is the defensive midfielder on support. The two players in front are a central midfielder on automatic and a box-to-box midfielder also on support. An inside winger on support and a winger also on support offers support to the advanced forward who's on attack.
Looking at the tactic, it was always going to be about playing pragmatically and grinding out results rather than playing spectacular football. The fact that only one player in the team is on attack illustrates the nature of this tactic.
How did it work out?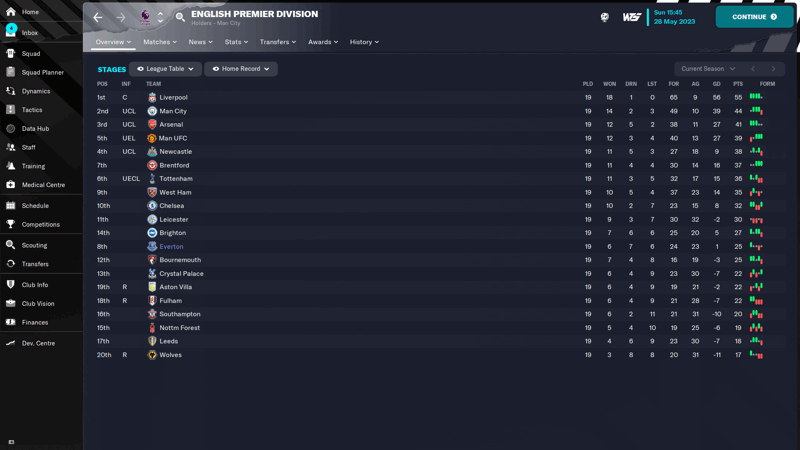 As usual, we did a season on holiday with no transfers and a team that was predicted to finish in 16th place. An eighth-place finish, only a point outside the European spots, shows just how solid the tactic was and how it suited the players in the squad.
The goal difference plus 8 was a significant result, as although the team was not prolific, scoring 53 goals, it also conceded just 45 goals, which was the lowest of any team outside the top six barring Chelsea, who conceded two fewer league goals.
I just can't get away from the word solid, as it was good to see a tactic produce precisely what the creator aimed to achieve. It was the tactic needed for the particular group of players at Everton.
Who were the top-performing players?
The two stand-out players were also the two players that produced the best attacking output, Dwight McNeil, who played as an inside forward and advanced forward Dominic Calvert-Lewin.
In truth, in most Everton saves, these two tend to shine as they are players approaching their peak with many decent attributes. Calvert-Lewin had the highest average rating of all the players, getting a respectable 7.41 over the season. His goal tally reflected those ratings, as the former Sheffield United forward scored 33 goals in just 31 appearances and produced one assist.
McNeil had the second-highest average rating in the campaign, producing a season average of 7.03. He scored nine times and made ten assists in 41 appearances.
Back-up striker Neal Maupay made 14 starts and ten substitute appearances and found the net six times, but he was always going to be in DCL's shadow. Nothing personal against the Frenchman, but he is usually one of the first players I look to replace on Everton saves.
Like in real life for most of the season, goals were few and far between elsewhere in this Everton save, but box-to-box midfielder Abdoulaye Doucoure weighed in with four goals and three assists in 31 starts and ten substitute appearances.
A few players produced decent assists rates, including midfielders James Garner and Amadou Onana, who both had seven assists. Fellow midfielder Idrissa 'Gana' Gueye and full-back Nathan Patterson also managed five assists apiece.
One player that really should have done better in this save is winger Demarai Gray, as he scored just once and created only three goals, despite making 25 starts and seven substitute appearances during the campaign.
His lack of attacking output highlights the fact that on any Everton save, you need to recruit attacking players in the first summer. His average rating of 6.73 over the season is not terrible, but he needs to do more (much like in real life), and if I were doing a second season with this save, which I may do with new signings, I would likely be looking to replace him.
Best results of the season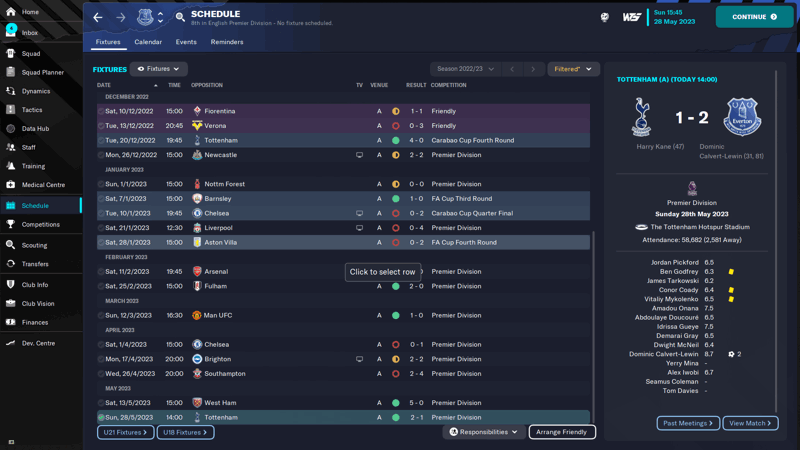 This tactic pulled off some excellent results, especially away from home, where the team picked up 1-0 wins at both Arsenal and Manchester United. It seemed the perfect away tactic, as it yielded a 2-1 last-day win at Tottenham and a 5-0 hammering of West Ham on their own patch.
The pragmatic nature of the tactic meant it was better suited for away games. The team had the fourth-best away record in the league, as only three of the top four picked up more wins on their travels during the campaign.
At home, the team suffered more defeats, eight, than victories (seven). Maybe that could be changed with new signings, and we could get better home results.
What is our conclusion on this tactic?
I will use this tactic in the future, as it got a good result from the resources available at Everton. It wasn't a spectacular game-breaking tactic, but it was never designed to be that. It was intended to be a realistic tactic that helped produce solid results and delivered what it promised, an ideal underdog tactic.
Look out for my second season using this tactic with new signings and no tweaks, this set-up could earn European football in the second campaign.
Have you ever used the RDF 433 Napoli Perfecto?