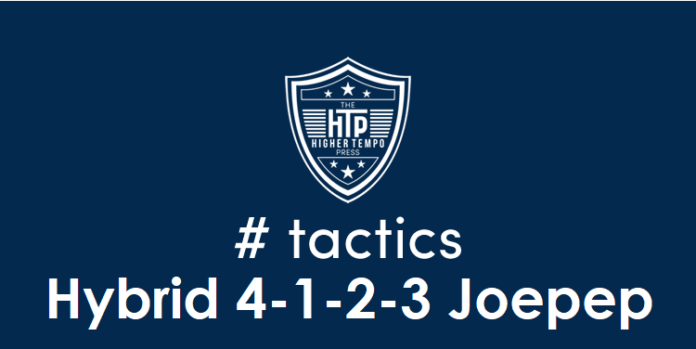 When it comes to tactics, I must have used thousands in FM in the decades I have played the game in its various guises. I recently asked for unconventional formations on Twitter and tested a few, one of which I recently reviewed in the 443 Proxy.
However, one of the most unconventional tactics I have recently tested came from within my household. To be more precise, my football-obsessed ten-year-old. He's more of a FIFA guy and has never been interested in FM.
However, unlike in FIFA, where there is no option of using custom tactics (as far I know), he loved the fact that he could invent an unconventional formation. Like most unconventional ones, it was a bit of a crazy ride. Here is what happened:
The tactical set-up
He decided to play as Everton as his starting team, which was never going to be in doubt. We did the save on holiday mode, as he had some crucial games of FIFA to play, so he was too busy to watch and actually play the games.
Unfortunately, time constraints meant I couldn't commit to a whole rollercoaster campaign of watching either. The team was predicted to finish 16th at the beginning of the season but outperformed that prediction finishing 13th place with no transfers, and only team changes due to injuries.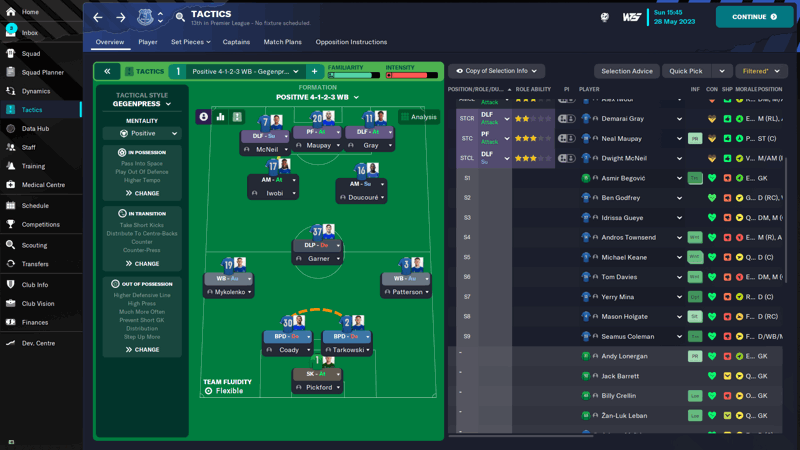 I always knew Josh would go for an attacking formation for his Everton team. Being obsessed with attacking play, he chose a hybrid Gegenpress 4-1-2-3 formation. He laid down his attacking intent by the fact he started setting up his formation by making goalkeeper Jordan Pickford a sweeper keeper on attack. It's a role I am sure England's number one would certainly enjoy in real life.
As you can see from the image of Josh's tactic, he decided the best form of defence was attack by using three forwards and two attacking midfielders. This approach was certainly bold, as was using wing-backs instead of full-backs and a deep-lying playmaker instead of a deeper ball-winning midfielder to protect his backline.
How did it go?
I have to say, I have had much worse results with tactics designed by much more experienced FM players than Josh. The team finished 13th place overall in the Premier League, just a couple of points off the league's top half, which wasn't a terrible result considering they were expected to struggle.
Like any forward-thinking tactician, and as you would expect from such an attacking formation, the tactic produced a lot of goals at both ends of the pitch. Only three teams could better Everton's goal tally of 76 league goals in the English top flight. It was quite simply brilliant in attack, despite the squad not having the best attacking players.
Unfortunately, at the other end of the pitch, the team conceded a league-high 89 goals, which left Josh's Toffees with a goal difference of -13 for the season. The tactic also resulted in the team suffering 20 defeats, which is only four more losses than real-life Everton in season 2022/23 at the time of writing.
Who were the top-performing players?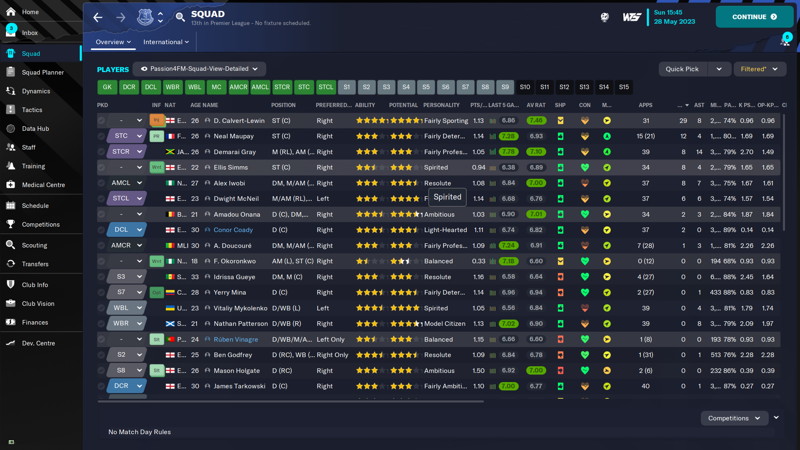 It's inescapable that the best-performing players in this team would be forward-thinking players. The player who shone most was star forward Dominic Calvert-Lewin, despite missing some of the season through injury (what a shock DCL being injured), he still scored an impressive 29 goals and produced eight assists in 31 appearances as a deep-lying forward.
The second-best performer in the team was French forward Neal Maupay, who, unlike in real life where he couldn't hit a cow's backside with a banjo, scored 14 goals in 15 starts and 21 substitute appearances.
Demarai Gray played some of the season as an attacking midfielder and some as a deep-lying forward, scoring eight times and, more importantly, maybe, topping the assist charts with 14 assists for the team. When Josh set the team up, his starting line-up included youngster Ellis Simms instead of Maupay. The young forward did a decent job, also scoring eight goals and producing four assists in 34 games.
Nigerian international Alex Iwobi played as an attacking midfielder, making 37 appearances and producing eight goals and seven assists in a good campaign. Dwight McNeil also played as both an attacking midfielder and a deep-lying forward throughout the campaign, scoring six goals and six assists, which once again was a respectable tally.
The good, the bad and the ugly of this tactic
This was Josh's first FM tactic, and he achieved what he set out to achieve, which was a highly entertaining formation that produced goals. Unfortunately, many of them were in his own net due to the swash-buckling nature of the tactic.
Any team conceding 89 goals in a season will always struggle, but the stellar attacking play offset the terrible defensive displays. Would I use this tactic in one of my saves? Probably not, as it would have me wincing with fear every time a highlight of the opposition appeared on my screen. I am not as brave a tactician as Josh, I am afraid.
He has told me that the 89 goals conceded have not put him off creating tactics and that he wants to have another crack and will no doubt refine his tactic in the future, and maybe we will have an FM wonderkid tactician on our hands in the future, who needs Nate the Great eh!
What do you think of the hybrid 4-1-2-3 Joepep?
Let us know on our Twitter @thehighertempopress