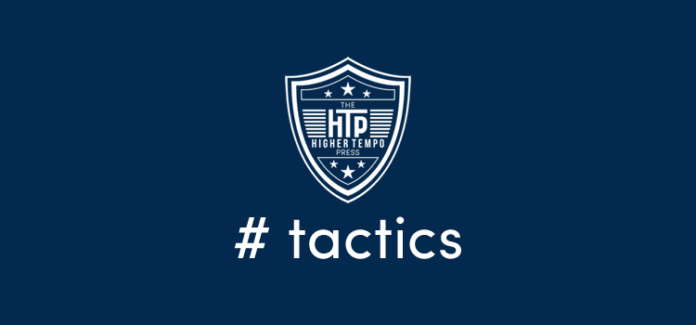 One of the most underused but exceptionally effective roles in Football Manager is the Wide Target Man. Perhaps on of the key reasons for its lack of usage is that is hard to find the right player for the position within the game, but this brief guide should give an indication as to which player attributes to look out for.
The FM description of the role is outlined below:
The Wide Target Man will be the main outlet for clearances and long balls from the back. Ideally positioned against a smaller and weaker full-back, he will be asked to get hold of the ball and keep it before recycling it to a team mate.
This means finding an attacking player who is both big and strong in the air, but is also quick and fit enough to patrol the wing, and is also good enough on the ball to help create moves from a slightly deeper position than the main centre-forward role. It is niche, I grant you, but the right players can be found.
Big Game Plays
The first thing to say about the role is that is isn't necessarily to be used in every game. It would be best deployed against perhaps tougher opposition, in order to find an extra out-ball in the wide areas. As the description says, "Ideally positioned against a smaller and weaker full-back".
I don't know about you, but all I can think of is Alexander-Arnold, and how this would be the perfect way to sneak a 1-0 win against Liverpool.
An example would be Oli McBurnie, shown below. His solid physical attributes, combined with great heading, good dribbling and first touch, makes him the ideal option out wide, that you need to hold possession high up the pitch and drag the rest of the team forward.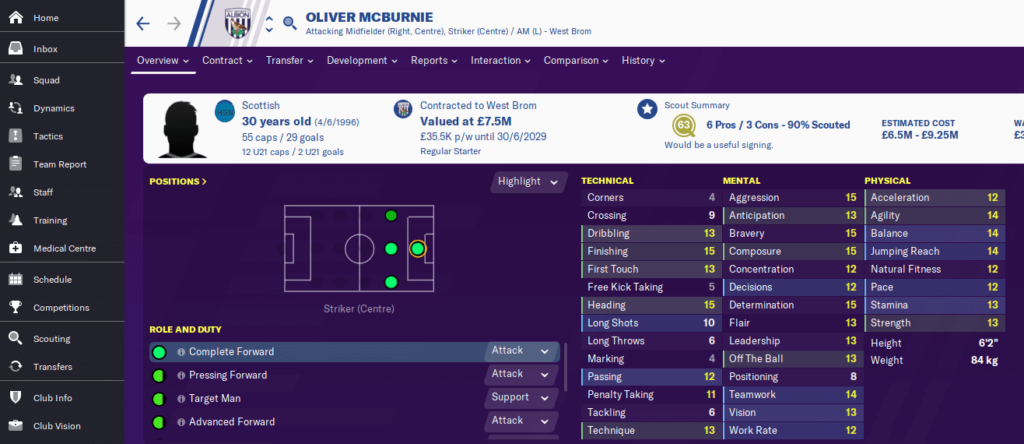 Played out wide, with every goal kick aimed his way, and playing in a direct manner will make him one of the busiest players on the pitch, and a nightmare for full-backs.
Variety is the Spice of Life
Despite the very specific role of the Wide Target Man, very different players can perform the function effectively.
I will take two examples from another Higher Tempo Press series, our Digging Through Data save. Jonathan Leko and Steve Mounie are two of the attacking players chosen for that team, in part due to the aerial abilities.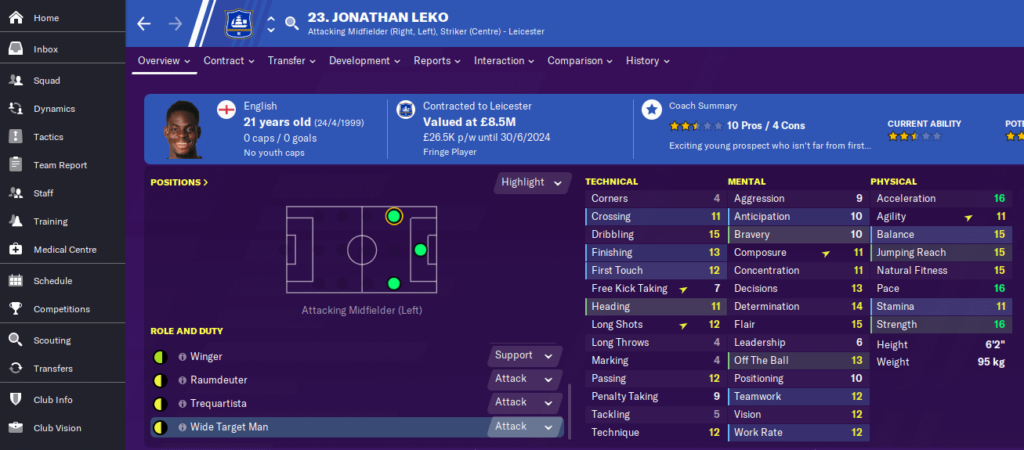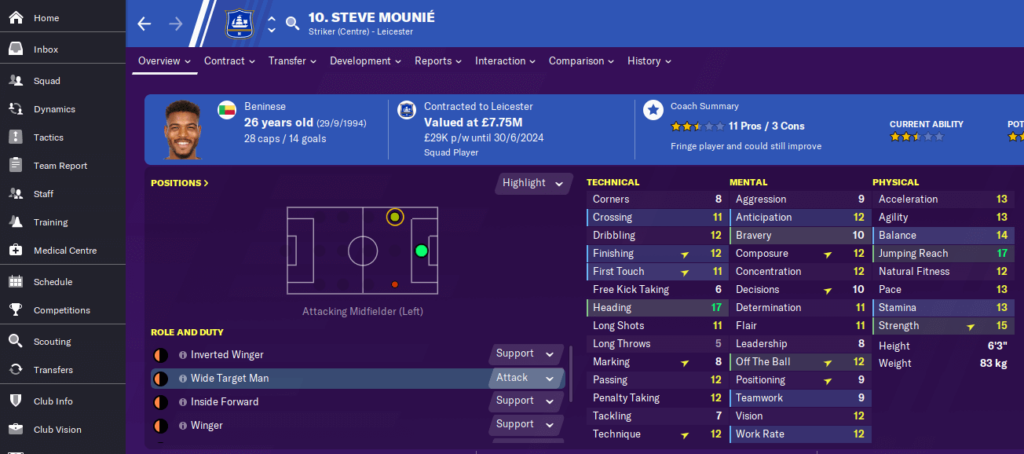 Both players are clearly very different footballers. Leko has the pace and dribbling ability that makes him a natural winger, whilst Mounie's heading ability and advanced jumping reach makes him an obvious target man.
However, both display evident characteristics of the other; Leko has 15 jumping reach and 16 strength, Mounie has solid pace and agility to perform effectively on the wing if required.
This is how to spot the potential Wide Target Man in your team. Very few players are naturally able to perform there, so you will need to co-opt them for the role. Whether that is converting a winger or a striker, there is always someone who can do the job, and it can provide a whole new way to break out top opposition.