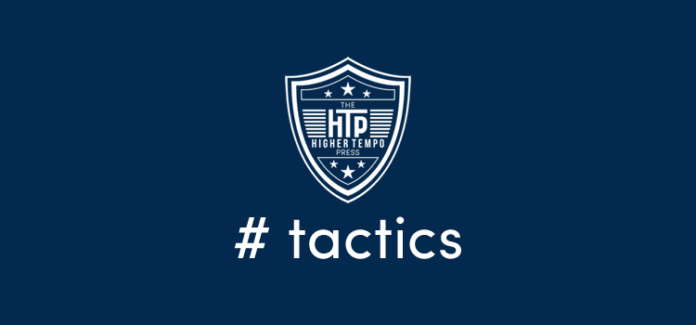 As the Moneyball, data-driven team nears its completion, the next step is to identify who will be filling the wing roles. As laid out in the initial episode, we are looking for an inside forward on the left wing, to exploit the exposed centre halves, and a traditional winger on the right-hand side to whip in crosses.
Starting with the left, we need a player who can effectively dribble, but whose main purpose in the side will be to attack the box and get shots off, and pick up knockdowns from the striker.
The Goalscoring Winger
An inside forward needs to be comfortable on the ball in tight situations, dribbling his way out of trouble or finding the right pass. But he also needs to rack up high numbers, possibly going for more goals than the central striker.
Looking at those left wingers who go for goal, those with the highest goals and shots per game ratio, naturally, have played the fewest minutes, as denoted by darker circles. Of those in this block, however, Jonathan Leko stands out, having completed 90 minutes over 25 times, and scoring almost a goal every other game.
This indicates that for his goalscoring ability (compared to his peers), he is underused by his club and should have made more appearances. This may make him an undervalued transfer target and could do a solid job, and at a reduced price compared to those around him.
The Aerial Dueller
The other metric that I really value from an inside forward is their ability to win those back post headers. With relentless crossing coming in from the right, courtesy of both the full back and winger, there needs to be a second head reaching for the ball, as well as the main striker.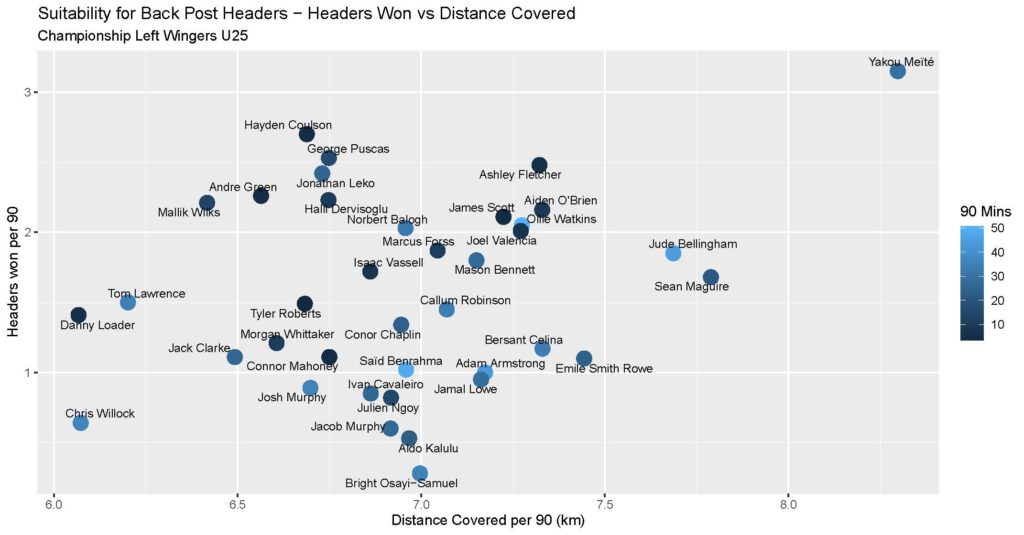 This graph shows players' heading ability alongside their distance covered. The thinking behind this is that the left winger will need to be constantly moving to get on the end of crosses, and to then actually win the header once he gets there.
While Leko ranks relatively lowly on distance covered, he ranks fifth for headers won per game (with only Meite having completed more minutes this season). On the basis of this, plus his goalscoring exploits laid out earlier, he is our number one choice for left wing.
Hugging the Right Touchline
For the right hand side we need a winger who can get chalk on his boots, pick the ball up, beat his man and fire in a cross. Step one, find a crosser. Simply put, we need a player who attempts a lot of crosses, and someone who has a strong success ratio. The below graph clearly, unerringly highlights Jed Wallace as the man for the job.
While someone like Matty Cash may have a slightly improved success rate, the sheer number of crosses completed by Wallace makes him an attractive proposition.
The next metric we need for this role is his dribbling. Does Wallace have the capability among his contemporaries to beat a fullback alone?
The answer is yes. Only two players to have played a similar number of games have more dribbles per 90 (Benrahma and Willock, who will undoubtedly cost at least £30m), and only two players have more chances created with similar minutes (again Benrahma but also Bellingham, who again would likely break our bank).
Finding our right winger has been simple. One man clearly excels in all required fields of touchline-hugging wing play – Jed Wallace.
Making bids for both indicates that our wide areas can be fulfilled with measurable quality for less than £20m, good luck finding another Premier League club that can achieve that without studying the data.