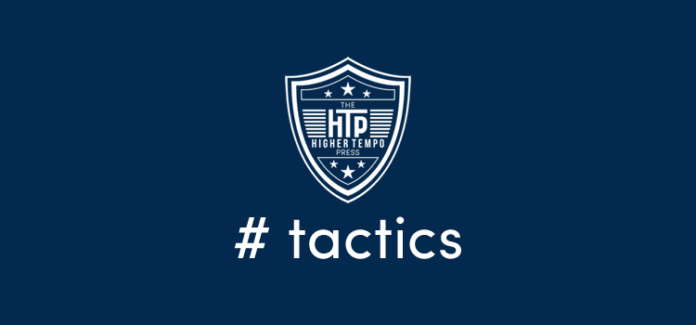 As we continue our exploration of data usage in Football Manager, the next position needed to analyse is the CDM, who will be our main creative outlet – the regista. This series examines the data available in game, and how it can be analysed to find the right players for your team. Take a look at the first episode for more info on how the series has developed.
As we now have a defence, the midfield is the next step, specifically the deeper position. The way I want this team to be set up is with two shuttling box to box midfielders in the centre, with a deep-lying playmaker (specifically a Regista) in behind, spraying balls out to the onrushing full backs and wingers.
The CDM doesn't need to be a tough tackler or dynamic runner, that's the job of the pair ahead of him. Their job is to block opposition attacks, and afford the CDM time on the ball to pick the right long ball. This makes the midfield relatively static, but the attacks will come from the wings, and ensures a consistent midfield base.
Therefore, the key attributes that the CDM must excel at are passing, vision and chance creation, being the main attacking influence in the side, despite his deep positioning.
No Simple Passes
The sort of stats that we need to see are the players progressive passes. Simple pass success rate or number of passes completed isn't how we need to judge our player in this role. This isn't someone that dictates the tempo or keeps the ball moving through the midfield. High quality passes over the top is what we need to see.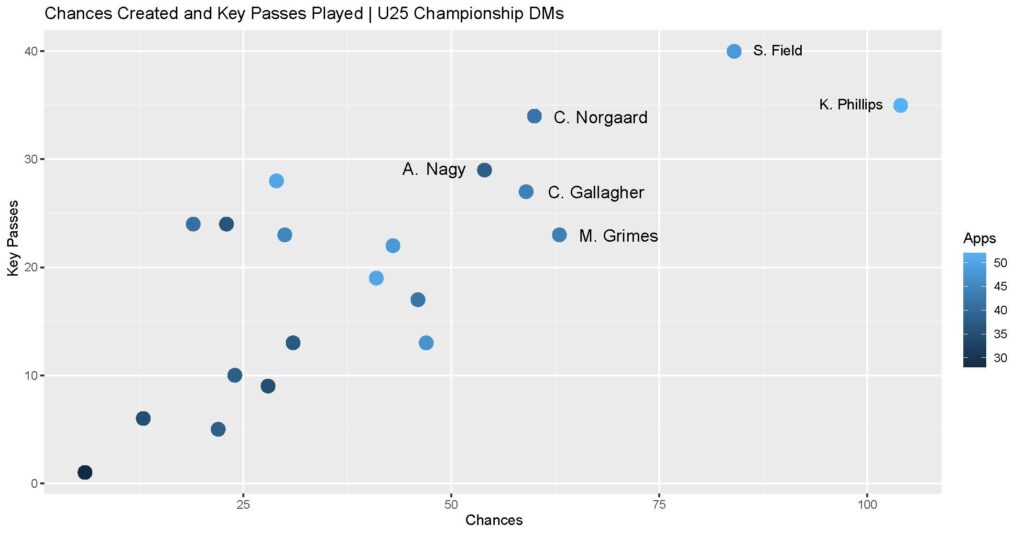 Key passes, ordinarily, are not an overly reliable stat in real life, too subjective and at the will of the person declaring a pass "key". However within the parameters of Football Manager, specific algorithms ensure that the attribution of a key pass is accurate, similarly with chances created.
The big names in this respect include Sam Field and Kalvin Phillips, the latter being a key player in an excellent Leeds side, however that also builds his value up to exceptional levels which mightn't make him a cost-effective option.
Of the others that rank highly in this respect, it is important to determine their actual output in the team, which the below graph demonstrates, comparing chances created with actual assists.
Chances created is almost a basic form of Expected Assists (xA), albeit not quite as explicitly. It isn't necessarily passes played that result in a shot, but largely does account for those sort of "almost assists". However, as our CDM is unlikely to pick up assists himself, more playing the ball through the lines to pick up the "pre-assist", chance creation in this respect isn't quite as key.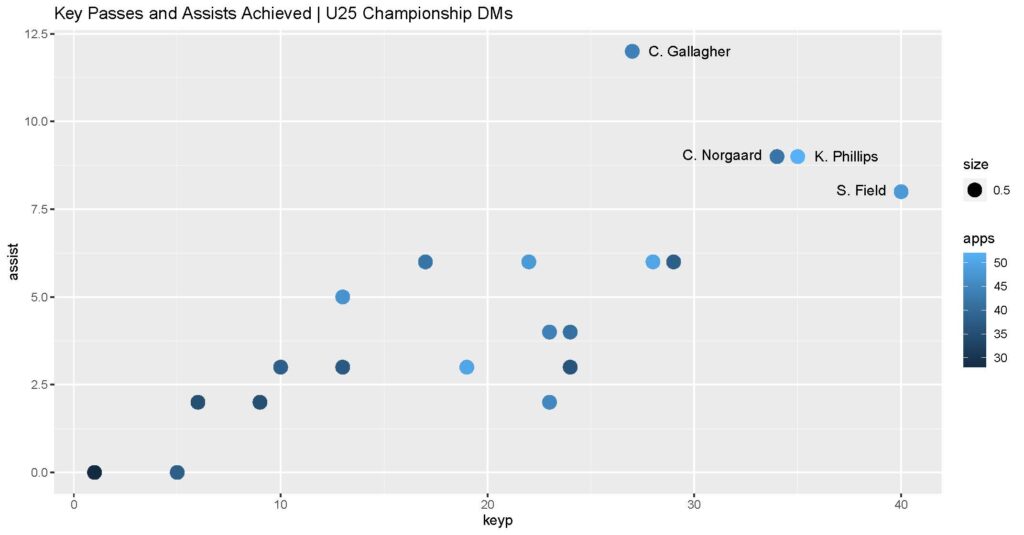 When looking at key passes instead, Sam Field is the top player for this, but again is closely followed by Phillips and Christian Norgaard, with Conor Gallagher another interesting prospect given the excellent number of assists he has provided.
As a result, I decided to make Field, Norgaard and Gallagher my top targets, and examine them further.
Finding my Regista
With three strong passers of the ball available, it becomes a case of finding the right player for the role, but there are of course other factors that come into play, including age, asking price and wage demands.
This radar chart compares the three players, and demonstrates how much of a strong passer Field is compared to his counterparts. While both Gallagher and Norgaard picked up more assists, Field excelled in chances created and passes, as well as interceptions and reading of the game. Norgaard does beat out Field for tackles, but only slightly and as mentioned previously, that is not a requirement of his role.
However, there are additional considerations. Making bids for all three players yields the below outcome, making Field seem like a less appealing option.

His transfer price would be nearly twice as high as Norgaard, and infinitely higher than Gallagher who could be brought in on loan with no fee (besides his £4,000 a week ages). Put in this context then, it complicates the matter.
While Field has racked up better passing stats than the other two, you can't say that his numbers are worth the extra expense. His nationality and age are certainly bumping up the asking price, which no longer makes him the obvious target.

In addition, Norgaard actually beats Field when key passes are adjusted for 90 minutes played, which is of course a primary attribute for ball-progressing CDMs. As a result, it is Norgaard who will be pursued as the main target, with Field falling by the wayside.
I will maintain the offer for Gallagher, as he could be an excellent back up option as a CDM or CM role. The next episode will aim to find the right midfield duo to cover every bale of grass and protect our new-found regista.