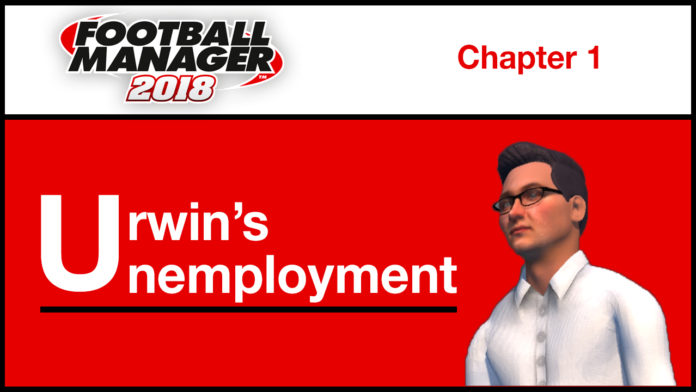 Welcome to the first chapter of the career of young English manager Nicholas Urwin. June 2017 is where we begin and Urwin is set to send his CV application around the world in the hopes of hearing back from football clubs in the need of a new head coach. The chances of securing a job are looking good for the 29 year-old born in Leicester as 32 domestic football clubs in the save have vacant manager positions.
Sun? Sand? Sea? Snow? (The Vacancies):
Countries include Brazil, Belgium, Norway and Greece but a likely starting destination could well be Indonesia, with six managerial vacancies up for grabs in both the first and second division. Needing to start at the bottom and work his way up, Urwin has opted to apply for positions at the following clubs.
Norwegian Third Tier: Finnsnes, Brumunddal
Brazilian Third Tier: Tupi
Belgian Third Tier: Geel, Virton
Indonesian Second Tier: PS Badung, Perssu, Persiba Bantul, Persepam, Sragen United
Time To Pack The Bags (The Decision):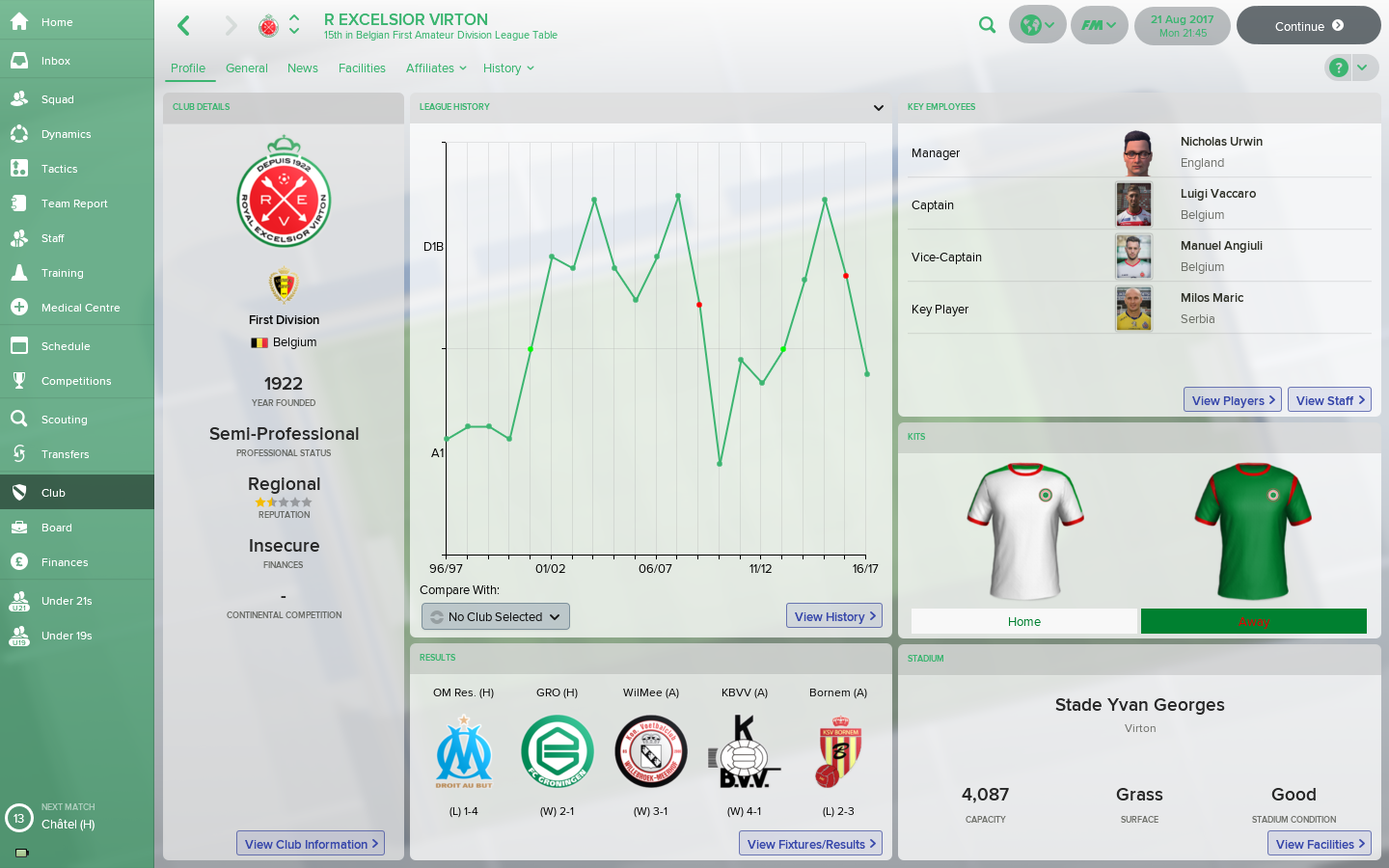 After successful interviews of persuading chairmen to give him a chance, Urwin decided to delay his decision for a week before turning down multiple offers from Indonesia and Norway and accepting £475 p/w at Royal Excelsior Virton.
Formed in 1922, RE Virton are based in the southern city of Virton and are a yo-yo club bouncing between the second and third tier of Belgium. Current Paris Saint Germain full back Thomas Meunier had a three season spell with the club.
Upstaging As Underdogs (Pre-Season):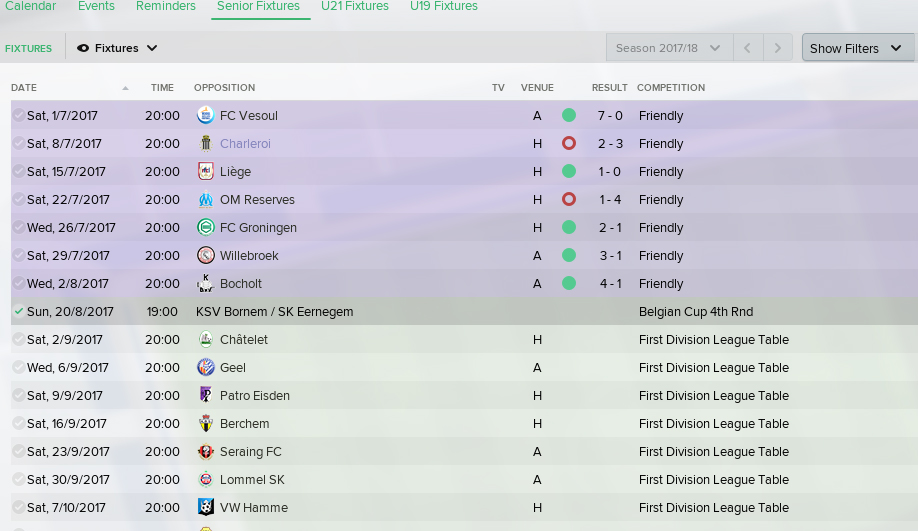 After talking with chairman Philippe Emond and assistant manager Michel Lollier, it has been made clear that the club wish to finish in the top half of the league despite narrowly missing out on promotion in the previous season. Can Urwin get a play-off spot that could help the young manager make a name for himself?
Settling in, Urwin has been able to take a look at the current squad he possesses through friendly fixtures including tough opponents with affiliated club Royal Charleroi, Marseille Reserves and Groningen. Not wanting to introduce a complex and difficult system, Urwin opted for an attacking fluid 4-4-2 formation, completing a successful pre-season and was delighted to have landed his first signing in veteran Serbian midfielder Milos Maric on a free transfer.
It's Starting To Get Real (August):
A first professional career match as a manager saw Urwin's Virton team compete in the Belgium Cup 4th round against fourth tier side Bornem. Sticking to the same 4-4-2 system, his side were made to rue many of the 26 shot attempts, falling to a fairly disappointing 3-2 defeat. The only positive would be both strikers Maksym Bah (what a name) and former Burnley youth player Mehdi Lazaar scoring the clubs first goals of the season, as Urwin will hope they create a good striking partnership.
Attacking Intent Paying Dividends (September):
League action got underway and Urwin got his side off to a good start with a 3-0 victory over Chatelet. A fine double coming from versatile midfielder Alexandre Arenate saw Virton gain the three points but also an injury set back with Lazaar out for a least a month. Another injury to Bah and a poor performance from the wingers meant Virton lost to Geel 2-0. To bounce back, Urwin adopted a new 4-3-3 system for the home fixture against Patro Eisden and it paid off with a 3-1 victory thanks to a double from Laurent Dewalque and a close range finish from newly-capped Luxembourg striker Edvin Muratovic.
With the league rules allowing teams to only name four substitutes, to options available to change games late on are truly limited. This did not matter in Virton's game against Berchem as they thumped 6 goals past the opponents with goals from Bah, Muratovic, Dewalque and captain Luigi Vaccaro. September ended with an 89th minute equaliser condemning Virton to a 2-2 draw against Seraing. A tweak to the system sees a number 10 in Arenate sit behind the strikerforce as Virton held out late on with a 2-1 win over Lommel SK and sit 2nd in the table.
Leaky Defence Causing Inconsistency (October):
The month started out with a report back to Urwin showing Swiss striker Arthur Njo Lea tearing up the fourth tier despite reacting badly alongside a few Virton team mates to a loan move out of the club. He has eight goals in 12 games for RFC Liege and Urwin luckily has the option to recall the 21 year-old if necessary. A 10-minute hat-trick late into the second half by Mitch Dekuyper saw Virton throw away a two goal lead against VW Hamme finishing 2-3. Then goals from the returning Muratovic and Arenate saw off Oosterzonen away from home in a nervy-finishing 2-1 win.
Reverting to 4-3-3, a special performance followed as Virton defeated league leaders Dessel 4-1 including two well taken penalties by Lazaar to hand the opponents their first defeat of the season. A good job for Urwin that the goals had not dried up as loaned striker Njo Lea is now out for three months. But the end of the month has once again highlighted an inability to stop goals going in as Virton lost 5-3 to Aalst and another opponents striker claimed a hat-trick in Yady Bangoura. Top spot already looks a way off.
Error-Prone Team Costing Points (November):
For the second game in a row, Virton lost despite scoring three times as a 95th minute winner from third placed Deinze sealed a 4-3 victory for the opponents and leaving Urwin with head-scratching problems. The use of attacking wingers in a 4-4-2 system paid off in Urwin's next game with Virton not only winning but keeping a clean sheet, beating FCV Dender 2-0. Muratovic netted his seventh goal of the season and the only goal in a 1-0 win over Oudenaarde.
Left back Lamine Fall has been given starts in the last few games by Urwin after requesting first team football but has not made a case to keep his position in the line up so far. His chances of starting had truly been slashed after a terrible performance in the final game of the month against Heist. After taking the lead through an own goal, Fall gave away a penalty and gifted too much possession and space to the opponents who won 2-1.
Frustrating Festive Period (December):
A Maksym Bah header 11 minutes from time got Virton back to winning ways as Urwin oversaw a 2-1 victory over Knokke. Unfortunately Virton followed up with a lacklustre and uninspired performance against Chatelet, conceding 3 goals in a 3-1 defeat. Looking to bounce back at home against strugglers Geel, it was another very late goal denying Virton points with an 89th minute equaliser making it 1-1 in the final league game before the winter break.
A couple of arranged friendlies against amateur Belgian sides saw rotated and youthful Virton lineups win 4-0 and 8-0 respectably, boosting the morale and confidence heading into the new year.
Next Chapter:
Urwin has truly experienced the trials and tribulations of being a football manager half way into his debut season. Will his Virton team be able to make one of the four play-off spots come the end of the season? Find out in the next chapter.
Missed the introduction? Follow the link to find out about the series and the goals of Nicholas Urwin's Unemployment Challenge.