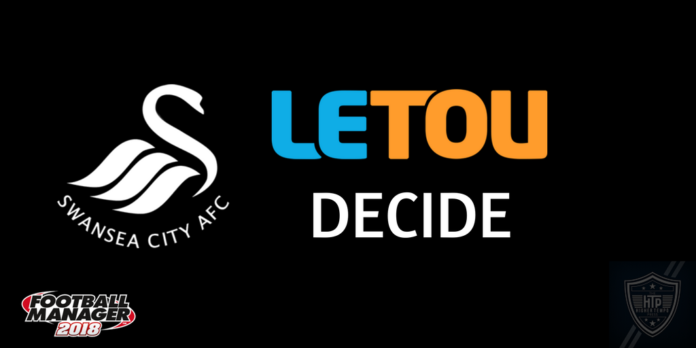 Yesterday we looked at the most competitive league in the world, the English Championship, and what has been happening in the Letou world.
Today we'll take more of a wider glance at what is happening across Europe because plenty is happening and this is the time of the season when everybody's experience is different. There are of course common themes with some players likely to join the same clubs but because of your own personal influence, every world exists separately.
Let's quickly start in our very own football league below Championship level. Earlier in the season Swansea played Portsmouth in the FA Cup and I'm not exactly pleased to see Pompey still in the thick of the promotion race, they are third behind Blackburn Rovers and Charlton Athletic are streaking away 15 points clear of the Lancashire club. Staying in the red rose county, Fleetwood Town and Wigan Athletic are in other play-off positions along with Gillingham. League Two is being led by Exeter City with the towns of Mansfield, Luton, Coventry and Swindon also in the promotion chase. Colchester and Cambridge United break a town dynasty looking set for the play-offs. I would just like to add that the teams below Swindon are Chesterfield, Cheltenham and Yeovil. Is the 'Town' prefix a factor in success in League Two?!
Over with our friends the Spanish, Real Madrid are eight points clear of Barcelona in second with Atlético Madrid just a point behind the Catalans. Malaga, Valencia and Villarreal make up the top six. I was going to express concern for Espanyol going down but they recently sacked Quique Sánchez Flores, clearly the most attractive man in football, and replaced him with some guy called Javi Gracia.
PSG might have splashed money on Alex Grimaldo, Jorrit Hendrix, Matthijs de Ligt and Ezequiel Barco but they remain behind Monaco in the Ligue 1 table, now nine points adrift. Toulouse are having a great season to be third ahead of Lyon and Marseille.
Still struggling in the Bundesliga are Borussia Dortmund despite having hired Rafa Benítez, in fact Dortmund were sixth when he was hired and they are still sixth, disappointingly. Bayern Munich lead the league but only on goal difference, both them and Wolfsburg are on 61 points. Red Bull Leipzig, Hoffenheim and Leverkusen are the other teams above Rafa's Dortmund. BMG and Gelsenkirchen are perhaps paying the price for alternative names, they sit outside the European places.
Serie A is my old stomping grounds, my old team Inter Milan are only in fifth this season having failed to improve the squad in the January transfer window. They lie behind Juventus, Roma, Napoli and the leaders are AC Milan. Cagliari, Verona and Genoa occupy the relegation spots. My personal two favourite Italian teams, Sassuolo and Sampdoria, are in eleventh and twelfth respectively.
For anybody interested in second divisions (and further) I haven't mentioned but I do have knowledge of, I'll add a 'Leagues in Focus' image below. Click to open in a new window for fresh and crisp viewing.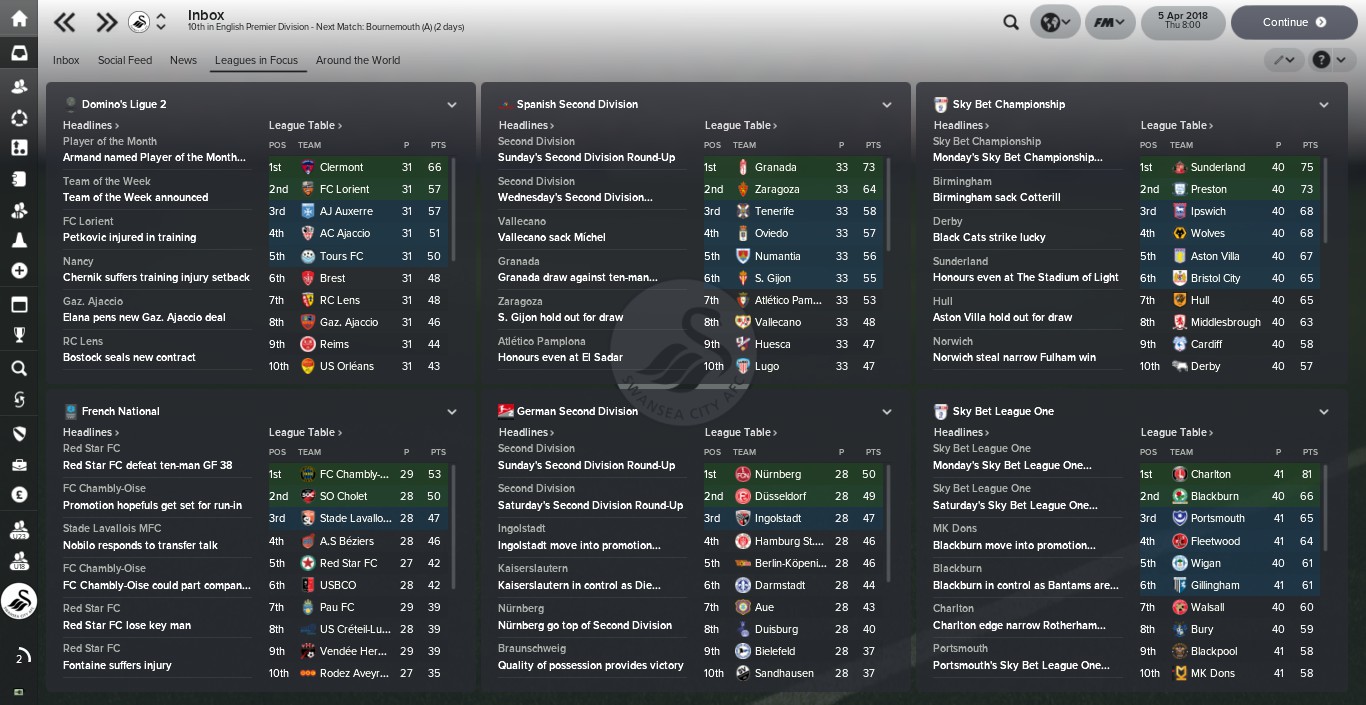 The Europa League is at the Quarter Final stage, the four fixtures are; Dortmund vs. Marseille, Dynamo Kyiv vs. Chelsea, AC Milan vs. CSKA Moscow and Beşiktaş vs. Lyon. It's interesting to see Dortmund there, along with Lyon and Marseille you'd argue they are below where they should be in their leagues but perhaps they are prioritising this trophy.
Also at the Quarter Final stage is the Champions League, which is to feature an 'El Clásico' as Barcelona take on Real Madrid, the other ties see Real Bull Leipzig meet Liverpool, Atlético Madrid face Manchester United and PSG look to advance at the expense of Napoli.
In terms of this summer's World Cup, the two home nations to qualify were England and Wales. The Welsh have Italy, South Korea and Zambia in the group stage while England are in Group G alongside Chile, France and Saudi Arabia. A hat-tip to the blokes who made the draw, Group H looks all kinds of sexy. Brazil, Holland, Spain and USA.
With our game at 3pm on Saturday against Bournemouth, tomorrow it's the traditional pre-match press conference and as always I like to add on a little extra comment for the journalists who attend.