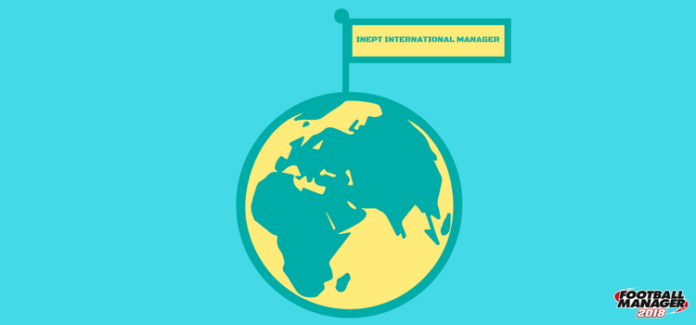 Today marks Australia's first game in the World Cup against Italy and there's no other way of saying this, as I write this and my cursor hangs precariously over the pause button… we're winning. There are just three minutes of added time left and we're winning.
Everything that I had written up to this point about how lucky we are, how we'd want to at least put in a respectable performance, how it's only the first game and Italy are, well, Italy, has all been ripped up and made obsolete.
How did we get here? Let's travel back in time a few days.
Doubts over Louis Henrik's ability are being discussed in the press the day before the World Cup is due to begin. The doubts have resurfaced over an article the injured Tim Cahill has done saying he expects Australia to depart with little more than a whimper and there's also the fact that in nine-team talks (before, during and after) in friendly matches, there's been such little green in response that the mood is rather downbeat.
This is music to the ears of Dave Gallop and Steve Lowy from Football Federation Australia, who have had an agenda against poor Louis Henrik since his appointment.
The World Cup began in earnest with Portugal holding hosts Russia to a 0-0 draw and the USA were narrowly beaten by Japan after DeAndre Yedlin was given his marching orders. Ivory Coast lost 2-1 to Mexico, DR Congo defeated Iran and if you needed any evidence that England are massively overpowered, they beat Germany 1 – 0 despite Danny Rose being sent off. Belgium have beaten Argentina by three goals, Brazil strolled to a victory over Poland and Honduras lost by one to Austria.
That brings us to today, where already France have whupped Algeria in Zinedine Zidane's least favourite international fixture and we go up against Italy. Later this evening in a tasty-looking fixture, Spain play Uruguay.
In all the excitement, I forgot to take an image of the formations so here are the starting lineups written out as if it were 1970:
Italy: Buffon, Barzagli, Rugani, Chiellini, Darmian, Marchisio, Spinazzola, Verratti, Jorginho, Belotti, Immobile.

Australia: Ryan, McGowan, Wright, Malik, Meredith, Rogic, Kruse, Mooy, Leckie, GIannou, Troisi.
As you can see, the James Troisi experiment continues. For the first 20 minutes, Louis Henrik's side were the equals of Italy. Yes, they had shots. Lots of them. But none really came near the goal and none were described as clear-cut chances.
Then came the 21st minute and everything changed. Verratti, Immobile and Belotti played in triangles to get up the pitch before finding Darmian marauding on the right and his marker Leckie trailing behind. Belotti gets on the end of his cross but it's saved and the ball rebounds out for Ciro Immobile to just prod home.
At this point, Henrik is thinking just don't get thrashed. We can take a narrow loss but goal difference might be crucial. Or he would be thinking that, if Australia hadn't just ran up the other end of the pitch and equalised immediately. The ball is passed around until Kruse gets free on the right and by-God he busts a gut to get into a crossing position. A floated ball over the top of everybody in the box is steered in by Troisi and Australia are level!
At half-time, it's about calming the players down. A point against Italy would be an awesome result but Mathew Leckie is made of sterner stuff. He chases after a long ball down the left and cuts back where both Giannou and James Troisi are queuing at the station! It's Troisi who gets the final, most significant touch and AUSTRALIA LEAD ITALY!!!!
Louis Henrik waves a fist in the direction of the FFA bods, he rips off his jacket and tosses it into the air in celebration. He races off down the line to celebrate with the team as the Italians look on horrified. He returns to the dugout with his tie wrapped around his forehead to signal that the lads need to fight to maintain this.
Fight they do, shots rained down on Matt Ryan's goal but he held firm and in the final minutes it's Australia on the charge as Luke Brattan's effort skims the top of the bar and Giannou's hopeful effort was saved by Buffon.
Mark this date on your calendar because on Monday 18th June 2018, Italy have fallen to the Socceroos!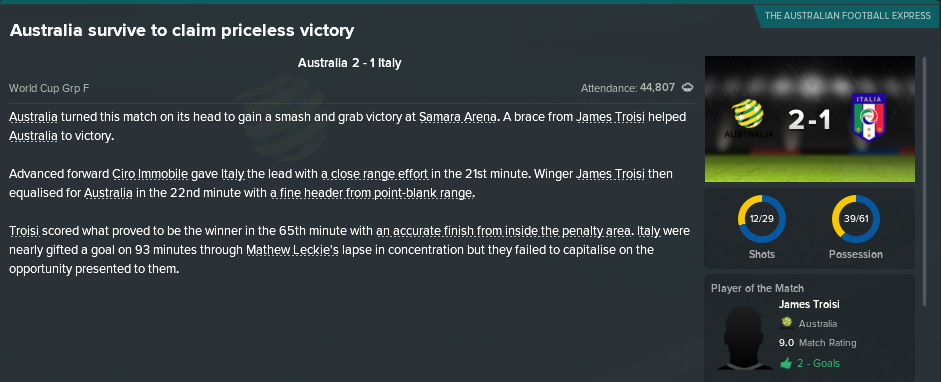 All we need is another win against Denmark or Ghana, or two draws and we are through to a knockout round that nobody has given us a hope of making. There are just two questions in mind at this moment.
1. Considering we just had a graphic made two weeks ago, do I need to change the title of the series?
2. Why the hell didn't this formation and system work against Switzerland, Senegal and New Zealand yet it worked very well against Italy?
For the moment, let's enjoy this win. You know, Louis Henrik and Australia might just be all right.