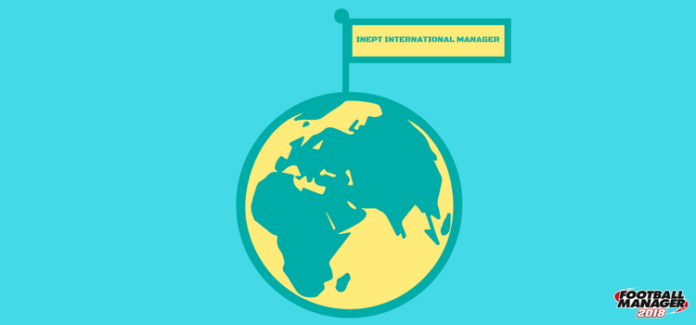 These days there are not many things keeping me awake at night but the plight of Louis Henrik is certainly one of them and I write this as he is stood in the background doing that annoying dance that managers do. What is that? Is he digging a hole? Getting down with his bad self? Whatever it is, he needs to stop. A man of his age shouldn't be straining himself like that.
Louis, like myself, is exasperated. He had planned for a final morale-boosting friendly win over local rivals New Zealand to head into the World Cup but it seems that the scouting department can't actually put together a report on them. Very little statistical analysis available, apparently. They are on the next island! Ring them! Get a pair of binoculars out! Winston Reid and Chris Wood are Premier League players for crying out loud!
I'm sorry, I'm stalling. I can see how the 'morale-boosting' friendly is going and I can tell you that Anthony Hudson, now of Colorado Rapids fame, is a complete and utter bastard. Here are the formations…
He's packing out the defence with three and the three central midfielders are dropping back so they're basically within touching distance. I don't know what to do for the best and if I don't know, you can guarantee that Louis Henrik doesn't either. Good luck Colorado that's all I can say.
I've just noticed that Kosta Barbarouses is playing, he's at Melbourne Victory. Tell me how again we don't have a scouting report on them?
I want you to know that the only pleasure I took from this game was New Zealand's Bill Tuiloma suffering a concussion in a challenge with Kruse.
Winston Reid brought down James Troisi in the box and Troisi, being tried out as a deep-lying forward, rolled up his socks to take the penalty himself and score past Stefan Marinovic in the All Whites' goal.
It's important to try out Troisi in this forward role, he has the movement to make it work and in truth, he's just not as good as Matthew Leckie on the left or Robbie Kruse on the right but I think he might be at least better than Jamie Maclaren as a forward. Failing that, it's Tom Rogic and while Louis likes him for his Celtic connection, he fills me with no confidence.
So the morale-boosting effort ended in a damp squib of a 1 – 0. Despite being a total bellend, maybe Anthony Hudson is onto something? His ploy of filling the middle of the park and dropping deep meant a long, frustrating afternoon. I might have to try that myself when we play Italy in our first World Cup group game.
Speaking of which, we are boarding the plane to make that fateful journey to Russia. Australia will be using Lada Togliatti's training facilities during the tournament. They play in the Russian Second Division and have average training facilities. This screams of penny-pinching by FFA who have never liked Louis Henrik from the moment they realised that he wasn't Luis Enrique and the attractive Spanish receptionist called the wrong manager.
To his credit though, Louis Henrik rolls up his sleeves and now he comes into his element. He might have worked as a scout for Manchester United but his real passion came out at Kidderminster, Blackpool, Stockport, Squires Gate and Fleetwood (before Jamie Vardy arrived). He looks around and he sees a real 'muck and nettles' training ground. He sees headers, tackles, clearances, it's what football is all about… even at his age.
Join us next week when the World Cup gets underway and Australia play their first game against the mighty Italians. Wish us luck everybody, we're going to need it.