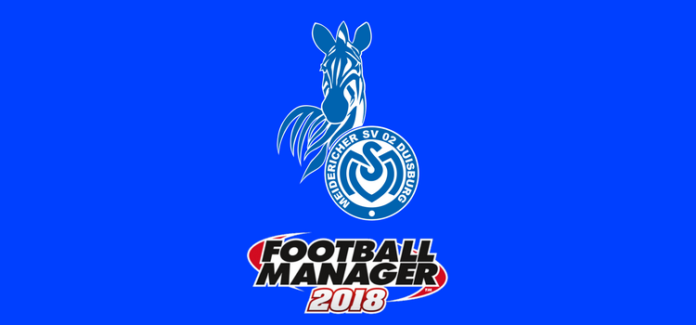 Guten tag! Welcome back to Dirk van Oortveld's quest to take MSV Duisburg into the Bundesliga and get into the upper echelons of European football teams! If you want to catch up on what's happened previously, check out this link here.
Readers, I come to you with some fantastic news to share! It's been a long haul to push on to the end of the season, but we're going to the Bundesliga!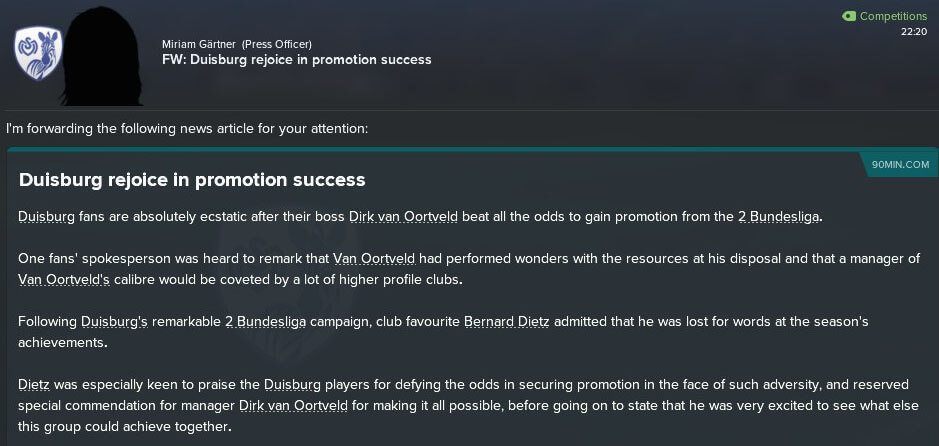 We've got quite a bit to cover in this update, but first, let's go over the schedule for the last many months of the 2017/18 2. Bundesliga season and see how we did!
Overall, it's been a very good last half of the season for MSV Duisburg. Once we polished out the kinks in our tactical setup, it was smooth sailing for us across the season with only a few losses to think about. We had many great matches and some good football across the board, even if our playing left something to be desired.
I said in a previous update that I was confident we could outscore what we lacked in defence, and I was proven right in the end. Several matches saw a large number of concessions, but my attacking trio managed to put the ball in the net on every match except one, and it paid off in the end with a playoff promotion spot.
Here's a look at the final league table. We were steadily in 5th place for a solid month and a half, and I was resigned to having to try again in the next season to get the promotion, but with 5 matches to go Nuremberg and Heidenheim slipped in form and we were able to claw our way past them, though the top two positions were runaway winners by that point.
We ended the season as promotion contenders, but the job wasn't done. We had to face off against a Bundesliga team in a 2-leg playoff to see if it was them or us in the Bundesliga next season.
Our opposition in this playoff was Hertha Berlin. I'm not going to lie, despite proving that I have one of the better 2. Bundesliga teams, I was still nervous to be going up against even a lower-end Bundesliga team, because Germany is still an unknown for me. I've got no idea what financial resources a Bundesliga team would have at their disposal, and I wasn't sure what I'd be going up against in Hertha Berlin.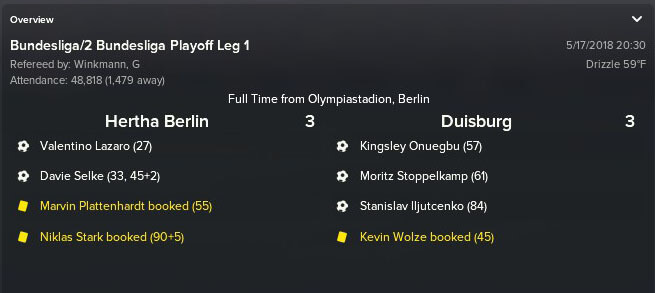 As the higher-division team, Hertha Berlin was the home team in the first leg, and they put on the pressure during the first half. We went into the team talk down by three points, though after a swift kick in the rear, I was able to squeeze some goals out of Onuegbu, Stoppelkamp, and the seldom seen Stanislav Iljutcenko.
The match ended 3-3, but we had the advantage of having three away goals. All we had to do was win outright or hold them to a draw that of less than 3 goals apiece and the job was done. So how did we do?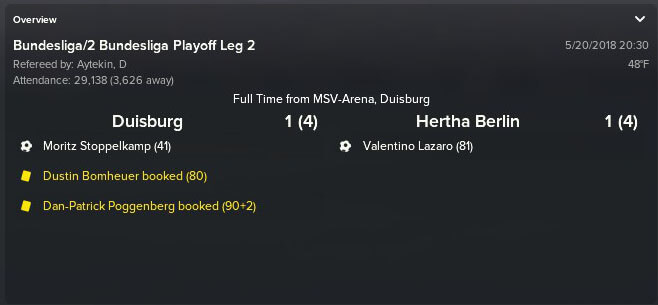 We ended up drawing 1-1 at home in the second leg. Duisburg played on the defensive in this match, because I was more interested in holding to a 0-0 draw or attempting to steal a single goal instead of going for glory and risking it all. Valentino Lazaro got one back in the second half when we were up one, but the job was done. Three away goals to one away goal for Hertha Berlin meant we'd be promoted to the Bundesliga and they'd be relegated.
We didn't win the trophy outright, but we're up, so that's a successful season for a team that I expected to fall short by a place or two!
Let's start looking at some stats and achievements for the season before we wrap it up with our offseason objectives.
This is our Best XI for the season. It was almost a guarantee that these would be the best, because as you see even from this screen, the starters for each position were playing almost every game, but then as the backup options weren't 100% what I wanted for the team, we ended up seeing a drastic drop in appearances for each of the subs and reserve players.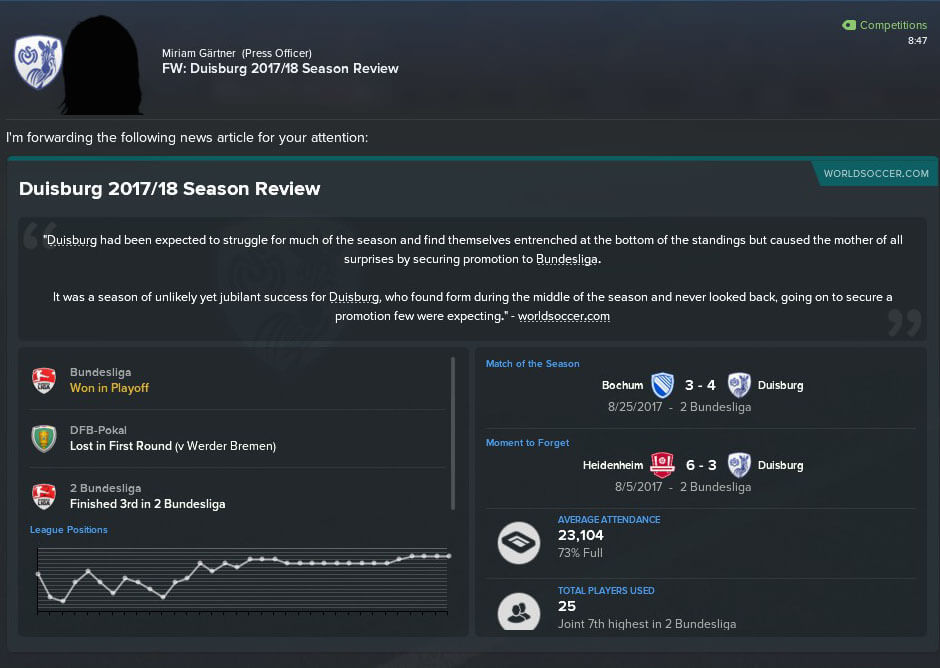 Here's an overview of the season. We made it to the Bundesliga in the playoffs, as I said, and we were kicked out of the German Cup in the first round when we met Werder Bremen at the start of the season. But, most importantly, you can see our league form. It was a very rocky first half of the season, but around November we found our footing and clawed our way up the table match-by-match until we sat consistently in 4th place for a good chunk of the season never quite able to catch the leaders.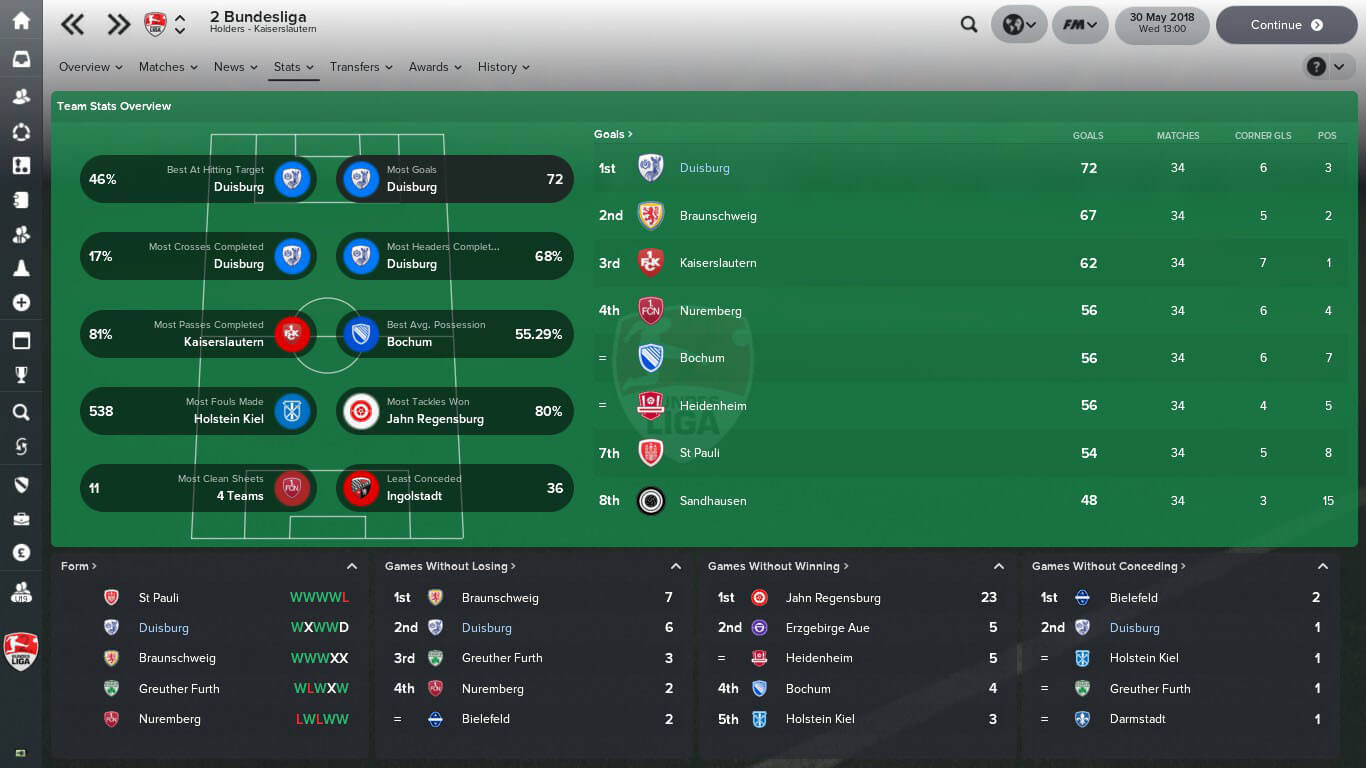 This is the overview for 2. Bundesliga teams in general. We scored the most goals in the season, but as I said, it was our concessions and some good play from other teams that roughed us up in the first half of the season and turned it into catch-up. But, if it weren't for the catch-up, I'd like to think that we were the best team in the lot if we were given another dozen matches to keep pushing at the top place.
Despite having the most scored goals, we didn't have the highest single goalscorer, as we were splitting goals between three strikers. Christoffer Nyman ended the season with 28 goals versus Tashchy's 22. Tashchy would end the season with 78 key passes and 12 assists under his belt, proving he's a solid man regardless of whether or not he's in a scoring position.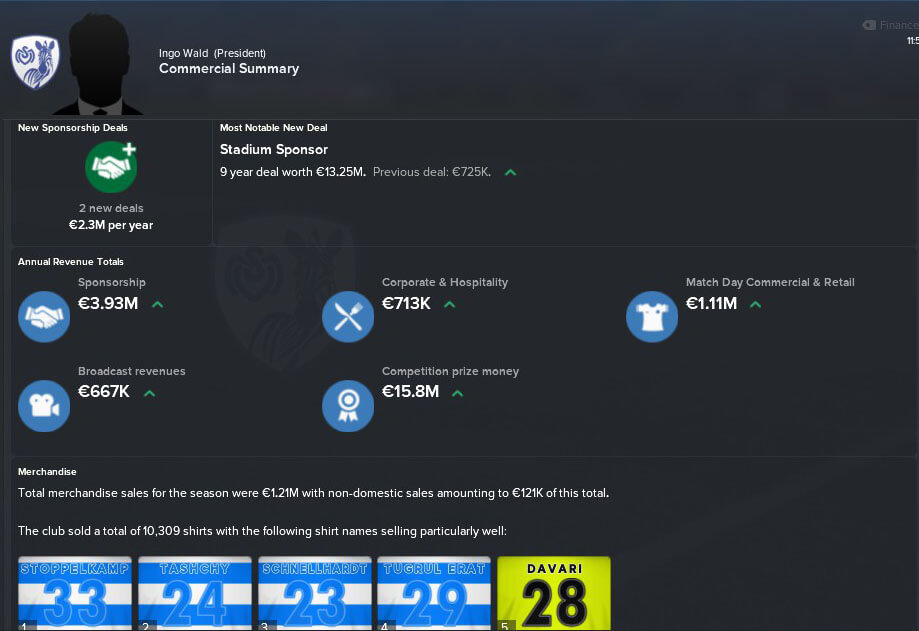 The last thing I want to cover related to the end-of-season is the commercial summary. For finishing third in 2. Bundesliga, MSV Duisburg is going to collect €15.66m for the upcoming season. We're also seeing a drastic increase in income across the board. Since we've made it from the third division to the top in one go, we're seeing an increase in our stadium deal to €13.25m for nine years, up from €725k, and we're seeing increases in general sponsorship money, matchday income, and so on.
We weren't hurting for money, to begin with. I took the job when we had €6m in the bank, and we ended the season with €3.5m. Financially, despite our bloated squad, we were able to keep costs relatively in check and had only a fairly slow trickle of money going out, all things considered. This is a good thing though, as this means we're going to have somewhere in the ballpark of €20m in the club's coffers when we go into the Bundesliga in the next few months, and that means we're financially in a very secure position.
Looking at the off-season, the results of which will be covered in the next update, I plan on continuing to streamline the squad. I couldn't get offers on as many of the players as I would have liked, but I have 13 contracts expiring on June 30, and except for one or two people, I plan on letting them all expire. We're ending the season with 34 players on the senior roster when you include youths not good enough to feature in the team who are too old for the U19s. I want to cut the squad size down to no more than 25-28 players, all of which will be useful to Dirk van Oortveld's tactical style.
There are some guaranteed safe players, like goalkeeper Davaris, wingback Tugrul Erat, midfielders Fabian Schnellhardt and Moritz Stoppelkamp, and strikers Kingsley Onuegbu and Borys Tashchy, but most other players are considered replaceable to me if the right offers came up.
There's an old saying that I heard from somewhere (likely my dad, I reckon) that you fix a team by looking first at the weakest link, not by strengthening the strongest, and that's my defence without a doubt. We conceded a lot in the previous season, and while I have every confidence that my attacking players can find the net, I have less confidence in the defence's ability to protect our own net once we step up into the German top division. I'm going to spend the summer searching through the Bundesliga and top flights of major European nations looking for some diamonds that might be willing to come to a newly promoted Bundesliga side to be polished out a bit and to bolster our team.
It's been a long and sometimes stressful season, but we can't consider it anything less than a success, and I'll be back as soon as I can with an update on our off-season transfer moves and results. With the great results I've achieved so far and the amount of money we've given the club, I might find Ingo and ask him to crack open his chequebook and work on our senior training facilities over the summer, too…