Bloody hell. I've just about recovered from that Wolves game last night. I mean, what are the chances? One penalty fair enough, but two? Christ almighty, my heart was working triple time.
To be fair, they were both penalties so there were no gripes surrounding that, it was just an incredible game. I won't go into too much detail at this point because we'll run through it minute-by-minute in comparison to how my team got on.
In case you're wondering what I'm referring to, this is a novel of epic proportions called 'Beating Nuno' where I'm attempting on a live basis to beat Nuno Espirito Santo, the Wolves manager. You can catch all the previous chapters here.
As is becoming somewhat of a habit, I'm going to begin with a moan about my scout. You've got one job. Literally, one fucking job. All you need to do is give me roughly what their starting lineup is going to be and their formation.
In my eyes, the formation is much more important as it gives me some idea whether or not I need to tweak my tactics pregame. This is what the muppet thought was going to be the case this time…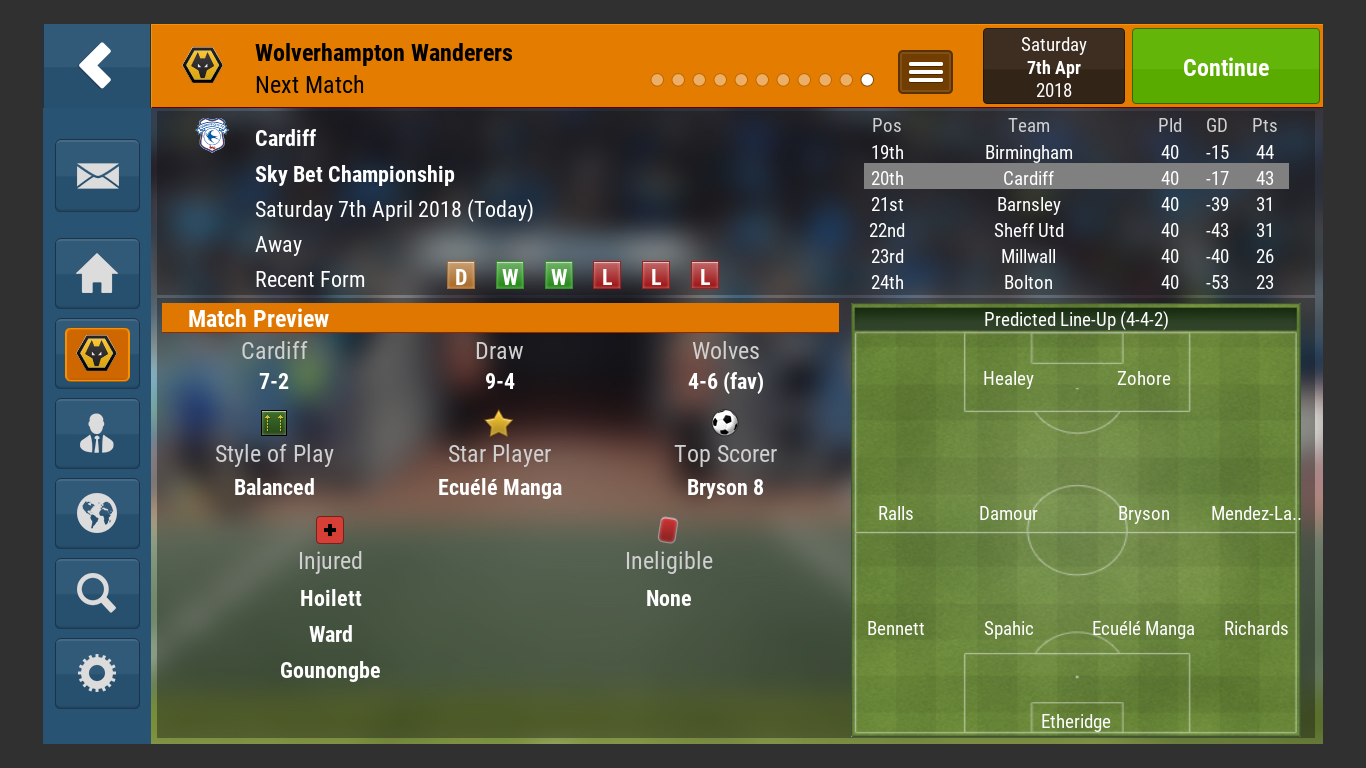 Quite why he's picked Ecuele Manga as their 'star player' I don't know, anyway, as you can see, he reckons I'll be up against a good old-fashioned 4-4-2. This was the reality.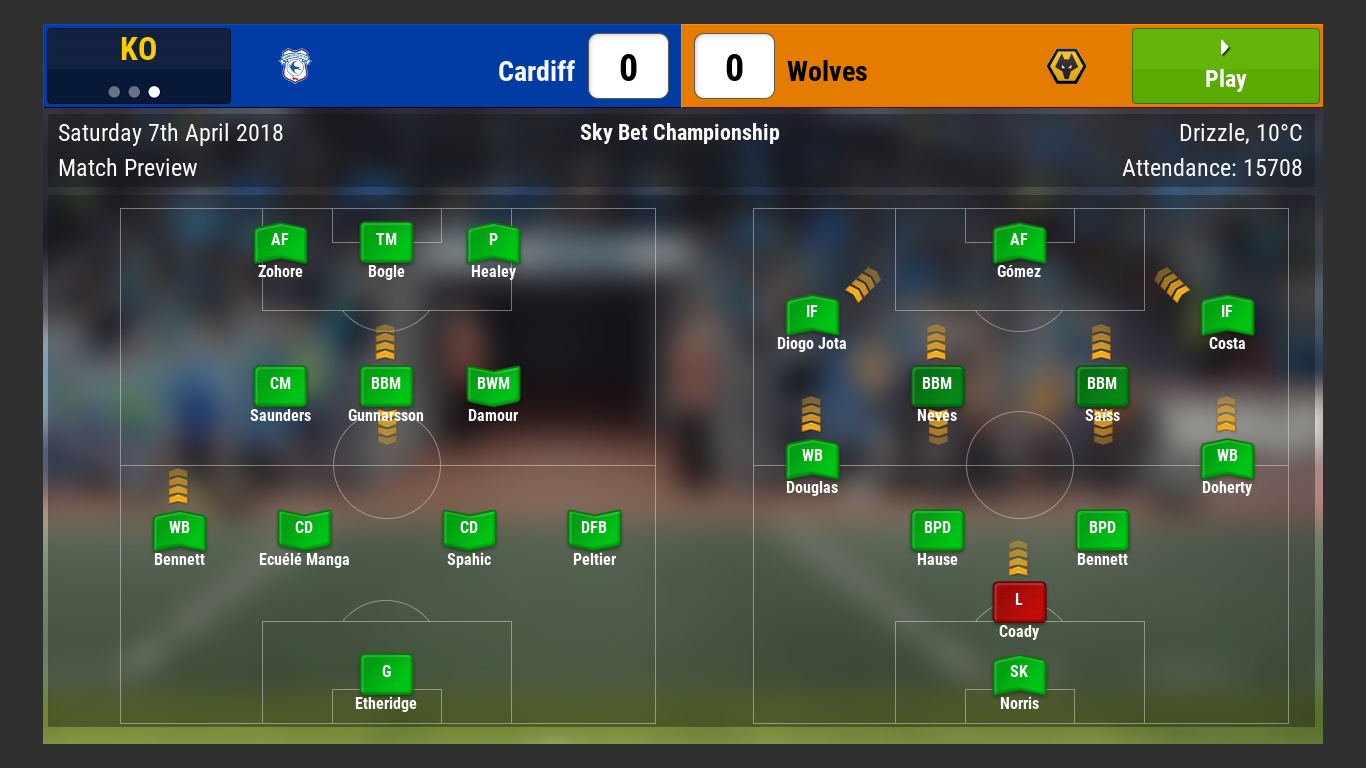 Not even close. The mind does boggle at times, it really does. In terms of my starting XI, I stuck with the same team that served me so well against Hull with two minor changes. Neves came back in for Price and I favoured Costa over Cavaleiro on the right-hand side. Nuno surprised a few people as he went for a front three of Afobe, Bonatini and Jota, the rest was as you would expect.
Both games started at 100mph and were rather end to end without there being that many goalscoring opportunities; it took until just after the half-hour mark for the deadlock to be broken in my game…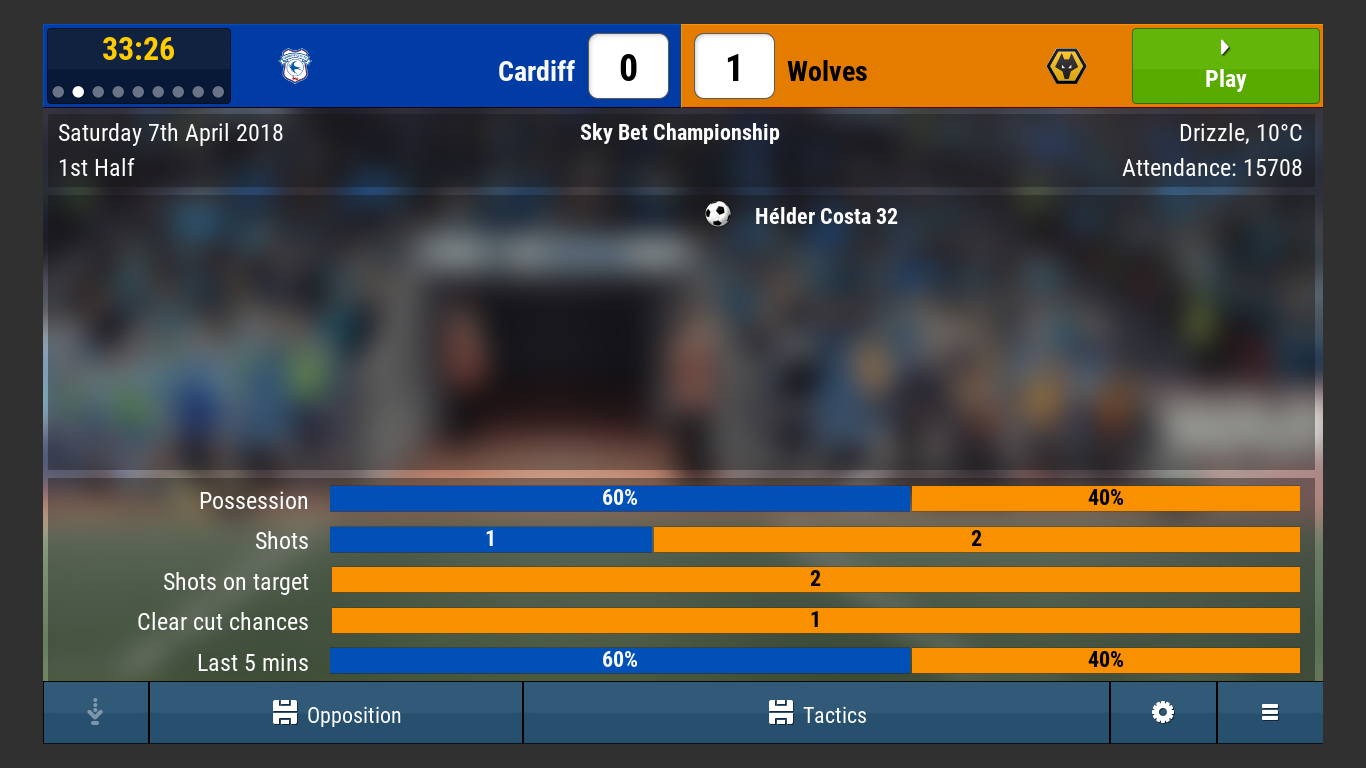 A rasping drive from Neves was too hot for Etheridge in the Cardiff goal to handle and there was Costa to punish Etheridge's error. I had something to hold onto now which was good and if both games stayed how they were, I'd have a seven-point gap over Nuno with five games left to play. It would take a meltdown of nuclear proportions for me to balls that up. However, let's focus on the task at hand for the time being; nothing happened in either of the games up until the break. My team's stats looked like this: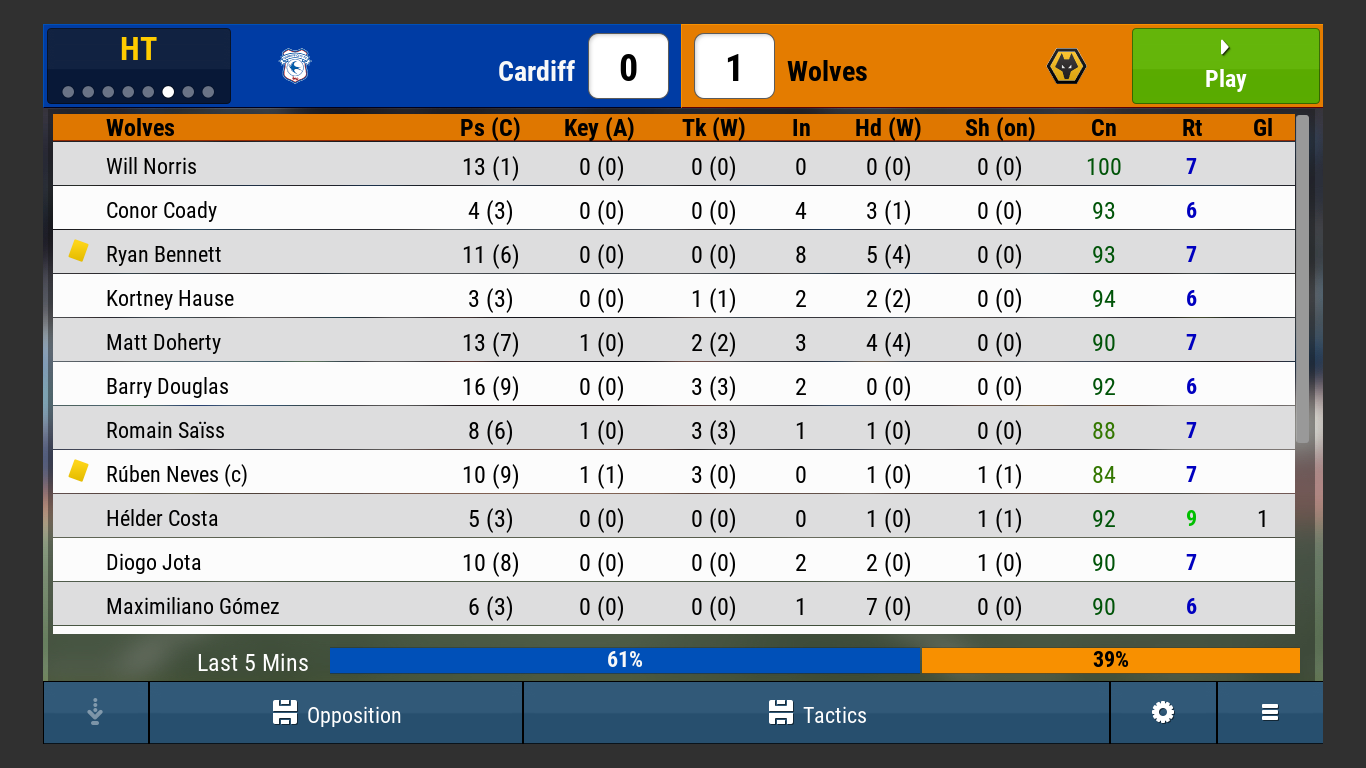 Scan over that and what's the one thing that jumps out? For me, it's Norris' distribution. What the bloody hell is he doing every time he gets the ball? Shutting his eyes and hoping for the best? Madness. I was conscious of Neves' yellow card because the referee had another word with him not too much longer afterwards, hard to take off someone who is as good as he is though.
Speaking of the Portuguese wizard, he put Nuno's side 1-0 up with a wonderful free-kick which wouldn't have looked out of place anywhere in the world. While he was helping Nuno's side, he then decided to do this for me.
Cheers, Ruben. Minutes before that happened, I did debate taking him off and then thought I would risk it for a chocolate biscuit. That worked out well. I couldn't leave the team with just Saiss in the middle because they would completely overrun me, so it was time for a tinker…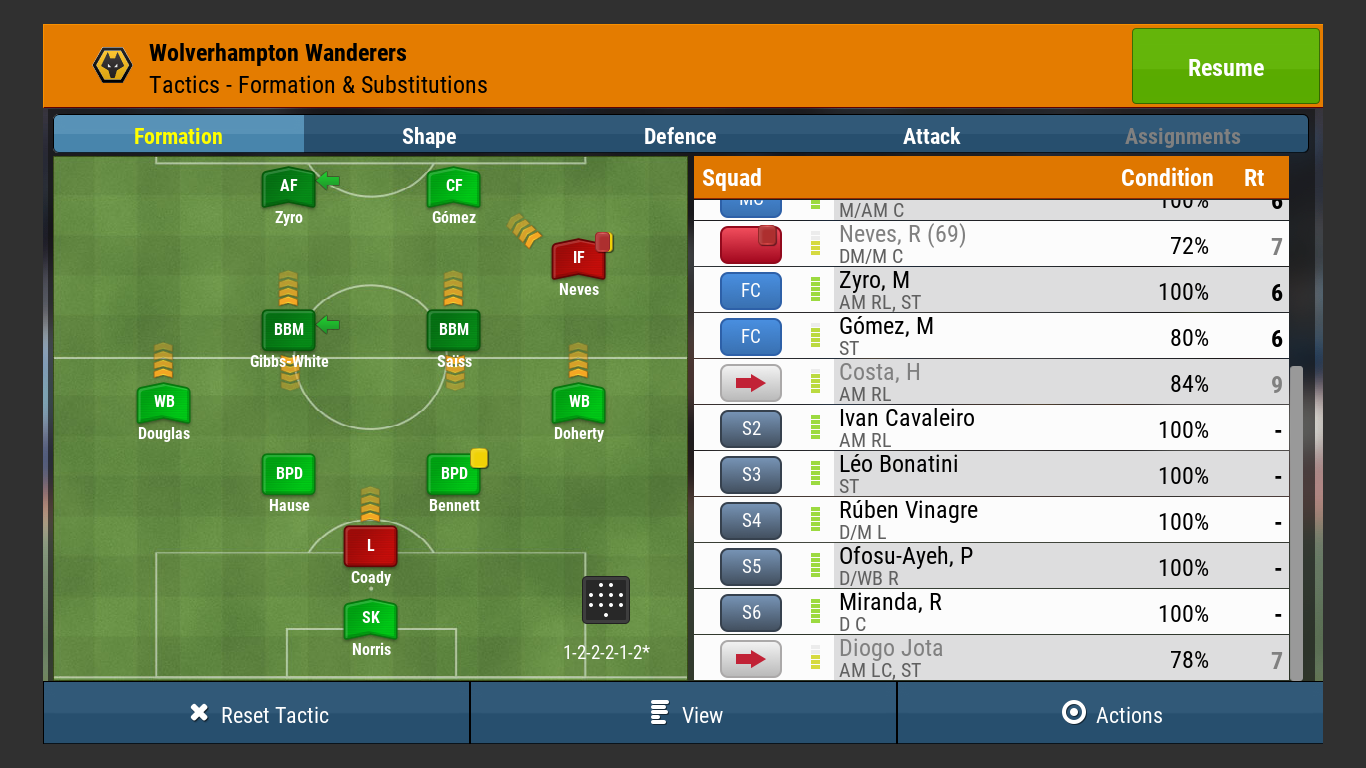 5-2-2 is what you're looking at. I thought we may as well push two up because if we get a chance on the counter, we're much more likely to take it if there are two of them as opposed to just one. Gibbs-White came on for Costa to plug the hole left by Neves.
We were under wave after wave after wave of Cardiff attack but we stood strong and held on for a crucial three points. Nuno's side, on the other hand, made things a bit more difficult for themselves as they conceded TWO stoppage time penalties. Amazingly, Ruddy save the first one and the second cannoned off the crossbar as Nuno and I both came away with 1-0 wins. Don't get me wrong, the manner in which Nuno won his game was brilliant, but…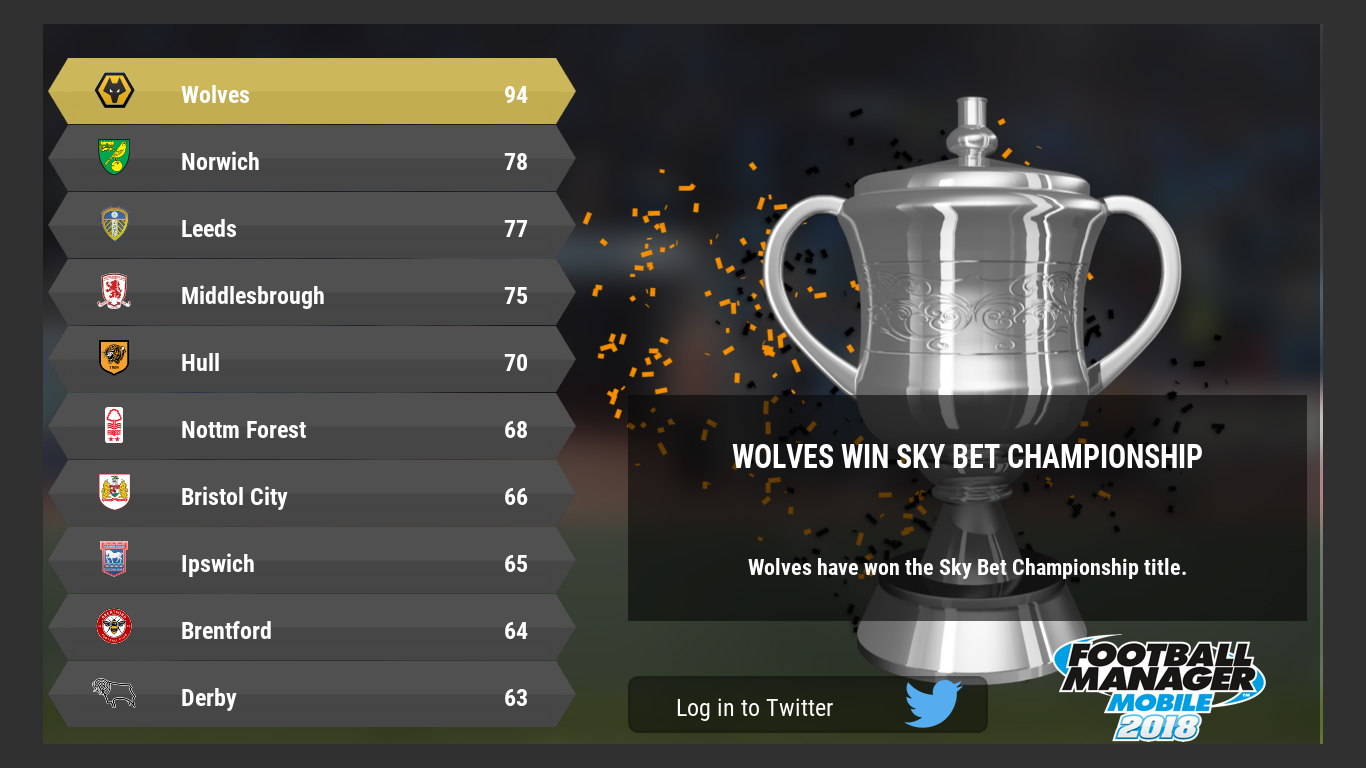 He can't say that yet. Another thing that Nuno can't do is break Reading's record points tally of 106, whereas I can still finish on 109, so that's what I'll be going for in the last five games of the season which starts with a Midlands derby against Derby County which will feature in the next chapter. All that's left to be done is for us to take a look at the table…
| | | | |
| --- | --- | --- | --- |
| Team | Played | Goal Difference | Points |
| FM Wolves | 41 | +52 | 94 |
| Nuno's Wolves | 41 | +38 | 89 |
Still five points. Still comfortable. I have a sneaking suspicion that there will be some twists and turns along the way and until it's mathematically impossible for Nuno to catch me, I won't be counting my chickens just yet. If you want to read more about the real-life Wolves, you can catch my ramblings at byfarthegreatestteam.com
Until the next time.