It's football cliche central around here at the moment. Football is a funny old game. Last time out, you'll recall Nuno's Wolves seeing off Middlesbrough with nine men whereas even with four up top, we struggled. Now, the next proposition, the one we are going to run through in this chapter, is meant to be easiest than the last. Bear that in mind.
Hull City were in WV1 for an Easter bonanza and despite my normal attitude towards defence, something had to change as the last two performances defensively have been shit and that's putting it mildly. So, considering Nuno has one of the best defensive records in the Championship and his side have leaked fewer goals than me by a country mile, I thought it best to take a leaf out of his book.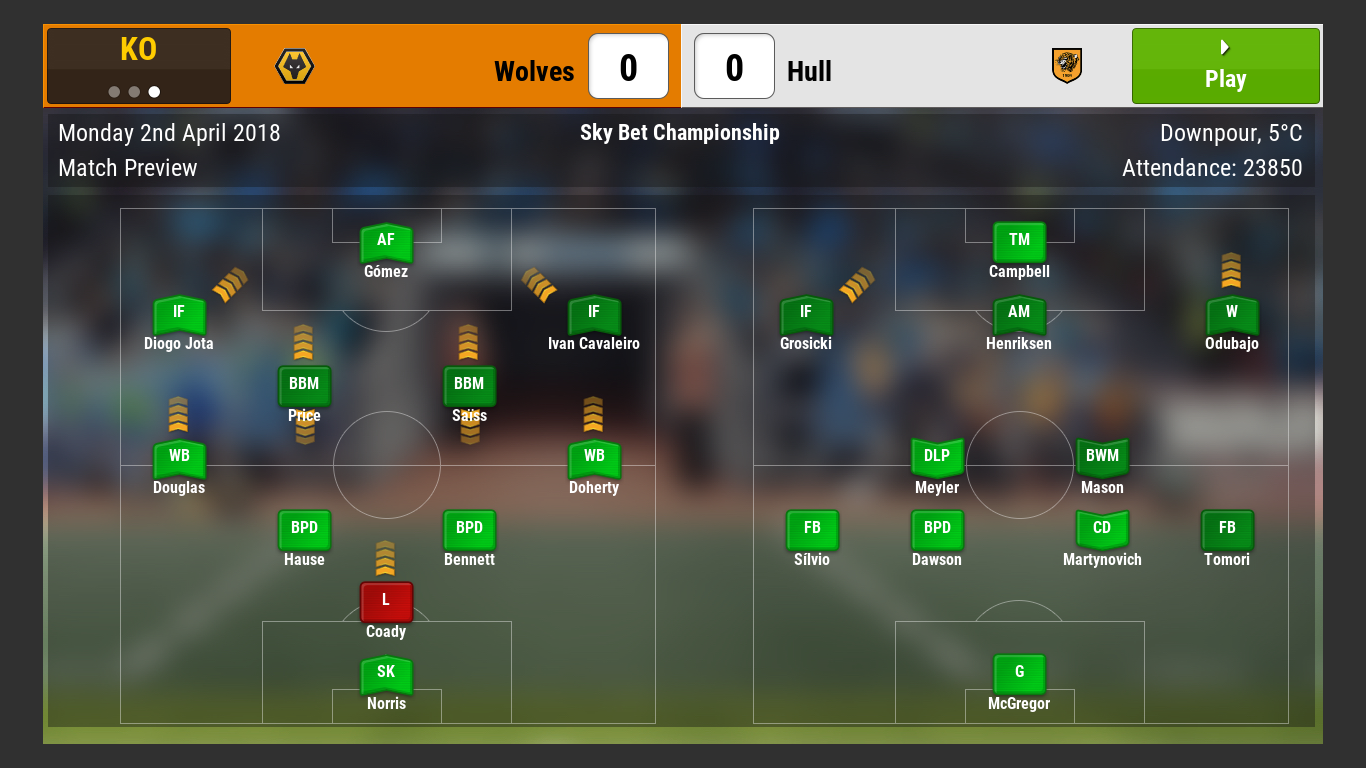 As you can see, there is no number ten in behind the striker and he has been replaced with a Libero. With their only being three points between Nuno and me going into the Hull game, I wasn't taking any chances. Neves was ruled out for Nuno through suspension and by coincidence, he was no good for me, either as his condition was 79% pre-game and I don't care how good someone is, they're not starting a game like that. Jack Price is a wonderful deputy, regardless.
Elsewhere, Gomez came back in for Bonatini and the defence was shaken up once more. Nuno was without Doherty as well as Neves which ensured that he had to make a couple of changes; he shifted Bennett to RWB and brought in Miranda at centre-half, with N'Diaye taking Neves' spot. Diogo Jota was also match-fit once more so he came in for Afobe. Apart from that, it was as you were. Let's see how it all started.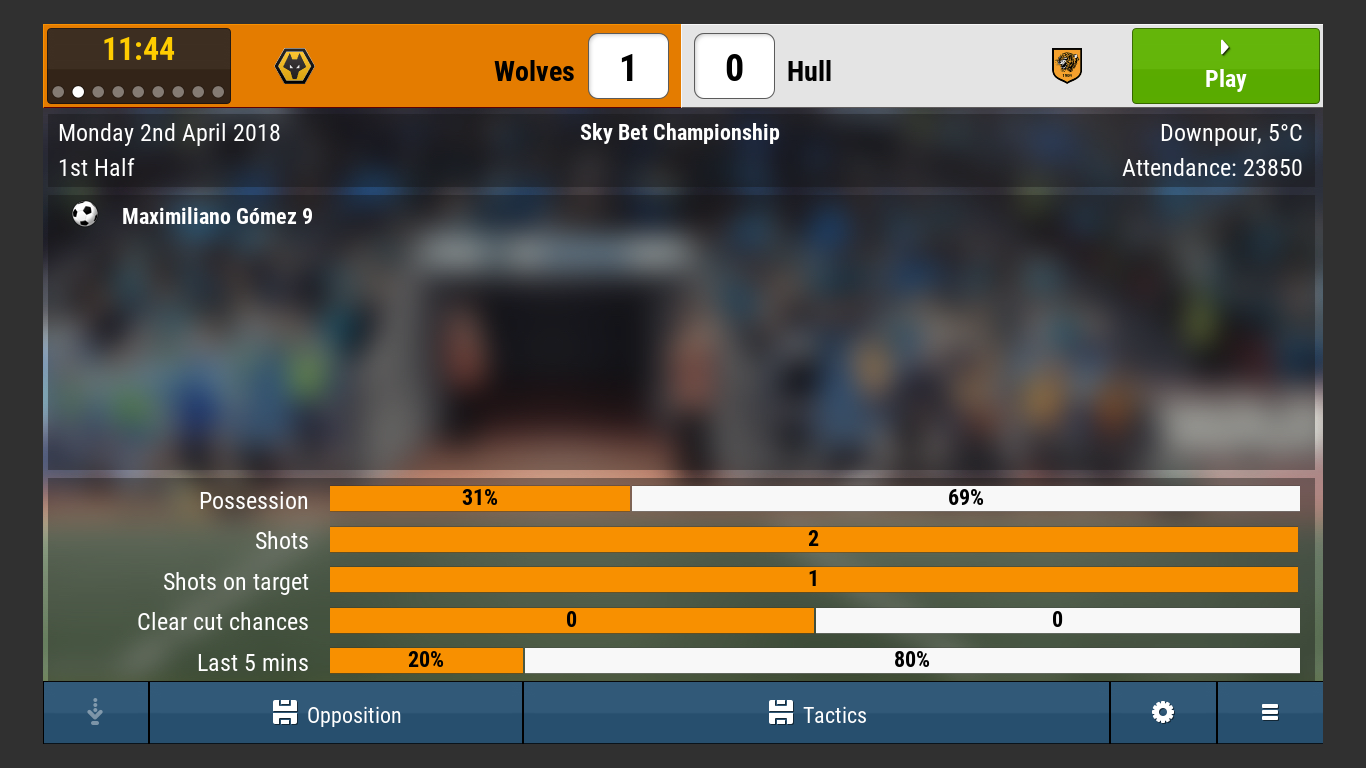 Back in the team and back in the goals for Maxi. That made it eleven in seventeen for the Uruguayan as we were getting to the point where it was looking more and more difficult for me to resist the urge to buy him in the summer. Fuck it, I presume the board will give me a good budget anyway. We'll see. Nuno's side went 1-0 up eight minutes after I did via Diogo Jota. No separating us, or so it would seem.
Well, that was until Roderick Miranda conceded a penalty for Nuno's side. David Meyler converted in front of a packed South Bank to make it 1-1 against Nuno's side. There wasn't a great deal going on in my game which was fine by me as I would take 1-0 every game from now until the end of the season as it would mean that I would beat Nuno. This is how the stats looked at the interval.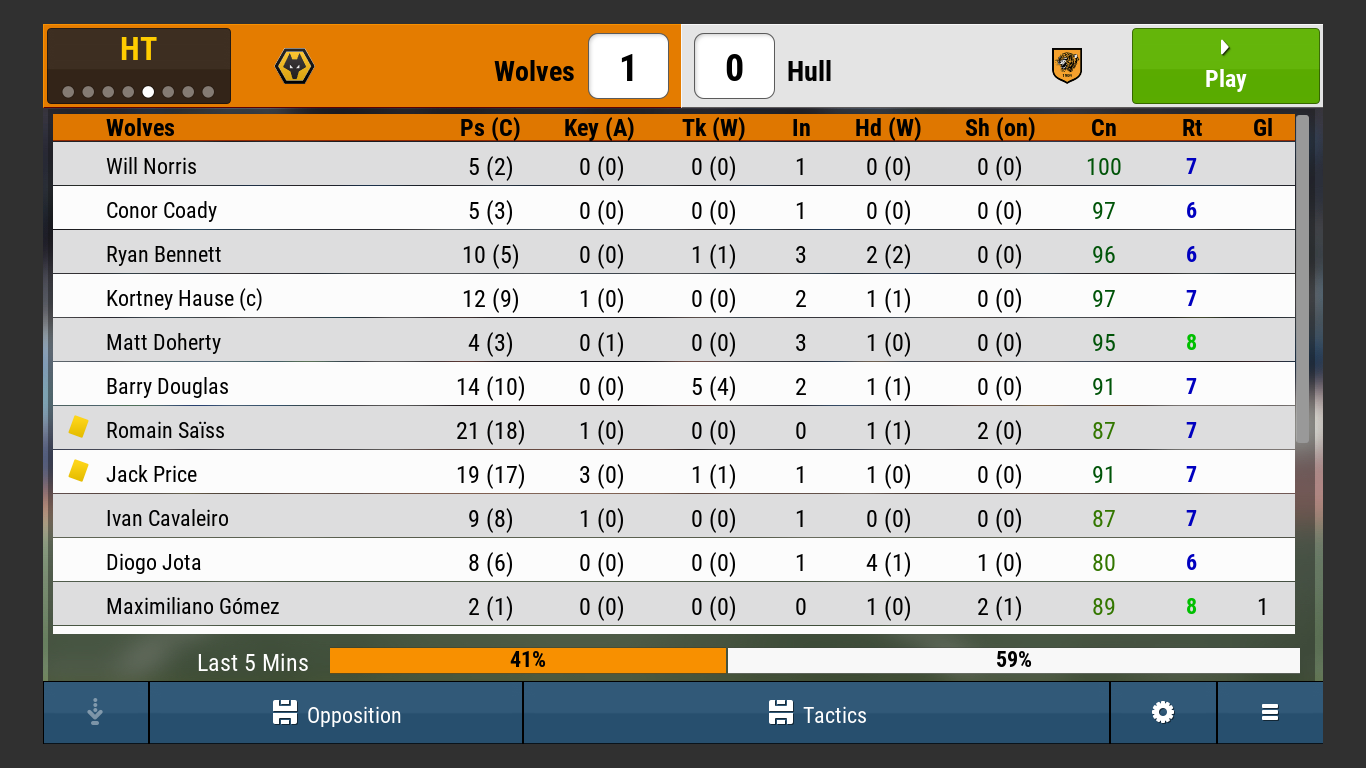 Romain and Jack both being booked concerned me ever so slightly, however, what they were doing with the ball pleased me much more than what they could do without it bothered me. If they got sent off then so be it. It was a risk, but I only had Gibbs-White on the bench from a CM point of view and I didn't want to introduce him to the game at such a fine point. In a rather rare turn of events, I didn't tinker with the team at half-time! Fourteen minutes after the restart, this happened…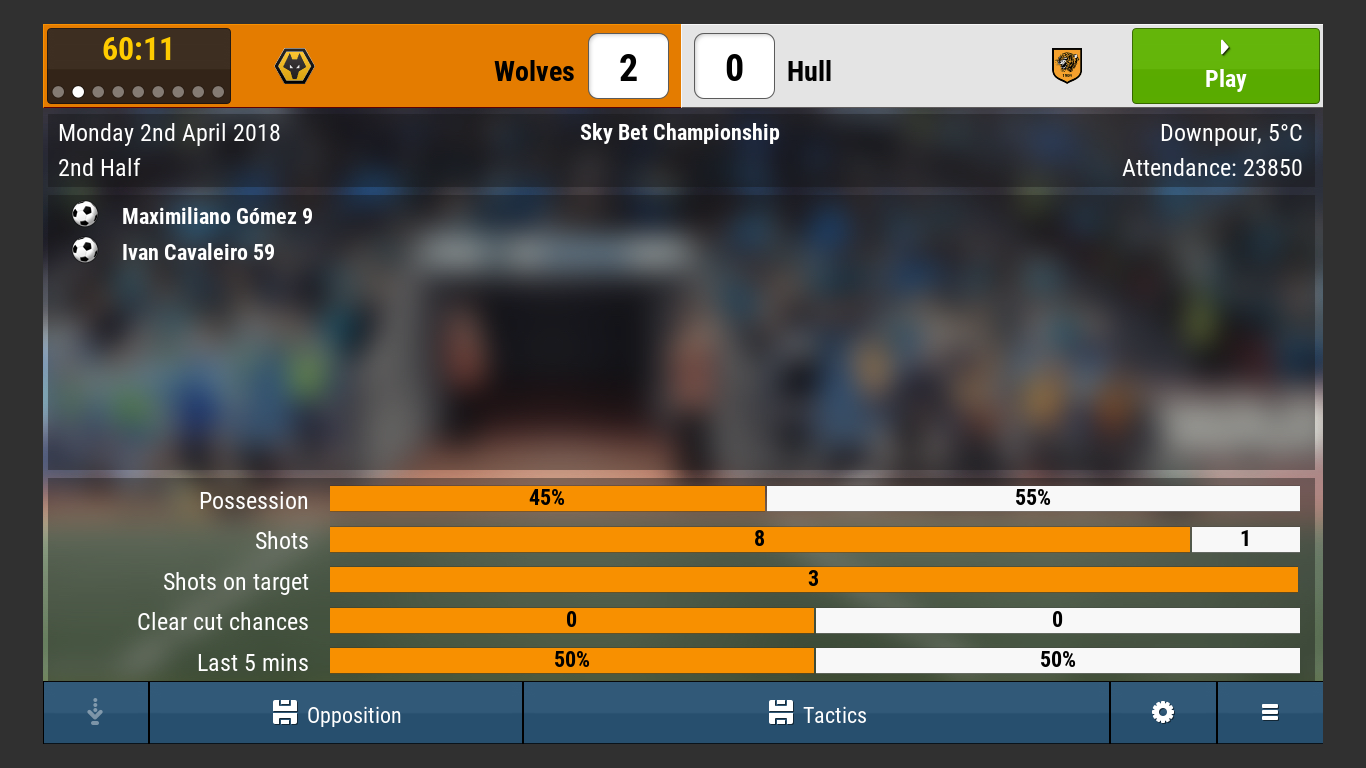 Just what the doctor ordered. That's a point, where on earth does that saying originate from? Moving swiftly on, that goal took Cavaleiro to twenty for the season and his price tag just keeps on getting bigger and bigger. What a player. What a man. What a human. Is he human? Good question.
That goal signalled the time for change as my inner-tinkerman came out once again, three changes were made.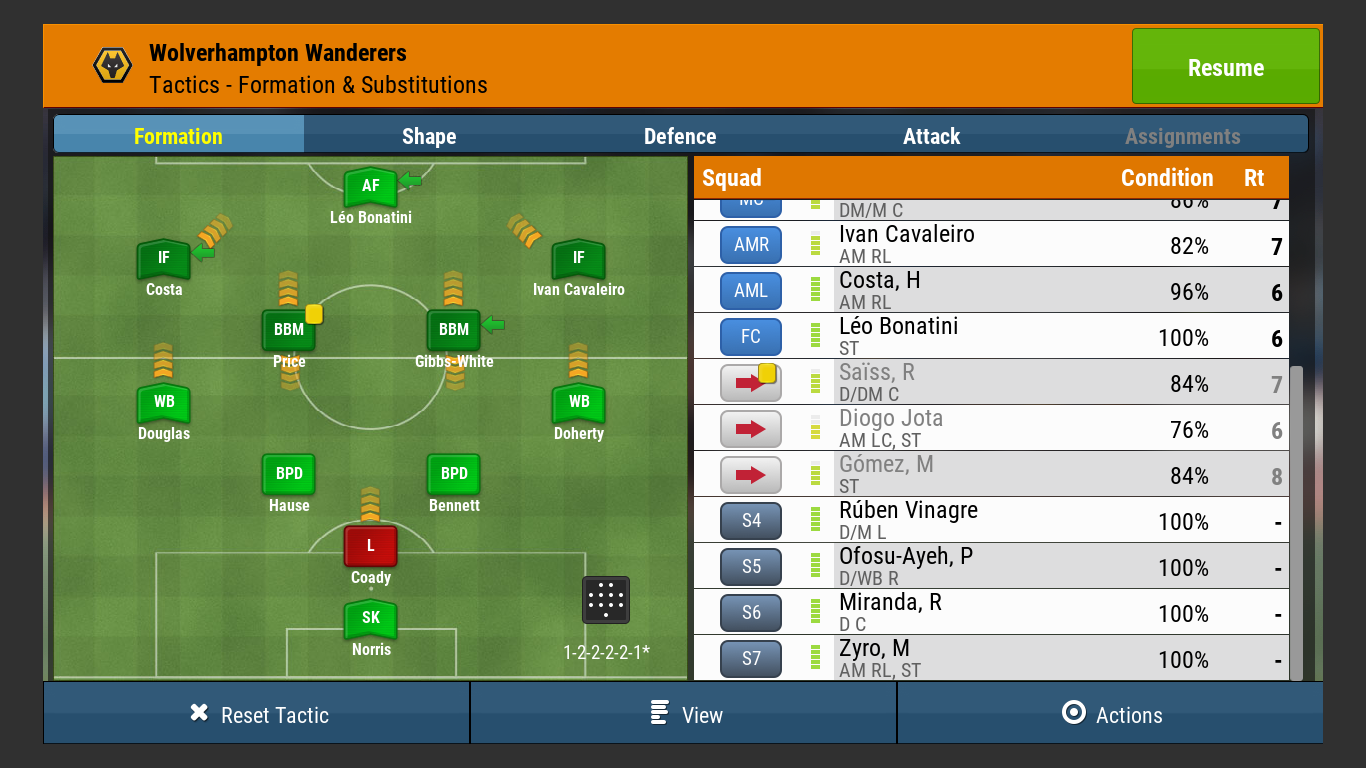 As you can see, on came Bonatini, Costa and Gibbs-White for Gomez, Jota and Saiss respectively. I was more than happy with the position we were in and those three wouldn't hinder anything moving forward either It was over to Nuno for the next bit. He went 2-1 down as Ryan Bennett put into his own goal in the 78th minute and then Oskar Buur drew Nuno level with eighty-three minutes on the clock. In minute eighty-four, something happened in my game…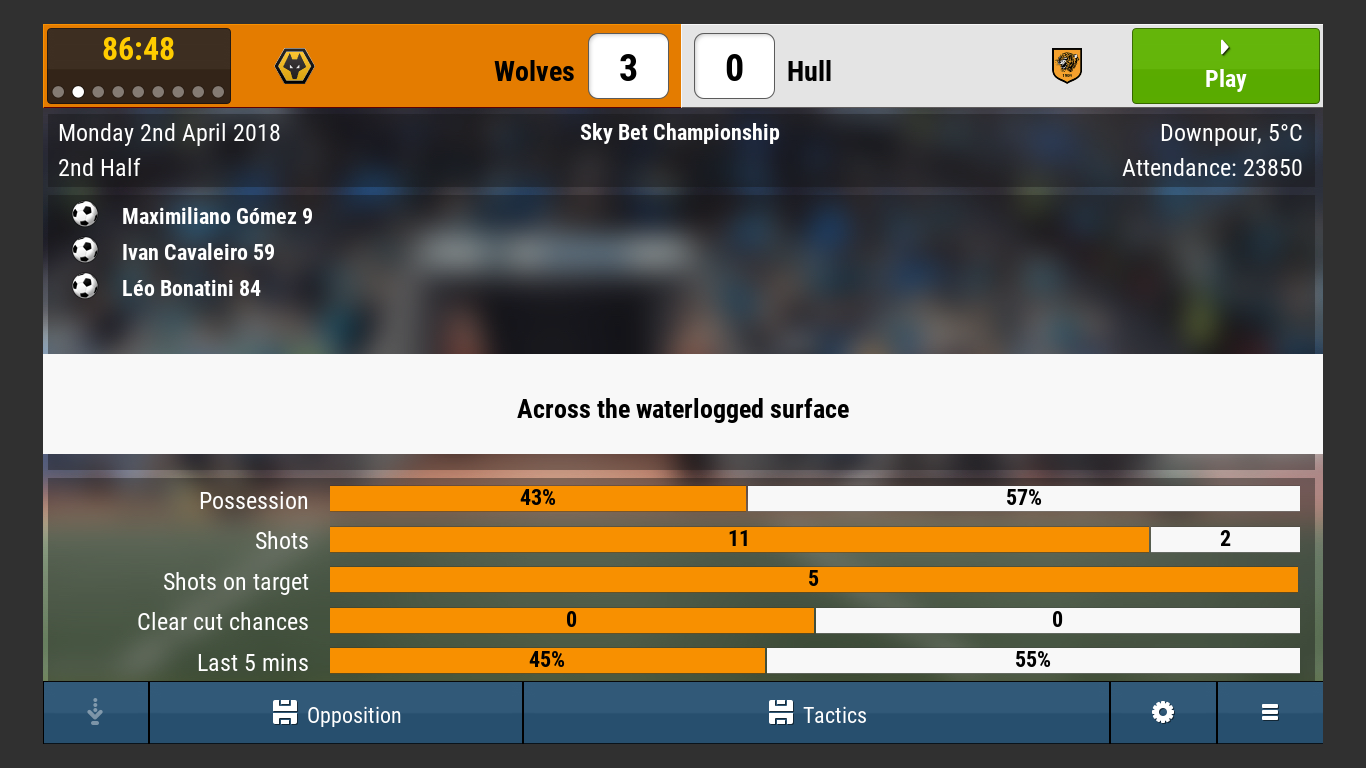 Super-sub Leo seals the game. That makes it signed, sealed and delivered. Job done. Bosh. Bang. Kerpow. And one for luck…
If you look at that, the most satisfying thing is that they didn't have a single shot on target which is some going when you consider we conceded eight in the previous two games. While we're on the topic of stats, here's how the lads ended up…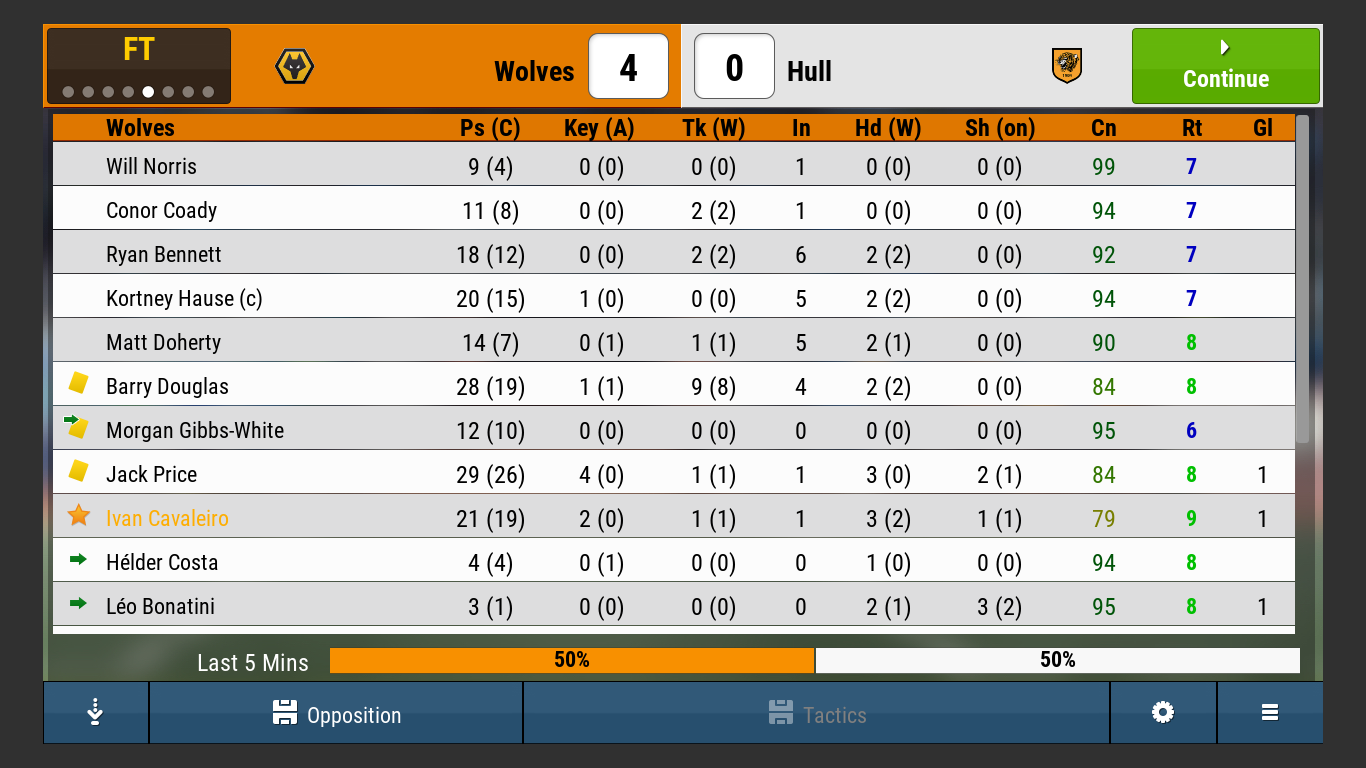 So, Nuno could only manage a 2-2 draw as I ruled supreme once again. As I said at the beginning, football is a funny old game. All that is left to be done is for us to take a look at the table between the pair of us.
| | | | |
| --- | --- | --- | --- |
| Team | Played | Goal Difference | Points |
| FM Wolves | 40 | +51 | 91 |
| Nuno's Wolves | 40 | +37 | 86 |
Cardiff up next. Nuno's game is a top of the table clash, on the other hand, Cardiff are 20th in my world and I'm also at a point in the season where if I beat them, I'll confirm promotion. Tune in Saturday to find out who manages what.
Until the next time.