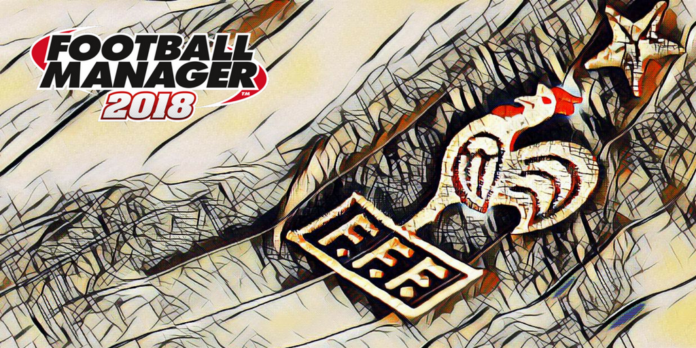 "Oui, je suis un échec" I found myself saying to the microphone in my last press conference at AS Cannes. And it was true. I had failed, therefore I am a failure. When I rocked up on the French Riviera I was young, full of hope. I promised Ligue 1 football, that was a given. After a while, I believed I could do it with a team of amateur players. Did my ego take over? I am not sure. But the simple fact is this: Being relegated and turning professional days after relegation was confirmed was the end of my time in France. It just took another three months for me to realise".
*
You'd have thought it would have been easier once we turned pro, right? That's what all the so-called FM experts were telling me. Well, they were wrong. Turning pro was a nightmare for us at Cannes.
The problems started when not one of the current squad of amateurs wanted to sign a professional contract with us. They were still down from being relegated but I could not afford to wait. So, with a very heavy heart, I had to release the entire squad and the work of rebuilding began.
This brought on the next set of problems. Recruitment. The players I wanted either did not want to join us or thought we had way more money to spend on wages than we actually we prepared to offer. Yes, I was being quite tight as I was working on the real wage budget I had worked out but some of the requests we were getting were crazy. I didn't want to pay a player much above €1500 a week tops, yet players were expecting €4k plus almost everytime. As a result, we ended up with a load of players earning anything between €400 and €1500 a week and I could just sense we were not good enough. Compared to the previous amateur team I'd had in the third tier, well it would have been like sending out a Sunday league side to play Manchester City.
And that is what happened. We struggled through pre-season and morale was already low amongst the new squad. We got hammered in the Coupe de Ligue preliminary round by a Ligue 2 side. We used to win games like that. And then the league started.
Three wins and two draws in the first twelve games had us mid-table and not that far off a promotion playoff spot, but. A big but. I knew the truth. The magic had gone. The fans, who had been spoiled on the way up, could sense we were on the way down. The board were starting to lose faith. More importantly, I was starting to lose faith.
We went through the motions for two more games. Both ended 4-0. The players, I couldn't blame them. I'd brought them in after all. The slump, referenced on last week's DLP, had become terminal. It was over.
I had dreamed of success at AS Cannes, of being their Guy Roux. It turned out I was not good enough. I resigned, tears in my eyes (not really, it's a game after all).
Regrets?
Yeah, a few. I should have remained amateur. I massively regret going pro. If I was going to go pro, I should have gone semi-pro in Div 4 and 3, then pro in Ligue 2 and structured it. Jumping from amateur to pro off the back of relegation (which wasn't expected) killed us. Having to change the entire squad killed us. My beliefs around only spending what we have to spend killed us. After all, we had €10m in the bank – why didn't I decide to write off €5m of what we had earned over 6 years in getting us back into Ligue 2 at the first attempt?
It could have been so different, but in the end, it was not.
Those titles earned in India feel a very long time ago. Maybe it is time to go obscure once more. Maybe Europe just isn't for me after all.