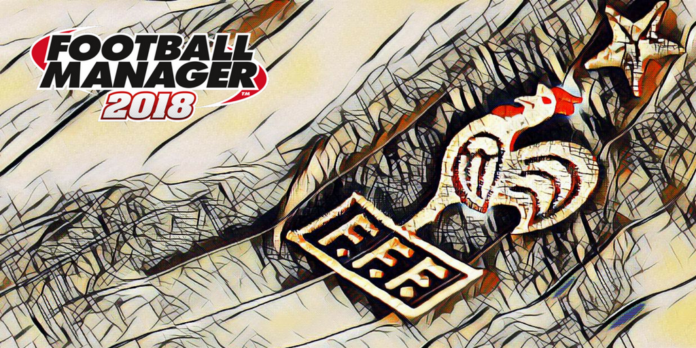 Sod starting today's post with a make-believe conversation.
I'm leaving it to Alanis.
Er, we decided to not go pro.
I felt we could do better than last season and get right back in the Ligue 2 promotion mix.
After three games I filed the request to turn pro next season as I felt we'd be ready – either as a promoted Ligue 1 side or a team who had gone very close to promotion.
How did that work out?
Yeah, we got relegated.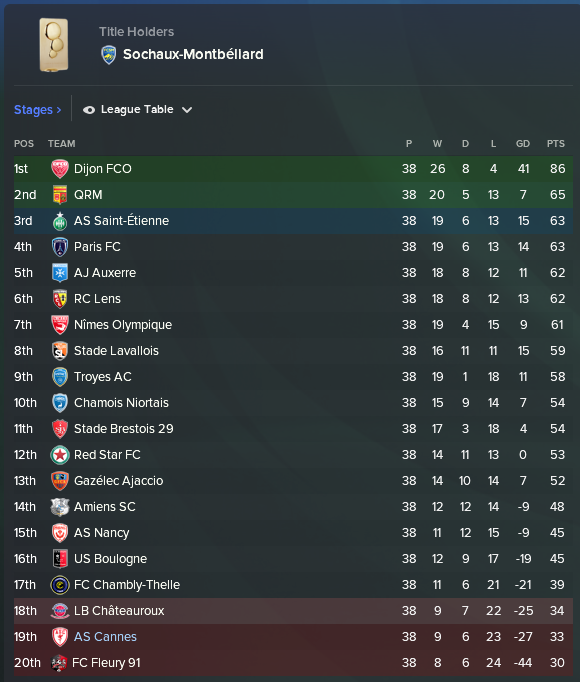 You think that's annoying?
Check this out.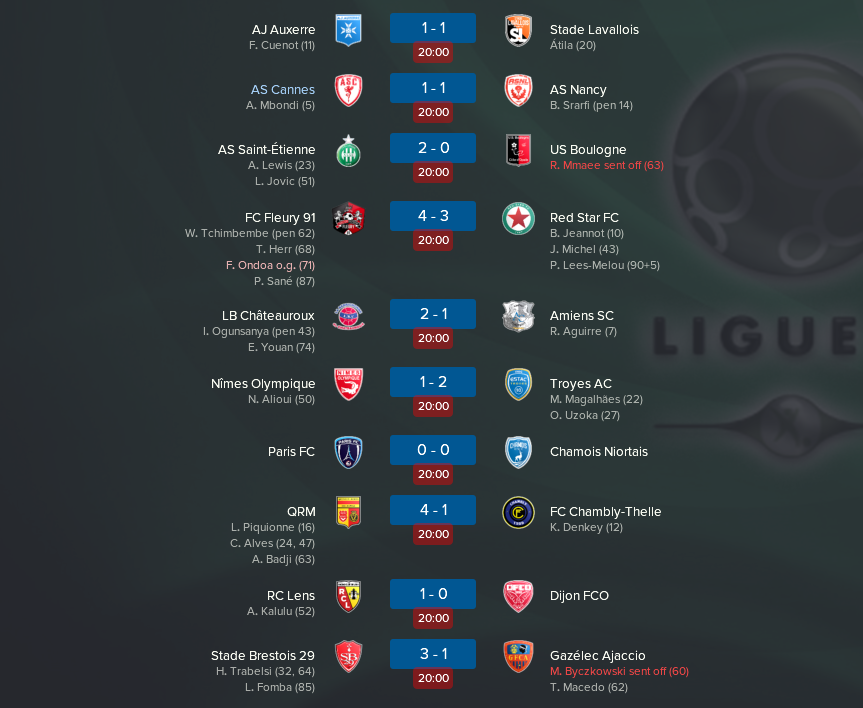 Chateauroux, managed by Jean-Pierre Papin of all bloody people, were losing at half-time and managed to turn it around in the second half and send us down.
Fuming.
How did this happen?
THE GOOD START

You can probably understand why I was feeling good. So what if we lost 3-0 to Auxerre? They are decent.
Ahem.
THE NEXT BIT

That promising start, the decision to go pro – all that seems a little foolish at this point.
4 games without a goal, try and play a little more attacking for a short spell and score – yet concede more than we score. Ouch.
THE REVIVAL

Lo and behold, we remembered how to play football! We were going to be OK, we were going to be OK!
THE ANTI-REVIVAL

Two wins there in what, 13 games? Brilliant. Yet two wins were enough to give us hope, and you know what hope does. The 5-0 was a friendly where we tried a new approach and we were brilliant. Yet, not so much in the next two league games.
HOPE

"Chill bro, we got this" I am sure one of the squad will have said. This little run made us look pretty safe, we had a buffer zone.
BUFFER ZONES DON'T MEAN SHIT

Two points from twenty-four? You don't deserve to stay up when you deliver that in a run-in. And with that we are now a professional Championnat National I side.
Which is so far from the point, I cannot even imagine what the original point was.
Relegated. In the week we do the "How to Get Out of a Slump" podcast on @thedeeplyingpod.
Thanks, Alanis.
---
WHERE DO WE GO FROM HERE?
The simple fact is, we are now a professional club. That will not change just because we went down, unfortunately.
The obvious plan would be to secure the futures of the players who have been loyal to me since we were a fighting our way up the tables. The players that achieved so many things that were deemed impossible.
Well, I'd like to.
The only problem is…

And it's not just William. I haven't been through the whole squad, but the first six I tried to have a chat with resulted in this.
Right now I have a few things that I need to do.
#1 WORK OUT MY REAL WAGE BUDGET

This is what I feared. €108k x 52 weeks = €5,600,000. Seriously folks?
€5m in the third level on wages? Not a chance.
I like to work out my wage budget myself, using my old "balancing the books" methodology from way back when. In simple terms, don't pay more on wages than what you believe you can bring in – I hate including prize money, TV money, sponsorship money typically unless I can guarantee it.
This season we made;
Gate Receipts: €372,000
Season Tickets: €209,000
Sponsorship: €400,000
Matchday income, corporate hospitality etc: €150,000
Total: €1,100,000
If I am being super generous, I'd add in the prize money we'd get for finishing bottom of the third tier – €300,000
All in all, my total wage budget for next year if we assumed nothing was going to change next season would be €1,400,000.
I cannot see us getting €400k in sponsorship – last time we were in the third tier we brought in around €200k so I have to go with that figure again.
So that is €1.2m now.
I can see everything else dropping by between 10-20% so let's knock off another €200k to be on the safe side.
I need to run a professional team on €1m a year to balance the books (I think).
€1,000,000 / 52 weeks = €19,200 a week.
If I have a squad of 20 and all the wages go on them – that means they are averaging about €1k per player.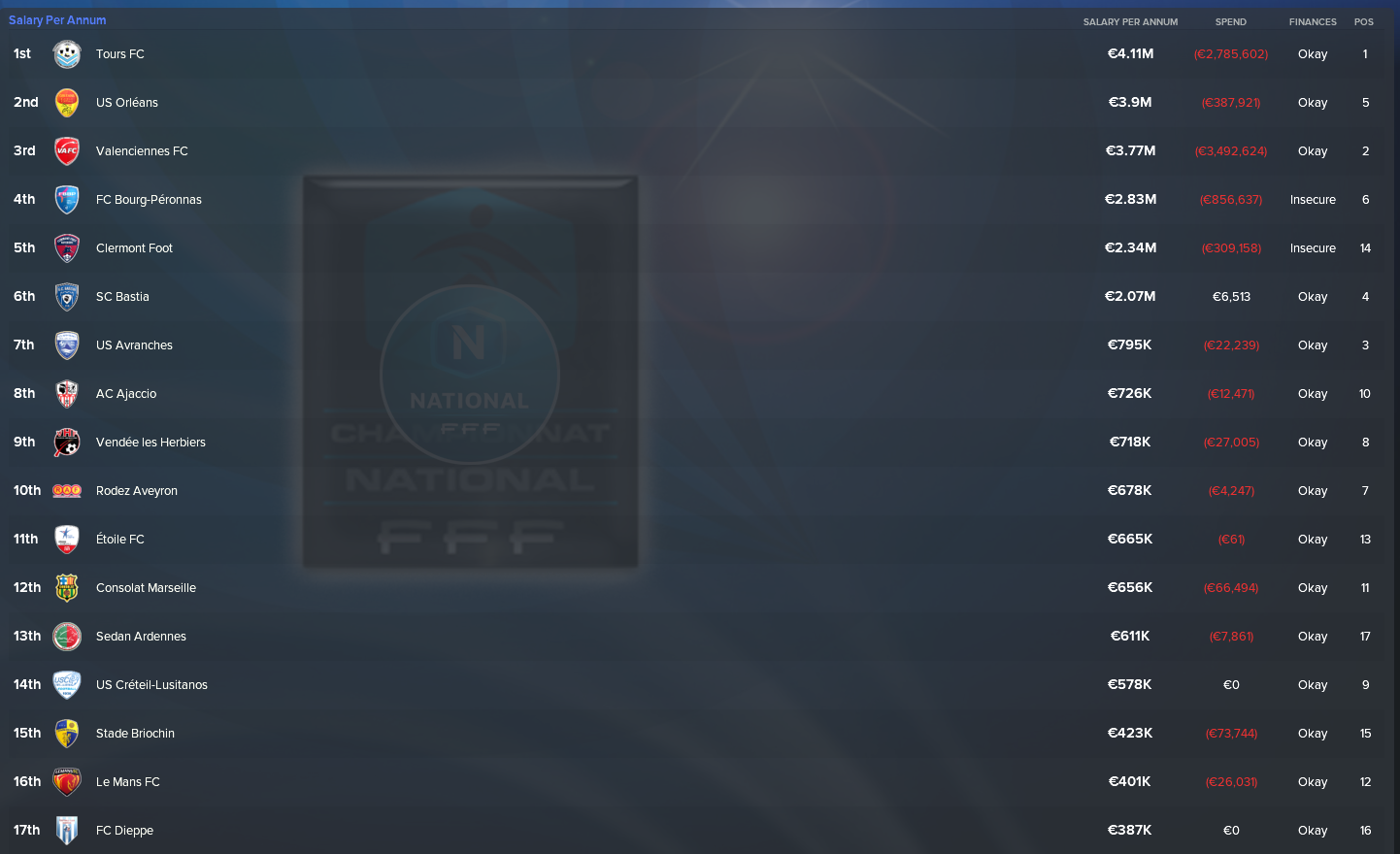 As you can see, if we did spend €1m a year that would sit us in 7th place in the spend if we were in that division this season.
It is also worth remembering, I got us out of that league previously without spending a penny.
So, in summary of this little bit, I know how much I want to spend on player wages tops. What do I do now?
---
#2 THE SQUAD
As we learned a little while ago, a lot of the squad are a bit pissed off right now – and I haven't even checked the coaching staff.
In an ideal world, I'll retain all the coaches as amateurs and see what happens – replace as I go.
Player wise – I know the existing squad is good enough to get promoted straight back in but there is a chance that I might not be able to keep them all. If it turns out that players do want to stay but they want way over €1k a week to do so, that puts me in a tricky position too.
I am going into this next bit blindfolded – yet, even blindfolded I need a couple of approaches.
PLAN A: Keep as many of the existing squad as possible so that we have a nucleus for the next season
PLAN B: Accept that Plan A will not work completely and identify a host of targets who meet statistical performance requirements and will be available at no cost
PLAN C: Chuck the kids in and hope for the best
Realistically, it's going to be a blend of all three I would imagine.
I've identified the players I really, really hope we can keep.
Khaoui: He has been with us for a while and is now 29. His experience could be valuable but right now he wants out.
Rafe: Club captain, has been with us since Div 5. He is part of the furniture.
Thiam: Like Rafe, the club would feel empty without him.
Faivre: I still dream of getting him into the Algeria squad. If I'd started him at the beginning of the season would we have even got relegated?
Gent: He is now the club's record goalscorer – he has to stay.
So that is five players, all in all. The rest, well some will stay and some will go – in fact some of the above will stay and some will go. Cannes could look very different next season.
#3 THE SCOUTING PROCESS
I am keeping this very simple as we tread into the world of players who are not freebies for the very first time in this save.
I am using the player search facility for the first time, checking their season performance stats and scouting the ones I like the look of. This is not to say I will stop searching for players released by top clubs – the door should be even more open to some absolute gems now. Without looking through the quality, the minute we went pro we went from no players on the shortlist showing as "interested" to all 30 appearing as "interested". So, for the first time since I have been here, we might actually have some choices to make.
I am still not using any scouting packages as I do not want to burn through money that way. It's been so long (Mumbai and Hamburg) since I was able to actually "shop" that I have forgotten what I will be doing, so I shall tread carefully initially.
There is a key save rule to be honoured here though, all signings must be on a free. This won't be too challenging initially as I have zero transfer budget.
---
SUMMARY
Yeah, everything has changed as we go into a new dawn on football in Cannes.
Sometimes you have to go backwards to go forwards. Think of every step back as pulling back the slingshot. The further back you pull it, the further the object will fire. That's what I am telling myself anyway.
This is a massive pre-season. I shall report back.