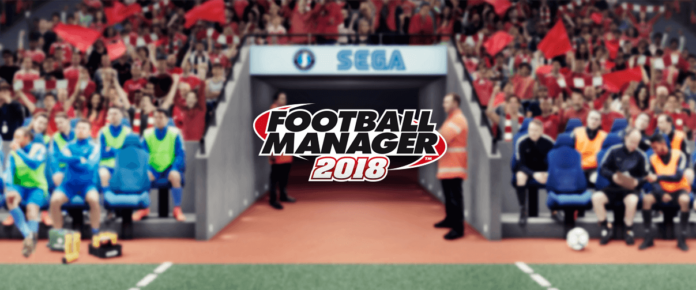 Josh Challies, Atlanta United icon. In this area, I'm THE man. I'm what Bill Shankly is to Liverpool, what Matt Busby is to Manchester United and what Herbert Chapman is to Arsenal. Except there's one major difference – I'm not finished.
So, why am I on top of cloud nine? Well…

That's right, we've done it again. Four Supporter's Shields in a row, two US Cup wins, two NACL's in a row and two MLS Cup wins. We're not done either, there's still the playoffs to come and we're off to the Club World Cup again.
This year, thankfully, it was a bit more challenging than usual. Seattle woke from their slumber and gave us a good run for the crown, though their hopes ended when we beat them 2-0. The disappointment is, of course, the five defeats, many of which were once again caused by a depleted squad.
But, again, that's a mark of our success. Of the seven senior internationals in our squad, six of them were signed or scouted by myself- the exception to that is Josef Martinez, who I'm delighted to say stayed this summer despite flirting with China, France and Spain. He's now secured legendary status at the club, which is hardly surprising considering his MLS record is 91 goals in 138 appearances.

The above is what I'm most pleased with though. Our average age is just 22 and our oldest player, Leandro Gonzalez Pirez, is 28. In fact, only five players in our squad are over the age of 25 and our international quota has been reduced to seven players- when previously it was as high as 10.
17 of my squad are Americans. We have one Venezuelan, one Emirati, one Italian, one Colombian, one Chilean, two Brazilians and two Argentines. Of those international players, only three are capped by their nations – and one of those is 19-year-old Ibrahim Al-Balooshi, who has 16 caps for the UAE.
Clearly, we're a development club for the future. A few more of our players are banging on the doors of the senior squad and my American roster will likely be increased by promotions from the academy and the draft- although the three highest rated youngsters in the youth squad are Chinese, Comoran and Andorran.
What's even more exciting though is that only two players are in their prime years, with everybody else having the capability to improve. We saw this summer that European sides want my products and I'm proud of every single one of those who has earned that chance.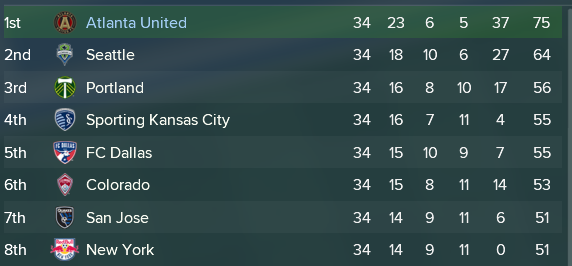 Anyway, here you can see how the standings finished this term. We actually scored less than in previous seasons but that's down to chopping and changing our attack regularly. With the changes in that area now done and dusted, we're settled on a regular (and devastating) attacking quota.
Defensively, the departure of Benjamin Kuscevic hit us hard and we do lack depth. However, the aforementioned El-Balooshi is coming into his own and I have no issues with playing him on a regular basis. In fact, it's the first season ever where I look at my squad and see no necessary changes.
So what's the challenge now? I'd love to go unbeaten but think that's impossible due to the international scheduling nightmare we regularly have. Of course, we want to win the MLS Cup this year and another successful venture at the Club World Cup would go down a treat.
From there I think I'm very much looking at the 2022 World Cup as a sign of how far we've come. I want to see as many of our squad and former players featuring as possible. If that happens, I'll be delighted.
Oh and remember how I was complaining about the Olympics? My American boys won silver.