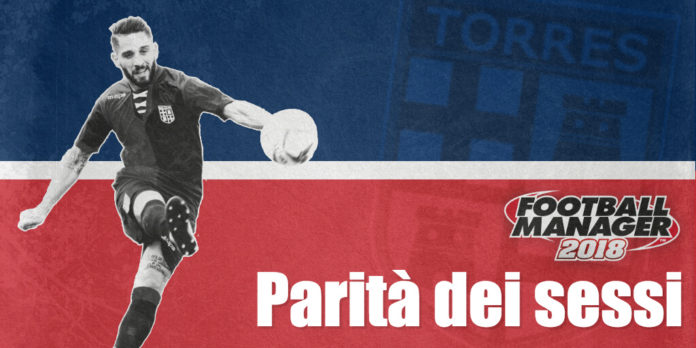 We're on a mission of gender equality. The women's team at ASD Torres have won seven Italian championships, eight Coppa Italia titles and seven Supercoppa Italiana wins. The men have achieved nothing. That needs to change. This is the first season and we're playing in the 5th tier, the Eccellenza Sardegna. Click here for the prologue.
PART ONE: The marvellous injury
Have you ever jumped for joy because your star player became seriously injured? I have.
Meet Javier Martinez. Or as he's affectionately known in Sassari, Il dio paraguaiano. At the level we're playing his stats are out of this world. His ability to strike the ball is about as good as the rest of our attackers combined.
And now he has torn his abdominal muscle and I couldn't be happier. Why? Because we're an amateur club too small for his ambitions and he's being courted by clubs two levels above our league. But now he's out for 7 weeks which means he'll be out until after the transfer deadline. I'm not sure about this, but I hope that means we'll keep him at least until January.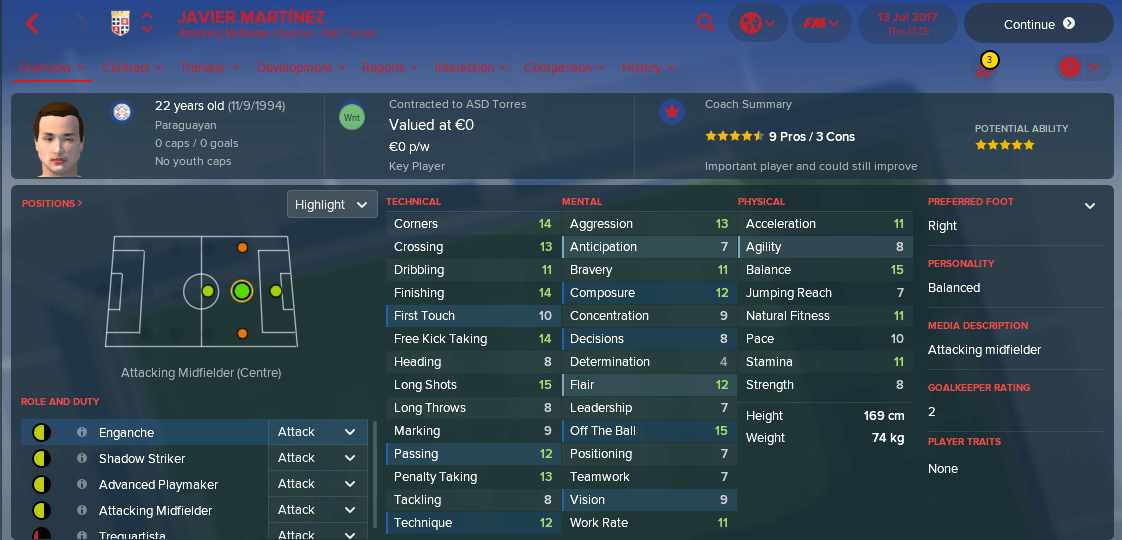 Allow me to welcome you to the Vanni Sanna. At first look, it's about as bad as I expected. We're an amateur side that only just managed to gain a licence to play in the Eccellenza Sardegna because our chairman worked out a somewhat shady deal with the Federazione Italiana Giuoco Calcio (The Italian FA). And before that the club was in financial trouble for decades.
So it's no wonder then that the facilities are really poor. Also, no wonder that the team appear to be really bad too. As an amateur club I'm imagining it'll be hard to get anyone worth their salt to play for us.
I haven't had a chance to study all our players in detail yet but at this level I'm looking for physical stats above all else. If I can get a bit of determination, teamwork and work rate, that'll be great too.
All other attributes will determine how we play. Fast players? Fine, we'll sit deep and rely on counter attacks. Big striker? Great, we'll knock balls into the box and hope for the best.
I'll see what we have in the squad and build our tactical approach from that.
However, I'm not getting my hopes up. From what I can read on SardegnaSport.com through Google Translate the club had to release all players after being relegated from Serie D and losing the licence to keep playing.
It took only a quick glance to see it's clear that we need to strengthen the team in several positions. Our defenders are horrible and we basically have no midfield. On the upside, as cousin Vito says, "we don't pay nobody nothing" so I can sign as many as I want without having to worry about wage budgets. Expect long lines of players waiting outside my office, because I'll be on a player signing frenzy in the coming weeks.
Finances:
After reading up on our recent history I thought we'd be bordering on bankruptcy. But we're actually not in a bad situation at all. We currently have about 200,000 euro in the bank and are projected to double that figure during this season (thanks amateurism!).
If we succeed in gaining promotion to the Serie D, I guess we'll start signing players on part-time contracts at some point. I have a few thoughts on financial management, but I'll write a post on that when we start paying people.
For now, my first action is to fire my head scout and hire someone who can tell the difference between a footballer and a practice cone. Seriously, how on earth did a guy whose ability to spot a talented player is valued at the lowest possible number on the scale get a job as head scout? We need to sign players and I need someone to find us some gems. This guy couldn't find sand on a beach.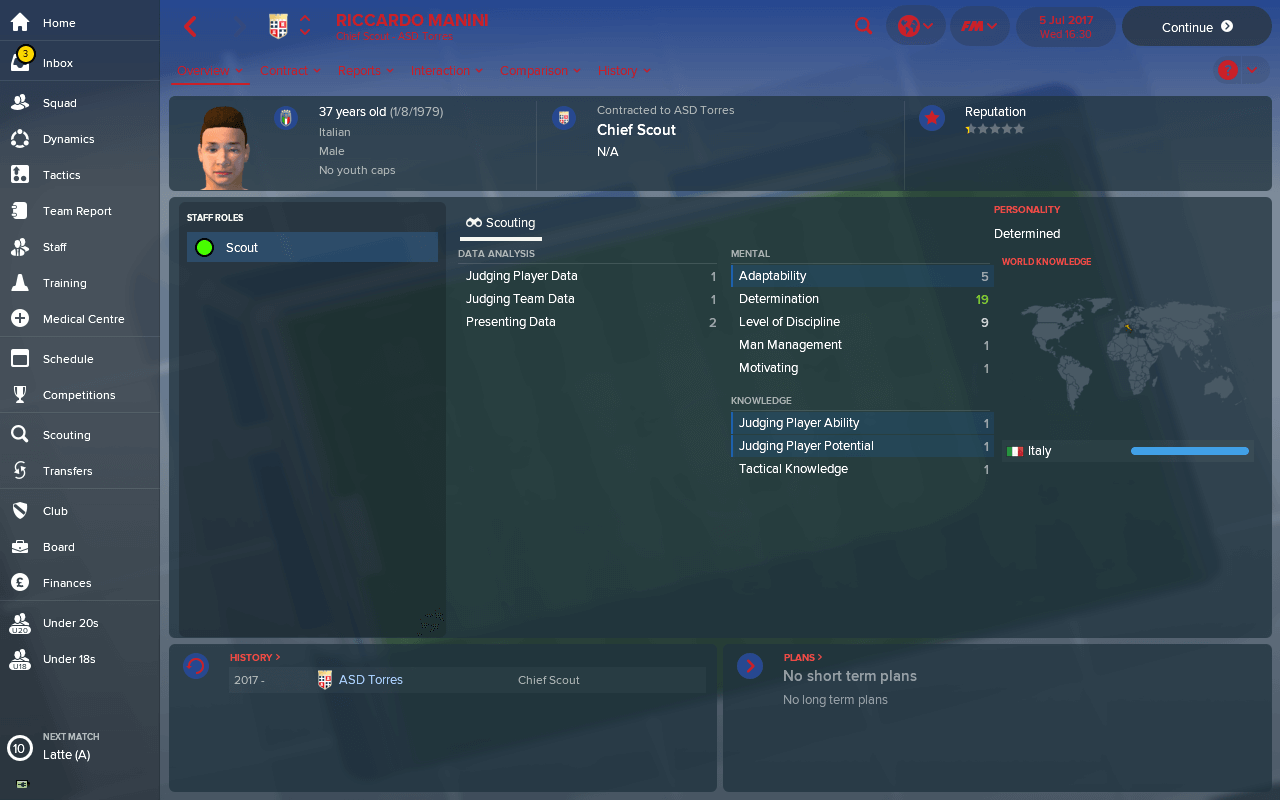 PART TWO: Lightning strikes a second time
It's been a busy few months around the Torres offices but the mood here is one of both excitement and anxiousness.
So far we've had 36 players on trial, signing 18 of them. That's the beauty of being an amateur team: Who's going to stop me signing every single player that comes knocking on my door? I'm sure we'll get a hit on the dynamics sometime in the future but in the worst case scenario, I'll just release the troublemakers. As I mentioned last time, I'm looking for physical stats above all else. In my experience, that's what counts the most in the lower leagues.
Now it's late October, we're 10 games into the season and things are looking good. The preseason went really well. We won against clubs of our own stature and held Sporting Gijon to a 2-1 defeat. Sure, we were outgunned against Deportivo Alaves but we still managed to score twice. I'm fine with that result. Every week they pay their highest earner twice the amount we rake in from season tickets in a year.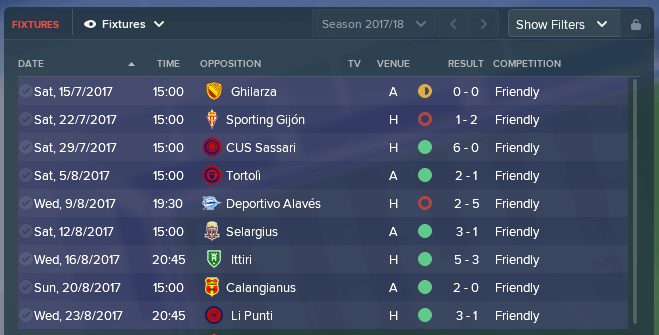 All in all, things are looking rosy for the rossoblu. Just look at us currently sitting at the top of the table after 10 games.
So why am I anxious?
Well, remember Javier Martinez? The little God fra Paraguay that I was so happy about getting injured? It did, in fact, keep him from being poached by bigger clubs during the transfer window.
Instead he spent 7 weeks sulking on the sidelines at the Vanni Sanna. Perhaps it was the champagne I popped when he announced the injury, but somehow he seemed to blame me for his injury. Every time I talked to him to assure him that a starting spot in the first team was waiting for him on return, he scolded me and told me to mind my own business. He even spoke to a few reporters about it (media handling style: volatile, confrontational).
I had to reintroduce him slowly after his injury but he was picking up form heading into our 10th game of the season, a home match against the mountain village of Tonara.
Then in the 32nd minute, this happened: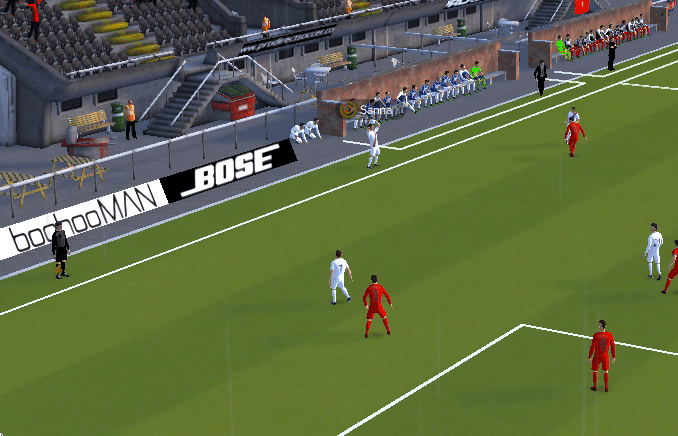 Daniele Tarantino (aggression: 15) stomping on Martinez to get the ball, breaking his ankle. Not even a foul or a yellow card was given. The players lost focus after seeing that horror tackle. Four minutes later, a lapse in concentration left Matteo Invernizzi one-on-one with our keeper. 1-0 to the visitors.
Grim faces lined the dressing room at halftime. My orders for attacking the flanks were left unheard as everyone's thoughts were with Martinez in the hospital. His season is effectively over. The second half flew by as we failed to penetrate the Tonara defence sitting deep, not risking anything. 
We lost that game, the first loss at the Vanni Sanna so far this season.
Luckily, the rest of the team was playing really well even before Martinez came back from his first injury. So even though his broken ankle is a major blow to our chances, I'm still feeling good about this team.
Oh, by the way, have I introduced you to Gianfranco Bortini? No? Forgive me. You gotta see this guy. I mean, those physical stats make him a beast in the Eccelenza. To add to that he can head, his finishing is decent and he'll work his boots off all 90 minutes. So far he has scored 7 goals and made 2 assists in 9 matches.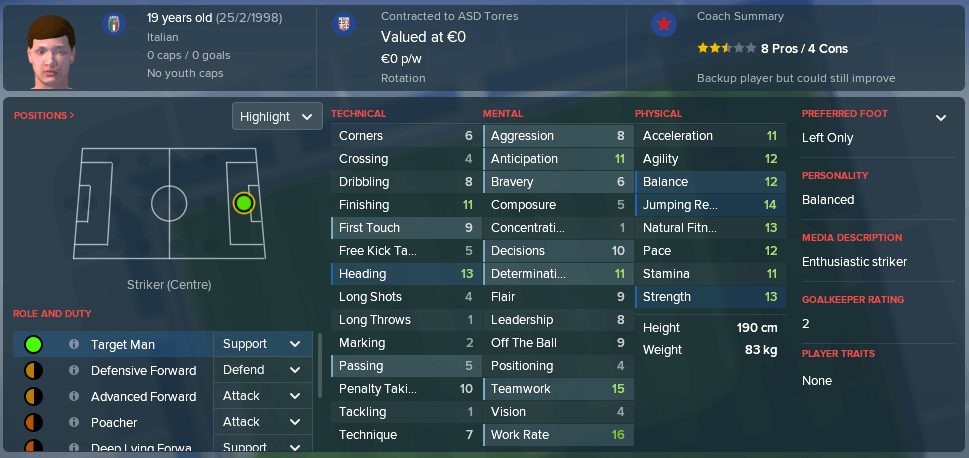 So even though the ultras at the Curva Nord will definitely miss seeing Javier Martinez on the field there's plenty to be excited about. The media has us favourites to win the league and at this point, I'm not ruling anything out.
We're also still in the cup, having reached the quarter-final. It's not the Coppa Italia, mind you. It's the Coppa Italia Sardegna and it's only the local teams playing. Nobody cares about it, but dammit if we win it, I'm renting a bus and taking the players for a victory lap in downtown Sassari. If for nothing else, then for Bortini to drop the trophy under the bus. Just joking. That would obviously never happen in real life.
READ THE NEXT CHAPTER HERE: 
Parità dei sessi 3: We're in the cup final!
A few notes on my game setup:
I'll be playing the game using FM Fusion Italian expansion activating the lower Italian levels. I took the liberty to mess about a little in the editor, correcting the club's name from "Torres" to "Associazione Sportiva Dilettantistica Torres" or "ASD Torres" for short. The database has the kits wrong, so I corrected that and added the Sardinian derbies of Torres-Cagliari and Torres-Olbia. I also added a few local media outlets for fun.
I'm running the game with a medium database adding only the Italian leagues. I don't expect to leave the club anyway, and I have an old computer so otherwise it'll be too slow.
I also chose to use fake players in the game. This will make things a little harder as I will have to rely on scouts. On the upside, everyone gets a computer-generated portrait and a silly haircut.