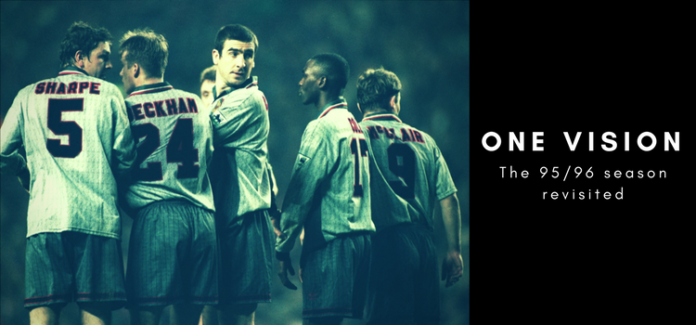 We have stepped into an alternative reality where it is actually 1995 and all things Premier League are looking a little bit retro. Join @tenpotatoesfm as he goes back in time to a world where everything was a little simpler, football was played on the pitch and not just the TV and Wayne Rooney was still a mere twinkle in his uncle's eye. Catch up on the first two parts here and devour them as you would listen to an early Oasis CD.
*
Terry Brown, the old chairman, has welcomed me to the club and all that. The second thing I noticed was that a deal to GIVE Michael Carrick to Manchester United for NOTHING has been agreed – methinks the original database creator might be a United fan? Bollocks to that – this is why I have got the in-game editor. To stop things like this, nothing more.
The biggest thing that I need to do is get the squad looking a bit better than it already is and, quite frankly, one of the best things about this trip down memory lane is finding some of the gems that we know come to bear fruit over the next few seasons.
It's time to check out some international squads!
A nice hour was spent finding some gems who might go on to do something, you never know. I mean, that Ruud van Nistelrooy chap has a chance and there is this kid called Marcelo Salas playing football in Chile who could go on to be a bit of a player. And these are just the ones that might be interested in calling Upton Park their home.
Ruud for £2m? Oh, go on then why not? Welcome to West Ham, you'll be very happy here.
I am sure he is as excited about linking up with Iain Dowie and Tony Cottee as they are.
He looks alright for an 18-year-old boy.

I wonder if I could get Salas to come and ease big Iain out of the squad?
Anyway, the first friendly against Dulwich Hamlet went well. Rio got the second half, but didn't mention wanting to buy their ground funnily enough.
Ruud looks like a bit of a snip at £2m, funnily enough.
We are about two weeks into the save and the Premier League chequebooks seem firmly closed right now. That's what happens when you give control back to the likes of Ken Bates, Deadly Doug Ellis and all their cronies. Plus, to buy even the most average English player looks like it's going to be about £50m. Some of those old men would have a heart-attack.
Nothing to set the hearts racing there, eh?
PLEASE GIVE HIM A WORK PERMIT!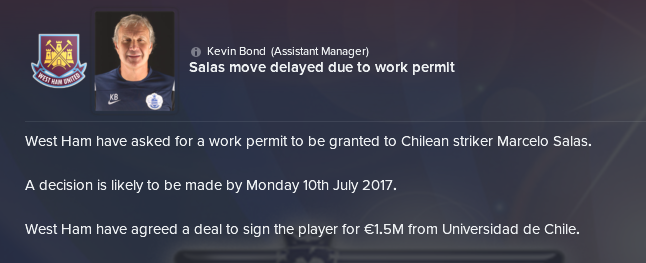 Sure, that will be almost all of my £4m transfer budget spent but I feel it would have been spent well.
Who remembers the Mpenza brothers?
We did them 3-0 and they barely got a kick.

If TC keeps up this kind of form, I might have to cancel the Salas deal!
Now the transfers are starting to roll in…

Witschge? Popescu? Jordi Cruiff? This is what people want to see!
Oh bugger off, why?

He has 15 caps for his country already for crying out loud. Don't close them borders yet, Brexit is decades away!
That's more like it, had me worried there.
Salas and Ruud up front? Sorry TC, you can fight with Iain Dowie for a place on the bench and Iain has a face that suggests he has been in a few fights.
Oh, Salas. I have many happy memories of you kid.

As a result, I've touted out Steve Jones and Dowie to see if anybody fancies paying anything at all for them (both are rated, crazily, at around £10m).
West Ham in 'not very good in Europe' shock – I might cancel the rest of the European friendlies and get the lads toughened up against some lower level English sides.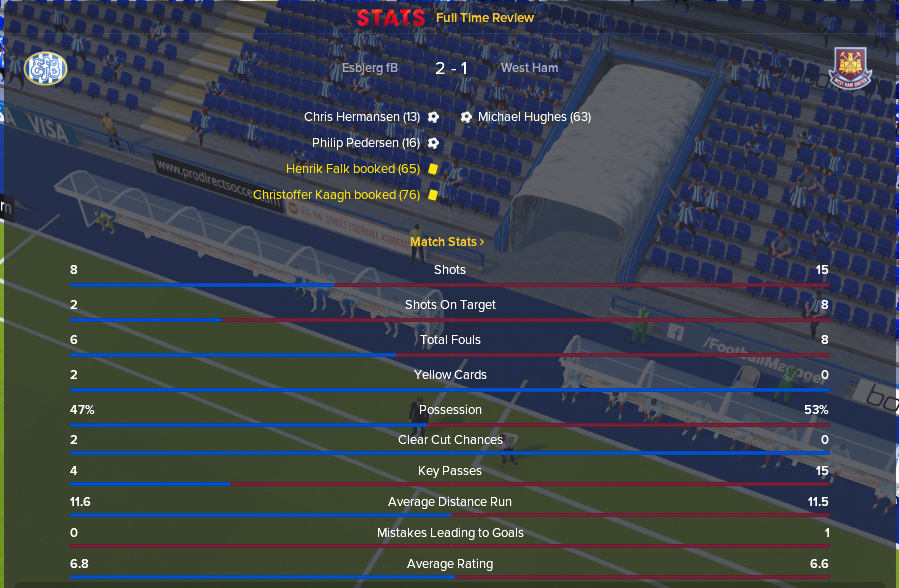 Salas came off the bench and set up Michael Hughes though.
The 'play English teams' plan nearly backfired.

It looked like a child-like Matthew Etherington and Paul Shaw were going to beat us on their own before I went from a 4312 with someone in the 'hole' to a 532 and we sorted ourselves out.
RVN is an absolute beast by the way. Two goals and hit the post twice. And, there is no way a 25-year-old Ruud lets Bish take that penalty, even in a friendly.
Probably time for another transfer check – any big moves?
Er, not really.
Frank Lebeouf has arrived a year early though, that won't please Ruud.
Anyway, we are off to Cornwall and we are taking our new, fancy three at the back routine with us.
Er, forgot to take the screenshot. We won 4-0. Salas and Ruudy got a brace each. Still not convinced they can play together, though.
It looks as though I might be settling into a 532WB shape (straight out of the box) but I am not 100% sold yet. The 4312 option seems to leave us a little exposed out wide and I'm not sure I can get away with a teenage Dani or a slightly older Dumitrescu in the hole behind a front pair. 4411 seems frankly dull and a waste of TC, Ruudy or Salas.
Hmmm. But let's be honest, whatever I do has to be a step up tactically from anything that 'Arry would have thrown together.
Anyway, four more friendly matches before I have to completely decide, starting with a trip across Laandan to Brentford. Bondy suggested giving Dumi a run out up top, so I did. I also thought trying Michael Hughes as the left wing back might be rather progressive.
Not that progressive it seems.
I have three more friendly matches to play and I still have no clue how we will line-up in the Premier League. I reckon this is how many managers in 1995 felt which is why it was 442 all the way, apart from Liverpool trying to be all trendy with that 532 thing.
I might give that 442 thing a go against Brighton and see what happens. West Ham are not good enough to have the luxury of a player in the 'hole'.
Of course, if we do go 442 what I need is to bring in another central midfielder on loan.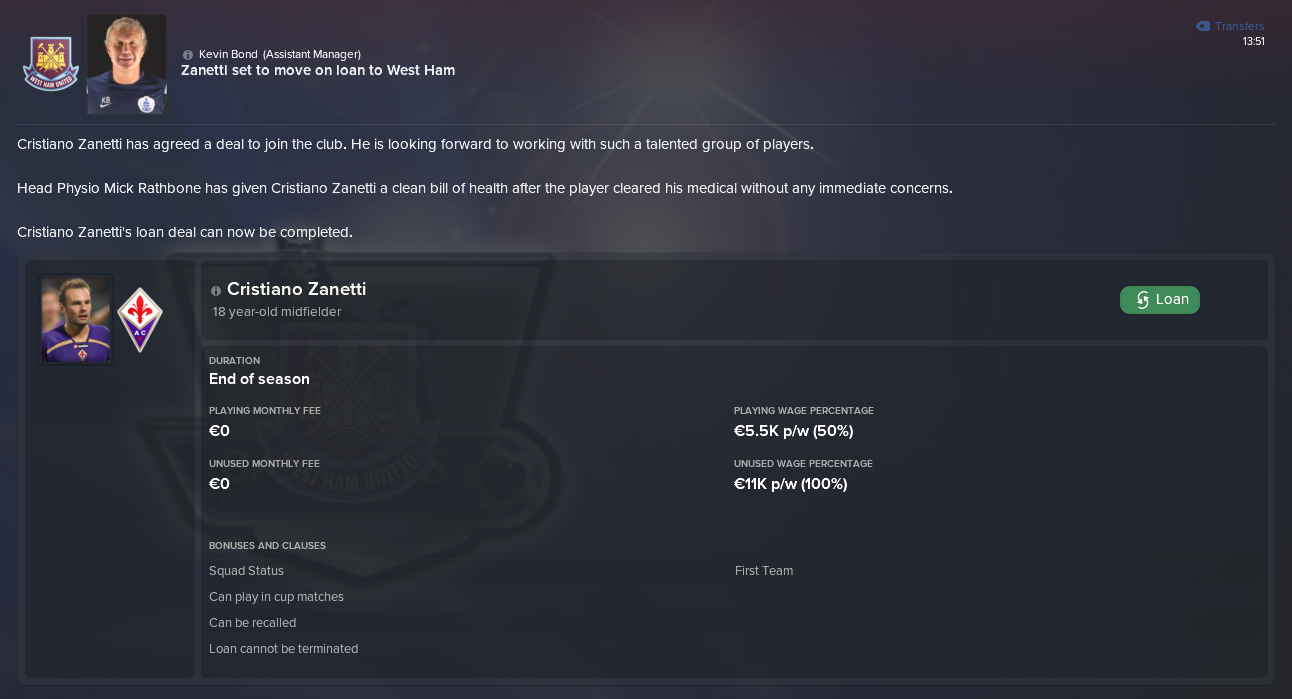 Sorry Cristiano, lad. I probably should have been more organised.
I really, really would rather not play 442.

But what can I do?
Well, I could try another version of three at the back, I suppose.
If we get the ball to Ruudy then good things will happen. Everything else, including Salas, is secondary.
Walsall and Rangers left, two classic mid-90s preseason matches. Will it start to click properly?
As I said, just get it to Ruudy.

(343 second half, by the way).
Shall we see if any other exciting transfers have happened before we round off the preseason with a trip to Glasgow? Shall we? Shall we?
Er, no we won't.
Unless the idea of Colin Murdoch heading off to Wigan on loan gets you hot under the collar.
Look at that Rangers side.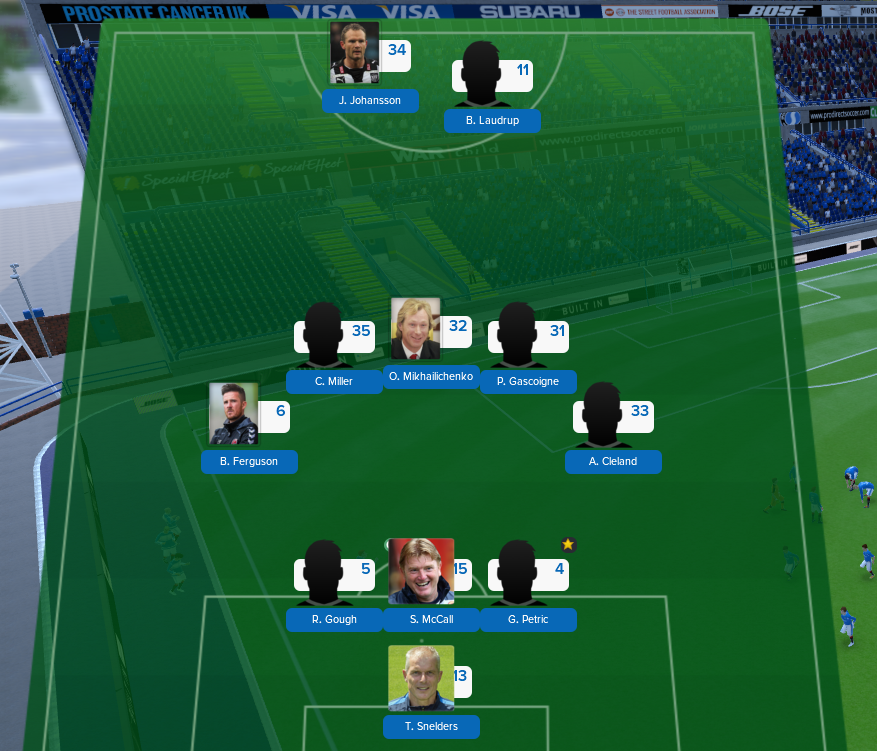 Mind you, if TC plays like this every week he'll be forcing himself in to El Tel's thinking. He bullied Goughy for 90 minutes whilst Lamps and Zanny dominated Gazza in the middle of the park.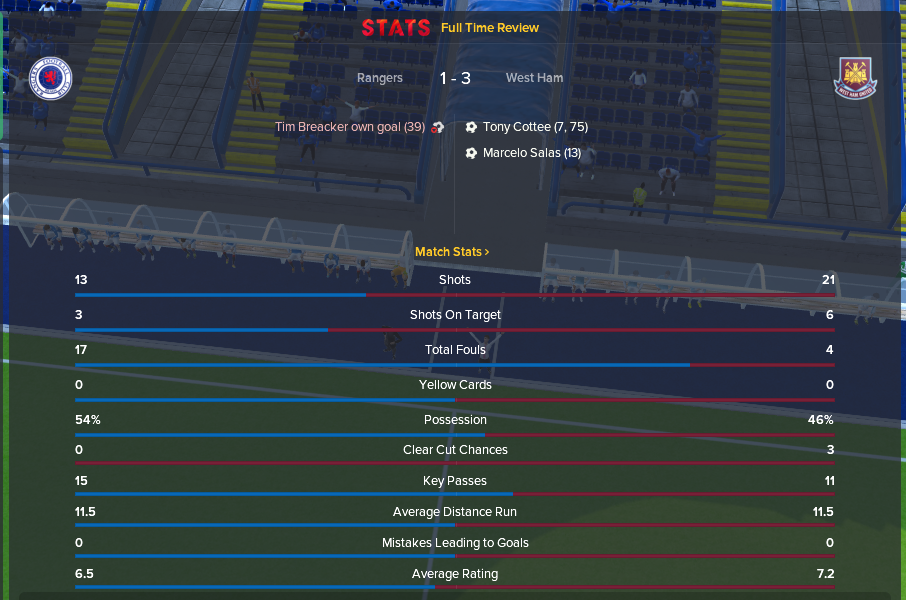 343 it will be for the opening day of the Premier League season.
Come back and see how we got on!