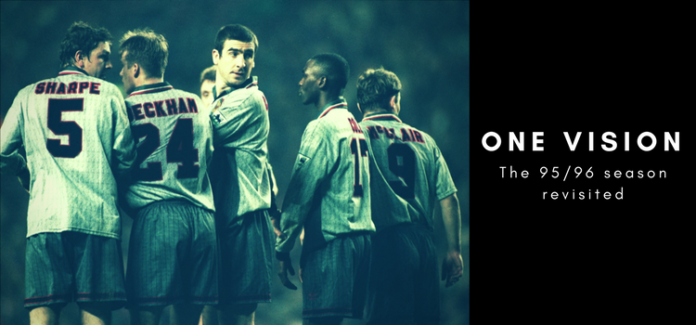 If you believe Sky Sports, football spent the first 104 years just warming up for its proper launch – the conception of the Premier League.
The 1990's was a decade that changed the face of football forever – some bits were for the best, others not so much. But it was also the decade that made me truly fall in love with the game even if, by the back end of the decade, I came to terms with the fact I was unlikely to be receiving a call-up to the 1998 World Cup squad.
The 90s started off for me, as a Luton Town fan, wondering whether we'd be able to get to Wembley for a third straight season – I was, admittedly, a Luton Town glory boy and 30 years later we are yet to top Brian Stein's late winner against Arsenal in 1988. 1990 brought us a World Cup, Italia 90, and I was fortunate enough to meet the whole Egyptian squad in a car showroom with my side Heath End Wanderers – you know, like you did in the 90s.
Italia 90 was the tournament that many people would argue changed the way football was perceived in England and the tournament that led the powers that be at places like Sky to start throwing money behind the concept of a "Premier League". Gazza's tears, Shilton's inability to save penalties and Chris Waddle beginning what has become a very long narrative of England failing from the penalty spot when it really, really matters moved English football out of the 1980s and into a new era.
Believe it or not, younger readers, Alex Ferguson had not won a trophy at Manchester United until the beginning of the new decade (the FA Cup in 1990) and had been given six years (I think) to bring the title to Old Trafford for the first time in his career – imagine Jose getting that long, eh?
Leeds United won the final First Division championship and Sky kicked us into a new world for the 1992/93 season.
Why am I going on about all this? Is this actually going to become FM relevant at any point? Possibly, possibly.
The early 90s saw United start to show signs of becoming a very serious outfit. It also saw Newcastle United emerge under Kevin Keegan as a load of freestyling, attack-minded thrill junkies that would threaten to be one of most exciting sides to win the top flight (until they blew that 15 point lead, of course). And there, was of course, clubs buying the title. Yes, even then. Jack Walker, a Blackburn steel magnate, wanted to see his hometown club win the Premier League so much that he singlehandedly funded their rise to the top which culminated in Rovers being crowned the 1994/95 Premiership Champions which Alan Shearer and Chris Sutton scoring the goals required to see off Fergie's men. Mind you, Eric Cantona getting banned for eight months didn't really help.
That folks, well that brings us to 1995/96.
Back in the real version of the world, England was getting excited about Euro 96. Terry Venables had taken over from Graham Taylor and was spending two years of friendly matches getting England looking like a half-decent continental outfit. That was, of course, then matches didn't get abandoned like the Republic of Ireland one.
1995 saw Martine McCutcheon become 'Tiffany' in Eastenders, a role that would see her become one of Britain's most loved actresses. Trevor Jordache was found underneath a patio in Brookside. Friends started on Channel 4 as did ER. You Bet! finished and I am not sure Matthew Kelly ever really recovered. Jill Dando became co-presenter of Crimewatch, a career move she probably later regretted. Somehow, 'Cotton Eye Joe' managed to stay Number One in the charts for three weeks which was only one week less than Take That managed with 'Back for Good'. Robson and sodding Jerome did 7 (seven) weeks with 'Unchained Melody'. If it had not been for Oasis and 'Some Might Say' I'd be seriously considering why I thought music in the 90s was amazing.
To put all this into context for you; David Beckham, Gary Neville, Nicky Butt and Paul Scholes were all still considered "promising youngsters". John Terry, Frank Lampard, Rio Ferdinand, Michael Owen and Joe Cole were still at school. Peter Shilton was still on the books at West Ham United. Ron Atkinson was years away from being branded a racist. Wimbledon (the original version) still existed and were a Premier League side. The Spice Boys of Liverpool were just getting warmed up. Matthew Le Tissier hadn't clapped eyes on the manager that was going to let him play as Alan Ball was still at Manchester City and there is little doubt nobody in Qatar knew who they were yet. Is it Qatar or Kuwait who own City? I can never remember. It was David Bernstein back then, anyway.
And Arsene Wenger had not even taken over at Arsenal. He was still in Japan waiting for Bruce Rioch to make a right pig's ear of things.
Football was different. It was amazing. It still felt real.
And thanks to some awesome work by Stoltze89Mafia I am going to have a crack at the 1995/96 season all over again on FM18.
Why?
Because I can, that's why.
Stoltze89Mafia has put together a pretty all-encompassing database which has all the Premier League, Serie A and La Liga squads spot on from that season. In fact, although these are the three leagues that are playable, many other squads across the world are sorted too. Yes, yes the dates will still show 2017 but we will pretend otherwise. It can be our little secret. And yes, some of the crazy money will not accurately reflect 1995/96 either, but I am not sure what could have been done there.
I have made a few little changes to the database made by Stoltze89Mafia.
I have removed the duplicate Dennis Bergkamp. I have given back Alan Shearer his actual name. I've moved all the clubs that have moved stadiums since back into their original homes. I have removed ALL existing staff other than the managers and in some cases the assistant manager (for example, Brian Kidd at United). And I have tried to put all the original chairmen back in place, so it's nice to see Ken Bates back at Chelsea and Deadly Doug back at the Villa. Roman Abramovich doesn't even know football exists yet, I am sure.
I've not been able to reduce the TV or prize money in the Premier League or make it three subs. I forgot to reinstate the Cup Winners Cup, but hey. I think he has done the UEFA Cup but we will learn as we go.
Sadly, I have been unable to find a retro kitpack – but if anyone knows of any do let me know.
Now, I am going against my normal rules of getting a few updates under my belt before I release one because I am actually quite excited about this save. This database could be riddled with disease and the whole thing might come crashing down around me. There will be surprises around every corner I am sure and this is, frankly, just a bit of fun before I head off to somewhere like Japan again full-time.
In fact, the toughest decision might well be who to manage – and we will come on to that in the next part!
If there are any players you want to see, give me a shout. Screenshots a plenty I would imagine from here on in!