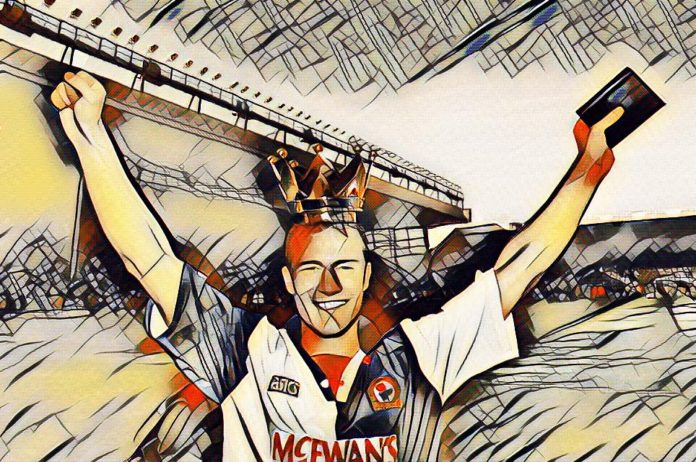 When I first heard that we were due to hit by the 'Beast from the East' last week, I thought Pavel Pogrebnyak was coming to town. But it turned out that it was just a bit of snow.
A full 6 inches at my door meant I was homebound on Wednesday, with minimal food in the house and very little to do. So to distract my hunger and relief my boredom, I decided to load up Football Manager.
The journey resumes in game week 13 of the Sky Bet Championship. My Blackburn team sit in 4th place after victory over Derby County, and I am (so far) pleased with how my boys have been playing.
My run into Christmas was not an easy one, but it was this time last year where we really started to click and grind out the results. We would face QPR, Sunderland, Preston and Wolves in the month of November, four strong teams looking to steal a play-off place.
The trip to Loftus Road was a long one but all was well, as we left with three points with goals from Michael Doughty and Dominic Samuel. Sunderland had had a slow start to this season but had found form of late, but they too could not deny us a home win.
Wins too came at Preston and Wolves, which moved us up to third come December. Preston proved tougher than expected, and it took an injury time goal from young Sam Hart to secure the points. Wolves though, was easier than expected, two penalties from Samuel contributed to a routine 3-0 win at Molineux.
Without unbeaten run extending to 9 games, it was starting to look as though a promotion push could be a reality. Next up was Brentford, a hardened team enjoying a good season in the Championship. They brought the game to us from the off and managed to nick a goal on the counter just before the break. But as always, me and my team kept our cool, and came back to win 2-1 through substitute Bradley Dack and Ben Gladwin.
This set us up for a goalless draw with Ipswich before wins at Burton Albion and Reading but frustratingly, we remained in third place because of the good form of Middlesbrough and Newcastle. I couldn't fault my team's efforts in the first half of the season so I decided to lay low in this transfer market, but mainly it was because I had spent all my money in the summer…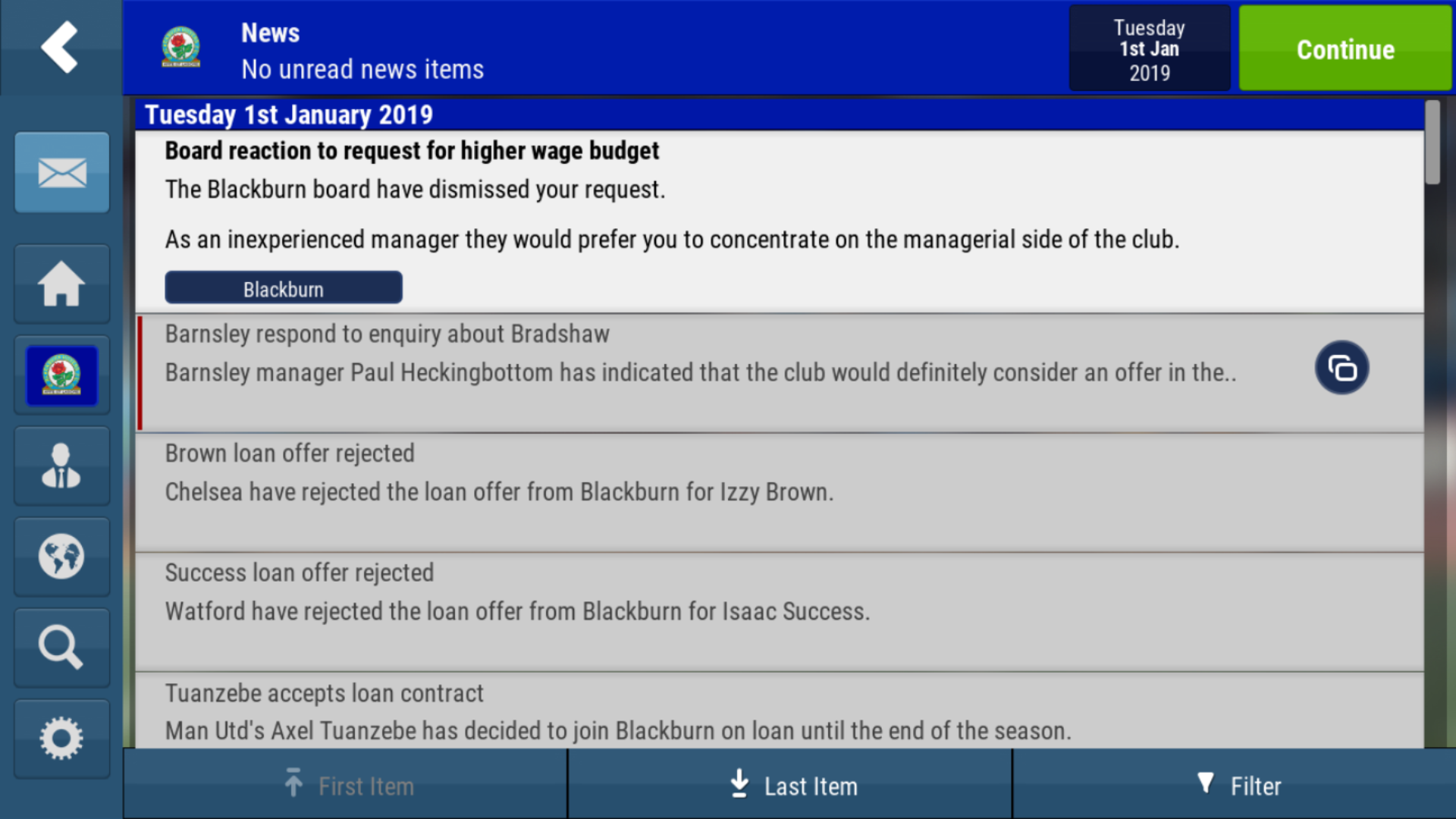 It was no surprise when my board request for extra transfer funds was disregarded, and the heavy fixture list of the Championship taking its toll on my team who were struggling to maintain full fitness.
This had me worried and my doubt had obviously affected the players, as we kick-started 2019 with a 4-3 loss at Hillsborough. Having come back twice to make it 3-3 with 10 remaining, I was infuriated when Ahmen Abdi stole the points with a 94th-minute winner after the fourth official had signalled for only 3. Speaking after the game, Blackburn manager Luke Phelps said: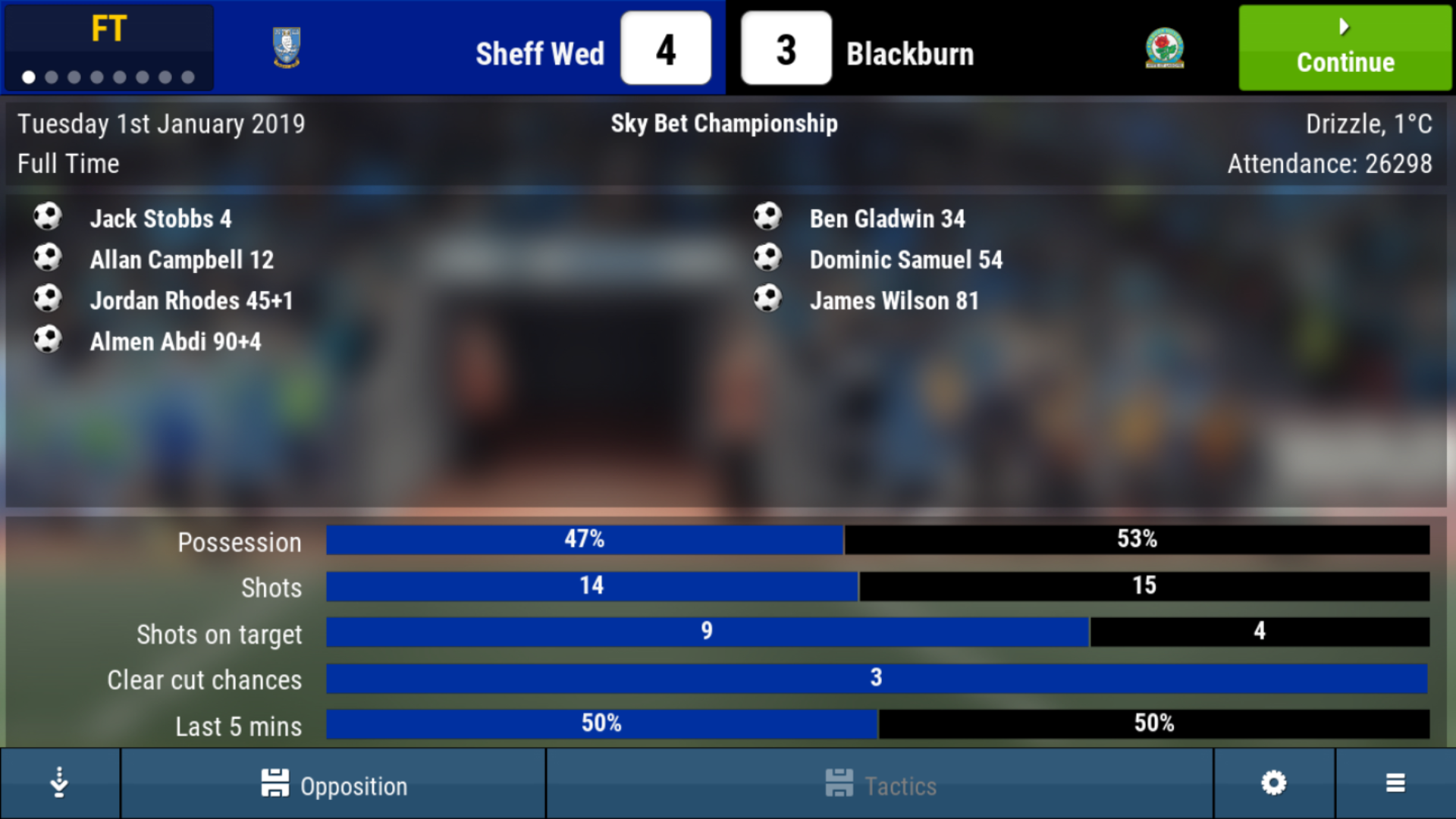 "I don't want to moan at the referee but today he had a bit of a shocker. Wednesday had the majority of the decisions all game but we battled and managed to level it late on. So when they scored the fourth I was gutted. I was flagging the referee to say that time was up but apparently it wasn't."
It was in true Fergie fashion that I did so, but I didn't hold it against the referee. We kept our heads up and went into an FA Cup third round tie against Aston Villa in good hopes. It's funny how positivity can affect form – we smashed Villa 4-0 in one of our best performances this season.
As rival teams looked to strengthen their squads in January, I remained coy and chose to tinker with my team ever so slightly. The counter-attack had brought us to this league but it was becoming clear that we are a good team, and that we needed to start taking the game to the opposition.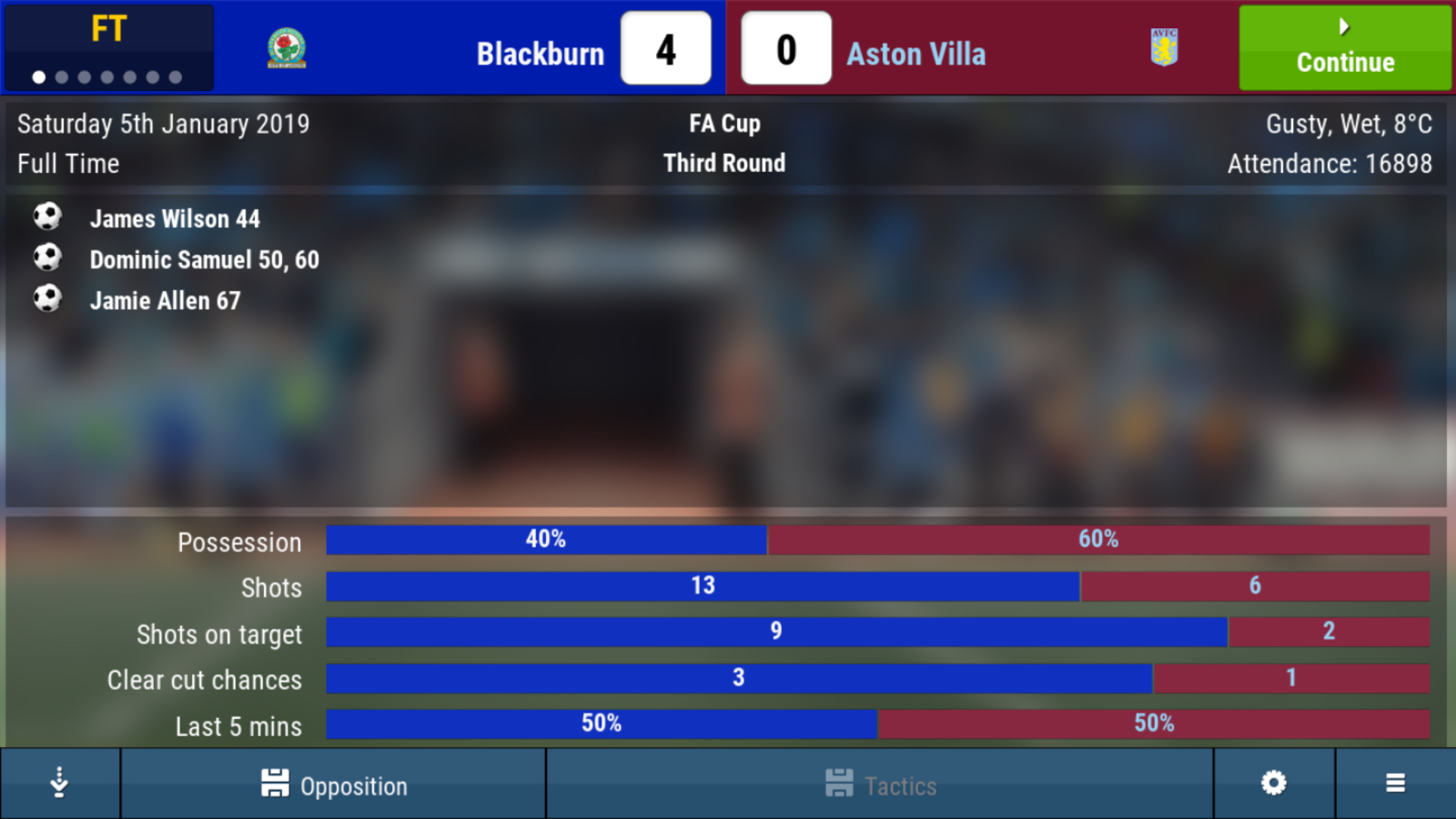 January saw us take on Leeds, Norwich and Sheffield United in the FA Cup Fourth Round. What I expected to be a tough month turned out not so. With the change from counter-attack to control, whereby I am attacking the team but remaining cautious of their own counter-attack, I was able to start scoring freely. The visit to Leeds ended in a 2-0 win, which set the pace for a 4-1 demolition of Norwich, the man Dominic Samuel scoring 3 of those 6 goals. Sheffield United, however, was a bit more difficult, and it took late goals from Doughty and Allen to seal a 3-1 win.
With the transfer window slamming shut, I felt a slight air of concern. My teams are notoriously small, I don't like to have a lot of players on the books but this season it seemed this tactic could prove costly, as my starting XI was rapidly tiring.
A small break at the start of February allowed my boys to regain some fitness, and next, we hosted Burnley in the FA Cup Fifth Round. We had reached this stage last season and despite the Premier League opposition, I felt confident of getting a result.
Burnley opened the scoring but goals from Samuel, Luckassen, and Dack left me with a 3-2 lead with 5 minutes remaining. Though anything can happen in the FA Cup, and Burnley snatched a late equaliser, and ended up winning the game 4-3 on penalties.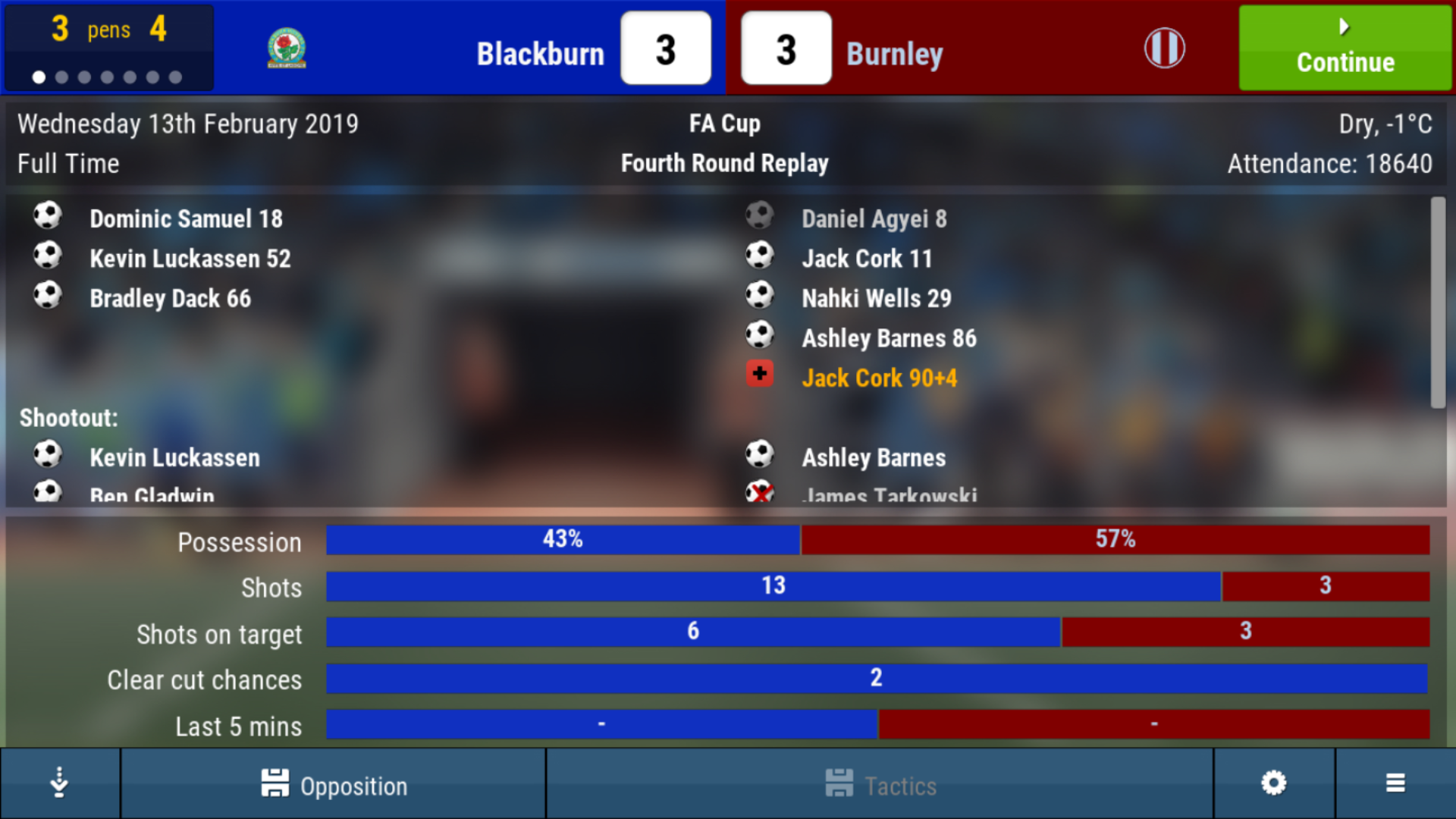 Thrice my team have been taken to penalties, and thrice we have been beaten.
Entering the back end of the season, with just the league to focus on, I am confident that we will achieve play-offs at least but the continued form on Middlesbrough and Newcastle was making it difficult for me to break into the automatic places.