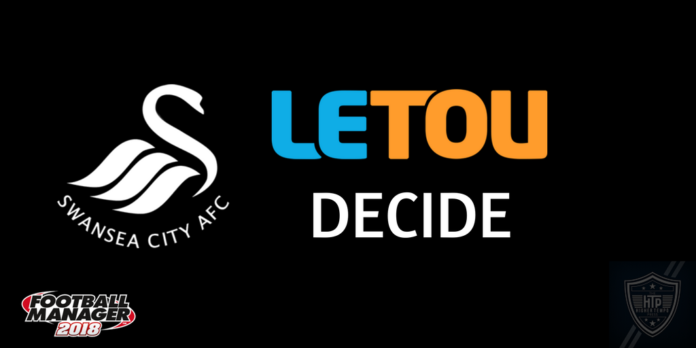 Last night was our last friendly over here in Cyprus, in fact as I get this down to be released to you, the players are having breakfast downstairs.
We played AEL and it was another opportunity to try out a new formation. Sticking with our Germanic theme, this time I looked to the best man at Jürgen Klopp's wedding, David Wagner, particularly Wagner's system employed at Huddersfield Town during the successful promotion campaign in the Championship.
The idea is to employ a 4-2-3-1 formation with lots of pressing and a deep-lying playmaker acting as a pivot. The full-backs attack down the flanks with the two wingers cutting in as inside forwards. The ball travels quickly from front to back with the idea for the crosses to come in low.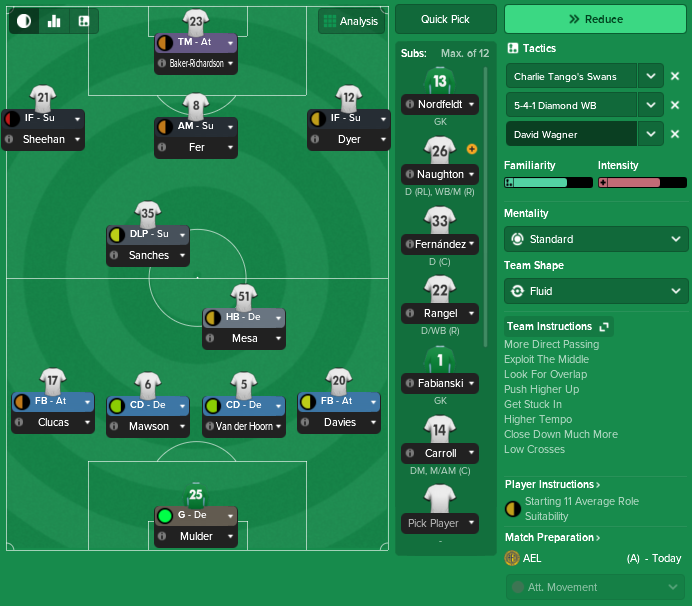 Josh Sheehan is playing out of position but given his complaints thus far, he's bloody lucky to be wearing a Swansea shirt at all. For one of the few times, Roque Mesa partners Renato Sanches in the middle and Sam Clucas is at left-back. Baker-Richardson continues his streak up front while the Ayew brothers and Wilfried Bony are busy on international duty.
On this tour twice we've conceded first but this time we won ourselves a penalty, only for Courtney Baker-Richardson to hit it straight at the goalkeeper, who called his bluff by staying exactly on his line and caught the ball.
That pretty much set the tone for the game, we ended it having 18 shots and 9 on target compared to AEL's 1 shot and 1 on target.
Going into extra time at the end of the match it was scoreless until Roque Mesa popped up with the winner, firing in from the edge of the area after an assist by Josh Sheehan.
I suppose it was a positive end of the tour, at least we were resilient and didn't give up, kept going to the end of the game and eventually triumphed. We might actually need that sort of spirit as we resume Premier League action on Monday evening.

So that's it, our Cyprus tour during this international break is over and we head back to England later today.
It's been good to test out new formations, although if anything it has reaffirmed my belief that we should finish the season with the tried and tested 4-4-2 formation. Hopefully plenty of other Premier League teams will have sent scouts to the games and that'll confuse them into playing systems against formations we won't be using.
Sneaky.
I like it.
I like it a lot.
Join us tomorrow as we return to the training ground and I've already got an appointment set up with Jez McCluskey, our Chief Doctor.