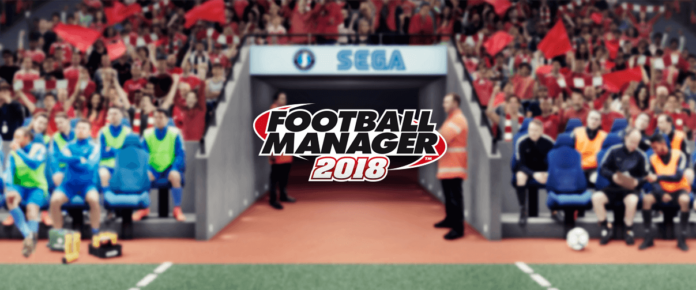 When we last left Louis Henrik, he was dealing with the news that Australia have not (yet) qualified for the upcoming 2018 World Cup after a 7 – 3 play-off victory over the superstars of Uzbekistan. It's really something a competent international manager should know but this is the Inept International Manager. If Louis knew what he was doing, we'd have to change the title or something…
Let's not be too critical though, Henrik has at least overseen two crucial victories, despite his negative tactics at the start of the second leg against Uzbekistan giving the opposition hope enough to score. The Australia players are described as leaving the camp in buoyant mood and looking forward to future challenges. What's more, Australia's FIFA ranking has increased…

Louis has flown back to Blighty to catch up with his wife, meaning that he chose to miss the Melbourne derby as Victory hosted rivals City at AAMI Park. In fact, he didn't watch another game of Hyundai A-League football until naming his squad via email some two weeks later. He did, however, watch Wigan Athletic vs. Blackpool in a Lancashire derby and Manchester United host Manchester City in one of England's biggest domestic games of the season.
For reference Wigan lost 3 – 1 to Blackpool at Bloomfield Road and Australian full-back Callum Elder didn't play a minute and Manchester United escaped from the Etihad with a 3 – 2 win having been two goals down. He confessed to really liking the look of Henrikh Mkhitaryan in a Man Utd shirt and said that with time, he'll become a star for the Red Devils.
He also missed four U19 games in Asian Under 19 Championship Qualifying. Didn't even check the internet or Ceefax to find out the score.
Two young players have been on the blower wanting promises about playing for Australia later on in their careers but both Antonis Martis and Thomas Glover have had the phone put down on them because they called up during Midsummer Murders.
Louis barely answered the phone when his assistant Ante Milicic rang to remind him that his squad for the Jamaica games were due. At the time Henrik was having a lovely day out in Clacton-on-Sea. Having said that, I've been to Clacton-on-Sea and it's a shithole.
There are problems selecting the new squad because despite wanting to just pick the same squad, there have been injuries. Rhys Williams is out for six months (!) with damaged Achilles tendons and Brad Smith's attempt to depart Bournemouth has been curtailed by a twisted ankle. Back in Australia, it's described as a 'selection headache' but for Henrik, it's a fairly simple process.
James McDonald and Luke Wilkshire return after missing out last time through injury, there's also a call-up for Mark Milligan, who is as old as time, in place of Rhys Williams.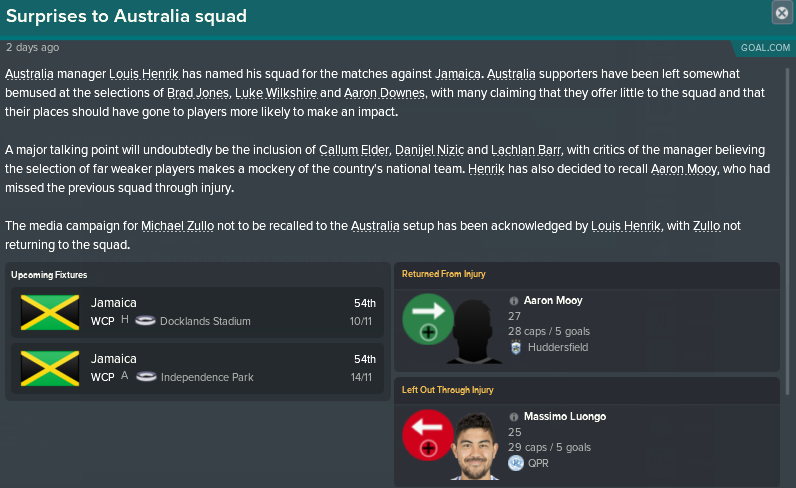 However, late on Aaron Mooy was taken injured with a back strain. Having missed out on the last two games through injury, there is more than a sense that Mooy could be the Australian version of Ryan Giggs. His replacement is Matt McKay, simply because the press have been hounding Henrik about leaving him out.
What is concerning Henrik is that he has heard of some of Jamaica's players. Wes Morgan is a Premier League winner with Leicester, Daniel Johnson is at Preston North End and Adrian Mariappa still occasionally appears for Watford.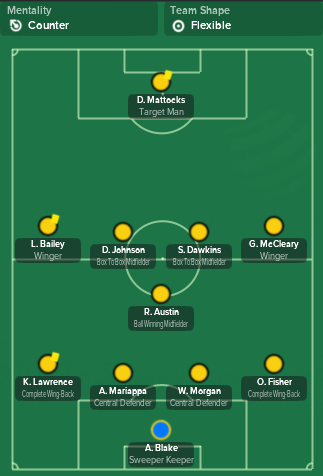 This might actually be a little bit more tricky than first imagined. Tune in next week to see how Australia and their inept manager get on…