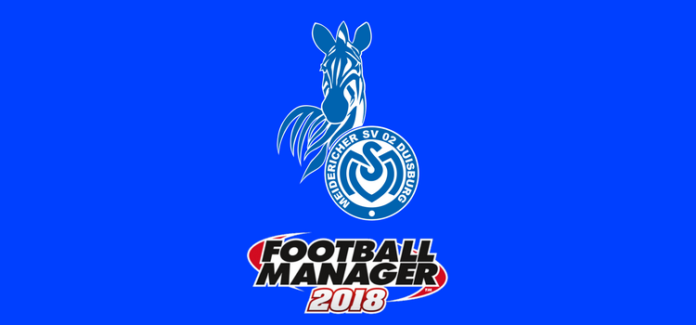 Guten tag! Welcome back to Dirk van Oortveld's quest to take MSV Duisburg into the Bundesliga and get into the upper echelons of European football teams! If you want to catch up on what's happened previously, check out this link here.
Before I get into the meat of this post, I need to disclaim that there will be some minor continuity errors. I forecasted what our league season would look like and I went over the preseason friendlies in Teil 2. Unfortunately, shortly before the publication of that piece, my old laptop of many years died, so I had to order a new one in and I lost the original MSV Duisburg save. Since we weren't that far in anyway, I've started clean, and there are different fixtures than what I promised that we'll be covering in this update. Just wanted to clear that up really fast!
As with the original pre-season, it was a success. We had an unbeaten preseason, and while there were a couple of minor injuries, we've got a squad that's on the whole fit to begin the competitive season. I won't share those preseason friendlies in detail, but the results are at the end of this post for those who are interested.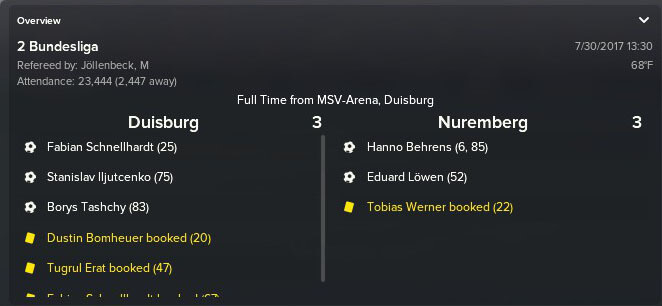 Our first result for the 2017/18 2. Bundesliga season was a 3-3 draw at home to Nuremberg. Hanno Behrens gave Nuremberg at the early lead at the 6th minute, and it was playing catch-up from that point. Fabian Schnellhardt gave us a beautifully executed shot at the near post at the 25th minute. We went into the break at 1-1, and from then on it was a lot of steady goalscoring, with Lowen getting one back for Nuremberg before Stanislav Iljutcenko and Borys Taschy put us in the lead. Ultimately, Behrens would decide the match after an error from my defenders allowed him through for an impressive goal from about 20 meters out. The last-minute concession was disappointing, but after watching this match a draw isn't something I can complain too much about.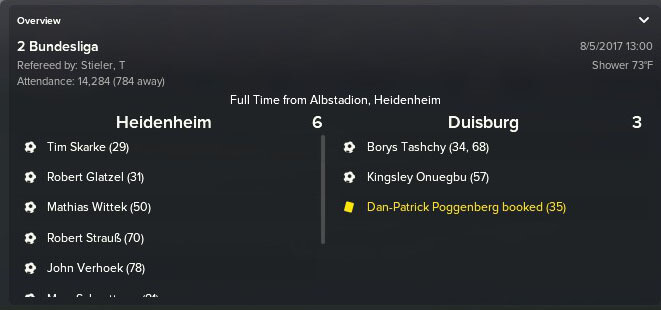 Our next match was a hammering from Heidenheim. The match started off slow but ended with them up by one point at half-time before they kicked it into high gear and it all went to hell in the second half. Not really too enthused to talk about this embarrassing result, but it's shared for the sake of completion…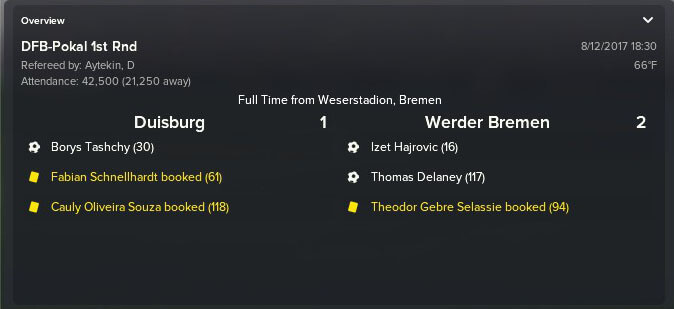 Our next result was a sold-out home match against Werder Bremen in the German Cup. We went into the halftime break level, but ultimately a Thomas Delaney goal towards the end of extra time advanced Bremen into the second round. I was crossing my fingers for a win, or even the chance at a penalty shootout, but since we weren't favorites to beat a Bundesliga team anyway, it would be unfair to complain too much. The lads gave it a solid effort, and that's all I can ask of them!

This isn't strictly related to our performances on the soccer pitch, but it's a first for me in Football Manager. I've never been at a club where the board had elections to install a new chairman/president, so it will be interesting to see how this affects the future of the club or van Oortveld's managerial tenure. We'll have to keep an eye on this when the time comes!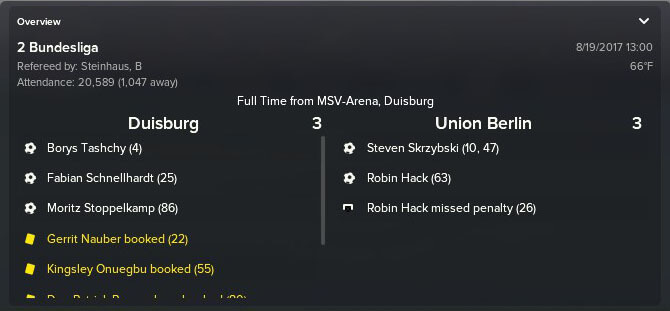 Our next match was a 3-3 home draw against Union Berlin. We had some great attacking moves early in the half, and we started off pretty strong with a 4th-minute Tashchy goal, but ultimately the second half proved decisive for Berlin, and they came back to secure a draw against us. I felt like we were the better team and I think it's a "two points dropped" situation, but it is what it is.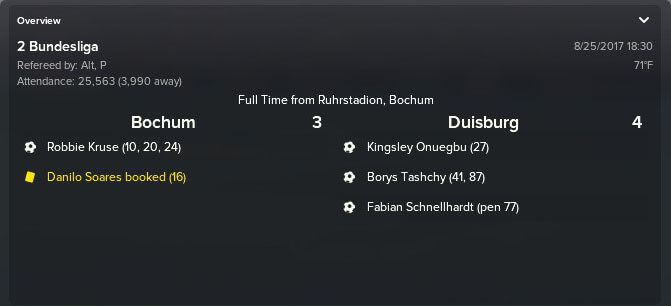 Our last result for this update was an away victory for our first outright win of the 2. Bundesliga season. Despite falling behind to a hat-trick from Robbie Kruse (10th, 20th, and 24th-minute goals), we were able to get one back from Kingsley Onuegbu and then Borys Tashchy before the half-time break. A penalty kick from Schnellhardt and another Tashchy goal would secure us the win with minutes to go before the match ended. A superb result and comeback from the boys, considering the mountain we had to climb in the first half! I couldn't be more proud of them!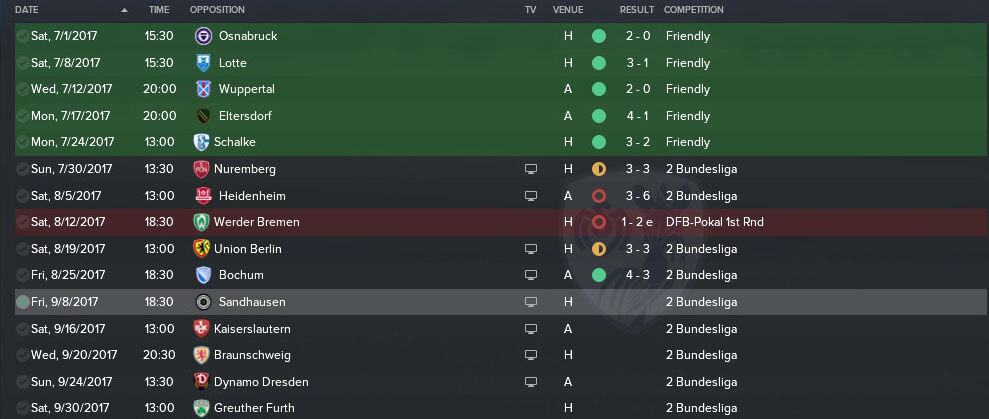 This is our schedule so far, and the matches we are expected to take on for the month of September, with our next match being a home fixture against SV Sandhausen. I'm cautiously optimistic about the run of matches we have to go through, but as the start of the season has shown, we can't be too complacent against our opposition, considering we're a newly promoted team.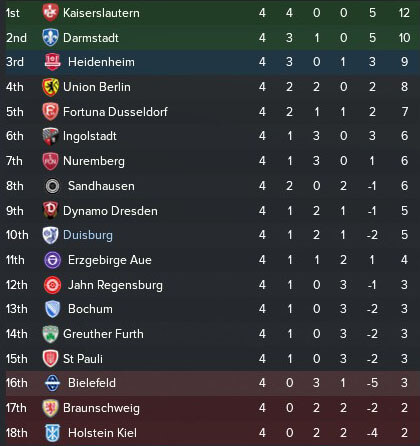 After 4 matches, MSV Duisburg sits in 10th place with 5 points. Kaiserslautern has started off strongly and is sitting at the top of the table with all 12 points that they could have had, and Darmstadt is in 2nd with 10 points.
The next time we meet, it will be at the end of December, and I'll go over the matches we've played in the previous three months, as well as what my impressions how the squad has performed throughout the first half of the season, and we'll go over my goals for the transfer market and the second half of the season.