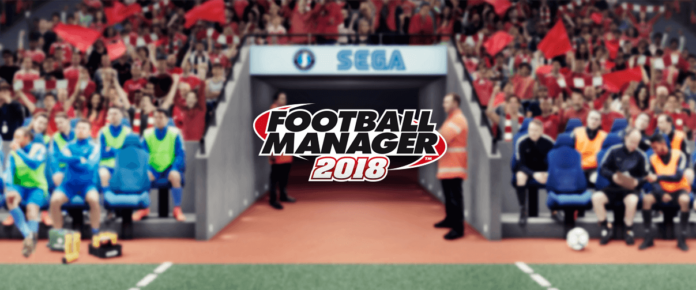 Guten tag! In the previous update, I gave a brief overview of MSV Duisburg and promised we'd get into an overview of the team. Pre-season has been completed, and I've been able to come up with some opinions on the players I've got at my disposal, I've settled on my preferred starting eleven, and I've got a team that's very fluid and comfortable with my choice of tactic, so we've got some information to cover!
Looking at the squad I've got a bit of a range in age, a fair few great young and old players. I won't get into each individual player, but I'll cover one or two of each position that's indicative of what the talent for that position is like, and then I'll describe tactically what I've been working on.
Behind the sticks, we have Daniel Davari, a 29-year-old Iranian goalkeeper. The six-foot-four 'keeper has fantastic control of the box and is very good across the board, with high points for many key attributes that would come for being a competent goalkeeper. His decisions and first touch are a bit lacking, but so far in the pre-season, he's made up for it with few concessions at goal and some fabulous acrobatic moves to protect his net. He's got some good years left in him for the club if those matches are anything to go by.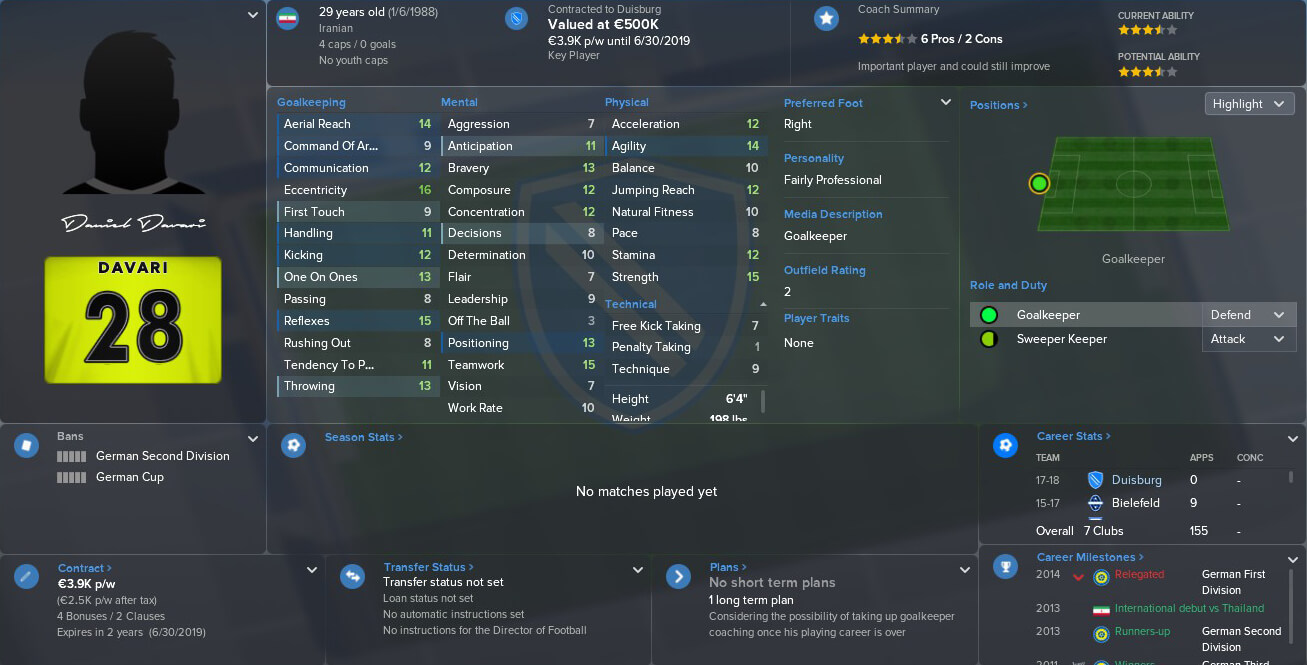 For an example of what we have in defense, we've got Dustin Bomheuer. He's passable as a ball-playing defender, the role I intend to use him in, and while I don't have confidence in him as a permanent option, he can play in the wingback position as well to a degree.
Truthfully, the 26-year-old German needs to put in some good work during the first half of the season, because while he was passable at defense, he wasn't as great as my ambitions need, and he's nearing his ultimate potential and isn't likely to be significantly better. I'm not going to lie, he's probably going to be listed if his performances remain as they are during the next couple of months, but he's representative of the attributes that my current centre-backs have, if not representative of actual performance on the pitch.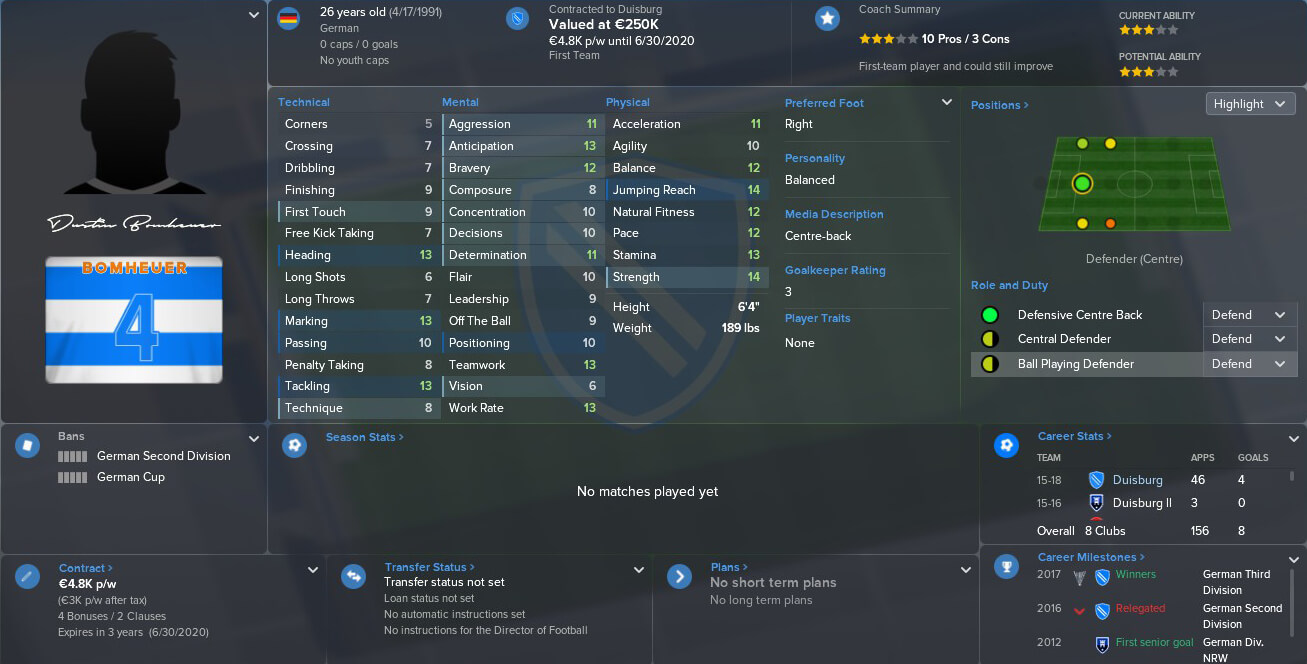 For an option up and down the right wing and in a pinch down the left or at striker, we have the Azeri Tugrul Erat. He's mainly being played as a right-side wingback, and he's been doing exceptionally well in that role with a winger's physical attributes. His technicals are lacking, but he's still competent enough to be a great presence on the wing and has claimed a fair share of assists over the course of the pre-season.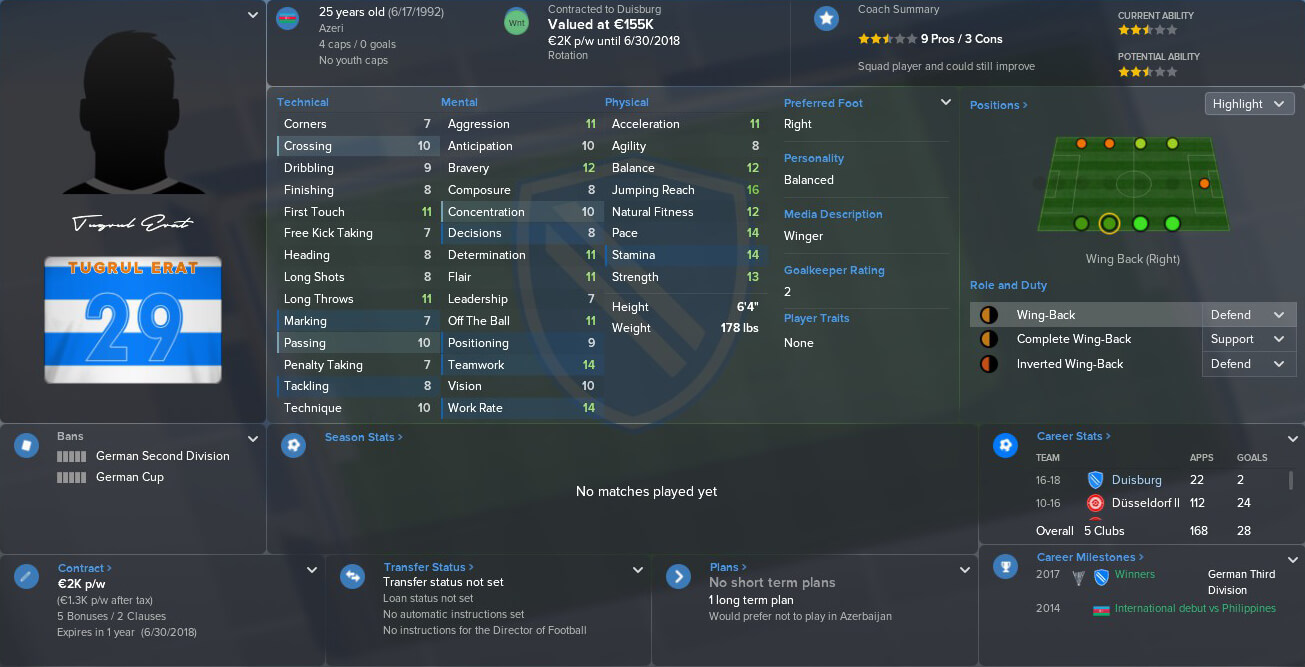 Fabian Schnellhardt is the best of my midfielders. At 23-years-old, he's got some pretty good technical ability, and he's versatile all over the attacking third, though he's mainly been used as a central midfielder, and once as an advanced forward. This is my first save in Germany, but he seems pretty solid for a club that just came out of the third division, and if he puts in some good performances, I don't see why I couldn't get many good years out of him.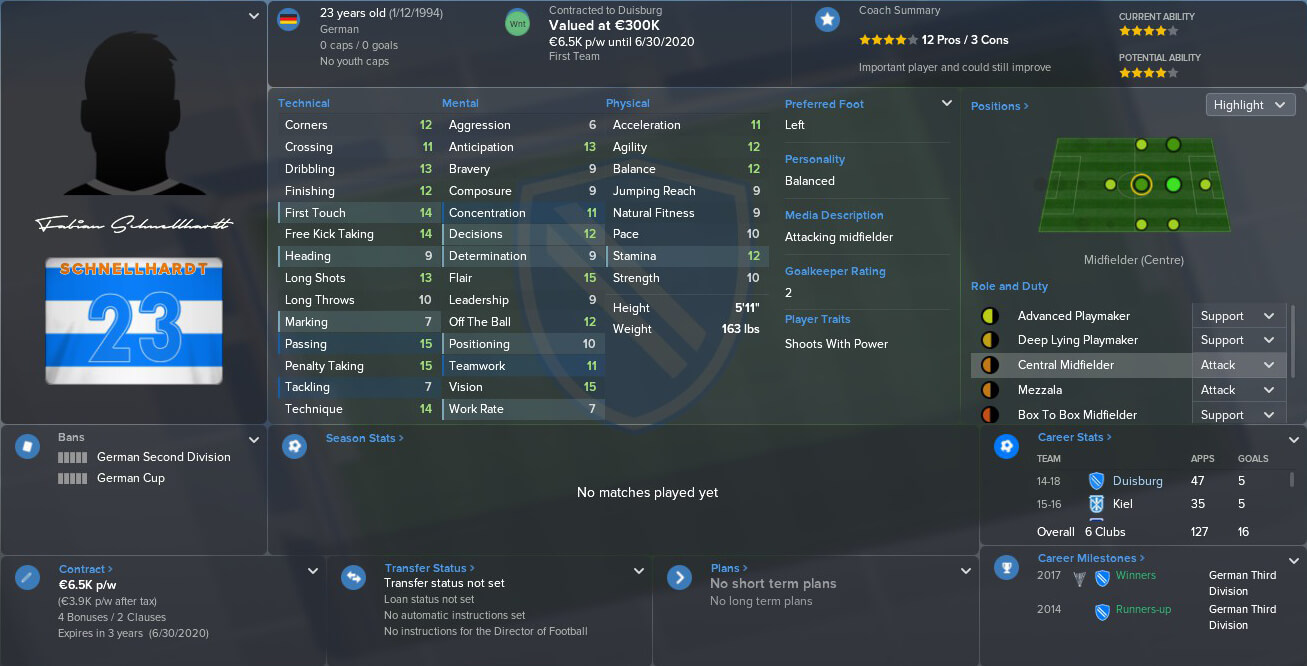 Last but not least for the ones I want to mention right away is Borys Tashchy. This young Ukranian was good for most of the goals scored during our pre-season. If he got the ball, most of the time he could find a way to put it in the back of the net. If that performance can be carried into the regular season, we'll be golden for attacking, assuming he's not taken by some other team!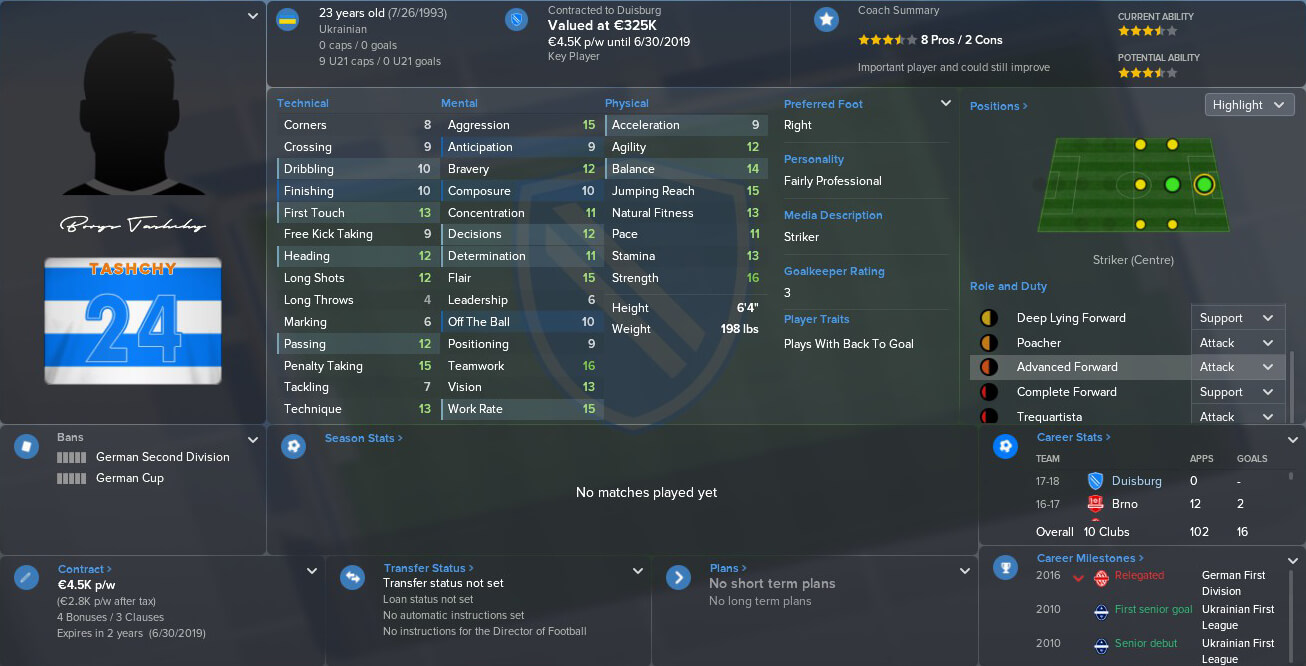 Silly me forgot to take a picture of my formation screen, but this formation from my Down Under series on FM17 is close to what we're working with since it was so successful.
The only difference really is that we're using standard wing-backs, standard central midfielders, and I'm experimenting with striker roles. Advanced Forwards are seeming good so far, but I'll go into tactics later on down the road once I've gotten some competitive results under my belt.
Speaking of the pre-season, these are the results from our pre-season. Don't let all of the high scores fool you! The schedule I inherited included a lot of weaker quality teams.
Those two matches where we won 7-0 and 8-0 were against an amateur and a semi-pro team. USL Dunkerque is in the French third division's midtable and while fully professional are not exactly a quality team. The one loss went to a Bundesliga team, and to be fair, it should have been a draw, but Bomheuer gave away a penalty in the 83rd minute.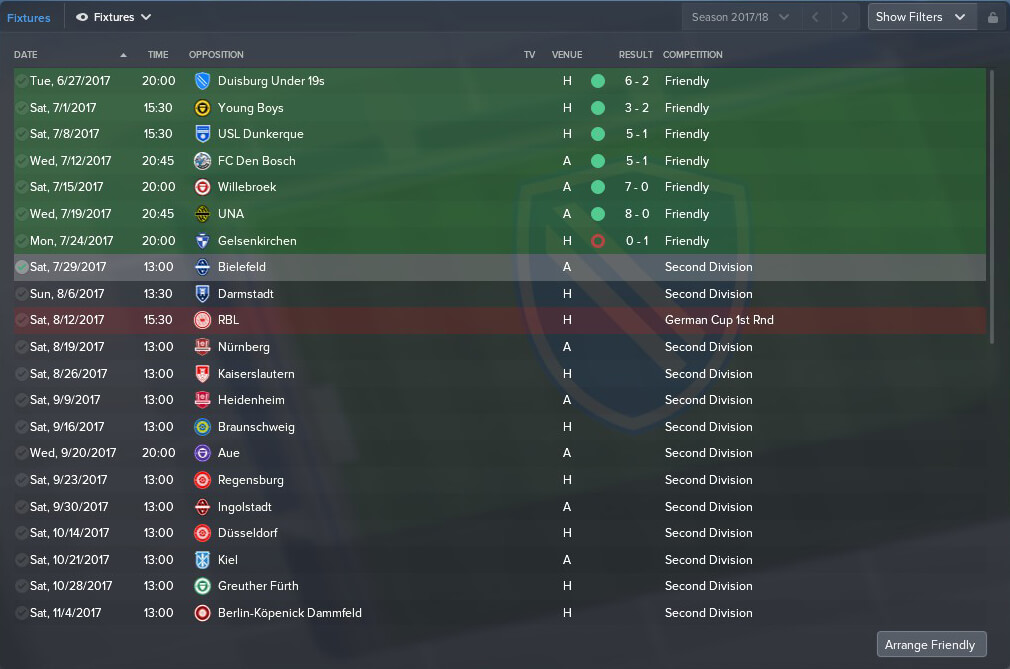 The bookies seem to think that we're in for a relegation battle, but I'd like to think we can comfortably avoid relegation, even if a serious challenge for a spot higher up the table is unrealistic. The first couple of league matches don't appear to be too bad, but the real challenge is in that we have to face Red Bull Leipzig in the first round of the German Cup.
Hopefully, I'll have some good news to share when I come back with a league update.