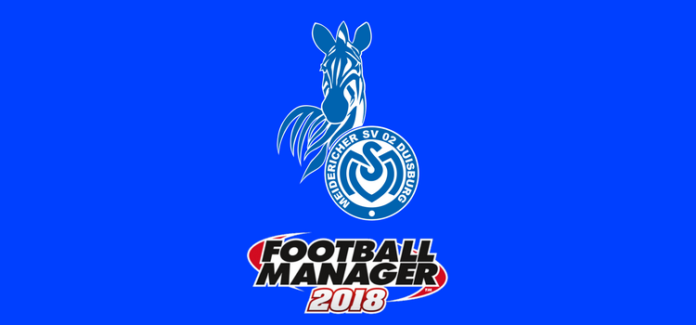 Guten tag! Welcome back to Dirk van Oortveld's quest to take MSV Duisburg into the Bundesliga and get into the upper echelons of European football teams! If you want to catch up on what's happened previously, check out this link here.
In the previous update, we went over the results for the remainder of the 2017 calendar year, and I reflected a bit on what the squad would look like. It turns out January is a break for friendlies in 2. Bundesliga and it also turns out that I can't field U17s in Germany, so I had to make some extra transfers because I couldn't promote my underage youth to have a go at the squad.
Here's a look at my transfer activity for the month of January. I've only brought in four players, and I've also let go of Baris Ozbek and Mark Flekken. As I said in the previous update, Mael Corboz was also transferred, but he hasn't technically left and won't for another two weeks, which is why he isn't in here, but after working the transfer market I needed a break from the game to write this update!
I am conscious of the fact that I said I needed to be letting go of players, and I came out of January with a net gain of +1 to the squad. Es ist Leben. That doesn't have the same ring as c'est la vie, but we're in Germany, of course!
I'm going to start with the outgoing players first, and share their profiles and why I've opted to move them before covering the incoming players.
The first outgoing player was Baris Ozbek. As I mentioned in the previous update, he's up there in years, and while I was going to use him through the season, he only started a handful of the games we've had so far, and a club made a bid for him in late December. I took at below market value bid at €60k, but he's old, and if he's going to eventually leave, I wanted to pocket a fistful of Euros while the opportunity was there. There's nothing against his performances, which were acceptable to me, but it's just business, so he's off to Turkey.
My next outgoing player was Mark Flekken to the Eredivisie. I wanted to keep him, but he wasn't thrilled with being second string behind Daniel Davaris and was griping in my ear too much for my taste. Davaris has a couple of years on him, and I wanted Flekken for the next handful of years, but I've had a better defensive record with Davaris and decided to make the sale. He went for over €200,000, which the game said was his market value, with a couple of other incentives thrown in, but in typical FM fashion, he's more valuable because he's in a top flight.
Here's Mael Corboz again, our soon to be departed central midfielder. He wasn't getting much game time, and I had a surplus of players in the midfield, so I made the decision to move him off for a pittance since playing time was starting to be an issue for him.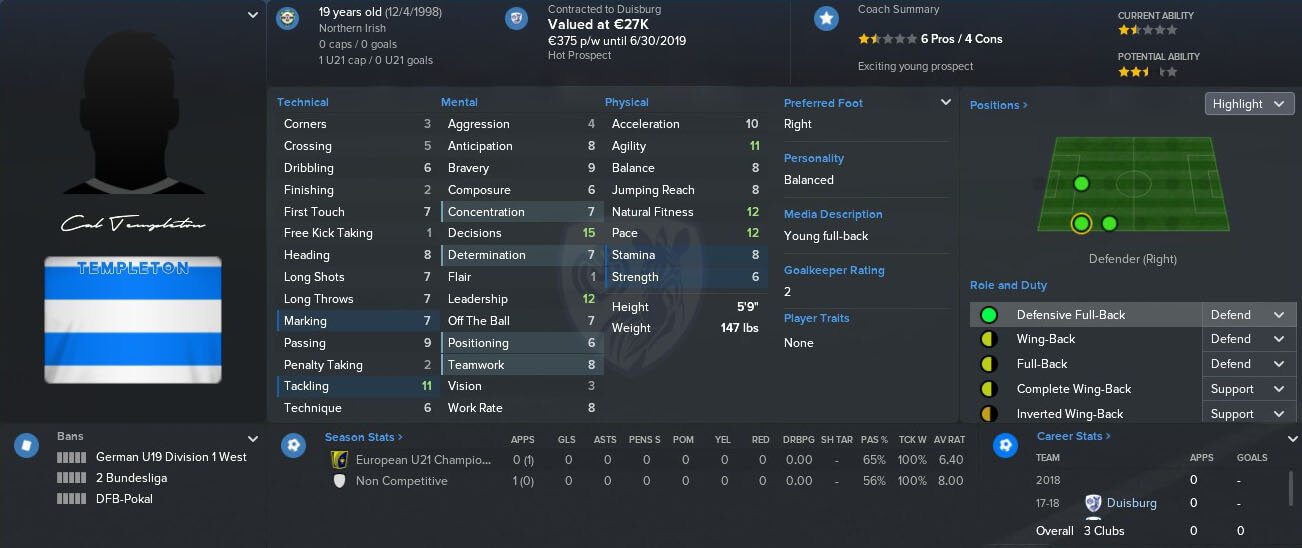 Coming into the team is the Northern Irish right-back Cal Templeton. At 19-years-old, he's a bit rough around the edges, but he's a development project and the third choice right wingback now. I doubt he can make it in the upper end of the Bundesliga, but based on his development with the youths and whatever senior time he gets, I'm willing to use him as a backup to Tugrul Erat, who was previously the only truly capable right wingback we had. He's an option if we need it as we press on through our 2. Bundesliga campaign and hopefully into the Bundesliga.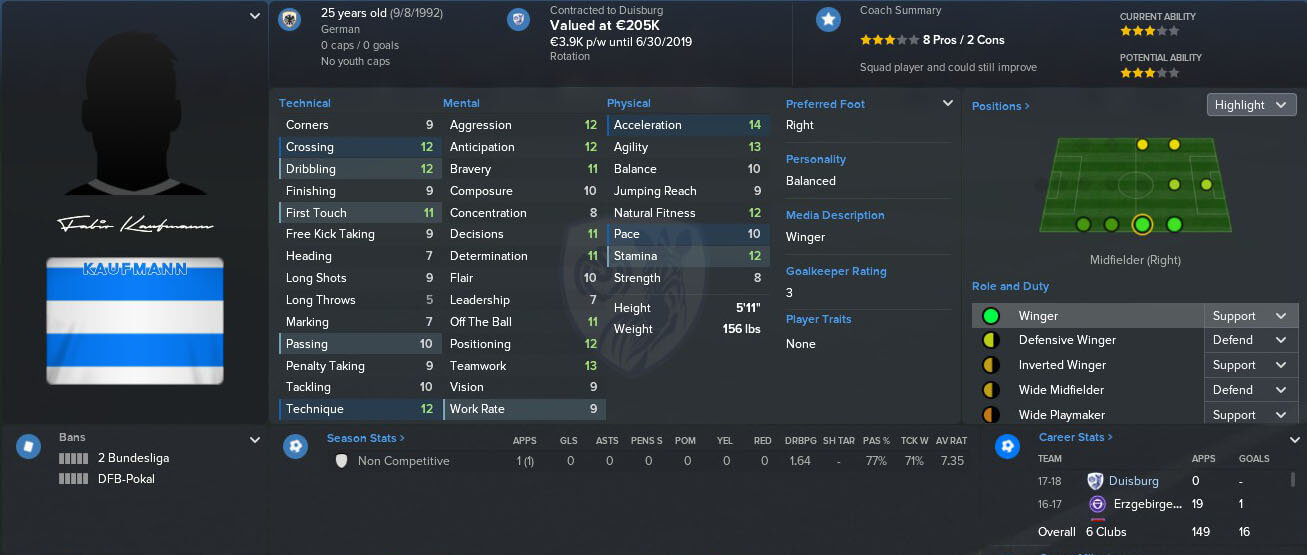 Our next transfer in is the versatile Italian Fabio Kaufmann. I will mainly use him as the primary rotation option for Tugrul Erat, but I selected him because he can be an option up and down the right and into the attacking and forward positions if I absolutely needed it. With some concentrated development and some good results, I'd like to think he can be an option for at least a season or two once he becomes even better at being a wing-back.
Our last major incoming transfer is Antonio Auriemma. This young guy is a player I got to keep my eye on for the future. He's definitely not the greatest thing ever, but I feel like I see something here that I can't place, so I picked him up on a free transfer to just train him in the youth squads and see where it goes.
With all of the transfer business taken care of, we've netted a profit in the transfer market of €250,000, with fees coming in from the sales of my outgoing players and the fact that I took chances on freebies instead of spending what little I had in the club's purse to pick players out of other teams.
If I do decide I want to do business later down the road, we've currently got €150,000 in the transfer fund and we've cleared the wage budget enough to have €11,000 available to play with.
For whatever I lack anywhere else, it's not often that I make a bad transfer move, so I'd like to think that past history says we're in a good spot with these signings to create depth where it was needed, but we won't know for sure until we're making our way into the second-half of the season.