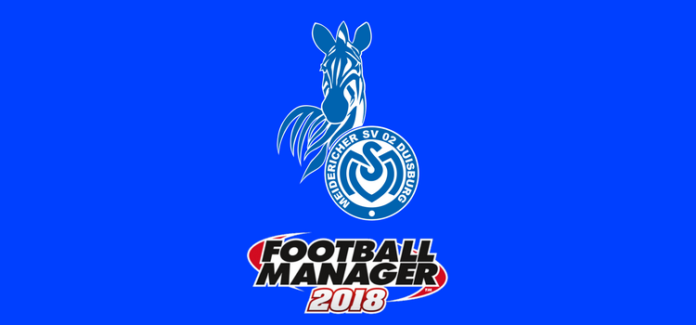 Guten tag! Welcome back to Dirk van Oortveld's quest to take MSV Duisburg into the Bundesliga and get into the upper echelons of European football teams! If you want to catch up on what's happened previously, check out this link here.
We've made it to the end of December in the week since we last sat and spoke, so it's that time of the year where we talk transfers. I've got one or two signings in mind, but I haven't made any bids yet. But, checking out my squad lead me to an interesting statistic regarding my team that I want to share…
I inherited a pretty big squad, in the upper 20s for players before I brought in a backup wing-back and a young Italian midfielder that I wanted to try and develop. When we take a look at my squad in the two images below, you'll observe that our squad is so large that I have eight players in the first-team that have never started a competitive match, and only one – midfielder Mael Corboz – saw playing time, and he didn't come off the bench for long enough to get a rating or make an impact of his own.
Now to be fair, two players had to sit on in the stands for over half of the year with serious injuries, so in the time that van Oortveld has been at the club, he's never had the opportunity to play them. The rest of the players are clearly surplus though. They are suited to positions and roles that I don't use, and I can't be bothered to retrain them because the depth of players where I do use them is sufficient enough that I can lose a couple of players to injury and still come out fine. For the good of the wage budget and these players, it's going to be a good idea to either move them on for profit in this transfer window or if all else fails, set them to be released when their contracts end in the summer.
Speaking of moving on players though, we're only in the second day of January and I've had two offers come in that I was happy enough to take to offload players.
31-year-old midfielder Baris Ozbek was bid on by several teams starting in mid-December, and I accepted all of them. At €3,500 p/w he's not a particularly high earner, but being in his 30s he'll be replaced sooner rather than later, and he's only a rotation option at best.
The bid he accepted was for Malaytaspor, a club in the Turkish Super League. The offer was a bit below value and not ideal, but with his contract due to expire at the end of the year anyway, I decided to cash out while the opportunity was here. My two starters and preferred rotation option were fit for play and I had several shortlisted younger players at the time who were likely to sign to be rotation options at a lower pay.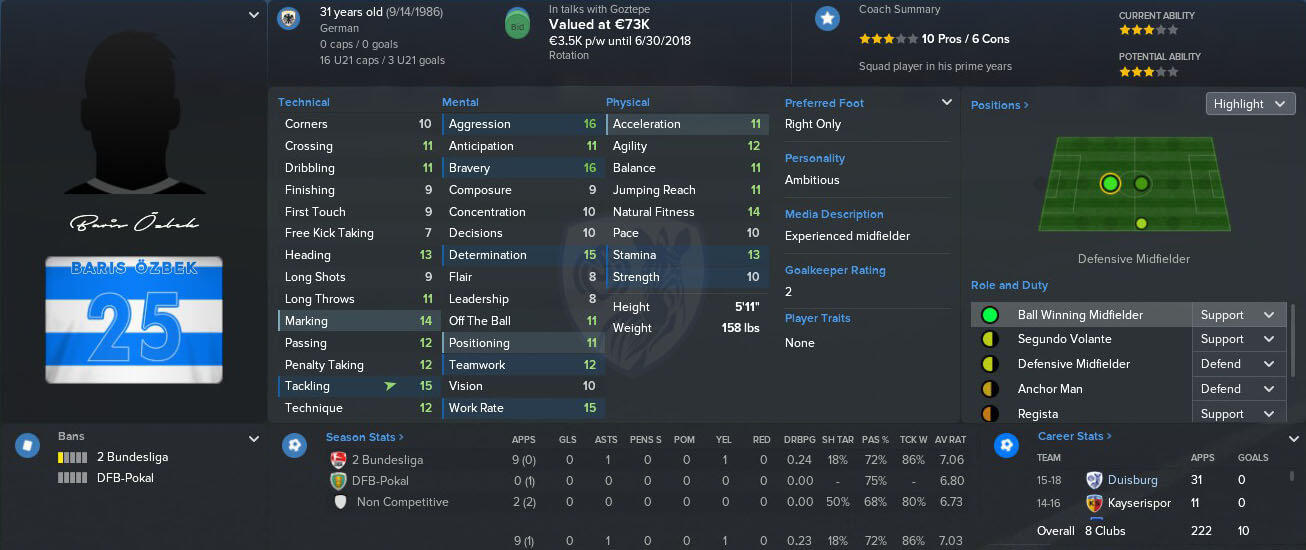 Mael Corboz also received bids, with offers coming in from New York Cosmos and Miami FC, two lower-league American teams. As I said previously, he had one late substitution and he hasn't yet found a place in the squad with his better quality teammates beating him to spots on the game squad. He ultimately signed with NY Cosmos, and that's an additional €3k to add to the transfer budget alongside Ozbek's €19k.
Since I haven't really used my transfer fund, we're sitting on approximately €50k in transfer funds that I can use to grease a few palms and get some players into the squad if I feel the need to.
January is still underway as I write this, and while I've got possible ideas for younger players for the future, I don't have any shortlisted players who could make a quick first-team impact, so I'm not going to focus too much time on discussing ins. My priority for this window is to see who I can offload of the previously mentioned eight unused players for a little money before I set the rest for release.
For an update on the league, in the previous post, we started with a rough bit of form, taking only one win in the first several matches. We're still doing a decent bit of losing or having unconvincing draws, but we're on an upward trend of winning more and more now as the squad gets used to van Oortveld's coaching philosophy.
With only one competitive clean sheet in our 30 October match at Ingolstadt, we could use a bit of improvement in the back, but as long as our Tashchy, Onegbu, and Stoppelkamp can keep outscoring the number of concessions we make, I'm going to risk keeping the defenders I have, because they've got good working partnerships, and I don't want to upset that with untested new players.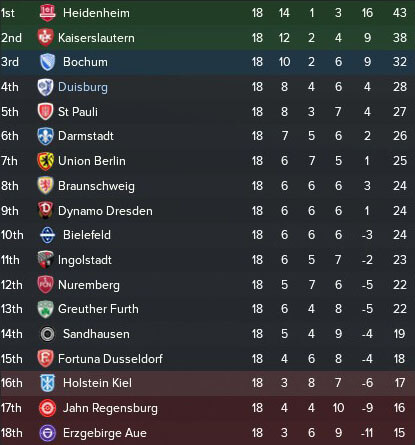 After 18 matches, MSV Duisburg sits in 4th place with 8 wins,4 draws, and 6 losses for a total of 28 points. With Heidenheim and Kaiserslautern pulling away from everyone else in the league table, we've got a bit of catch-up work to do if we want to attempt to secure an automatic promotion to the Bundesliga. At the same time, I can't complain about where we're at. Until our good run in November, we were on the bottom half of the table, so to even make it to the top 4 is something I'm not going to fuss about.
I was settling for being comfortably above relegation in my first season, but with the squad doing so well, I'm settling on finishing somewhere within the top eight. We're averaging between 4th and 8th each week, so that's the low end of what I'll consider a good finish point, though promotion is always a nice thing!
Oh, and as an unrelated side note, before I go, I said in the last update that I was experiencing my first presidential election for a board of directors and was curious what happens with clubs that do elections… The incumbent president has his second term, and after the election, he gave me a contract extension that will keep me here for three years. We're committed to MSV Duisburg for at least another three years!