Welcome back. It's the end of season 5 and we've still got a lot to play for. Our Champions League campaign has a chance of continuing after a win over Milan in group stage 2, the upcoming double header with Lille will be pivotal to our progress there. We're in the FA Cup 5th round, unusually for us, whilst we have an outside chance of finishing in a European place. With a lot to cram in, let's crack on.
So then, to France. We really need to take 6 points off Lille to give ourselves a fighting chance of making the last 8, and thankfully old man Alan sets us on our way before fake man To Madeira nets us the 3 points. Happy Valentine's Day!

The return match at Carrow Road follows a similar pattern. We lead, we're pegged back, the lads sort it out. Take that, Louis Saha.
If progress in the Champions League has taken a step in the right direction, our FA Cup hopes were hanging by a thread until good old Alan earns us a replay.

The replay is an entertaining affair where baby kangaroo Gudjonsson proves his worth once again with a double. Quarter finals! We'll face first division Leicester in the next round.

Back in the league, we're picking up some momentum with a heavy win over Sunderland.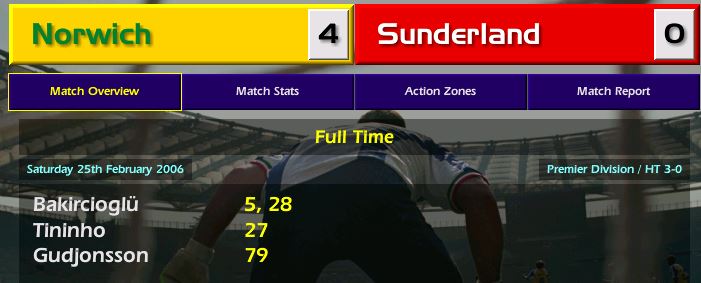 Which is all well and good, but the cups are dominating my attention at the moment. The two wins over Lille have left us at match point, a single point from our games against Barcelona and Milan will be enough to see us through. Easier said than done…

Milan away is a tense affair where we give as good as we get but ultimately fall short thanks to a baby kangaroo own goal. Not his fault.

That means it all comes down to the last game at home to Barcelona. A draw will see us through…

Damn. The Barcelona team is ridiculous to begin with, let alone once Vieira has been added to the mix.
LILLE! Their only point comes at home to Milan. We're through!

Well I never.
That's going to hurt.
Back to the FA Cup and a rotated side gets the job done.
It'll be Sunderland in the semi-finals. In Hull. Why Hull? Who is that convenient for?

These cup runs are proving pretty important, as once again our finances leave a lot to be desired. We leak money from everywhere. I don't really know why, probably because the stadium needs expanding but mainly because Delia pockets it all.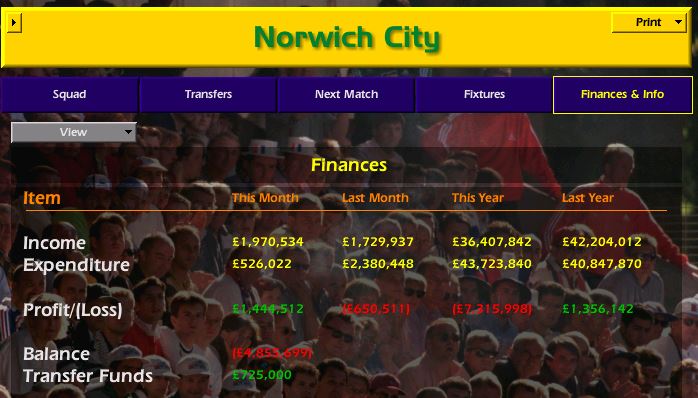 We still play league games, occasionally, but we don't half throw away some points and make life difficult for ourselves.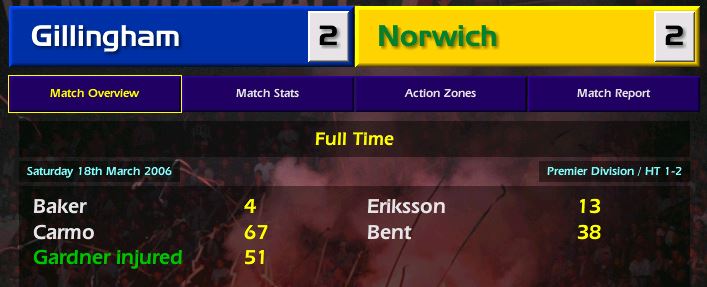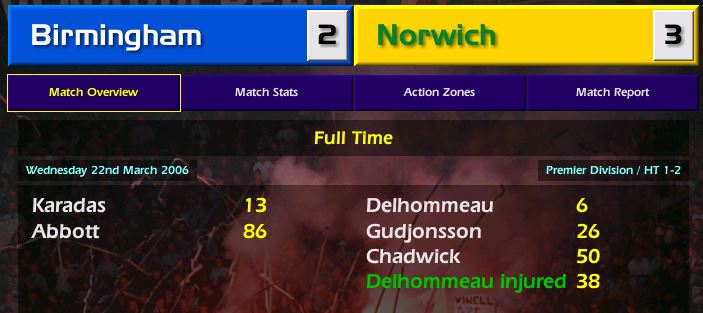 But we are as likely to just do the conceding part. Leeds give us a kicking.
Roma have a ridiculous team. They've also added Ronaldo and Roberto Carlos to their team but be that as it may, I have Luke Chadwick. And 4 away goals.
Pick the bones out of that. We lead, we didn't, we were level for a bit, they had 10 men, we trailed, we equalised. Chadwick – the man for the big occasion.
Typically the return leg is a much tighter affair, though Moukoko is sent off for a headbutt followed by Walter Samuel swinging a right hook into the handsome mush of Luke Chadwick. Somehow, we're in the semis.
I don't think it matters who we get here, we're up against it.

FA Cup semi-finals time though and the miserable trip to Hull looks even worse as we trail 2-0 after 15 minutes. Still, we're made of stern stuff when it suits us, so we claw it back to 2-2 before half-time before the match is eventually settled on penalties.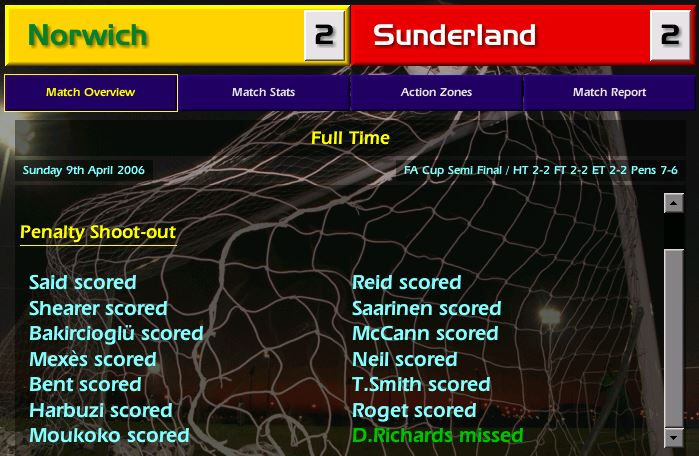 Perfect record from the spot for our lads and we sneak through. We make hard work of everything.
Chelsea lose to QPR in the other semi-final. If ever our name was on a trophy…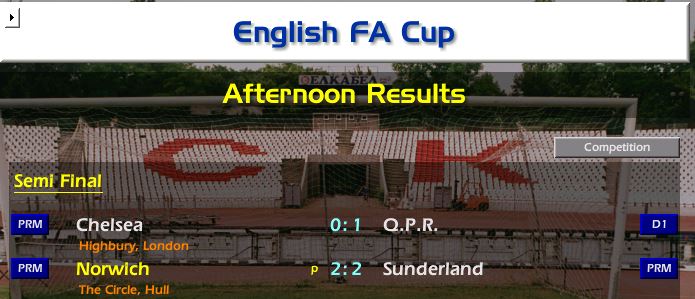 More league stupidity sees us climb to 6th. We have an outside chance of the top 4 but there's a lot of work to be done.

But out of nowhere, we hammer Chelsea in their own back garden and that gives us a chance.
But before we can worry about next season's Champions League, it's time for our semi-final.

How dull. On the plus side, no away goals. On the negative side, we need a positive result at Old Trafford.
We lead! Then we don't. Then the roof falls in. The dream is over. There will be no Champions League final.
Barcelona go on to win the final, but look at their record this season. They barely conceded…though did manage to lose to Sturm Graz. I'm chuffed we even managed to score past them.
We can turn our collective frowns upside down by beating QPR, which thankfully we do with consummate ease.
After the celebrations die down, the reality is that we need to win at Highbury to keep our top 4 hopes alive. We fail.
Damn.
The final game is just to secure a top 5 finish, not that it really matters as we've already qualified via the FA Cup.
I take some pride in being the league's top scorers but 5th is no good. It'll be the UEFA Cup next season. Somehow it's enough to secure Manager of the Year.
The freebies arrive. He's not as good as you might think but he's good enough for us.

Who gives you extra? Who, who?

He can head, tackle and run. He'll be fine.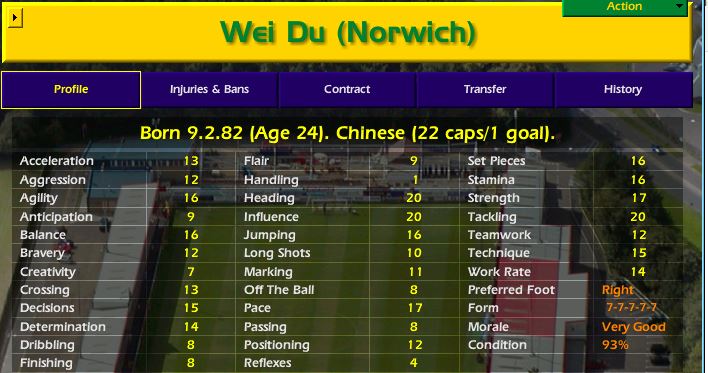 The club are investing the Champions League money wisely.

However, they also want success on all fronts, which seems a bit of a stretch but we'll give it a damn good go.

As Brazil lift the 2006 World Cup, it has been a particularly successful year for teams in yellow. Samba Di Janeiro! The season is over and I will definitely be back for another go in season 6. We're just getting started. See you again for more of the same?