You could say the heat is now on. You could say the temperature has suitably risen. Before the game on Teesside, there were only six points between Nuno and I with eight games left. If he slipped up and I won, it would've made it nine and I'll be damned if I lose three of my last seven. Alternatively, if I was to slip up and Nuno won the gap would be three points which would make things much more interesting as the season draws to a close.
We hadn't won at Middlesbrough since 1951 going into the game, nonetheless, Nuno has never managed a Wolves side there and neither have I so hopefully something would have to give. You'll recall last time that I berated my scout for getting the Arsenal formation wrong which effectively cost me the game and he was up to his old tricks again, at least he got the formation right this time, I guess. He just got the personnel wrong…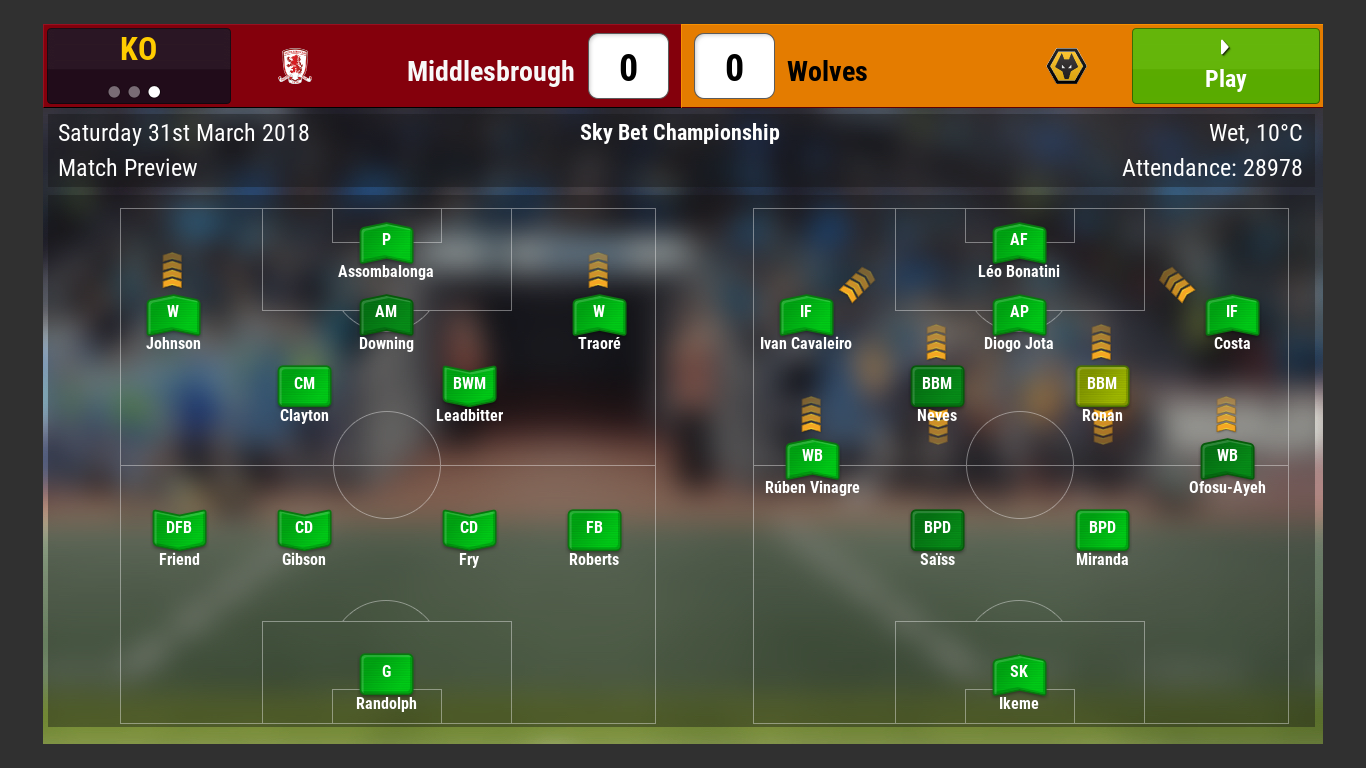 Nuno's Wolves were faced with a Middlesbrough playing a 4-3-3 formation and Nuno opted to go with the side that has become the norm now. It picked itself especially when you consider that Jota still wasn't 100% after getting whacked a couple of games ago. This is how Nuno lined up…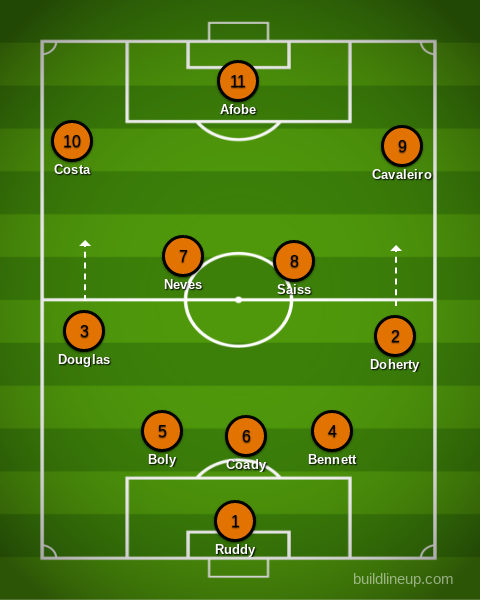 While Nuno had Tony Pulis in the opposing dugout, I was up against David Moyes and if I'm totally honest, I'm not the biggest fan of either of them. We were controlling the opening exchanges as we forced three corners in as many minutes, we weren't making them count, though, which is something we would be punished for only moments later when this happened…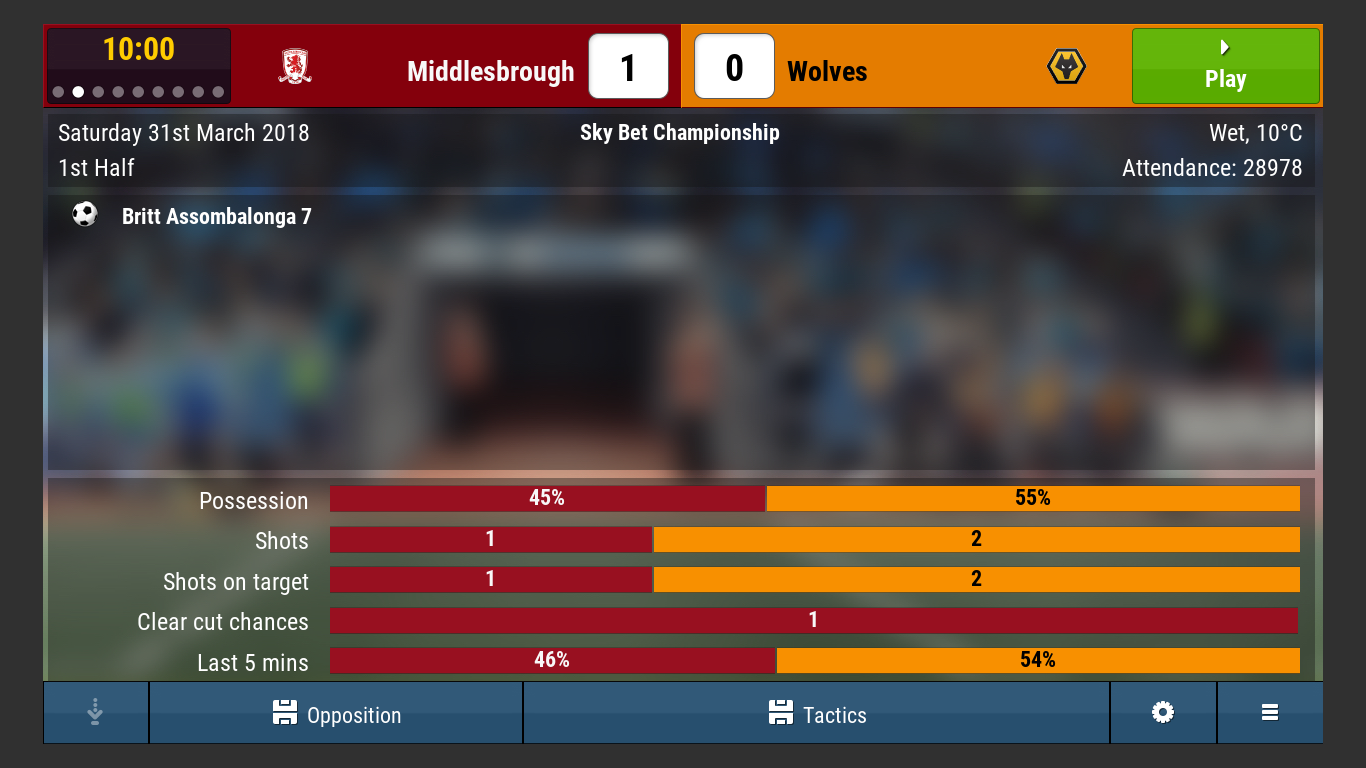 Adama Traore was causing Nuno's side a lot of problems with his pace without doing any real damage, he caused a problem for me as he somehow skinned Vinagre (pace 17) and put the ball on a plate for Assombalonga who was only too happy to oblige by putting the ball in the back of the net.
It was annoying because we seemed to be getting in the habit of creating chances without taking them and if I was going to beat Nuno, something had to give.
All The Corners But Not Much Else
We had yet more corners with no end product and to make things worse Nuno went 1-0 up through Helder Costa who capped off a wonderful flowing move. Five minutes later, Nuno went 2-0 up when Ivan Cavaleiro nodded in at the back post which meant unless I could pull something out of the bag, the gap was going to be cut to three points.
Luckily time was on my side as Cavaleiro got Nuno's second in the 37th minute, so it wasn't even halftime yet. A goal before the interval would do nicely!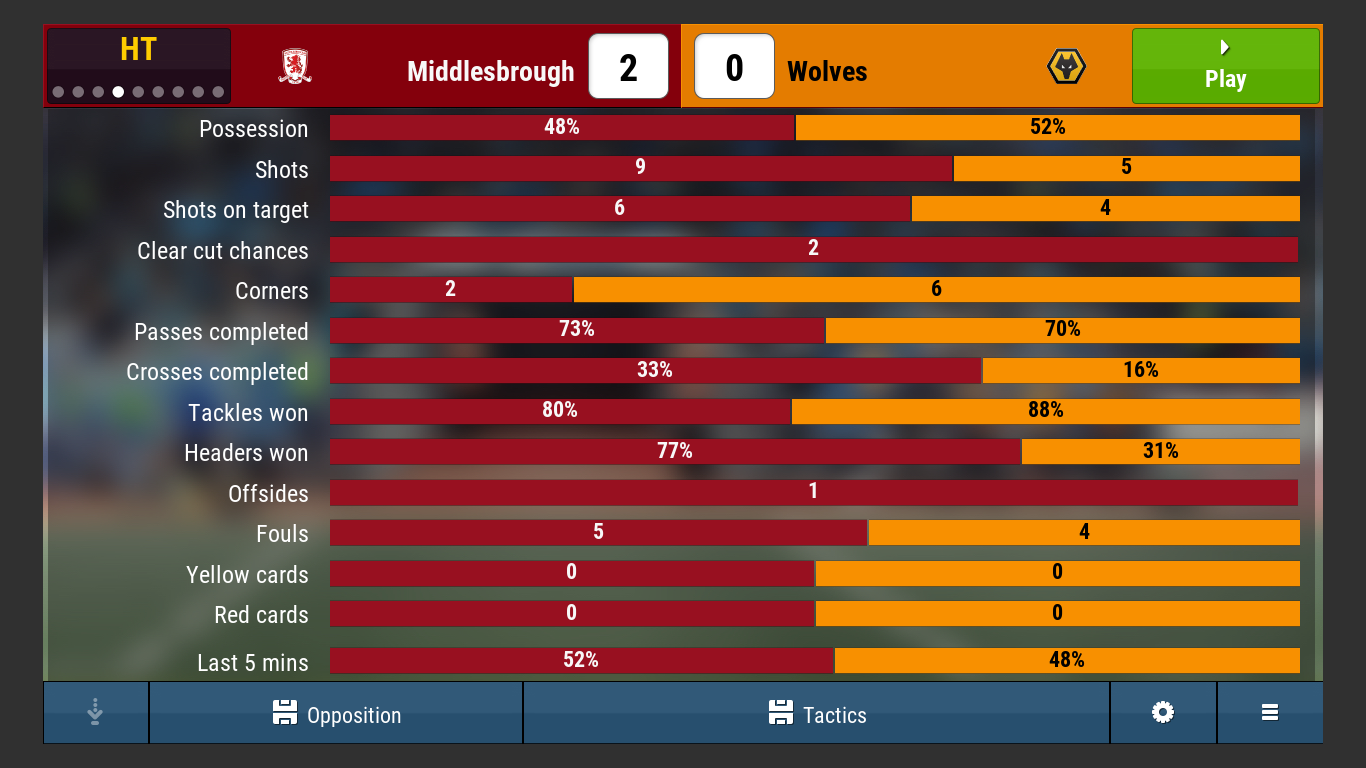 Aye, it would've done if it went to me. Marvin Johnson pinged one in from twenty-five yards just before the referee sounded his whistle which ensured I had a mountain to climb. Saying that, we were 4-1 down at Arsenal at halftime and gave them a good run for their money, it was time for me to earn my money as a manager…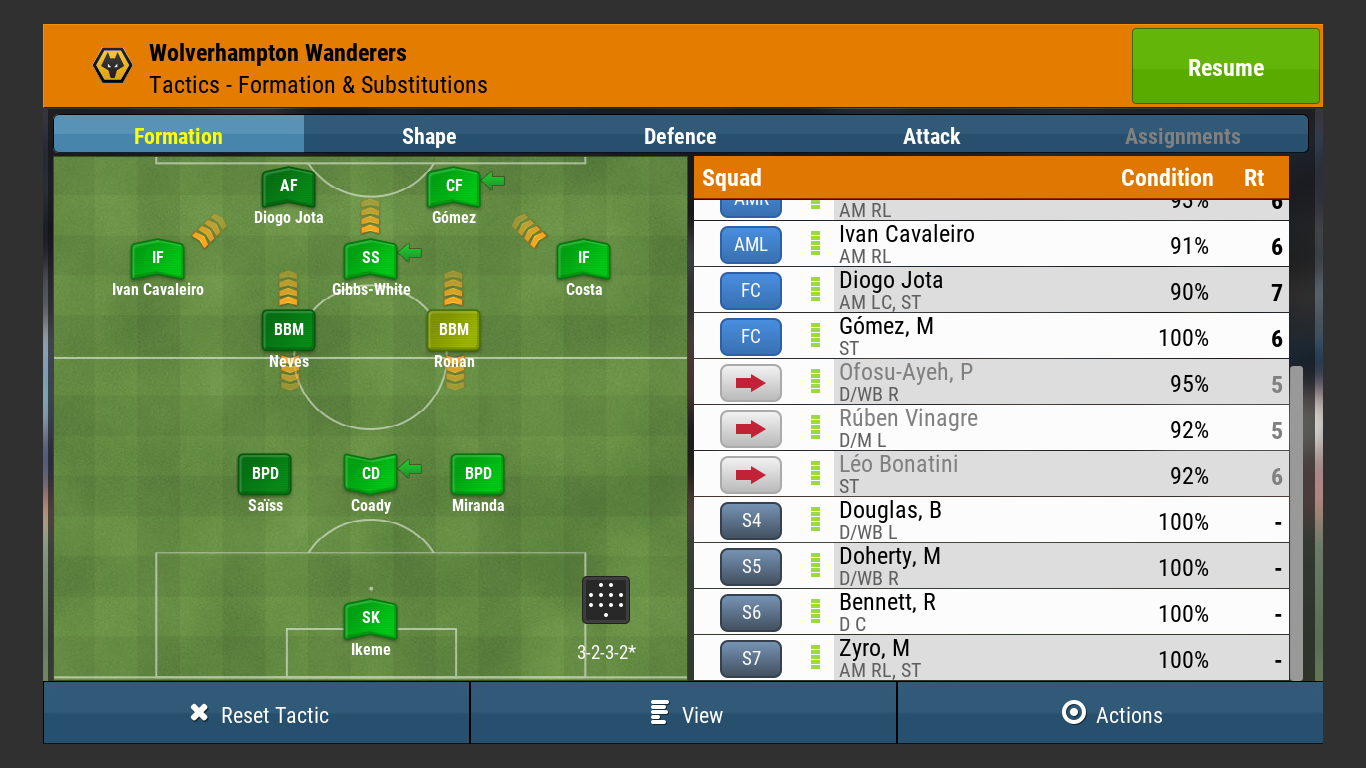 For the second successive game, my wing-backs had been dreadful and due to the fact I changed them over personnel-wise, one is beginning to wonder if it's actually the system that is the problem. On the other hand, it has worked fine for the rest of season with the exception of the previous two games.
Kamikaze Special Incoming
If I couldn't pull this back I'd probably go 3-2-3-2 from the beginning, as you can see Gibbs-White, Gomez and Coady came on for Vinagre, Ofosu-Ayeh and Bonatini respectively, if we were gonna go down, we were gonna down kicking and screaming. Neves got sent off for Nuno with fifty-six minutes on the clock for two quick yellow cards, surely they weren't going to blow it from two goals up?
I had my own troubles to worry about as when the clock hit the hour mark, we hadn't made much progress, so it was time for a kamikaze special…
The way I saw it was, I'm quite a bit in front of Nuno goal difference wise so even if 'Boro score a few more, it's not going to make that much of a difference in the grand scheme of things and with Nuno down to ten men, if anything was going to happen in that game, it was likely to be for Middlesbrough.
As the game edged ever closer to the seventy-minute mark, I was beginning to resign myself to defeat, but then…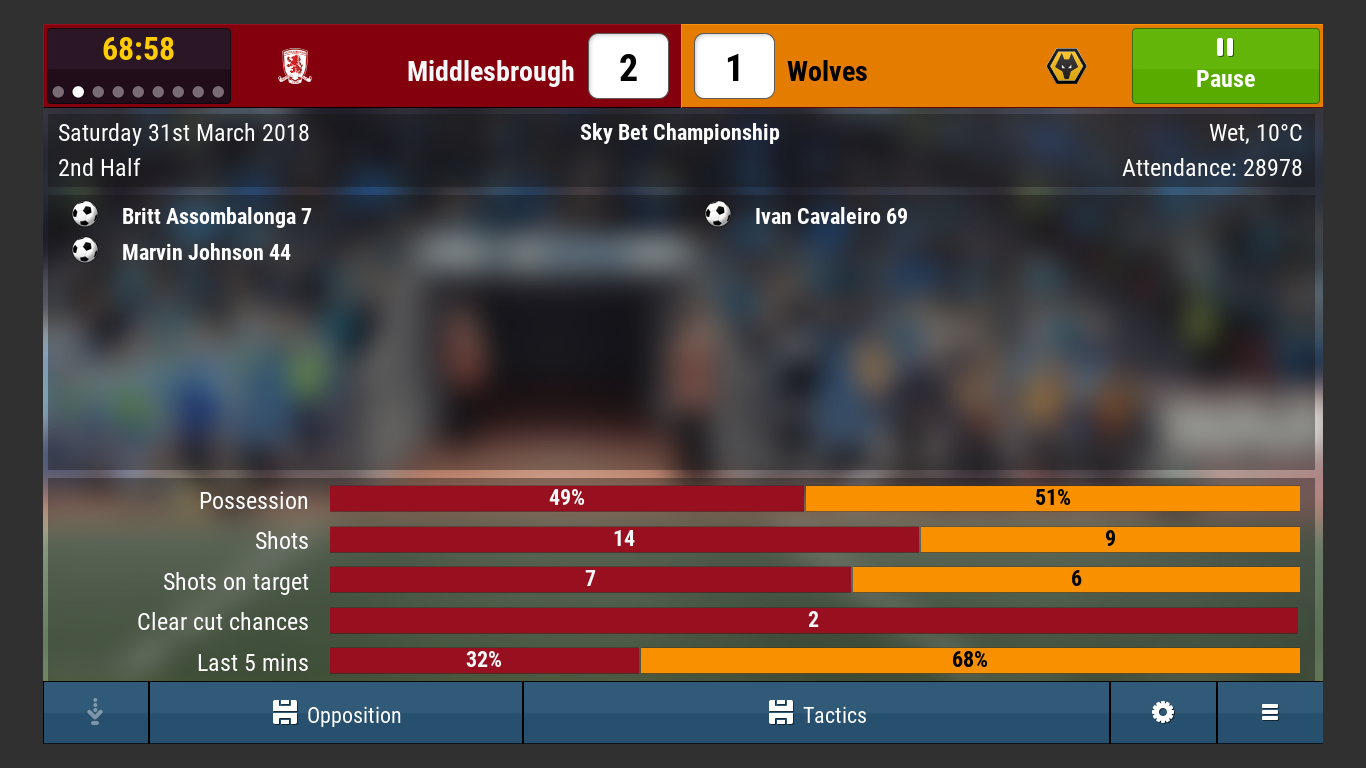 Kamikaze mission was go, go, go! This was followed by Nuno's second red card of the evening when Matt Doherty got sent off for a second yellow which was a questionable decision, but an understandable one all the same. The annoying thing after that was I couldn't score for toffee.
Gomez missed an easy looking chance but that aside there wasn't much else going on. Nuno's side conceded in stoppage time which meant his side won 2-1, no change in my game which meant it finished it like this.
One stat that immediately jumps out there is that we didn't create a clear-cut chance despite having nine shots on target which is something that will be rectified on the training ground. So, while Nuno was fist-pumping like a maniac and 'forgot' to shake Pulis' hand, I was left dejected as we sort of finished with a bit of a whimper. Such is the life of a managerial king like myself.
The only thing that is left to do is to look over the league table between myself and Nuno; it's getting very close…
| | | | |
| --- | --- | --- | --- |
| Team | Played | Goal Difference | Points |
| FM Wolves | 39 | +47 | 88 |
| Nuno's Wolves | 39 | +37 | 85 |
I'll be back next week to preview the Hull game as I look to maintain that gap of three points. Or I might do it in one hit on Wednesday and do the preview and review all in one, could be a good idea. Either way, see you soon.
Until the next time.