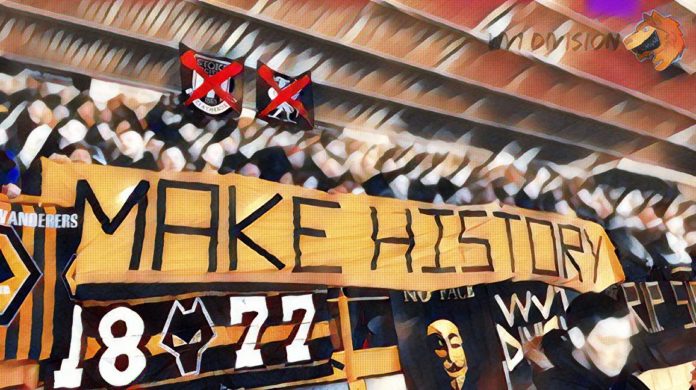 Just as the chapter before it, this one begins with a Midlands derby. It was one of the games last month where I lost ground on Nuno, this time, however, things would be different.
Before we come onto that, let me tell you how all of this works. Nuno's Wolves are one of the best Championship sides in recent years and being an avid Wolves fan, I wanted to see how I could do in comparison to the ex-Porto manager. August was tighter than a duck's arse, I just about edged September and in the most recent chapter, Nuno opened up a four-point gap. That's the aim of this chapter, close the gap.
St Andrews played host for the first game of the month and it was also when I started writing match reports for BFTGT, one of FMG's sister sites, so I can shamelessly plug my own work. What a dream! Nuno's side December started with three points as an early goal from Leo Bonatini gave his side a 1-0 win. So, win, or risk the gap getting bigger…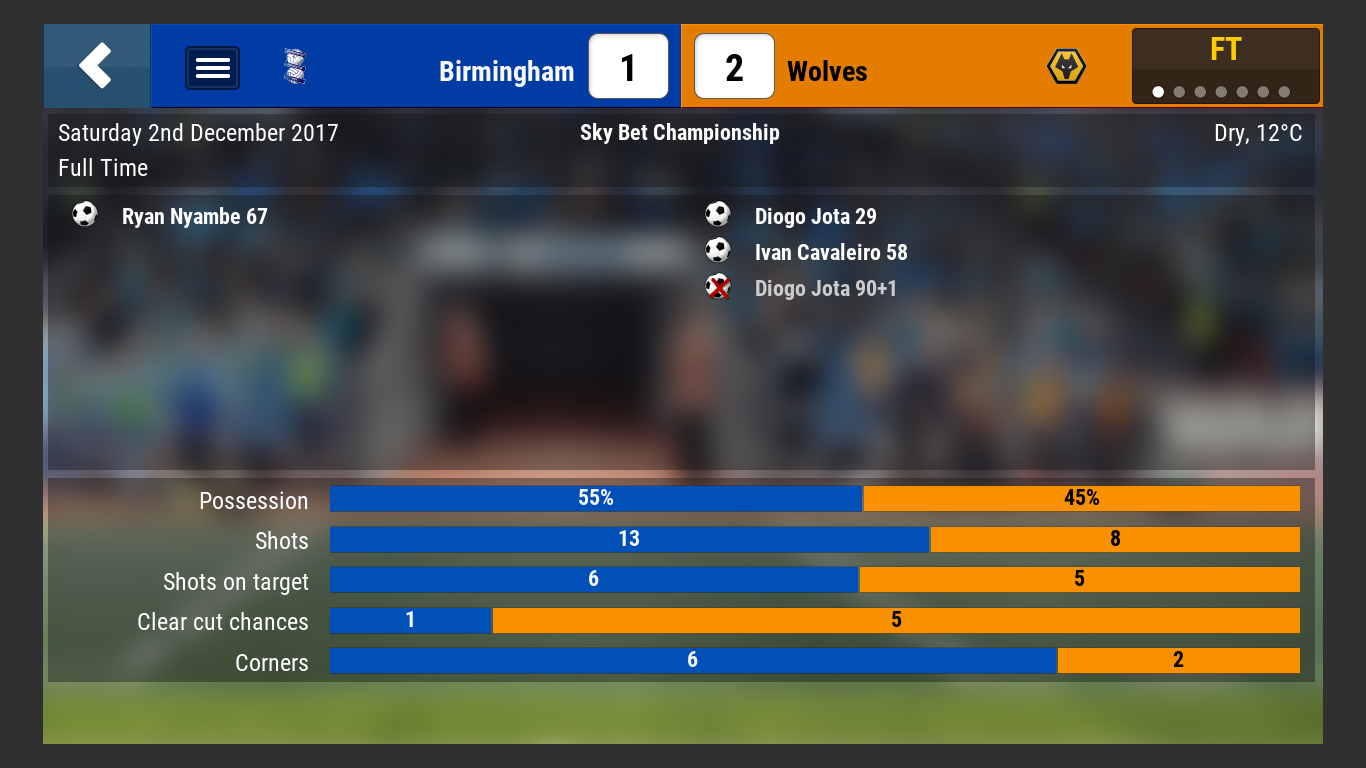 We opted for the five at the back that had served me well at the back-end of November pulled through again as Jota and Cavaleiro got handed the license to roam free and cause as much damage as possible. That's exactly what they did. It got a little bit nervy when they pulled a goal back, I was hoping we weren't going to rue some of the chances we missed in the first half. Thankfully, we stood strong and kept the gap at four points.
Sunderland or the 'Mackems' as they're known in the North East were up next as they made the long journey down to WV1. In real life, Sunderland were bottom and on a hiding to nothing, so in typical Wolves fashion and untypical Nuno fashion it was a 0-0 draw. Chance. I stuck with the same XI that done the job in Birmingham, let's hope it worked just as well against the Black Cats.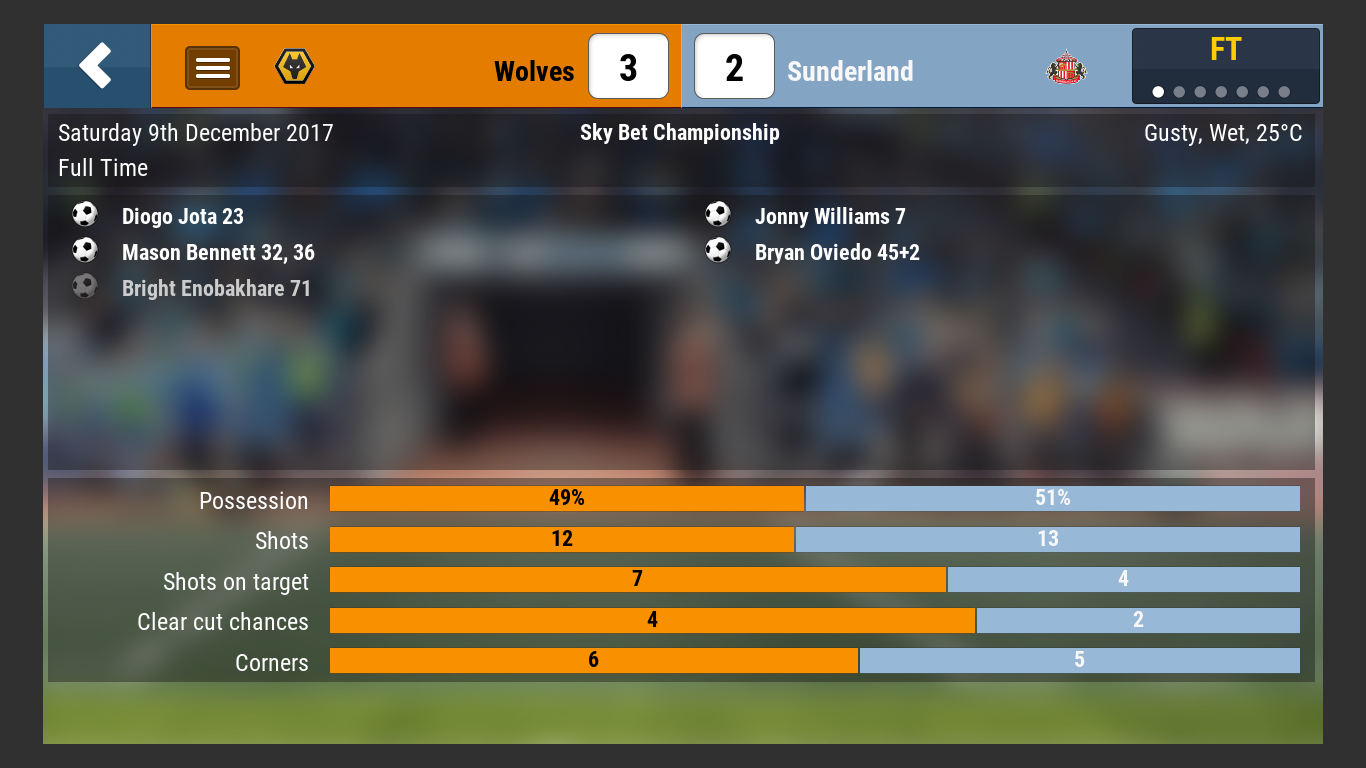 Boom! Gap cut to two points. It was most surprising that after the first half yielded five goals, the second ended goalless. Nevertheless, that worked for me; it was hurting me to keep Ronan on the bench, however, if the results kept coming without him, I wasn't going to change it unless it was absolutely necessary.
A trip to Hillsborough was up next and Nuno managed another clean sheet as he won 1-0 which kept the gap at two points, providing I won. One thing was for sure, there was no danger of me keeping a clean sheet. Going back to what I said literally a minute ago, I changed the team.
It was necessary because a few players like Bennett were carrying niggles and with the Christmas run coming up, I needed as many bodies as humanly possible. Bonatini was still out so he couldn't go up top, so I decided the time was right to bring Costa back into the fold after his lay-off and push Jota further up the pitch.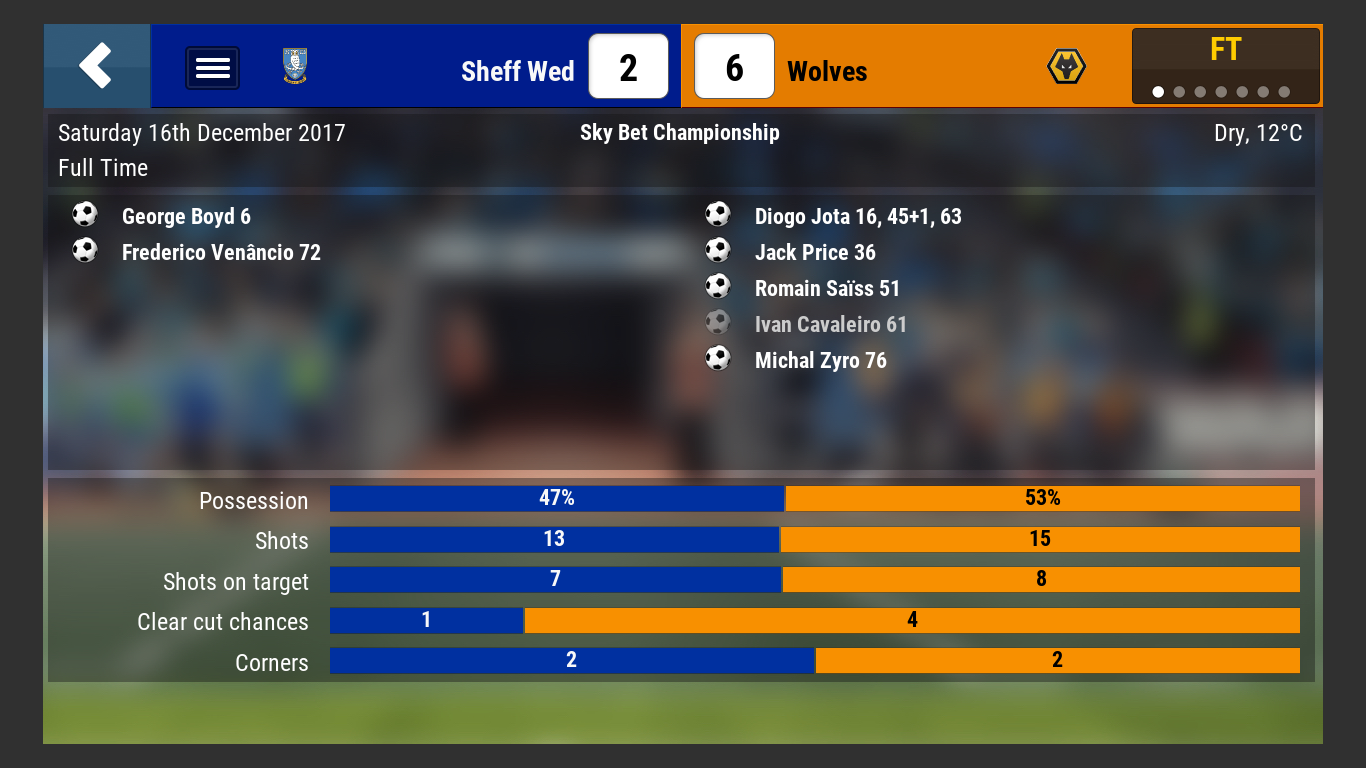 Jota's alright up front, isn't he? It was a weird game because we had more clear-cut chances again Blues yet only came away with a two-one win, yet we ran riot in Yorkshire. Bizarrely, their keeper came away with a rating of six which must've been some sort of glitch in the game as he let in six out of the eight shots on target.
While Costa may not be on the scoresheet, he played his part, chipping in with two assists and just a brilliant performance all round. I couldn't fault any of them. That was playing a 4-3-2-1 as well. With it being close to Christmas and all, I thought it best to go for the Christmas Tree formation.
Mick McCarthy was back at his old stomping ground just before Christmas and normally, he gets one over on us. Not when Nuno is around, oh no. Nuno won 1-0 to keep the gap open and it meant the pressure was back on my mob. With Christmas only two days away, I thought it would be very fitting to keep with the 4-3-2-1 formation. It very nearly didn't work…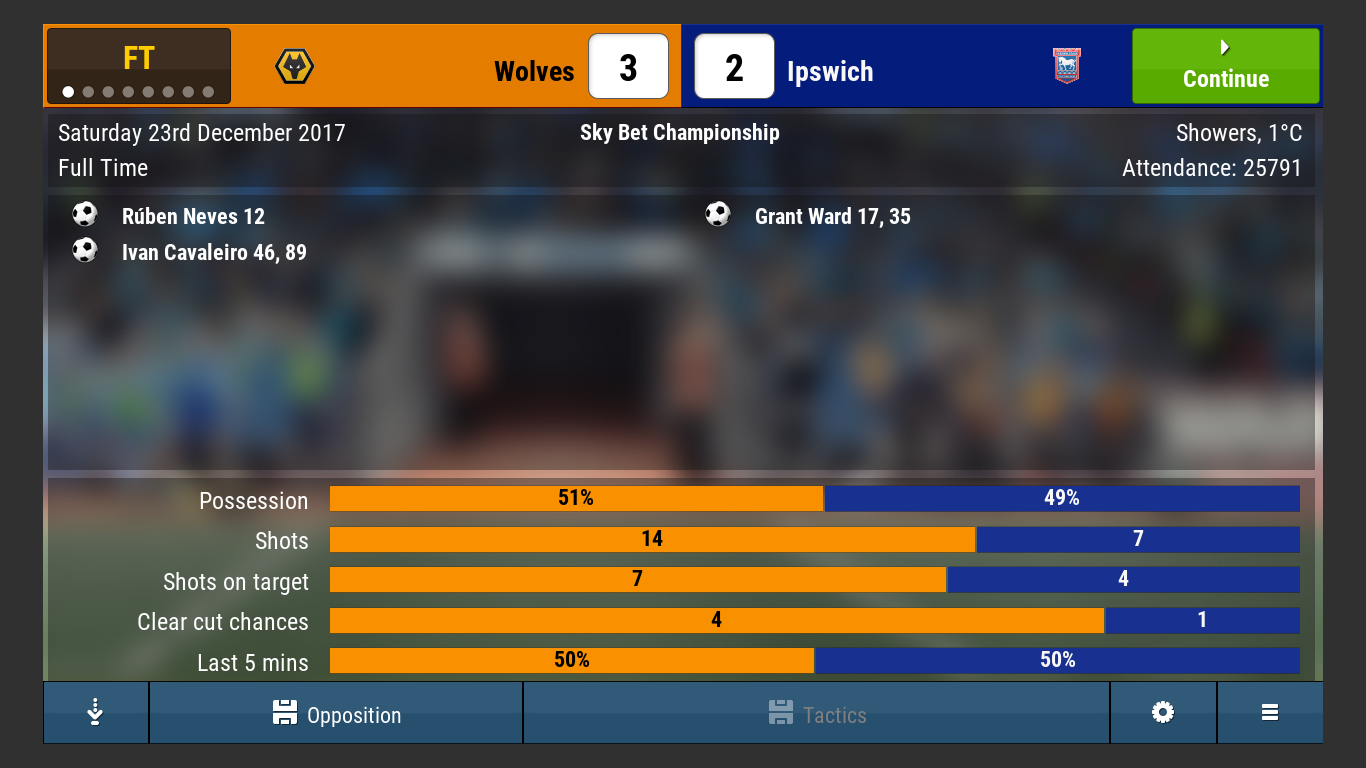 At halftime, the gap was back to four points and I couldn't believe that McCarthy was going to get one over on me. I still haven't forgiven him for the horrific performance against them lot down the road when they tanked us 1-5.
Cavaleiro's goal just after the interval put us back in the driver's seat and I was sure we would carry on and get all three points. Technically, I was right. Only just, though. Mr Connor Ronan stepped off the bench to tee up Cavaleiro to give me an early Christmas present and to keep the gap at two.
Once all the turkey was eaten on Christmas day, a trip to South London was on the cards; Bermondsey. Millwall. Up until this game, Nuno and I were on a level playing field when it came to games in London as we were both winless after games against Brentford and QPR. Nuno remained winless as his side drew 2-2, which gave me the opportunity to rid the gap! Now, all we had to do was win…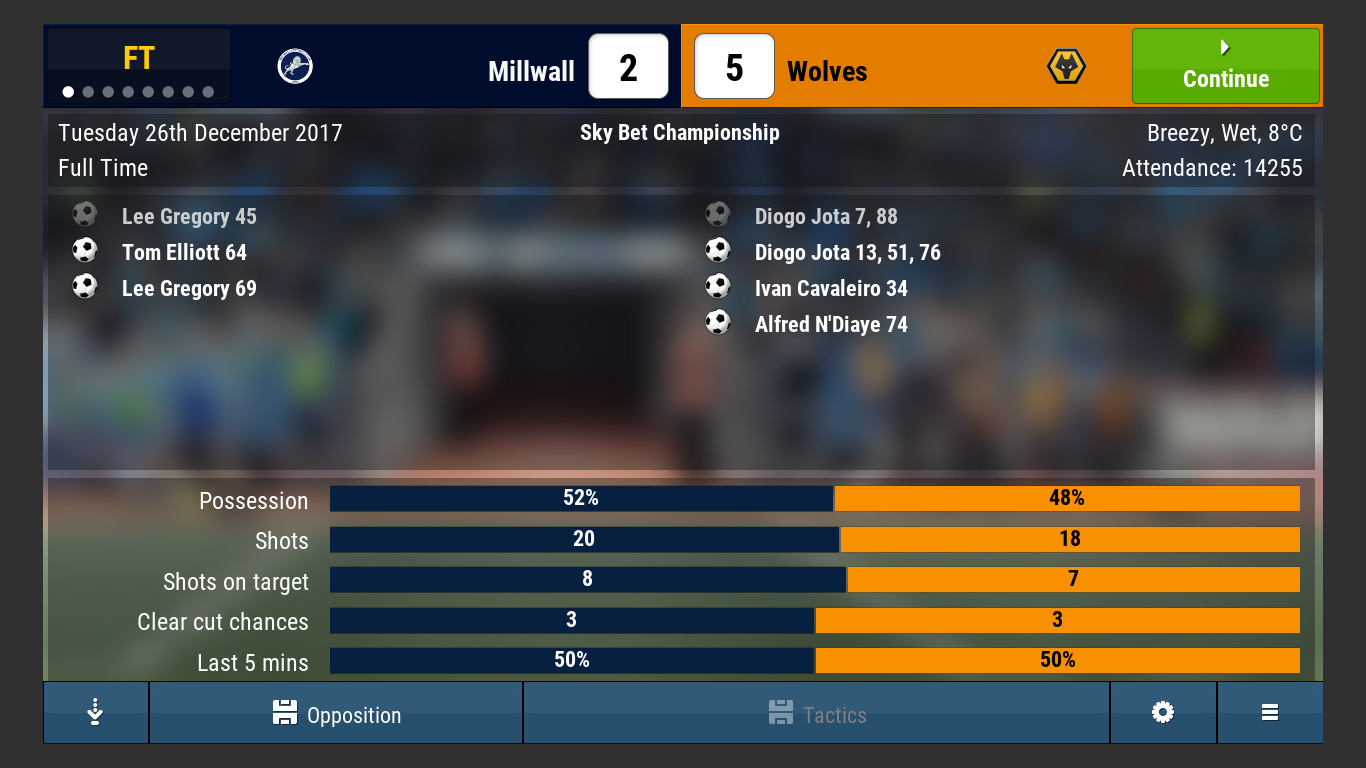 Boy oh, boy did we win. Somebody had to call the fire brigade after the game because Jota was on fire and needed extinguishing immediately. Had the linesman been a better sport he would've scored no less than FIVE goals in one game. That isn't normal. Jota isn't normal. Period. Zero was now the gap and meant it was all to play for going into the last match of the month.
A last-minute header from Ryan Bennett ensured that Nuno won 2-1 away at Bristol City. Going into the game, we were unbeaten in seven and simply unstoppable in front of goal. So, as any brilliant manager would, I changed the formation. What. A. Twat. This is what happened…
Again, my inability to trust my team had let me down and it was beginning to form a bit of a pattern. There's nowhere else the blame can lie apart from at my feet. Despite this, the month should really be deemed a success as we got fifteen out of a possible eighteen points and scored twenty goals which isn't the worst return in the world. We closed the gap on Nuno as well which is the most important thing, albeit, the gap would be non-existent if we had won in Bristol. Here's the table for your perusal…
| | | | |
| --- | --- | --- | --- |
| Team | Played | Goal Difference | Points |
| Nuno's Wolves | 25 | +27 | 58 |
| FM Wolves | 25 | +29 | 55 |
It's better than what it was at the start of the month which is progress, right? For obvious reasons, though, it doesn't feel like that; not at all.
Until the next time.