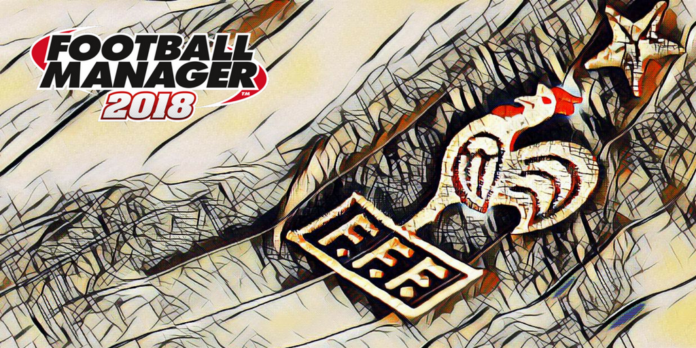 "It's been mentioned quite a lot already, but Cannes will now end the first half of the season in 6th place, just four points off automatic promotion. Considering you are still an amateur team, that is quite incredible especially when you sit two points above St Etienne who spend €28.5m a year on their playing budget. Just how much further can you go following this model?"
---
And there folks, right there lays the question. Hiding in the grass, where everyone can see it. Exactly how far can we go using this model?
Newcomers to this journey, welcome. You'll probably wonder exactly what I am going on about.
Here's an incredibly quick recap. I'm manager of AS Cannes, a former Ligue 1 heavyweight that gave the world Zidane, Vieira, Micoud and a few others. We started in Division 5 after years of financial mismanagement saw the club tumble. We started as an amateur club and to this day we remain amateur despite now being in Ligue 2. The policy started that I would only ever sign players on free transfers but as we went up the leagues and remained amateur the challenge has become to see how far we can go with players doing it merely for the love of the game. And right now, after 19 Ligue 2 matches, we sit in 6th place. 6th place!
But, the question – how far can we go? 
It is only the halfway point and I don't think for a second we are going to push for promotion. Neither do I believe we are going to end up in a relegation scrap. We started the season unbeaten in nine – this Ligue 2 lark felt pretty simple. However, about four games ago, we were in the midst of a pretty bleak run. We hadn't won in five, we'd thrown away a two-goal lead and conceded an injury-time equaliser in the two matches we'd drawn in that run and confidence was low. An amazing turnaround from 2-0 away at Ajaccio to win 3-2 with two goals in injury time ourselves broke the spell, but we followed up with a 3-1 and 4-1 loss.
And it changed.
Wins over Orleans in the league and Lyon-Duchere in the cup were followed up with victories over Auxerre (2nd) and St Etienne (6th). And, better still, we finally kept a couple of clean sheets. Life feels very different as a result.
None of this answers the question – how far can we go?
My thoughts on that are this; coming into this season I hoped we'd be able to bring in higher quality players due to the fact we are now in Ligue 2. That has not really materialised. The team that beat both Auxerre and St Etienne only had one "new face" in the squad – meaning one player that was not with the club when we got promoted last season. The team that started the season unbeaten wasn't overloaded with new faces either – the team that hit a rocky spell? Lots of new faces that were supposed to improve the squad. What does that tell me? I have no idea! I cannot not recruit players that become available. It could be argued that I didn't actually need to improve the squad? It could be suggested that our recruitment methodology has broken? Maybe my scouts aren't that reliable now we've gone up a few levels? These are things I need to work out.
I don't see anything else stopping us going further as an amateur team – it really is completely down to having good quality players in the squad. We have excellent coaches, great facilities (now) and a clear tactical style. The fact that we are 6th halfway through the season tells me we can compete at this level, and if you can compete then you can improve – it's all about player recruitment.
Can we recruit better? Probably. I just need to work out how, fishing in the pool that we fish in.
---
THE SEASON SO FAR
Do you want a look? Of course you do.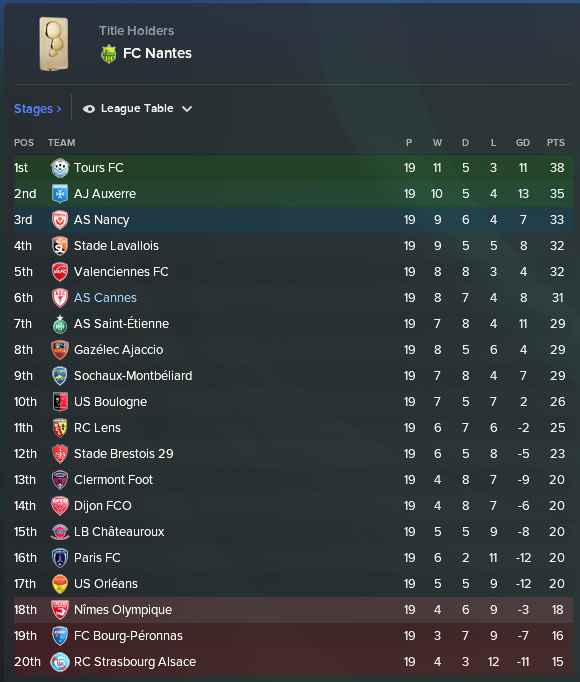 A couple of those draws as wins and we'd be laughing, right?
40 points guarantees we stay up and I have to accept that is still the aim of the season. 70 points would almost certainly mean a playoff spot. So what's that, 13 wins out of the next 19 games? That feels like a lot, but then the teams above only have a four-point head start I guess!
We also have the division's leading player right now.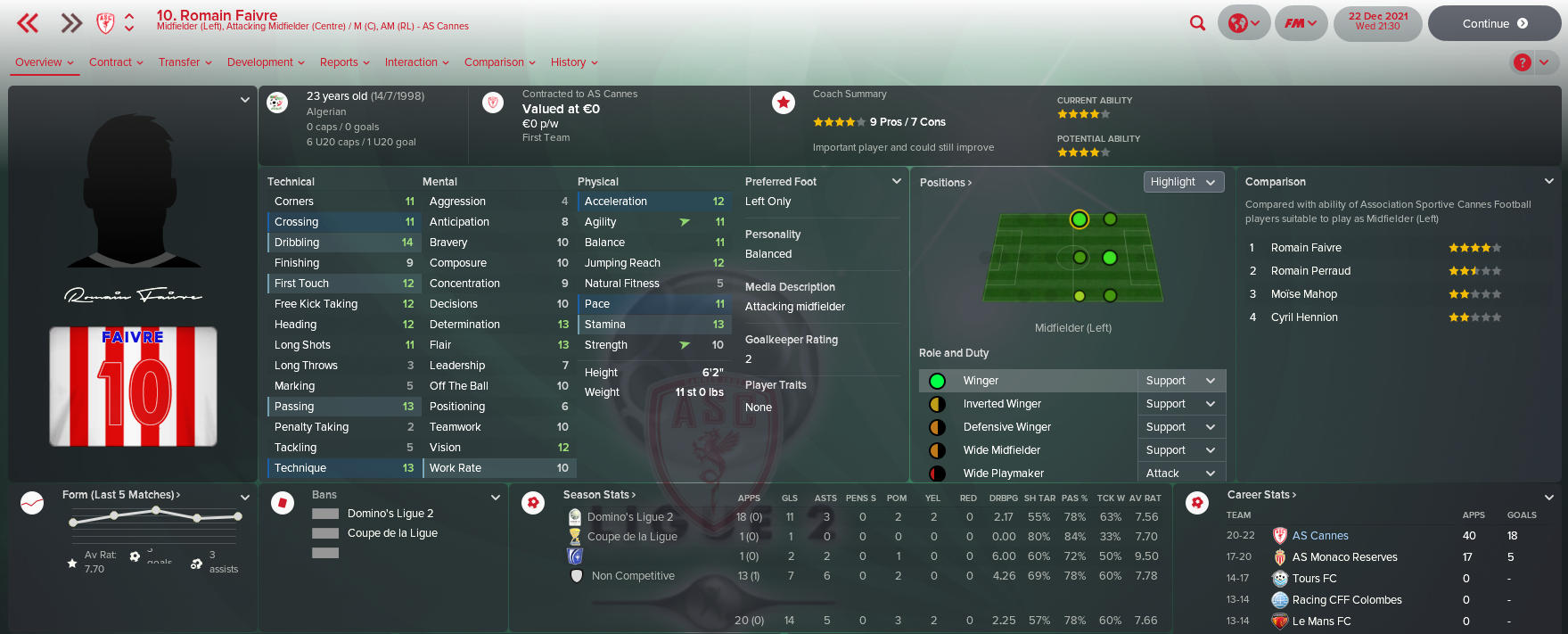 He is in the ever-loved WM/A spot on the left and he loves a goal. My personal aim for him is to get him into the Algeria squad. Don't forget, Riyad Mahrez came from a Ligue 2 side so someone could grab a complete bargain here. What is cheaper than free?
I didn't realise this until I looked.

We are scoring enough, so the problem must be the other end.

Yup, that is bottom of the table stuff. So, hopefully, back-to-back clean sheets is stemming the flow.
---
FINANCES
In a worst-case scenario, I reckon we'd finish 10th meaning we'd do alright on the prize money side of things.
It's not all about the money, of course, but I am constantly checking our finances – the second aim of this save was to always balance the books.
Just by existing in Ligue 2 with no spend on wages of any kind means it's all rather rosy in the bank account.

The thing is, what is the point in hoarding the money? I'm always pushing for facility improvements but I am running out of things to spend it on.
There's a couple of lovely growth areas in terms of income which explains that bank balance.

There's also nothing alarming in the expenses column.

What this is kinda telling me is that if we had to go pro very soon I could probably afford a wage budget of around €3m a year.
When you look at the ten smallest wage bills in the division, it doesn't seem worth going pro even now.
€3m a year wouldn't mean we were big spenders at all – in fact, I'd be interested to see if I'd even be able to keep my current squad together on €3m a year.
That's €57k a week. I have a squad of 20 right now, so that's an average wage of €2,800 per player. Would that change much? I'm not convinced it would all in all, especially given where we are right now and we don't spend a penny.
We are about to embark on the second half of the season. Who knows where we might end up?
If you are in FMSlack then head over to #tenpotatoes if you want to follow things or ask questions.