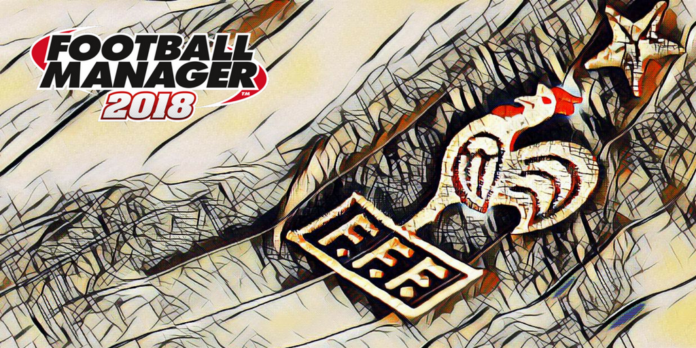 "People told me it would be impossible to take a team of amateurs out of the 5th Division. The same people and more told me we would finish bottom of the 4th Division. Guess what those people are saying now, after we won the 4th Division? Of course, they are saying that an amateur team cannot stay in the 3rd Division. Who are you more likely to believe now, hey? Me or them? Today we are preparing for the Championnat National 1 as an amateur team, and until Johan Micoud tells me something different we will continue to prepare for the Championnat National 1 as an amateur team. He asks me if I feel we can still have a good enough team in this division if we stay as we are. I say yes, every time".
---
BACK-TO-BACK PROMOTIONS
It went down to the last day, it was a proper title chase. In the last ten games, Sedan and ourselves traded top spot at least five times (or it felt like it) and we went into the final game knowing that even a little slip would most likely see them steal the promotion spot back. Fortunately, we didn't even look like Daniel Gearing it as we beat Troyes AC Reserves 2-0, scoring early. Sedan also won, so we'd have been killed if we'd lost.

It's easy for me to gloss over what an incredible achievement this actually is. Sedan had five players earning €1k a week or more. We are amateurs – none of our players or staff earn a single penny. Imagine Coventry City getting promoted from League 2 last season with players playing for free.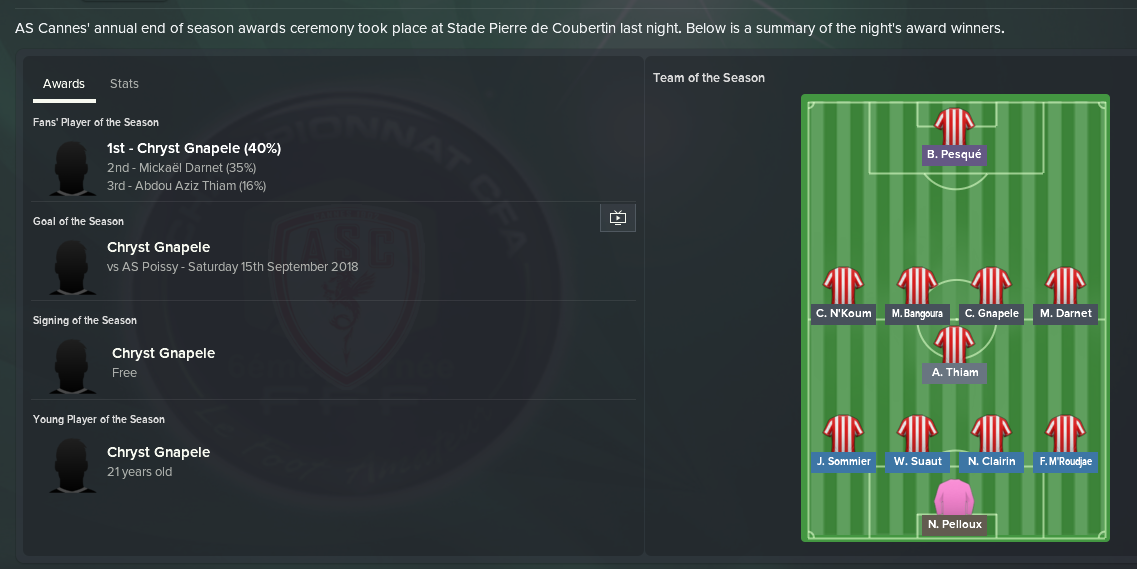 Well, if you look at that you would assume that Chryst had some kind of divine intervention in our season. I actually didn't think he was that great to be honest, but hey.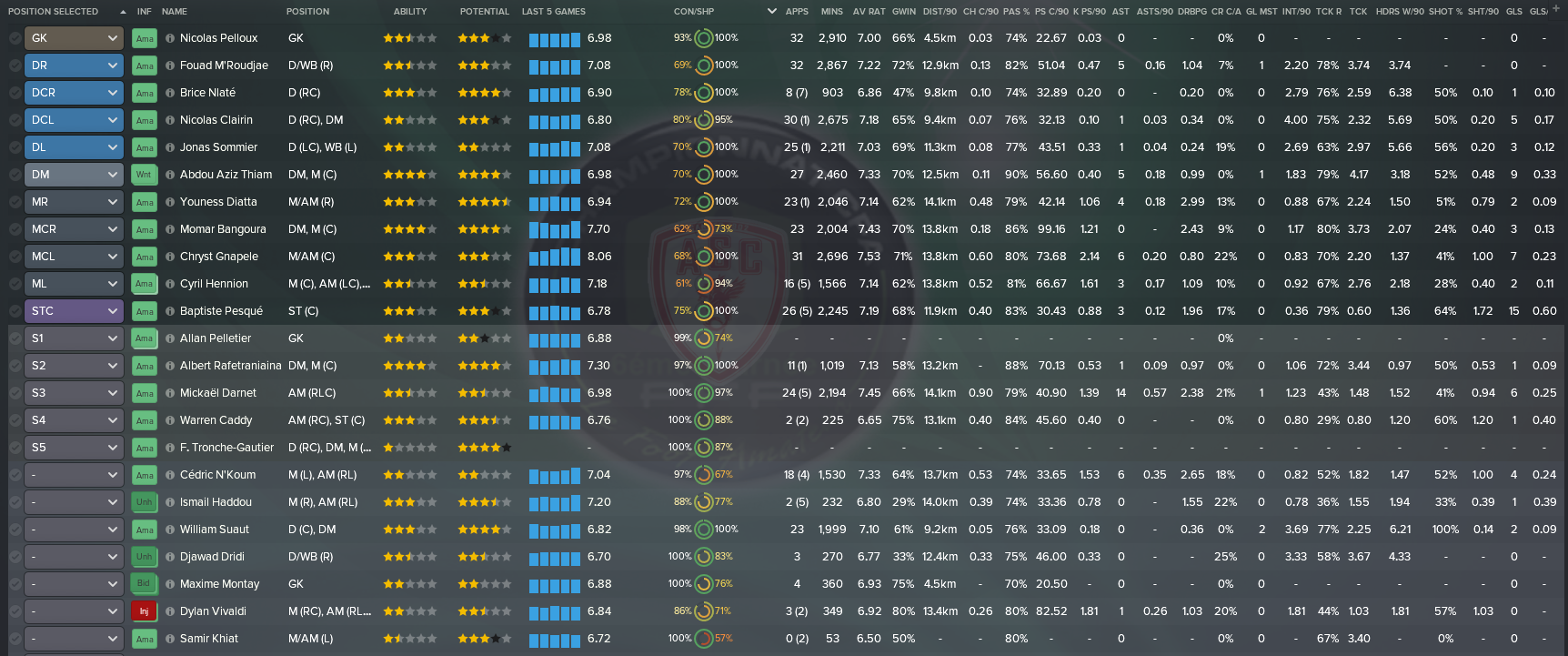 Chryst was decent, but so were so many as you can see above.
---
WHERE DO WE GO FROM HERE?
Into the Championnat National 1, obviously – the third tier of French football. As I said in the press conference (which happened in my head), until Johan Micoud tells me that we are going semi-pro we are staying amateur. But, I should probably start looking at the budget just in case he tells me we are now semi-pro.
So, here we go.

How do I work out my real wage budget? I add together my income from gate receipts, match income, hospitality and season tickets and divide by 52.
ST = €15,068
GR = €62,817
MDI = €19,870
CHI = €2,440
TOTAL = €100,195
Realistically, will we see all that improve if we are in Div 3 rather than Div 4? Yes, most likely so there is a little wiggle room if needs be – I'd allow a variable of 10%.
€100,195 / 52 weeks = €1,927
The way my system would work means I would only be able to spend that figure per week on players.
What does that tell me if we become semi-pro? It tells me only a small amount of players can be given part-time contracts and everyone else will have to remain on the deal they are currently on.
You could argue that I should include the €1m prize money we banked last season. You could argue that I should include the TV money, sponsorship and all that jazz. I prefer not to because all that could disappear overnight.
Looking ahead to the next season – to stay up we need to finish 14th which would generate €475,000.
As a discussion point, would it be worth gambling on adding €475k into the real wage budget to secure players on part-time contracts? Bottom (17th) guarantees €275k – if I added to that guaranteed €275k to the budget that would give me a real wage budget of €7500 a week.
That's worth bearing in mind as it has got me thinking even in the course of typing this up – maybe my initial way of looking at a real wage budget isn't quite right.
If we get to that point, I'll revisit it. I'd actually love to have a crack at this division with an amateur squad.
---
THE RULES
Those of you following this from the start will know I have set myself a rule of "only signing players for free" and "always balancing the books".
We've kinda covered the second rule in the section above – and the free transfer rule is going great. However, those hoping for some "searching the stats" action will have to remain patient – the way my scouting structure is currently is not generating any data on players that is of use. I'm actually having way more fun taking chances on players released from Ligue 1 and Ligue 2 clubs.
For example, I'm on the verge of snapping up this keeper to be my new number one.
Following my process of adding everyone released to my shortlist and then filtering, potential targets look like this.

Usually, this list has one or two players showing as players released weren't that interested in joining us. Now we have 41. This is a whole different ball game now.
To work out which ones might be of use, they are being scouted whereas normally I'd go straight to signing them. Again, as we are amateur, if I bring in a donkey I can release straight away. It's also worth noting most of these kids are schoolboys. They will have to be very, very special at 16 or 17 to be brought in – I think the sweet spot is 18-23 still.
The squad in its current state should be enough not to get relegated in my opinion – our cup run last season gives me that confidence.
---
THE LEAGUE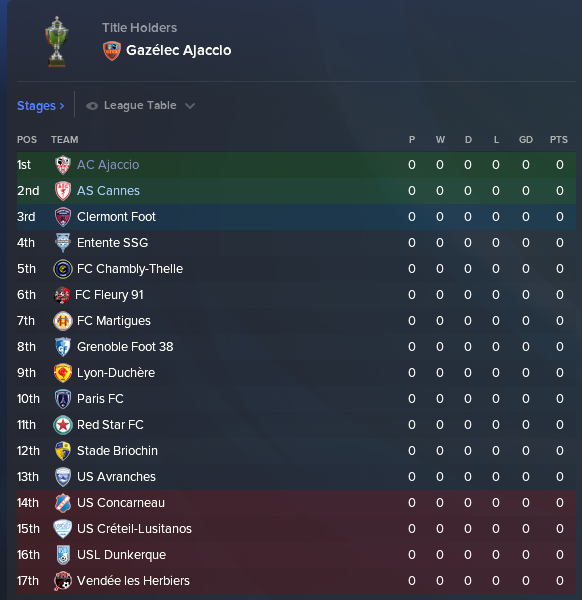 To finish 13th we need 38 points. 37 has sent teams down in both the two seasons I've been in France. 38 points from 32 matches. 12 wins, 2 draws.
I reckon it's possible with a couple of quality additions.
I don't want to change too much as I feel that squad familiarity is crucial after getting promoted – signings being phased in over a period of time works better for me.
Centre back, central midfield, striker – especially if the keeper signs – and we will stay up.
Let's do this.