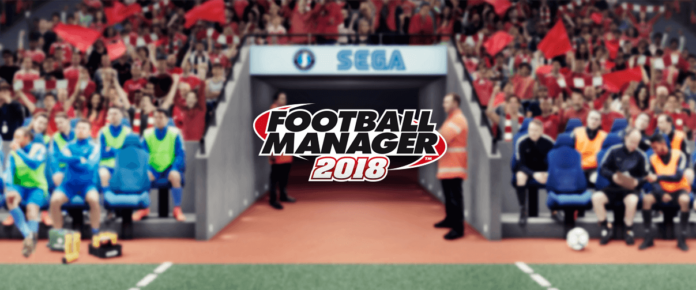 My geography skills aren't great so if you ask me about Atlanta, I don't know much. What I do know is we're the football capital of North America. The Falcons? Nope. We're the biggest club in the city- and we've now got a chance to make our name known to the world.
Now let's be honest here, you don't care about the Club World Cup do you? We Europeans look down on this competition. It's a meaningless affair halfway around the world for a title that isn't significant. I was the same. Then I came to Atlanta.
Make no mistake, this is my club. We started with a clean slate and a manager (me) who didn't know his designated from his senior. We worked it out though and we worked damn hard. North America has been left shaking in their boots and I plan for the rest of the world's finest to find themselves in a similar standing. It's just a shame we won't get to clash with more of the big boys.
It's December 2019 and, as far as I can tell, the scheduling for the tournament is as bonkers as we're used to in the MLS. We start in the quarter-finals against Chinese side Huaxia Xingfu, with the other teams in the tournament being South African outfit Sundowns, New Zealand's Team Wellington and the big boys – Brazilian giants Santos and Diego Simeone's Atletico Madrid.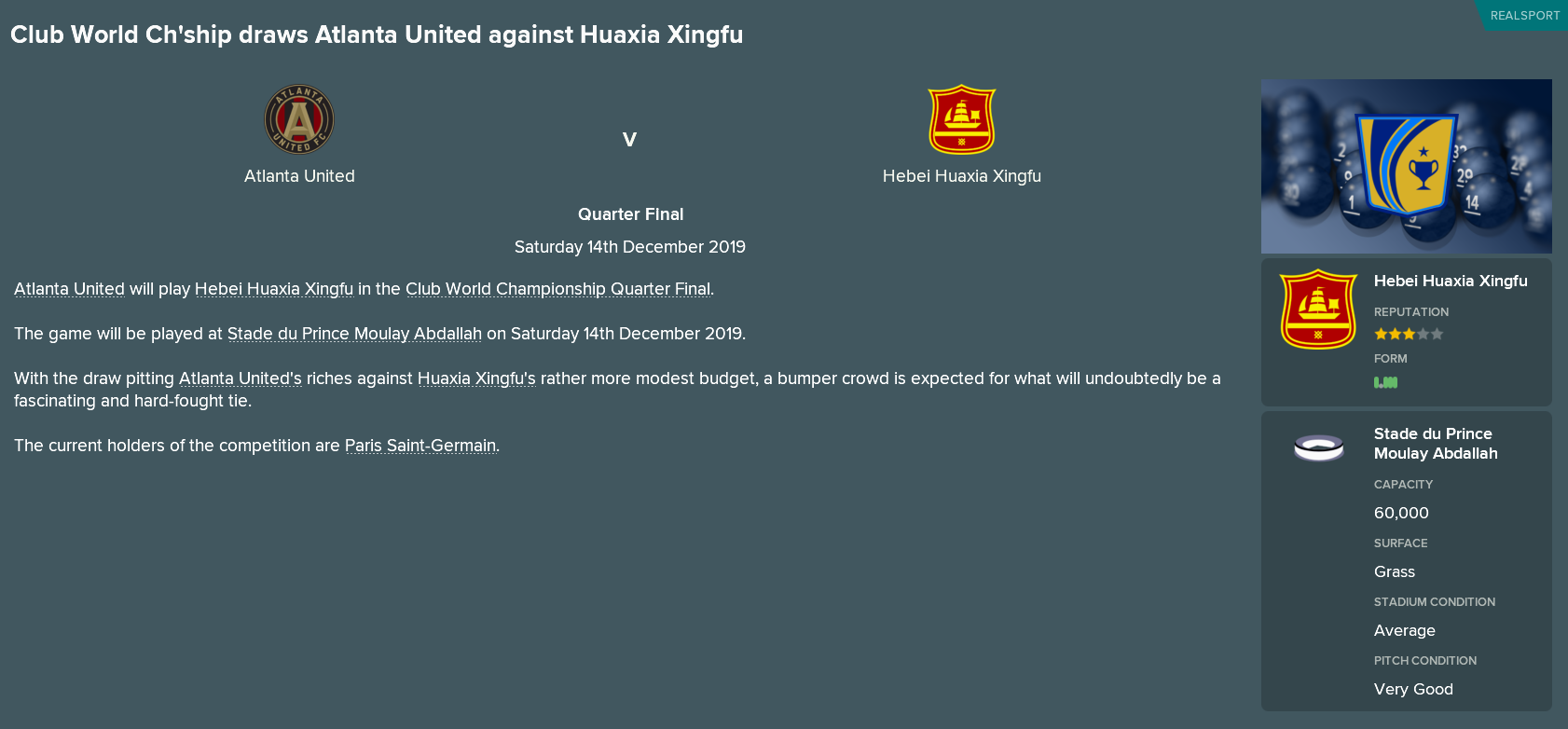 We're in Morocco, by the way, an illustrious footballing nation as I'm sure you'll agree. Hebei actually do have some players you'll know, including Barcelona's Aleix Vidal, Liverpool's Ragnar Klavan, Benfica's Andreas Samaris, former Juventus man Hernanes, ex-Chelsea man Gael Kakuta, PSG's Ezequiel Lavezzi and the man with the biggest head in world football- Gervinho.
Now for some reason we weren't actually given the option to register our squad, so I couldn't actually advance. Therefore, I went sight seeing in Morocco and, in my absence, we won 4-0; Karl Toko Ekambi, Josef Martinez and Andrew Carleton on the scoresheet, with our fourth being an own goal.
That sets up a semi-final with Santos, who everyone (including myself) is backing to be winners. Toko Ekambi seems to think differently though as he tucks home after fifteen minutes to give us the lead. Jonathan Stokes concedes a penalty though, which allows the Brazilians to pull level before the break.
Santos are forced to play the final half an hour with ten men and we also see Alan Cardoso sent off with nine remaining. It's 10 against 10 and there's no breakthrough in sight. Extra time beckons and with 96 minutes on the board Kevin Kratz, who's been dislodged from the team this year and may be on the way out, heads home. He then turns provider for Mariann Sarr, making it 3-1. However, Stokes is now sent off and we finish the match with nine men.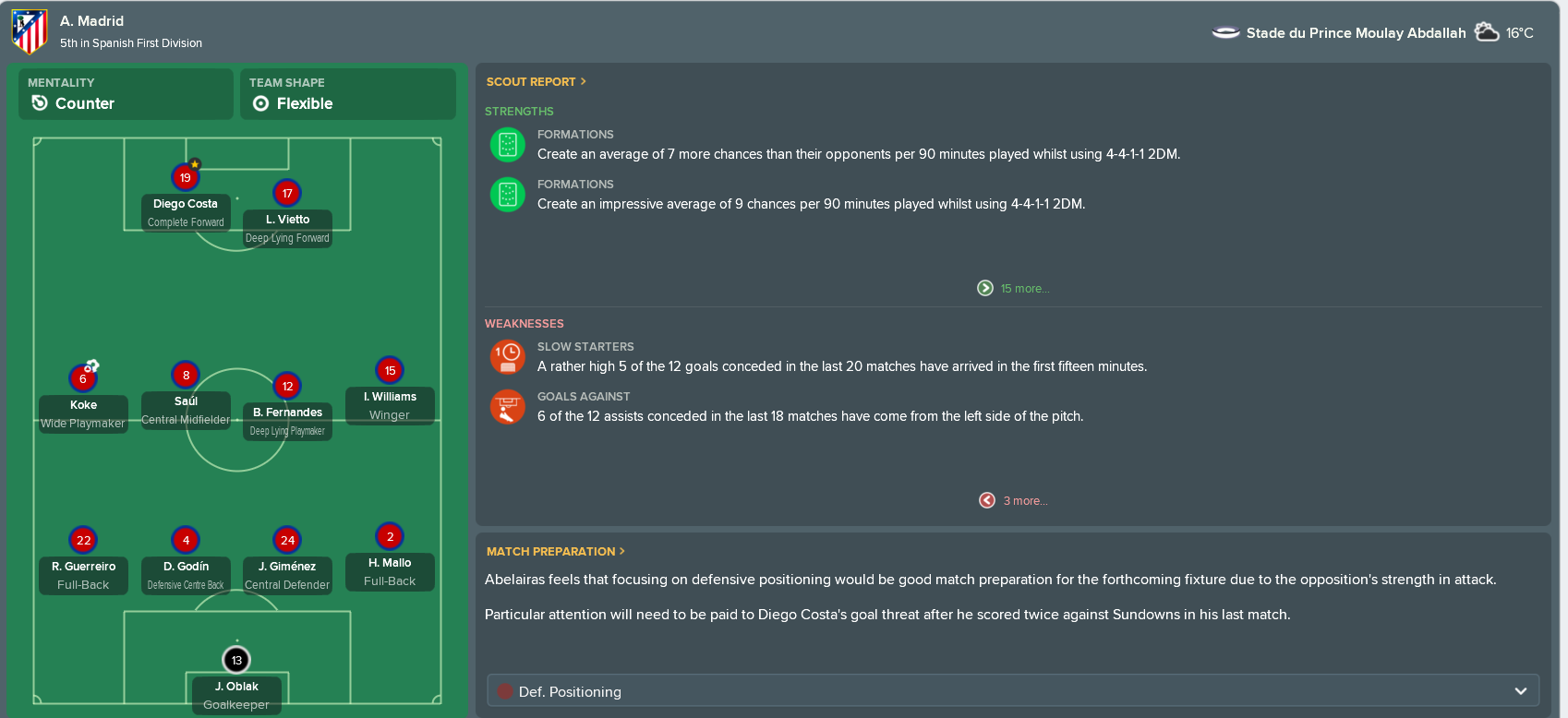 Ekambi scores a late double to secure his hat-trick, and a remarkable 5-1 win for us, but we've got a problem for the final. With De Col injured and Stokes suspended, we don't have a natural right-back and the Atletico Madrid side, as you'd expect, is bursting with stars. You may notice the absence of Antoine Griezmann, he's now at Barcelona.
With just five minutes on the clock, Koke opens the scoring but Toko Ekambi equalises moments later. Twenty minutes later, Koke nets his second of the game but guess who's on hand again? Yupp, Toko Ekambi levels it up. It's a hell of a game and I'm delighted with how my team is playing but, with nine minutes to go until the break, Inaki Williams puts Atletico back ahead and things turn sour when Scott Hansen is red carded.
That's the turning point as Luciano Vietto then doubles their advantage and we're not even at half-time. We manage to hold firm for a while but Saul nets late on to make it 5-2. Still though, we performed fantastically and I'm delighted with how we played.
It brings the end of what has been a sensational season and it puts us in a good position for our next campaign, where I'm looking to edge closer to my long-term squad goals.