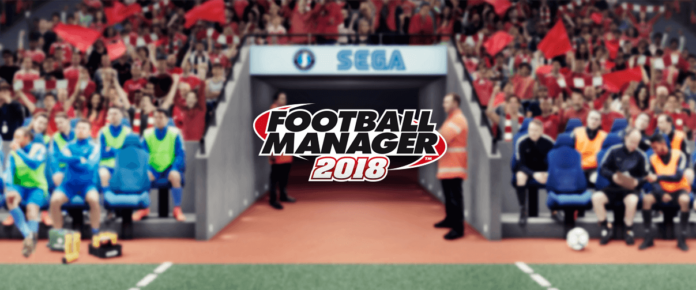 Remember when I wondered if my side could cope with the addition of the North American Champions League games to our schedule? Well it turns out the competition is far, far less competitive than I imagined. It's pretty much just us, the other MLS sides we've dominated in the past two years and then Mexico's finest.
On top of that, there's just three steps to reaching the final. Firstly we smashed some random Nicaraguan side by a ridiculous scoreline, with the second-leg finishing 11-0, and then a win against the Colorado Rapids put us into the semi-finals. We'd already reached our objective.
Karl Toko Ekambi, who we signed last season, started the campaign in ridiculous form- scoring eleven goals after just five games, including two hat-tricks in the MLS and a four-goal haul in the drubbing of the NACL minnows we saw off. Mexican side Cruz Azul give us a stern test in the semi-finals, especially with Tsosie injured and Martinez getting sent off after 11 minutes, and we lose the first-leg 2-0.
That gives us a lot to do in the second-leg but we're still in the tie and I can take a massive positive in the fact that Neil Martinez, our 17-year-old debutant goalkeeper, was bloody fantastic. In the return clash, Lucimi brings the game wide open with an early goal and we're given a further boost when the Mexican side are reduced to ten men- with Ekambi then taking advantage by drawing us level in the tie minutes later.
It's not over though as we're aware that we'll need to score twice if they get an away goal. With less than ten minutes to go, Kuscevic fires us ahead and we've got one foot in the final, we just need my young side to hold on. They do. We're into the final, only the third MLS side to reach that stage, and we have a chance of become the tournament's first American winners.
Our opponents are, unsurprisingly, another Mexican outfit. Leon, like us, have never won the NACL and they finished 13th in their division, having finished second previously to qualify for the continental tournament. Unfortunately, due to injuries, we're without Tsosie and Marian Sarr- but it's a big chance for Neil Martinez and Leandro Gonzalez Pirez, the latter of whom has been ousted from the side by Sarr's phenomenal performances this term.
One thing I didn't realise is that the final is actually played over two legs, though I should've expected that with how weird the scheduling for North American football is. Anyway, our first game is away from home and it's also my 100th in management. We don't get the win but a 2-2 draw, where we fell behind twice, is a decent result.
For the second-leg, Carmona is injured and we're missing De Col and Cardoso due to suspension. Young Scott Hansen and Jonathan Stokes therefore come into the defence, with Lucimi dropping into midfield. The changes don't seem to have affected us too much though as we score twice inside six minutes- although both efforts are disallowed.
Such is the way of Football Manager, we actually enter the interval trailing but Andrew Carleton equalises on the night after the break- putting us ahead thanks to goal difference. In added time, Chad Flynn, a youngster off the bench, seals it. We're kings of the continent- and we're also heading to the Club World Cup.

Before I leave you, here's a quick update of how things stand domestically. Our involvement in the NACL means we're behind in terms of matches played but that should level out over the coming weeks. The summer will certainly be a test, as a number of our players could be selected for the Copa America.
We've already shown we have sufficient depth though and we find ourselves with a superb advantage at this stage of the season. With nine played, we're already five clear and of course have those games in hand. I don't expect us to struggle at all to retain our Supporter's Shield.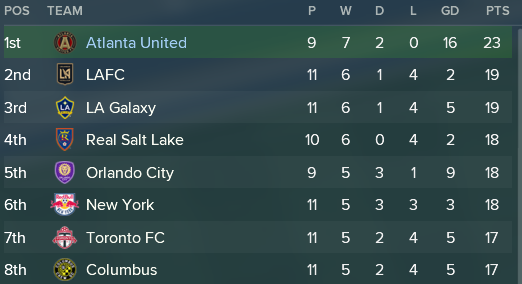 I did wonder if I'd get bored this season with our domination but I'm actually more motivated than I can remember on Football Manager for a long, long time.
A lot of this is probably down to my squad, which is set for a transitional period. I previously mentioned that Carlos Carmona, Kevin Kratz and Chris McCann, all of whom are international players, are the wrong side of 30 and major decisions have been made.
Carmona, our captain, is largely irreplaceable at the moment but we do have young talents quietly going about their business and I expect him to be dislodged from the first-team in the next 18 months. We're due to sign 21-year-old Juan Bautista Cascini in a free transfer this summer, which will probably push Kratz out the side, and I plan for him to take McCann's international spot.
Alan Cardoso is also granted American citizenship this season, which will help our quota, so my quest to edge towards a predominantly homegrown team is edging closer- as it stands, Tsosie/Martinez, Sarr and Carleton are established as first-choices, with the likes of Hansen, Flynn, Goslin and Stokes banging on the door. Exciting times indeed!