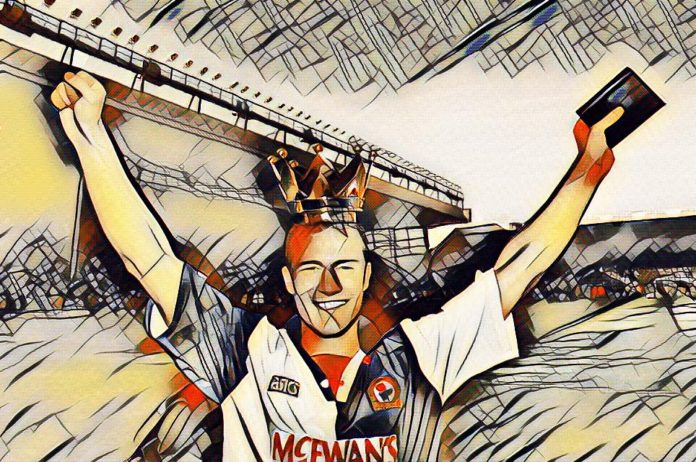 Once upon a time at Ewood Park, a man named Kenny Dalglish led a Blackburn Rovers team which included Alan Shearer, Tim Sherwood and Chris Sutton to their first and to date, only Premier League title. That was 23 years ago. Today the club finds itself in English football's third tier, but with the use of a popular football management game, I am going to make the once Champions of England, great again.
After self-appointing myself as first team manager of the recently-relegated Blackburn Rovers FC, I soon realised that this task was going to be a stern test of my financial management skills. Exceeding the wage budget and with only a few pennies to spend, I began by offloading several youth players which I felt could make no contributions to my team. After a small clear-out of youth, I realised that the wages of the players I had sold or released had made but a minor dent on the wage deficit, so I was forced to sell some first team players. Striker Danny Graham and defender Elliot Bennett were sold to Brentford in a double deal for an undisclosed fee of around £4.1 million, whilst centre-back Ryan Nyambe moved to Wolves in a deal estimated to be around the £2.4 million region.
Now with a hefty chunk of money and a settled wage budget, I was ready to get to work in this broken-Blackburn team. It soon became apparent that the area of weakness in my team was the attack. This prompted the signings of the Curacaoan right-winger Denzel Slager on a free from LA Galaxy and the left-sided Joshua Perez from Fiorentina for £1.3 million – both of whom have yet to register a goal for Blackburn. The signing that got fans talking though was the acquisition of Dutch striker Kevin Luckassen – a forward renowned for his overall physical ability who had spells with AZ and Scottish giants Ross County before joining Blackburn.
With my revolution under-way it was time to begin pre-season. Training was centred heavily on fitness as I prepared my team for what would be a packed League One campaign. It took Luckassen just 4 minutes to open his account for Rovers, scoring in the 7-0 thrashing of Exeter in the first friendly game of pre-season. The Dutchman also scored in the 2-1 win at home to Bournemouth and bagged 2 in the 4-0 win away to Mansfield. The team finished off the friendly fixtures with a home tie against League One contenders Rotherham United – Dominic Samuel scoring twice in the 2-1 win.
Fans up and down the country were talking about Blackburn Rovers after we registered a 100% pre-season campaign, and this form continued into the competitive season where we were unbeaten in our first 8 games in all competitions – winning 7 and drawing just 1. A Bradley Dack doubled secured a 2-0 win on the opening day away to Southend United, before another brace from Dominic Samuel saw Rovers progress in the Carabao Cup with a 3-0 win at Morecambe. A 1-1 draw at home to Doncaster Rovers came next, before league wins over Bradford City, MK Dons and Fleetwood Town, with a 2-1 victory over Championship side Middlesbrough in the Carabao Cup too.
As we sat pretty in first placed in League One after 5 games, we were rewarded with a trip to Old Trafford to face Manchester United in the Third Round of the Carabao Cup. In the run-up to this game though, my Blackburn team had seemed to have lost its early momentum. My first defeat as Blackburn manager came at Rochdale, and was the first of 3 league games without a win. Draws with Scunthorpe and AFC Wimbledon followed. Up next was the trip to Old Trafford. After pipping Fergie's team to the 1995/6 Premier League title, our Rovers team travelled in good spirits and numbers to Old Trafford and were unfortunate to not see the game to extra-time after Victor Lindelof netted for United in the 92nd minute of the game. Speaking after his sides 2-1 loss to United, Blackburn manager Luke Phelps said: "I'm gutted that we couldn't make it to extra time, but I can't have asked for more from my boys today. Dominic scored a quality goal to level things with half an hour remaining, and after that goal, it was all us. But credit to United, it's been a great experience coming here today."
I'm nothing if not humble in defeat, and with the Old Trafford trip behind us it was time to get back to winning ways in the league, and that's exactly what we did. With 5 games remaining of the first quarter my Rovers team mustered 13 points from a possible 15 after a 1-1 draw with Rotherham and wins over Shrewsbury, Gillingham, Bury and Blackpool – the win against Bury secured a 100% finish in our Checkatrade Trophy group. As a manager who favours a defensive approach to football, I was more than pleased with my team who had conceded just 7 times in the first 12 games of the season, but goals seemed to be a plenty too with Dominic Samuel on 11 goals from 16 games in all competitions, and Kevin Luckassen on 9.
As I finished the first quarter of the season I was without Luckassen who was sidelined with a groin injury. With the Dutchman out for up to 4 weeks, I faced a difficult decision in selecting a replacement. With no immediate striker to hand, I realised my mistake in selling Danny Graham earlier in the season. But as I always do on this game, I pulled it out the bag, I unearthed a gem that was sitting in the deep reserves of my Blackburn team, his name – Kyle Connell. The 16-year-old Scotsman arrived on a free from Motherwell in the summer, and found himself not only involved in the squad for the first time but in the starting 11 for the team that faced Blackpool. With 8 minutes on the clock Connell opened his Blackburn account with a deft finish from close-range, and half an hour later he had another helping his side to a 3-0 away win.
With the first quarter down I can say that I am happy with my team's performance. Those who know my management style will know that I favour the 4-2-3-1 formation but due to circumstances, I opted for a 3-4-1-2 set-up which has so far, been paying dividends. I look forward to the January transfer window as I sit on just over £6 million in transfer funds, and am keen to see what I can make of Ewood Park's new hero, Kyle Connell.