Hello and welcome back to Norfolk for some more CM01/02 madness. It's the middle part of season 4, which to be brutally honest is where my previous couple of seasons have gone badly awry. Results have been decent but Moukoko's impending bitch fit about not getting a move to Chelsea is a cloud hanging over the club. Let's see if we can keep momentum or at the very least not go through our usual 1 win in 15 winter…
Next up is the trip to Leicester, picked for Monday night football. That's a quota filler. But we're not a bad team you know, and another 3 points on the road has us on the fringes of the top 4.
Two away games in 5 days would previously have been a real negative, but we want games to come thick and fast at the moment as we're riding the crest of a wave. Cherno nets a winner at the Riverside to continue our new found hope.

It looks like we've reverted to our old ways against Sheffield Wednesday. We lead twice, find ourselves 3-2 down, equalise, go behind again before winning 6-4. It's never dull here.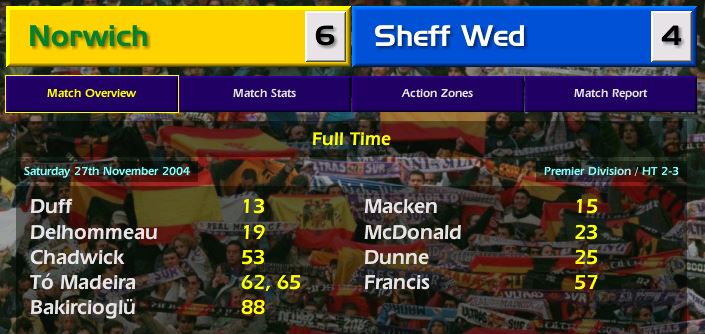 That leads us into a home game with leaders Man Utd. They're only 6 points ahead of us but it's a challenge we welcome. How far have we come? Well, we get a 0-0 draw and wind up van Nistelrooy to the point where he lashes out at poor old Mike Duff. That's like a win.

The Moukoko situation has seen him benched throughout this run. Maybe he was the problem. Anyway, you know you're in bother when Gazza is grassing you up. Enjoy the bench, Tonton.

We're off to the Midlands and once again find ourselves behind. Eriksson climbs off the bench to equalise before Cherno again pops up with a late winner. He's not prolific but he scores some important goals. Can we keep coming from behind though?
Strange events over at Newcastle, who decide they want to try Joe Kinnear in the dugout. Which one's Simon Bird? (Look that quote up).
Never again. Anyway, another pair of wins has the media purring.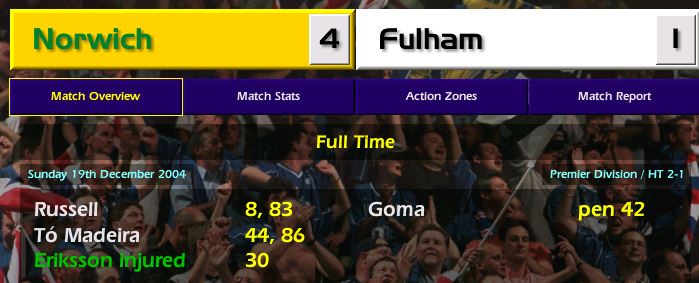 The win at Arsenal is obviously unexpected but Mexes has Henry in his pocket and we just pick them off on the counter. We're heroes. The press ask if this is a purple patch or if we're genuine contenders. Only one answer to that.
That's my only advice for dealing with the media: Deny everything, build up praise for anything or anyone. We're going to win the league!
I mean we're not, by the way. Man Utd are still some way up the road but a win at Everton is welcome. Happy Boxing Day.
If anything is going to trip us up it's the Christmas schedule, and two days later we rely on a late, late goal from substitute Luke Chadwick. He's scored a few after coming off the bench but never seems to produce when I start him. We all have our roles to play Luke.

We can't quite hang on at Ewood – a shame, but it's coming to something if an away draw is a disappointment.

Two more wins, including from behind against Maldini's Crewe and we're third. THIRD.
Up next is 2nd placed Tottenham. A win would put us second, it would be meteoric. But Tottenham, bloody Tottenham, are a bit of a bogey side for us and being 2-0 and a man down by half-time is too far even for us. A late rally comes to nothing but that's just how it goes.

We have a bit of a hangover as we welcome struggling Bolton to Carrow Road. We should win, but it's just not happening. Once again we trail at half-time, once again we have a group hug and somehow pull ourselves back together. I love these guys.

The table has a wonderful look to it. The giants of Leeds, Liverpool, Chelsea and Arsenal are chasing us but with four Champions League spots up for grab, we've got to just keep going and look up not down. We should be on for Europe next season though!
In even more incredible news, we didn't go out of the FA Cup at the 3rd round stage. We even beat Southampton away in round 4, comfortably.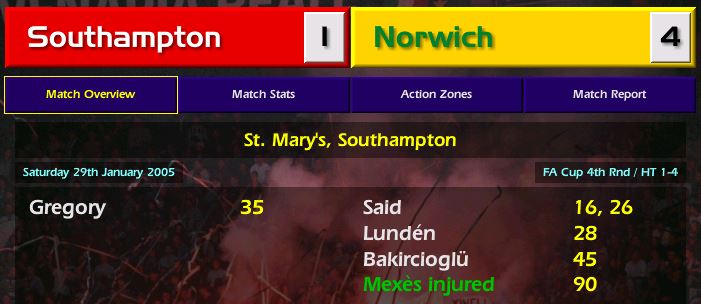 Incidentally that Mexes injury ruled him out of the Spurs game. Notice how I left out that detail earlier…
Round 5 will see us go up against our bogey team. Every other Premier League team got a Division 1 team. Fix! Fix!
That's all for this week though. A rare positive update with very few disasters. Moukoko remains petulant but we've been brilliant without him so frankly, he can leave. Or rot in the reserves. Take your pick son, Gazza is watching.
See you next time for the end of the season. It could finally be our time!