Here we go again. A new season, the fourth season on CM01/02, another clean slate for this set of players I have come to hate – at least those who remain. In the previous update, half of the ungrateful buggers jumped ship at the first possible opportunity. The important ones, the CM legends, all stayed. To Madeira, Cherno Samba, Kennedy Bakircioglu, Tonton Zola Moukoko, Mike Duff, Jamie Victory, Ibrahim Said. All stellar chaps who have signed up for another season of this. But we need to add more bodies.
A goalkeeper is my first aim, and I decide I will spend as much as it takes to bring in either Greek super-stopper. Chiotis is my first and cheaper choice but he's not having it. Relegated Villa eventually give in and accept £8m for Eleftheropoulos…Dimi for short. Buying a keeper from a relegated team is probably asking for trouble but honestly, it wasn't his fault.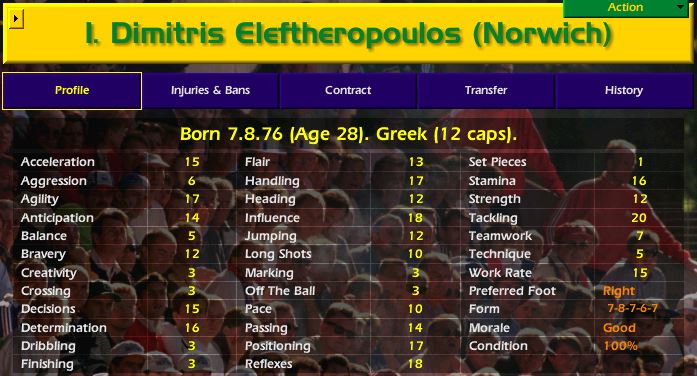 In front of him, Mexes needs a partner. He's starting to get France caps but Duberry was disappointing, considering he's somehow an England international. I plump for Darren Moore of Chelsea, he's not great but his skills compliment Mexes' quite nicely and this is before he was part of the worst ever Premier League side Derby County. Aaron Hughes arrives as a versatile backup, he can play all across the back 4 and at £750k, you can't be vexed. Pascal Delhommeau has glowing scout reports but Nantes have been trying to peddle him for a while, he's another who is good but not great.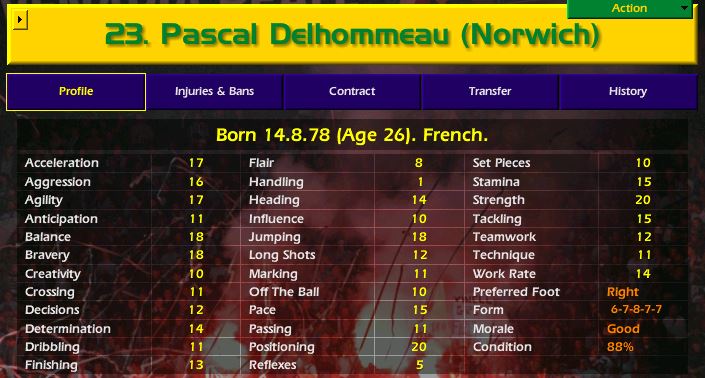 The need for Premier League nous is apparent and Nigel Martyn, on a free transfer, will be excellent backup for Dimi. He's old but that's fine. Dimi isn't. Gary Speed, wonderful Speedo (RIP) is the best player I have ever had in the CM position of the 4-3-1-2 I use and he may be a bit older now but with a low release clause, he'll be a grand addition.

The opening day lineup is something near where I want it to be, though Said remains a mystery and Darren Moore doesn't fill me with confidence.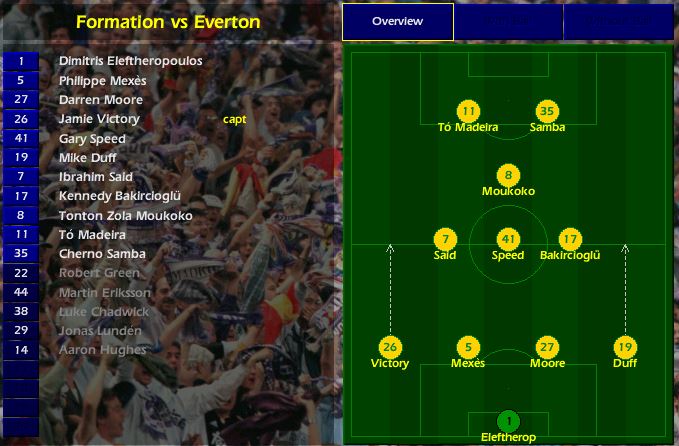 Phew!
Some things never change, with the "score one more than you" brigade out in full force. That's followed up by a defeat at Newcastle before a stirring comeback against Blackburn means a bad start becomes an ok one. Two subs get the goals, a lovely feeling for a beleaguered manager.

Maybe we are finally coming of age. Speed scores against his second former club in 4 games and the mighty Leeds are defeated. Duberry departs early on his return to Carrow Road.

We back that up with a win at Bolton. Consistency has always been our problem, which perhaps isn't surprising when you concede every game.
The scouts have brought another player to my attention. A Dutch Brazilian who can play down the left. Anywhere down the left. He'll be a fine addition at just £2.8m
Just as I'm starting to think we've turned a corner, we face Bury in the cup. We have an awful cup record, and just two days after the Bolton defeat we are back in Lancashire for our latest humiliation.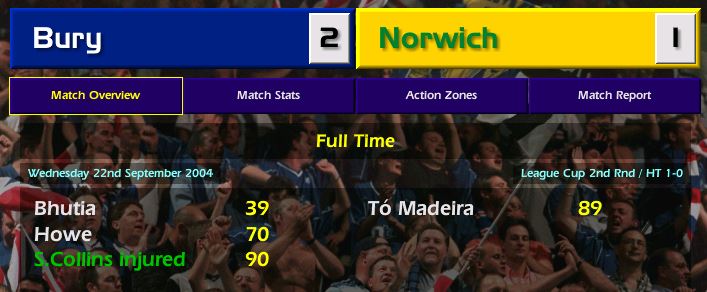 Grumble. Still, we always have our league form. We make very hard work of defeating newly promoted Crewe, who have Paolo Maldini. He's 36 but he still shouldn't be at Crewe. Fortunately, it's not an issue.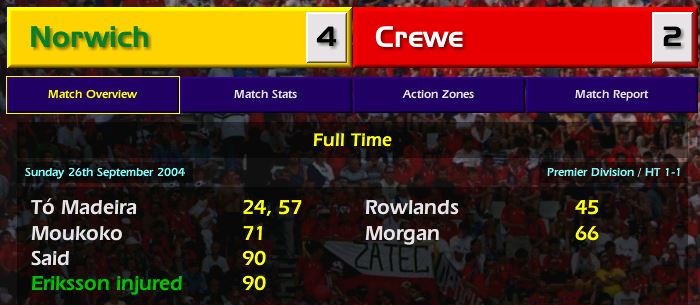 Time for a trademark blip. Five games without a win anyone? Our usual White Hart Misery arrives courtesy of Lee Clark of all people.
An away draw with Birmingham and a 0-0 at home to Liverpool are not the worst results, but a 2-0 defeat at Wolves is a shame. The buildup to the match is dominated by Chelsea's bid for Moukoko, which I reject. He's not happy and he plays like Thomas Brolin away at Molineux and gets subbed. He didn't take that well either.

As luck would have it our next game is Chelsea at home. It's an absolute car crash of a match with bodies strewn across the Carrow Road field. Cries of MEDIC can be heard every few minutes before Steve Carr takes it too far and gets sent off. It's all very dramatic and I'm relieved to get out with a point. Moukoko is a sub and plays the final 5 minutes. That'll teach him.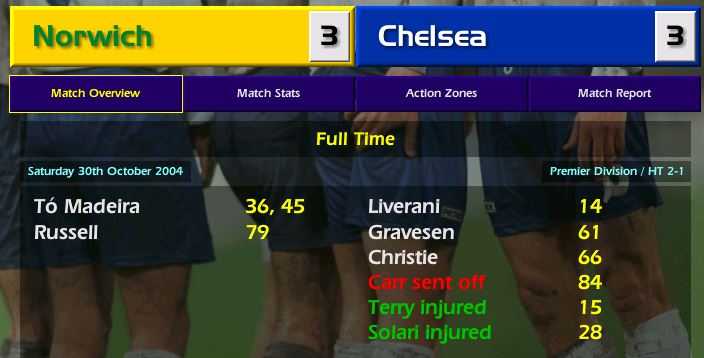 Help arrives, another pre-contract which I forgot about. He's only 18 but his dribbling and finishing has obviously drawn me to him. I mean he can't pass or head but I don't need my number 10 to do that.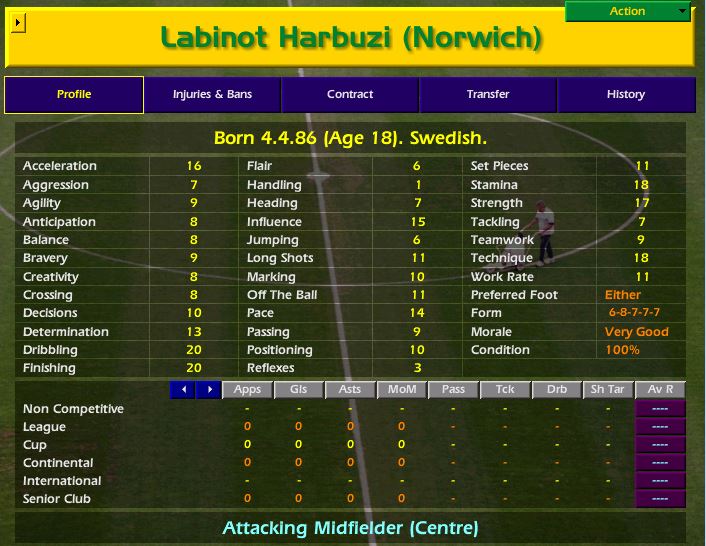 We need a win to get our season back on track and it's a good time to play Sunderland. They are considering the position of Joe Kinnear at Sunderland, which is as ironic as it is hilarious.
A great time to get back to winning ways though Samba's goal is only his second of the season, though Madeira has 8 so it's not all bad.
That leaves us 6th after 12 games, though already the games played column is a scattergun. Only Bolton have a worse defence than us, but only Spurs score more goals. Some things never change.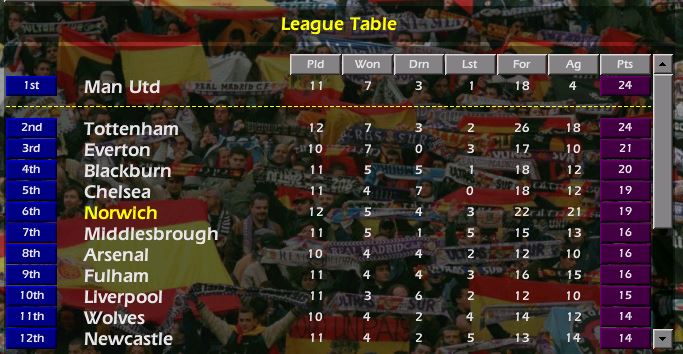 That's the end of this update though, this team exhausts me. It's usually part two where everything goes horrendously wrong so do come back next week to see if that happens again. Hopefully, it won't. Toodles for now.