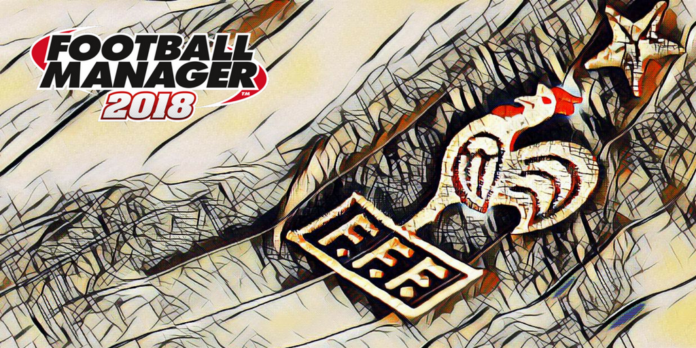 Bonjour! I guess you are here as you'd like to know what has happened down on the French Riviera? You've come to the right place as that is what I'm going to scribbling down over the next 1000 words or so.
When we last spoke, I am pretty sure we were half way through the season and it was pretty much in our hands as to whether we'd win the division and get promoted. I seem to recall writing something like "as long as we don't lose to SC Bastia" it's in the bag.
Well, guess what?
We lost to SC Bastia. 1-0. Bollocks.
It was the first defeat of our league season and it gave Bastia a slight advantage.
One of the frustrating things about the second half of the season was the matches becoming every fortnight down to the fact there are only 13 teams in the league. Sure, we had friendlies lined up but they are never the same.
Still, we recovered from the Bastia loss and won the next four matches to nil. Then we lost, again. 1-0, again. Bastia drew level on points, albeit with an inferior goal difference.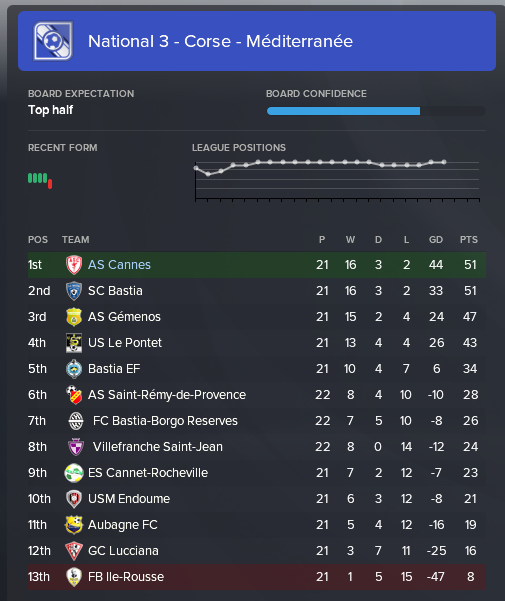 Three games remained and we followed up the defeat with a 0-0 draw. We were screwing this up. The pressure was showing in the team. I was starting to think we might be going peak Daniel Gear or, worse, becoming bottlers like Mike and Matt.
At 0-0 with 10 minutes to go in the penultimate game I was starting to think it was over, especially as Bastia were also level. Then our wily old skipper, Antony Peralta-Lopez, popped up in the box and sent us wild with a fine finish. Three points and a return to the top going into the final game.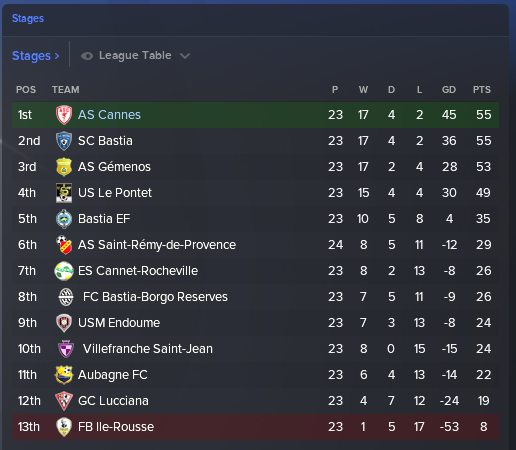 It was simple. Win and we don't have to worry. Anything other than a win and the door would be wide open for Bastia.
It was fitting that one of our best players of the season scored early, Darnat arriving once again at the far post to score. We had something to cling on to, which was vital as Bastia raced into a 2-0 lead.
And cling on we did. The whistle went and we'd won 1-0 and got ourselves promoted ahead of a team that was in Ligue 1 last season – although not technically relegated from Ligue 1 to CFA 3, alright?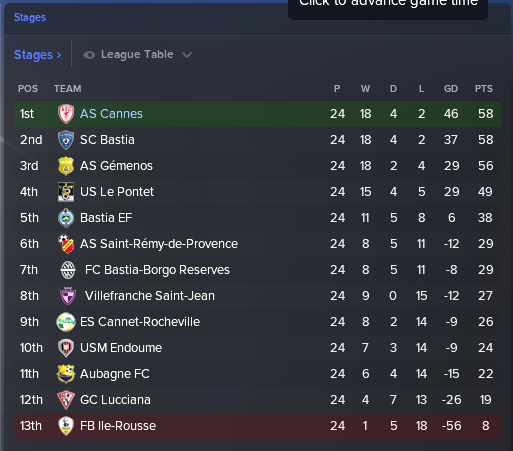 So AS Cannes, a bunch of amateurs being suffocated by the pressure of once being a proper club managed to pip a club with at least two guys being paid €3k a week to the title. We're up and running.
Zizou didn't call and neither did Patrick but the chairman, Johan Micoud, was delighted as you'd expect.

As it turned out, our whole financial situation hinged on winning the title – top spot meant we'd probably break even and balance the books.
If you remember the rules you know we can only sign freebies and we have to do our very best to balance the books. Season one, both these things have been achieved.
The problem is, if you have success like this people are going to sit up and take notice – especially of your players and the people who have helped the success happen.

As much as I was gutted to lose Lenzini, I could not blame him. Boulogne won one of the Division 3 groups and will be playing in Ligue 2 next season. Plus, they'd be paying him which is more than we do.
I am even more disappointed to lose this man though.

He's taken over as manager of a Division 3 team so it is an upward step for him. What I am properly annoyed at myself for is that I did not realise I could have got my backroom team off part-time contracts and on to amateur deals and saved us about €50k. Hey ho. The other two guys have renewed, thankfully.
Our skipper has decided to retire.
I guess all this brings us to the potential recruitment for the summer.
Before I lost Lenzini, I felt the squad was good enough to compete in the next level up. Losing him has changed that and I have to be ready for the fact that others might follow – we've not had a conversation about the club going semi-pro yet so my young stars are sitting ducks for any bigger sides.
I want to use my "StS" method where I will look at the KPIs the squad have generated this season and use that profile per position to see if there are any players out there that can improve us.
However, that won't be my sole approach as that is unrealistic at this early stage – to do that, I would need to commit cash to getting in some of the scouting packages as my scouts don't seem to have that much knowledge, worryingly, around players playing in the leagues. They do know many free agents though, but these guys don't have playing stats from the season just gone as they weren't at clubs.
We are nearing the dates when players are bound to get released so I will be all over the released lists and see if anyone grabs our attention.
It could well be that this summer's recruitment is based around taking released players on trial and seeing who does well. When it comes down to it, providing they don't cost me anything it isn't a problem – though if we do go semi-pro I have to be very careful around wage budgets. Honestly, if we go semi-pro then I dread to think how small my "real wage budget" would be – I work this out by totalling up how much we make on ticket sales and matchday income before dividing it by the 52 weeks of the year. This tells me how much I should be spending on wages each week to make sure we don't end up spending more than we can actually afford as everything like sponsorship etc is not really guaranteed. I even prefer not to include TV revenues, not that there will be much of that at this level. This means, typically, we are looking for absolute diamonds in the rough and if we do go semi-pro it could see a massive turnover of players as there is every chance most of the squad will want too much euro.
So that's where we are at right now. We are up but this summer is going to be busy as everything could change with one email from Mr Micoud.
Back soon!