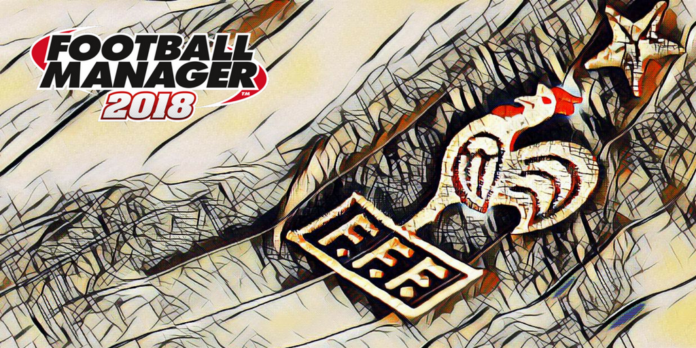 Bonjour!
Welcome back to the Cannes Football Festival.
A quick reminder of the rules, because we like rules.
#1 Free signings only
#2 We will always "balance the books"
With that in mind, how have AS Cannes started their CFA 3 season?
You know what happened in the first three games I told you about that, but I am coming to you now 12 games in – which is exactly half-way through the season.

Unbeaten blah, blah, blah.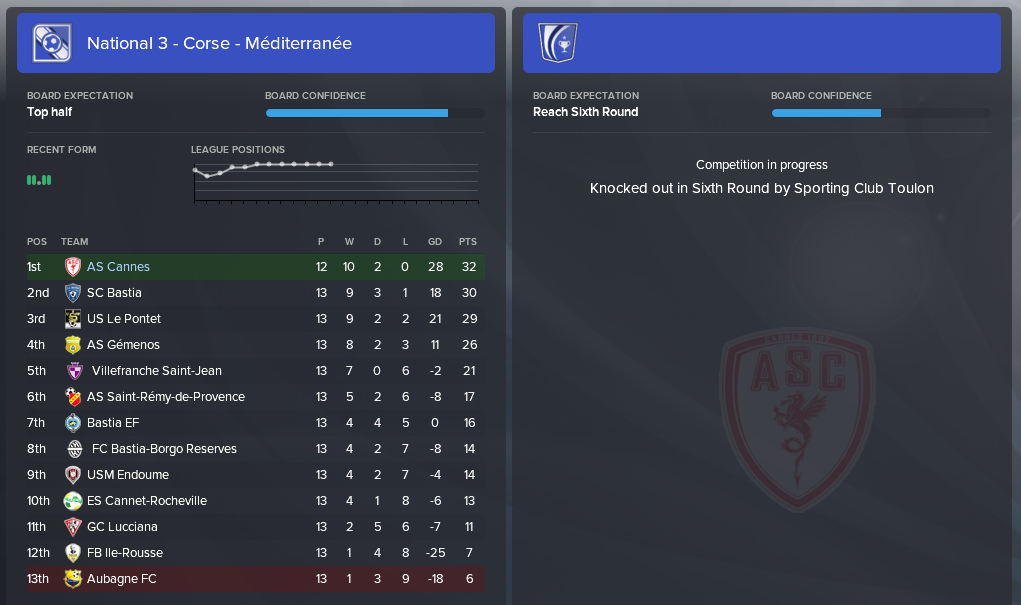 Top of the league, yawn.
Out of the cup though, that was a bit rubbish. Lost to Toloun.
Anyway, all mock complacency aside, I'm delighted and a little surprised to see us top and unbeaten. SC Bastia have taken a little time to get going and we did them 2-0 at their place in front of 2,500 supporters. Providing we don't lose to them in the return game, I can see us going on and lifting the title.
As the main focus of this save is about signing players for free and the finances we will go into a little more detail on this again.
The two lads at the bottom are new faces since last time.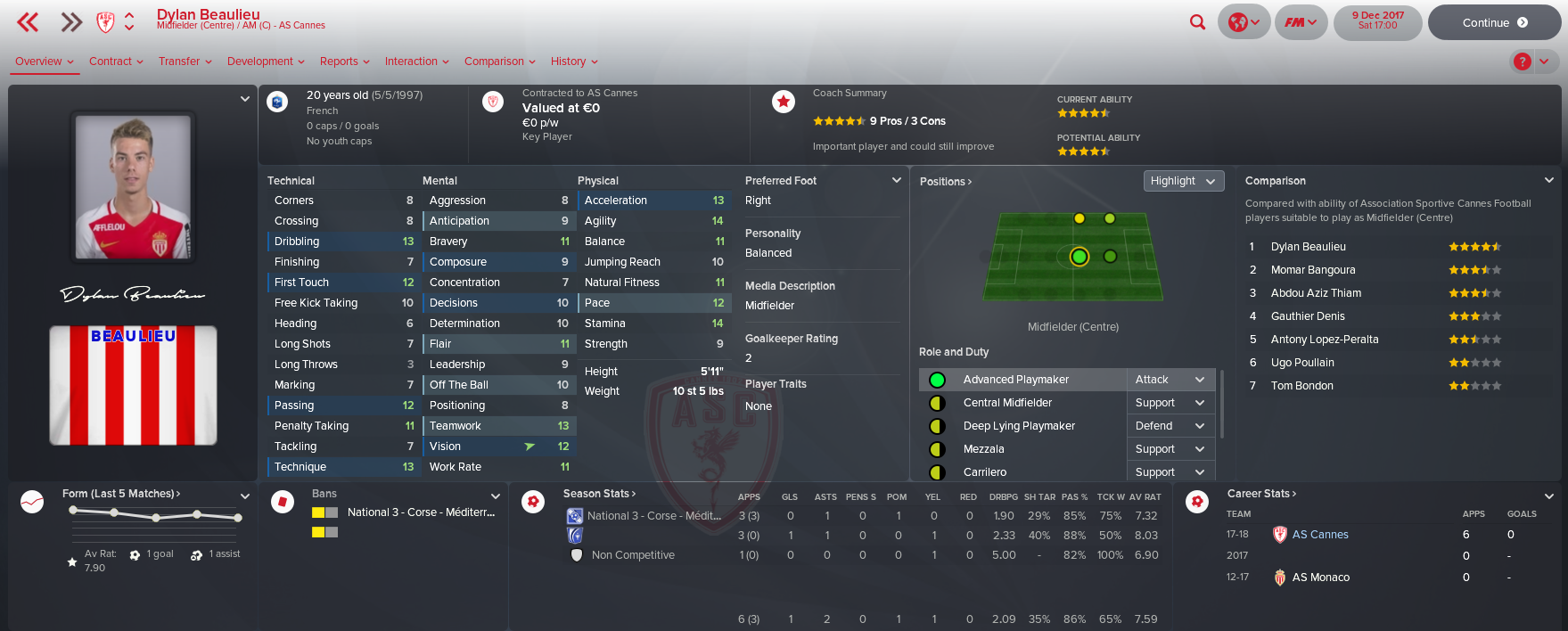 Dylan ticks all the boxes before we can start moving towards a more "StS" approach to our signings.
He was released by AS Monaco and highly rated by the scouts – a no-brainer. He is starting to play well now as well, having had to wait for a chance in the team.
If Dylan was a no-brainer, what about Abdou?!
Look at his physicals – incredible for Div 5. Again he was an obvious signing to make once he ended up on our radar.
Making signings like this may seem obvious but it led to a couple of issues straight away.
Raif wanted out straight away, so I released him.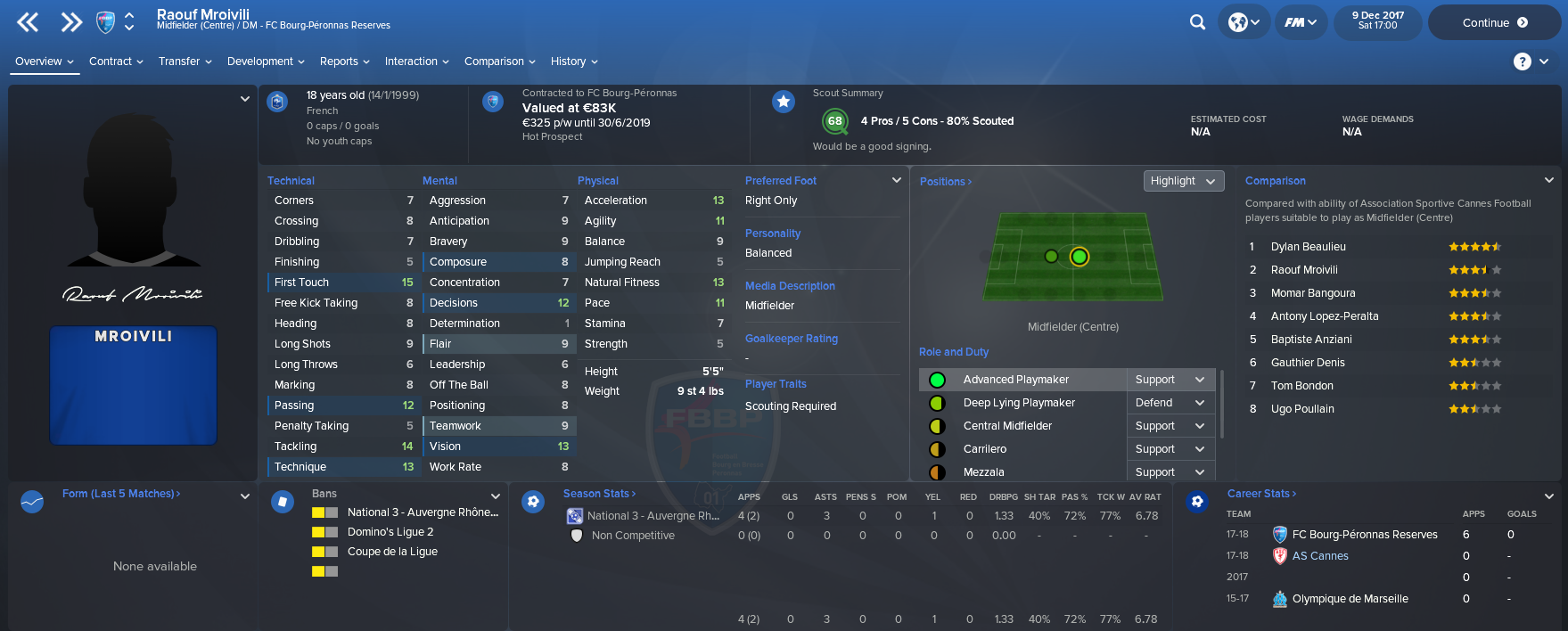 In fairness, if he'd got into the side and played well then I wouldn't have happily let him go but I have the clear line in the sand of moan and you're off – no matter who you are.
Which is why Baptiste was also shown the door.

He'd been playing in the CM/A position and was averaging 7.21 but he wasn't happy that I'd brought a player in who happened to play midfield. I told him he was in my plans, he said he didn't believe me so I released him. And now he isn't playing for any team let alone the team top of the table.
Now, as we move into next season it is unlikely I will be able to be so trigger happy as I would imagine, if promoted, we will become semi-pro. Players will be on part-time contracts and I won't be able to just let them go on a whim so I will have to be a lot more analytical about the players which I sign – which I will come on to.
On to the finances…

So we've lost another €40k since the last time I posted.
There's no need for mass analysis as to why – it's the same reasons as before and the greatest cost is the youth set-up. I asked the board to cut back and they refused, so there we have it.
We made €28k from the cup and I would hope we will make the full €250k for winning the league so we should be in and around break even at the end of the season.
Jumping back to the squad…

I use this view all the time – the point of it is to help me put together a clear profile of what I think "good" looks like in each position so when I start the "StS" recruitment I have a profile that I can use to grade the player I am looking at.
Depending on time, I might get fancy and use radars and everything. Maybe.
That's a way off yet though, we have 12 more league games to get through and secure promotion!