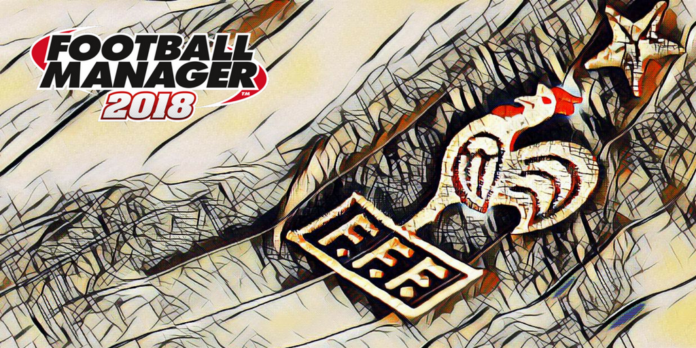 I think three games into the new season is a nice little moment for an update, non?
Things are getting hot down on the French Riviera and it's not just because the sun is shining brightly. AS Cannes are on fire in the first few CFA 3 matches and some stars are going to be born.
A quick reminder of the rules, because we like rules.
#1 Free signings only
#2 We will always "balance the books"
AS Cannes had a half decent squad already but they have been topped up with a cracking bunch of boys that have been released from, in the main, AS Monaco and Olympique Marseilles. The long-term dream is to reinstate AS Cannes in Ligue 1 using a team that will be by then a mix of academy products and players rescued off the football scrap-heap. We will never, ever pay a transfer fee as a direct protest against the way modern football is going. And, less politically, because it will be a lot of fun.
Take Idris for example.
18 years old. Released by OGC Nice. Three in three for us already as our front man and I signed him over a lad who got a hat-trick pre-season because he can play wide as well.
What about Momar?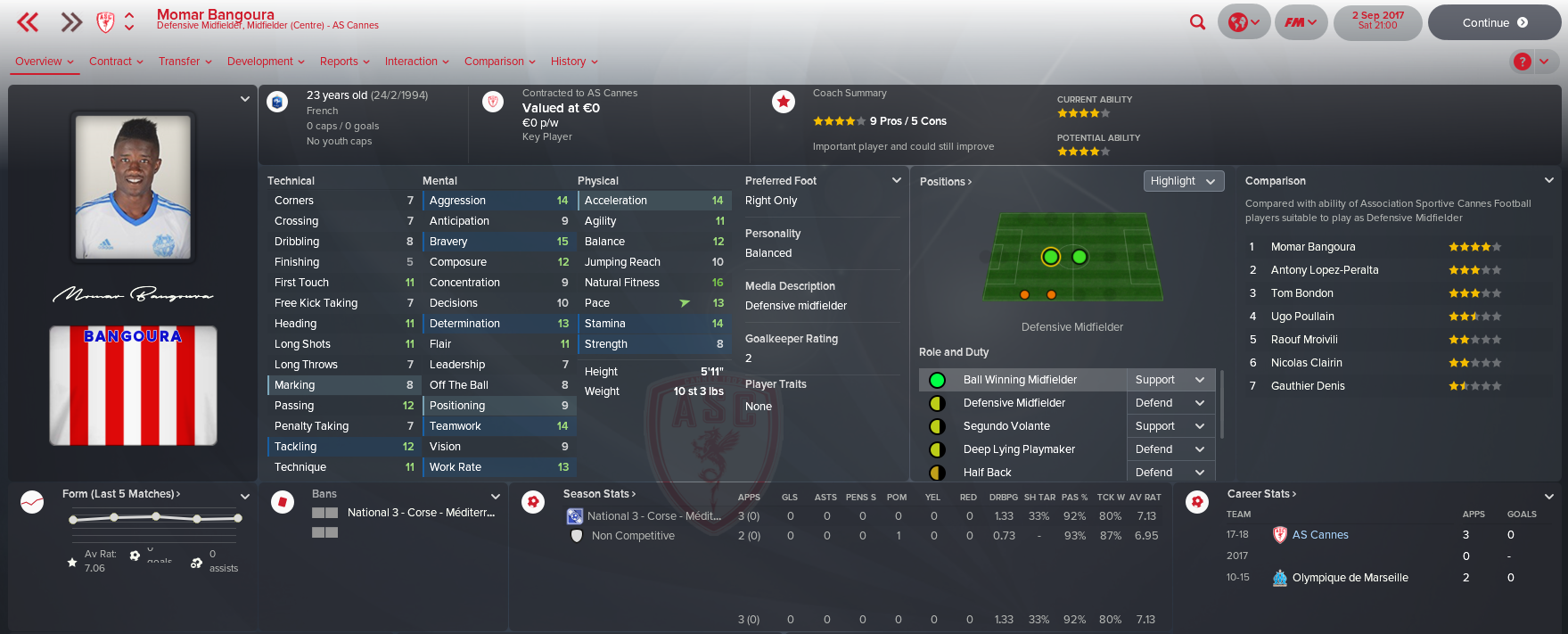 He played a couple of games for Marseilles and is now rocking the DM role for me. I have very high hopes for this lad.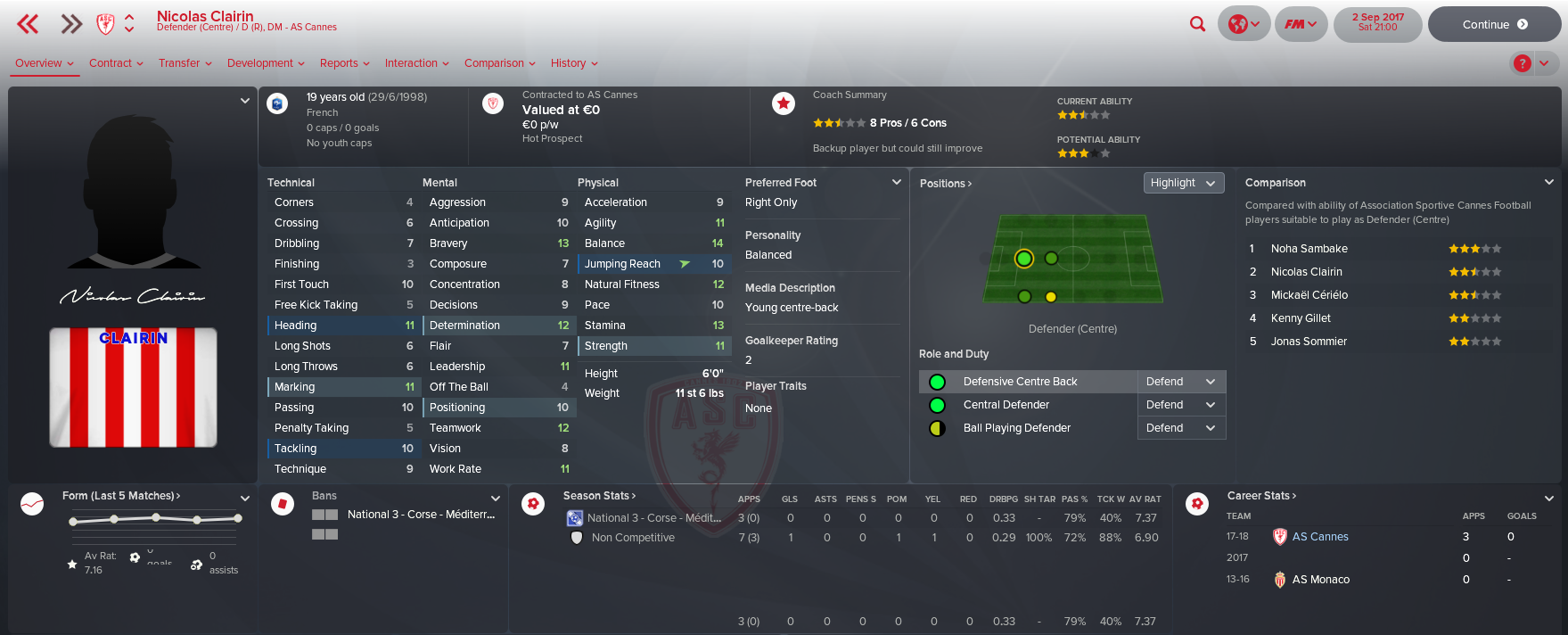 Nico is forming one half of the central defensive pairing that took ages to concede in the league. Released by AS Monaco I love him already because he can play in several positions.
His partner is another ex-Marseilles.
Yeah, he can play in a few positions – are you seeing a theme developing?
The great thing is, there are loads of players out there that we can look at – plus, if they turn out to be rubbish I can get rid easily as we are amateur!
We have Dylan on trial right now.
Again, not bad and we will see how he fares in training before making a decision.
All this looks nice, but what about the start to the season?
Well before that, it is important to relay the fact that we remained unbeaten in preseason.

We didn't play complete idiots either, all other than the "Espoirs" teams play at between one and three levels above us, plus Vicenza of Italy are Serie B (I think?) Most pleasing was the way the defence was gelling quickly as we have carried that into the opening league fixtures.

It's only three games, but the signs are promising though nobody here is getting carried away. SC Bastia are the next opponents and they are clear favourites for promotion having been kicked out of Ligue 1 last season. Of course, they don't have a Ligue 1 side but they still have a couple of very well paid players that should be playing at least Ligue 2 so it will be tough.
But this is a project, it won't be a disaster if we do not get promoted first season (although it would be quite unlike me, if you forget the 'Brescia Blip')
The far greater concern is the financial side of things as rule #2 is all about making sure we balance the books.
As I write this I am dipping into the finances for the first time, so we will go through this together.

Right then!
Yikes, that looks a little worrying.
I hate factoring in prize money to breaking even, but I would hope we'd finish top 5 which would bring in €100k minimum but that still leaves a deficit.
So where are we burning the €?
Oh yay. It's always nice to see "non-footballing costs" and "other" getting right in there when it comes to the outgoings. As ever, nothing I can do about them and we still have no knowledge as to what they actually equate to.
Ground maintenance, nothing that can be done there. Matchday expenses, ditto. And the youth setup, well I will see if I can invest less in that by having a chat with the board in a moment.
Staff wages though, let's take a closer look.

You can see the three culprits. I thought we were all amateur, clearly not. It would cost me about €40k to sack all three and considering two of them have very, very close ties to the club I am going to have to suck it up.
Are we bringing in any money?!

You can see that gate receipts, matchday income and season tickets just about cover the ground maintenance costs to date, but that is unlikely to stay consistent throughout the season.
"Other" is there again, randomly cancelling out "other" expenditure.
Sponsorship should, in theory, cover the staff wages for the season.
But yeah, we need more fans coming in (average of 200 is the prediction I've made and 95 of them are ST holders) and we need to finish high up the table plus get a cup run going if we want to end this season in the black.
However, one of the main tenets of "balancing the books" is not that you have to balance them every season, especially early on, it's about having a logical plan where you know when and how you will start to break even and then become financially stable.
So, even now we know that if we win the league, for example, we will be close to breaking even as the projection suggests we will finish year one €250k in the red. Add in a decent cup run and we are laughing. Neither of those are guaranteed of course, so it is about minimising the outgoings right now – especially as we are not going to make any money on player sales until we turn semi-pro which, again I am assuming, will not happen until we get promoted.
Those of you that love a spreadsheet will be happy by the end of season one as I will be documenting all this properly.
The only thing I can really attempt to control is the performance on the pitch and that, with luck, will generate the income this season.
Au revoir until next time!