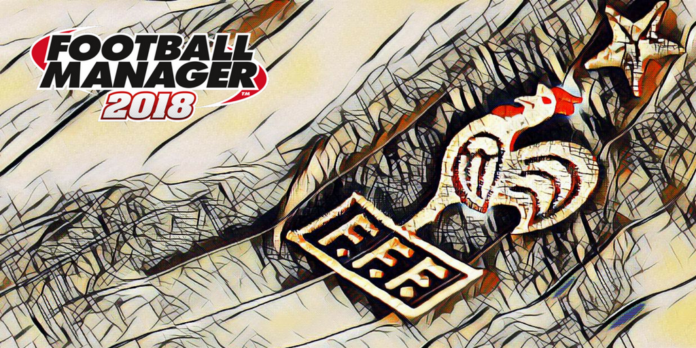 When Zinedine Zidane tells you to take over at AS Cannes, you take over at AS Cannes.
That should be a rule for life I reckon. Zizou came through the Cannes youth system before playing 60 times for the first team and if he isn't available to instigate this great club's revival I guess I am going to have to do it. It helps when Zidane's playmaking successor on the pitch, Johan Micoud, is the new chairman. Micoud played over 120 games for the club after Zidane moved on and was part of the France Euro 2000 winning squad so it's nice to have a chairman who might actually understand the game.
My assistant is no mug either. Michel Pavon played in Ligue 1 and La Liga and has had a spell as manager at Bordeaux. I'm not exactly sure why he is the assistant here, but hell. He has the pedigree so he can stay.
The HoYD is part of the furniture. Jean-Jacques Asso has done every single job as a player, coach, U18 manager, chief scout and probably washes the kit too so he can also stick around.
The goalkeeping coach, Francois Lemasson, is also a former player spending many years between the sticks having started his career at PSG. I like the core of the backroom staff and all I have to add is some scouting and a physio.
I'll have thirteen lads turn up for the first day of pre-season and three of them are going to be goalkeepers. It's your typical lower level mix – the youngest is 18, the oldest 35. We have a kid who was released by Marseilles, a right back who played for Cannes when we were at a higher level who went away and has now returned, an older striker who is a proper journeyman but scored wherever he has been and a lad who left us as a kid to join Nottingham Forest. This is proper amateur football, I love the smell of it already.
It is clear I need to bring some players in – we have no centre-backs and I can't see any of the current squad being retrained to play in there. At this level, versatility is going to be key as I will be looking to keep the squad small and keep costs even smaller.
We'll be playing my standard 4141 as I want to get the club a style and identity that can carry us forward over the coming years. The initial thoughts around recruitment will be young players released by the bigger clubs as I feel we have enough experience in the squad already. As much as Cannes have a reputation in the past for bringing their own through, we have to be realistic – that costs money and to pick up some kids let go by Monaco, Marseille and Nice does not.
Sod it, let's go one step further and create some hard and fast rules to make this interesting.
#1 I will only sign players on a free transfer
OK, that feels alright. There are always top talents available for nothing so I will find them. This rule will allow me to offer contracts to players with other clubs providing there is no compensation involved.
#2 I must always "balance the books"
That feels nice typing that. No more Mumbai and Hamburg flashing of the cash (although I did make one hell of a profit on my Hamburg transfers). I will work out the real wage budget in my time honoured fashion and stick to that from the word go.
Both these rules should be easy to implement initially as we are amateurs (as I have mentioned about 12 times already).
---
A WEEK OR SO LATER
Meh. Dynamics.
First meeting with the squad and I dared to suggest I felt we could finish near the top of the league.
The general consensus? A lot of Gallic shrugs and body language suggesting I had just suggested the impossible. Sure, Bastia are in our division and they have just been kicked out of Ligue 1 but that doesn't mean we cannot do something pretty special ourselves.
Only one team goes up from this division, a 13 team league. You never know, you never know.
My lot seem to think they know though, and they are voting "non".
Undeterred, I set about my initial transfer business which, as explained above, was pretty simple. If you were young, had been released by a Ligue 1 club and could play in a couple of different positions then you had a good chance of impressing me.
After successful trial periods, I offered fiches to the lads below.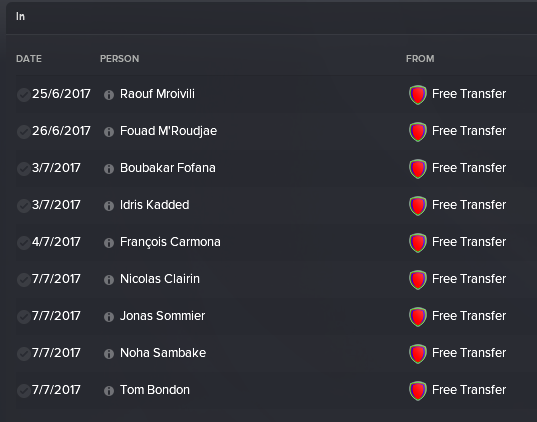 They all fit the criteria. 6 are ex-Marseilles, 2 are ex-Monaco and I think we have 1 ex-Bastia and someone from Lyon in there too.
The squad now has an average age of 24, which feels about right.
The preseason friendlies so far have been used to test out the guys I brought in on trial and for the next phase will be used to get everyone match sharp.

The last three or four will be used to start putting together my first choice XI.
The squad size currently sits at 23. Although they are all amateur players and don't actually cost me anything, I'd rather have a slightly smaller squad. Between 18-20 feels better, which would mean releasing three, four or five players. I'm already a bit overloaded in the central midfield positions, so I will probably select the weakest links, get them to do some kind of challenge and then bin off the losers. Or, alternatively, I could just judge them on performance.
I quite like Cannes, I have to say. The sun seems to shine a lot of the time and it would be good it some of that sunshine rubbed off on some of the players.
It's a fair bit of time before the actual season starts, so time to crack on.