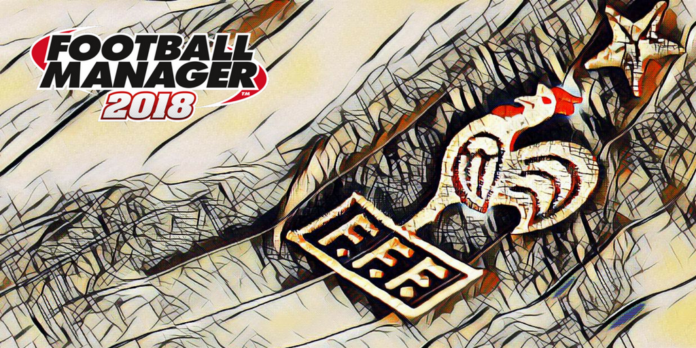 I need to get my FM mojo back. FM18 has been a funny old stick so far.
Getting sacked in Brescia was no fun, obviously but then the time in the ISL more than made up for it – despite the nagging thoughts in the back of my head that it was all a bit too easy and that I had not really managed in a "proper" top flight for far too long. So, I hopped it to Hamburg, stripped their overpaid, relegated squad down and got them back in the Bundesliga at the first attempt where we finished 5th in our first season back. Even that felt way too easy as all I was doing was snapping up young African talent and giving them a platform on which to play.
Don't get me wrong, I am not adverse to doing well – I just like there to be a bit more of a struggle, hence me trying to find a new place for me to lay my hat.
Plan A was to go back into B, or indeed C, team management. I fired up Sevilla C but for some very weird reason the 3D kits in Spain are completely banjoed for me and for most of my matches my team were playing as invisible's – this wasn't as cool as it might sound. The only other country where I could manage at a low level as a B team boss would be Germany and having just been at Hamburg I wasn't really up for that.
Therefore I started looking at Plan B – the good old fallen giant in a league where I've not spent too much time in previous versions. This led to me Division 5 in France and, as luck would have it, as I started trawling through the regional divisions I found some very, very interesting clubs who have fallen from grace quicker and further than the likes of Sunderland.
The rest of this post is going to become my uncensored musing into which club I am going to have a crack at – I spent a bit of time last night reading about each one and I have drawn up a little shortlist so please bear with me. This is kinda more for me than you lot.
---
Football Club de Gueugnon
The Twitter pitch: They have history, being formed in 1940. They come from an industrial town, the club was formed by steelworks workers. 1x season in Ligue 1. Shocked the world by winning the League Cup in 2000. Sylvian Distin used to play for them.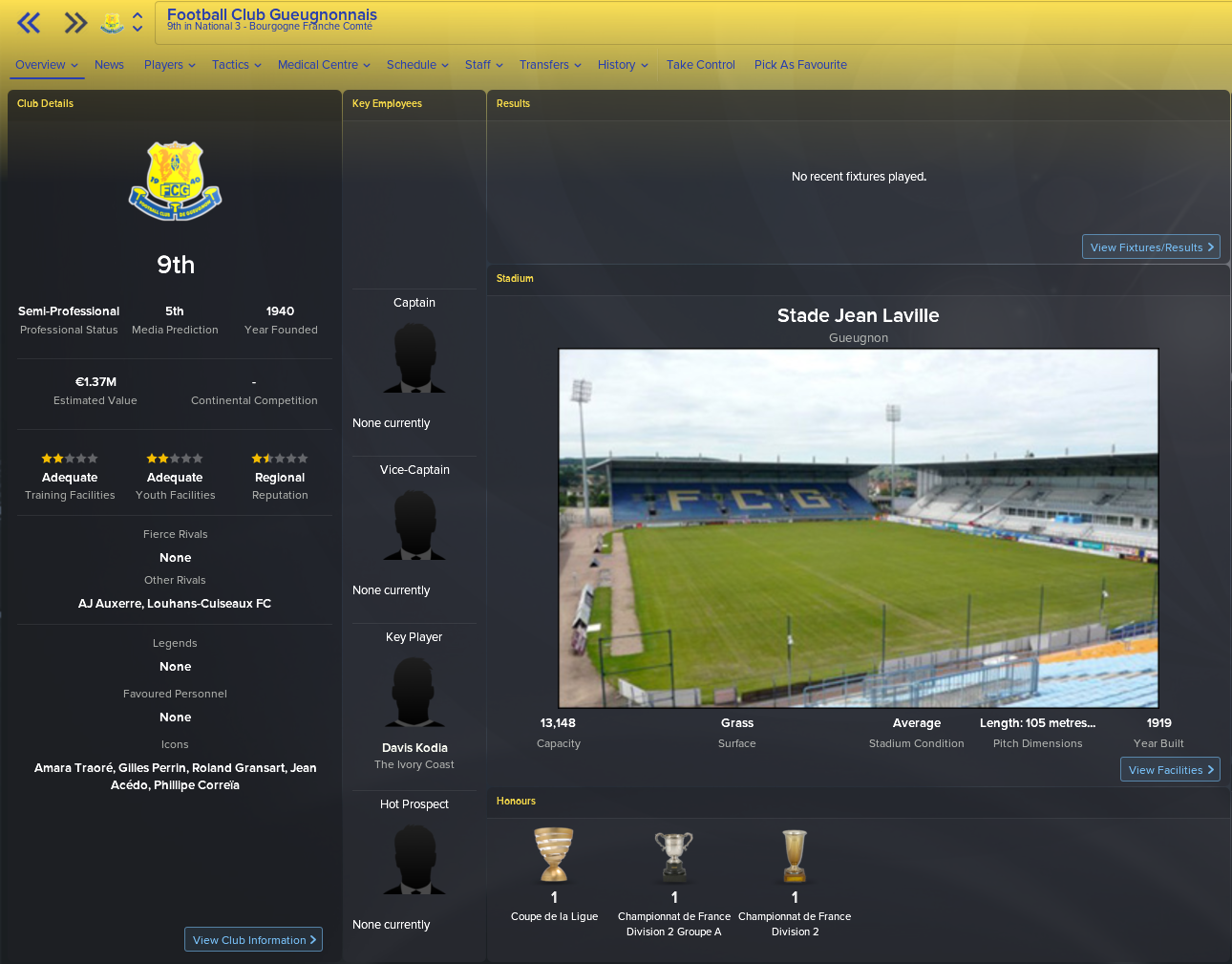 Pros: I like the fact they were the talk of France for 18 months then disappeared into obscurity. I also like their nickname, Les Forgerons (The Blacksmiths).
---
AS Cannes
The Twitter pitch: A founding member of Ligue 1, based on the French Riviera. Won League Cup in 1932. In Ligue 1 last in 97/98 and gave birth to Zidane, Vieira, Micoud, Clichy and Frey.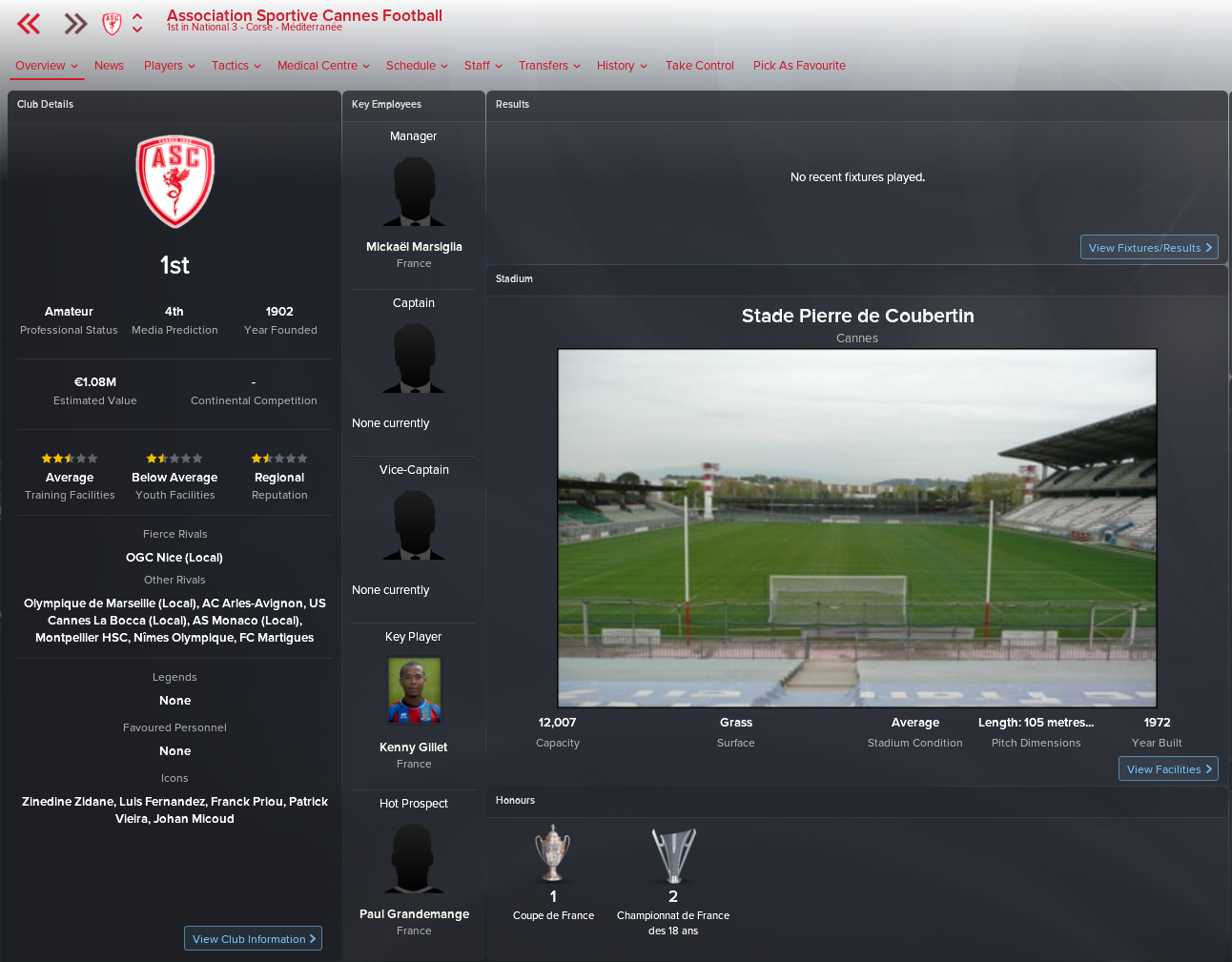 Pros: Their pedigree of finding young talent back in the day interests me. Also, living myself with a panoramic view of the Med, it makes sense for me to manage a club with a similar location! And they are amateur.
---
SC Bastia
The Twitter pitch: It's a bit like Parma really, financial implosion saw them kicked out of Ligue 1 and they are starting again in Div 5. Michael Essien and Alex Song both made their pro debuts here.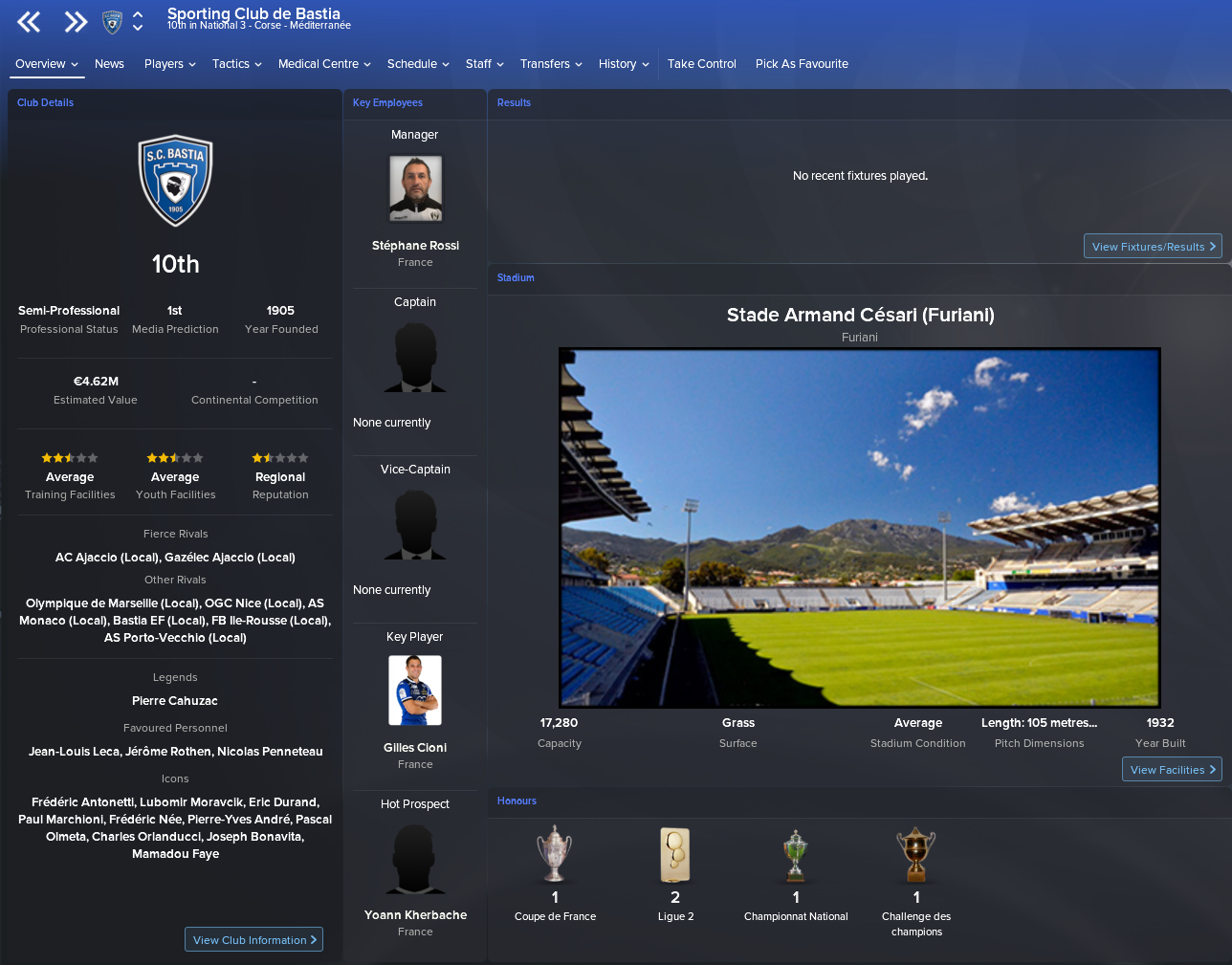 Cons: Might be a bit too easy, never like managing sides who are league favourites.
---
Football Club de Mulhouse
The Twitter pitch: Slightly odd choice, but both Arsene Wenger and Raymond Domenech started their managerial careers here. Have spent 7 seasons in L1 and 27 seasons in L2. Old club, 1893 and an interesting history.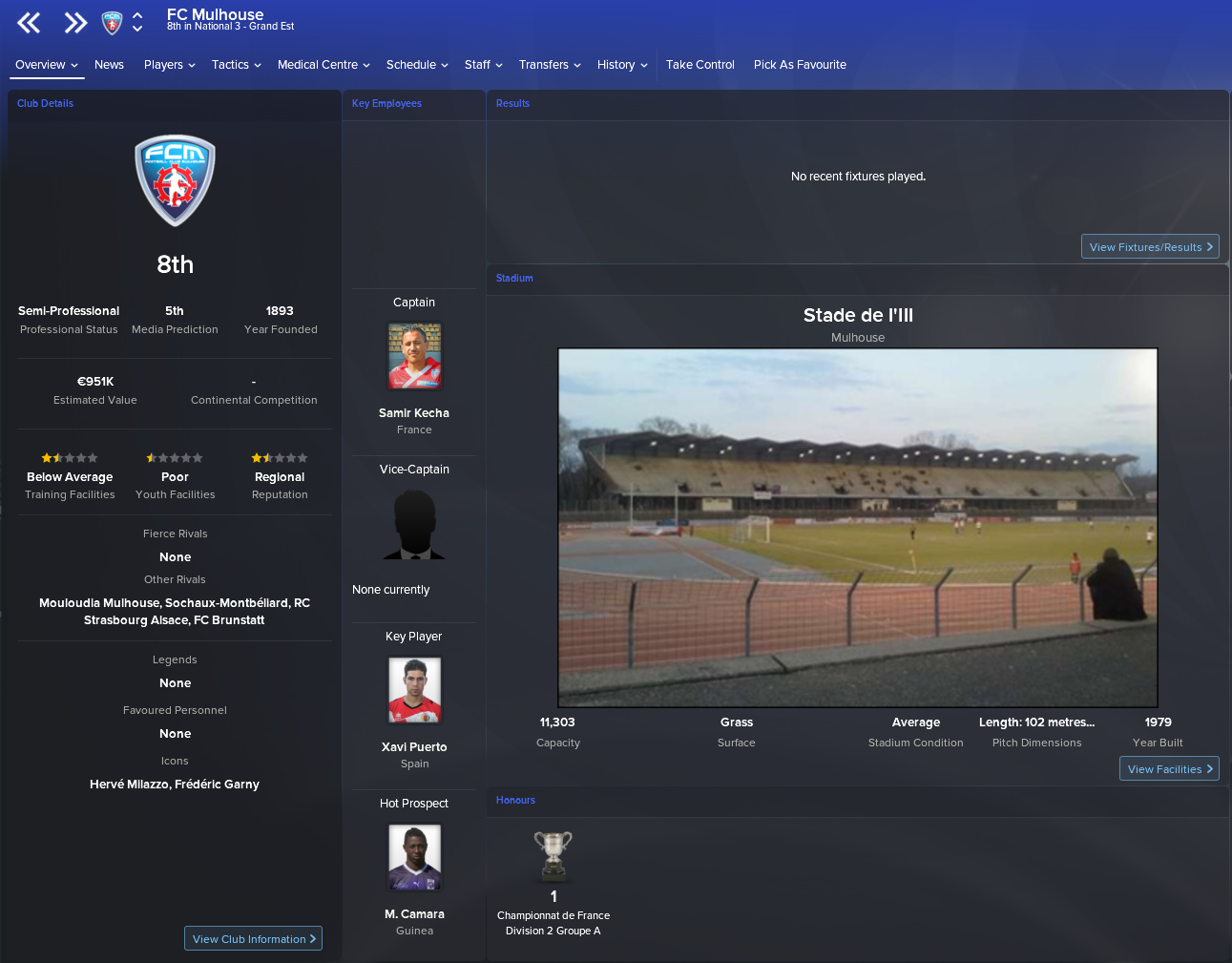 Pros: They are a bit different, not really a fallen giant but have a fascinating history: formed by English students, claimed by Germany, reclaimed by France after the war.
---
Football Club de Rouen 1899
The Twitter pitch: Another interesting history, formed in 1899 as a rugby club. Spent many years in Ligue 1 pre-1985 and reached the 1/4 finals of the League Cup as amateurs in 1999. Unofficial Ligue 1 Champions in 1945.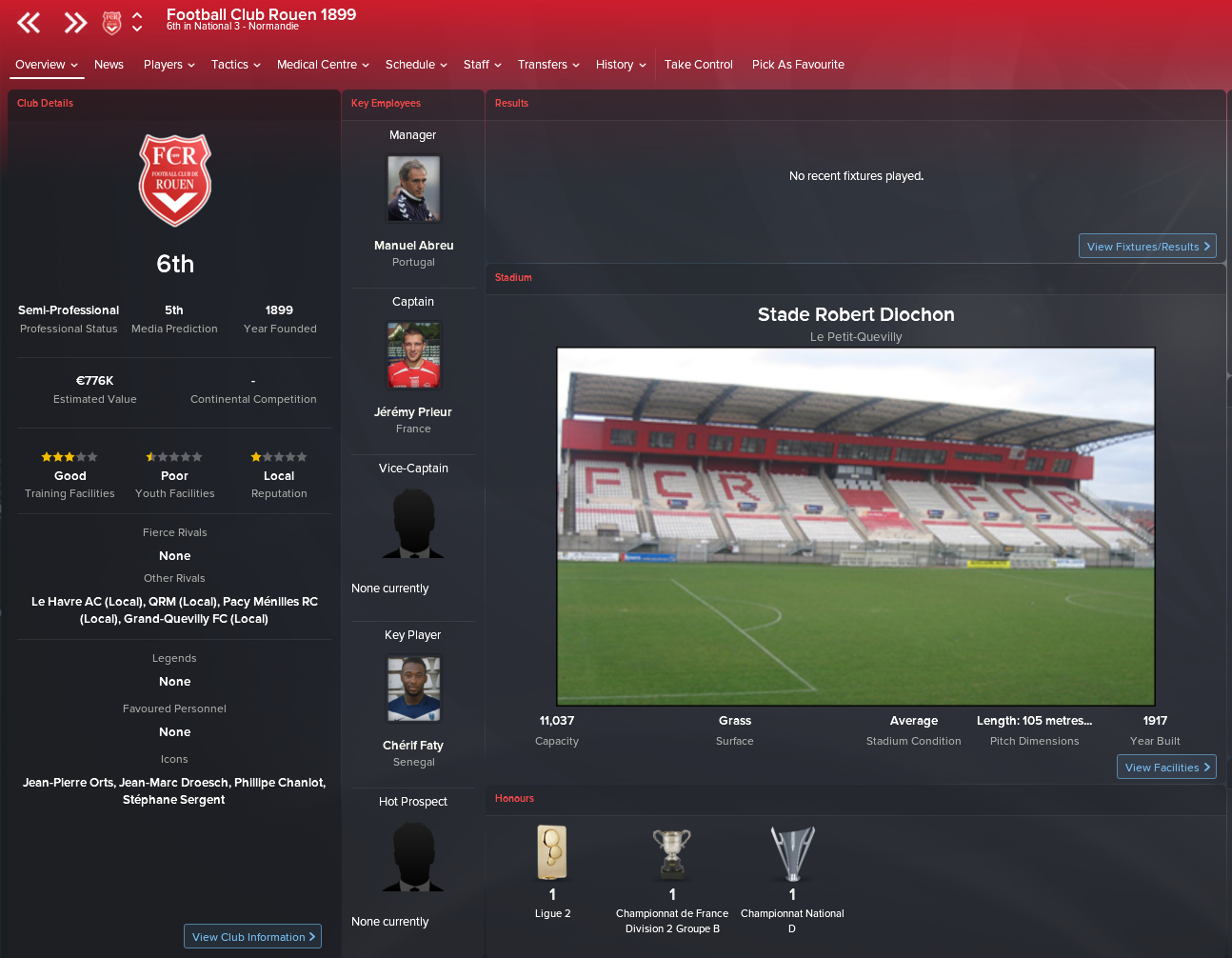 Pros: They won Ligue 1, allegedly, back in 1945!
---
Olympique Alès
The Twitter pitch: Not a great deal of information on these guys, but they were one of the 20 original Ligue 1 clubs back in 1932/33. 
Pros: I have a soft spot for any team that was a founding member of the league but has fallen away.
---
Racing Club de France football Colombes 92
The Twitter pitch: 240 characters is not enough to describe this club's history. Another founding member, won the title in 1935/36 and have 5 League Cup titles. Now the 3rd club in Paris, last in Ligue 1 in the mid-80's.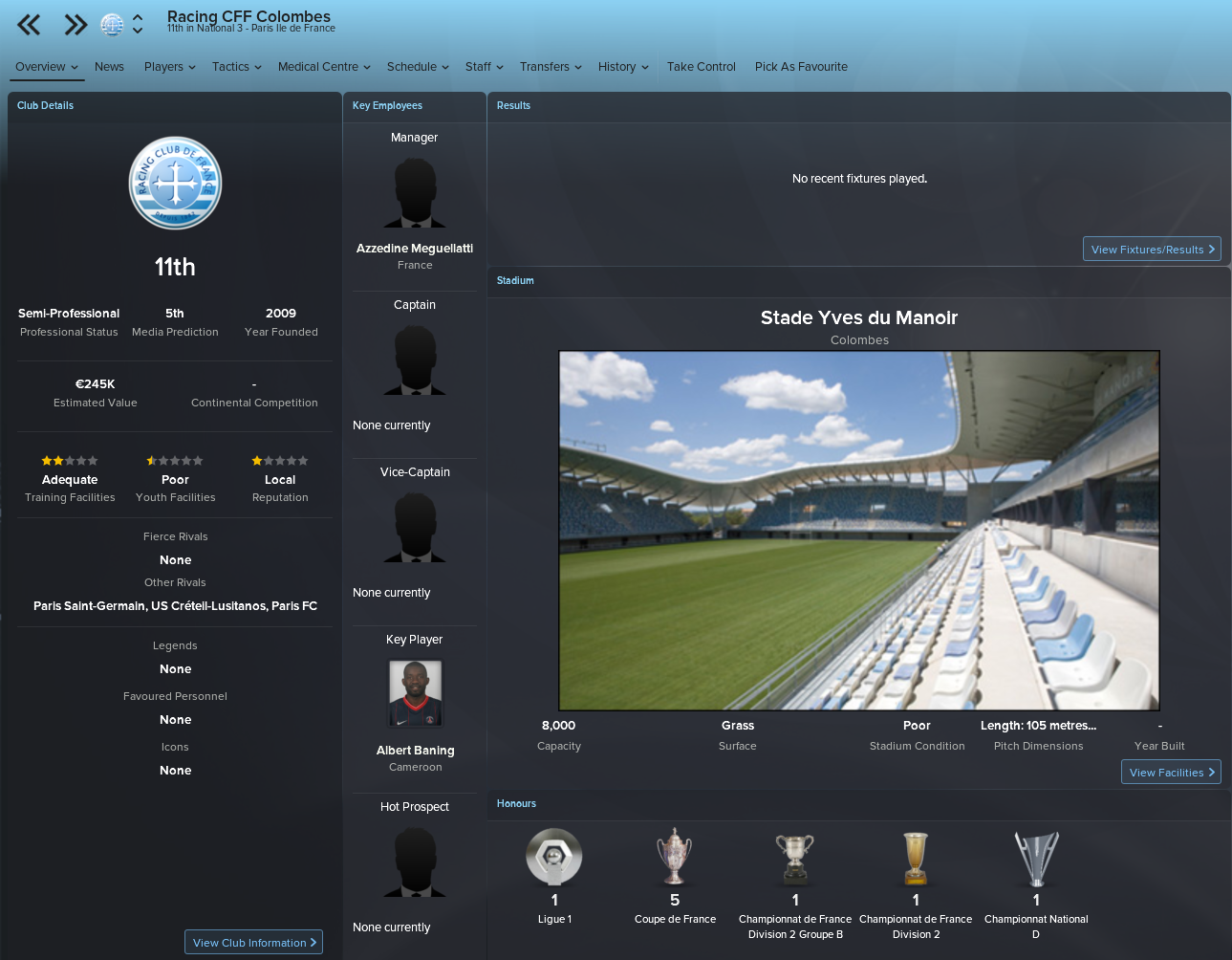 Pros: The dream of one day making the club the team in Paris. Two of my all-time favourite players played here in David Ginola and Enzo Franscescoli.
Cons: The fact the club is in it's 5th or 6th reincarnation puts me off a little bit.
---
The choice…
I actually cannot tell you how hard this is to pick, as each has its own merits. If only one of them were in Div 5 it would be a no-brainer, but 6 choices? It's almost impossible.
Colombes does have a draw with the whole Paris thing. I can probably rule d'Ales out as others have more or a story and a hook. Bastia is just too big. Rouen won Ligue 1 back in the 1940's. FC Mulhouse have never won anything, but there is the Arsene thing. AS Cannes had Zidane and Vieira in their ranks at one point – future World Cup winners.
It's an incredibly tough choice but at least I have got it down to the last four…
Racing Club de France football Colombes 92
FC Mulhouse
AS Cannes
Football Club de Rouen 1899
I might need to get some help to choose.