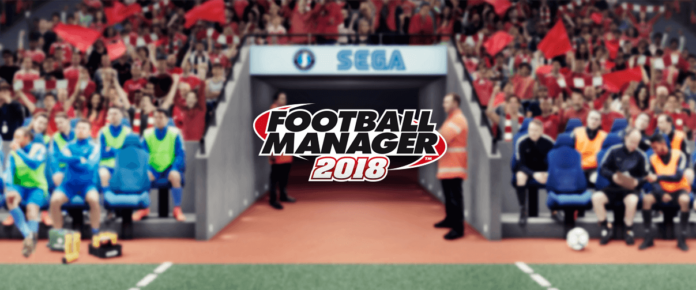 Oh boy has a lot changed since we last spoke. I'm glad to say things are going well on the field, where I'll discuss that more in the future, but we had our first major departure. As soon as the European window opened, Manchester City made a move for Miguel Almiron.
The Paraguayan, admittedly, hadn't exactly been sensational for us and he, understandably, wanted the chance to speak to them. He moved for £7.5m, I probably could have got more, but I've learned in the MLS that my transfer budget isn't an issue- it's managing the salary cap and everything else.
In his place we signed 19-year-old Brazilian midfielder Matheusinho for a club-record fee of £9m. He arrives as a designated player but, significantly, is classed as a young designated player so his impact on the salary cap isn't as severe. On top of that, he's pretty darn good and fits into my vision of buying young and cheap, developing and setting them up for successful careers in the big leagues.
We also signed 22-year-old defender Marian Saar on-loan from Wolfsburg as we're quite short central defensively. That's now my priority for the close season along with a top-class central midfielder who will play in a deeper role. For now, I'm very pleased with what we have.

On the field things are going well, although injuries are a concern. Matheusinho was absent for a few weeks, Carlos Carmona, our best midfielder, has also recently been out along with pre-season recruit Filippo De Col. It seems that as soon as one player leaves the treatment room, another takes his place and our depth isn't as adequate as I'd like it to be.
Still though, we're on course for what I hoped to achieve. As you'll see, the games played aren't level and I've swiftly learned that the MLS is a nightmare for scheduling. We play three matches in about five days earlier this season, having seen two games postponed due to internationals. I have no idea how it will work with the World Cup next summer, in all honesty.
The significant losses are the first match against Orlando, which probably ends our chances of finishing as conference champions or as winners in the MLS Supporter's Shield, but my aim of finishing in the top-two was a stretch as it is. The result that did hurt though was the MLS Cup defeat to Charlotte Independence, who aren't even assigned a league in Football Manager.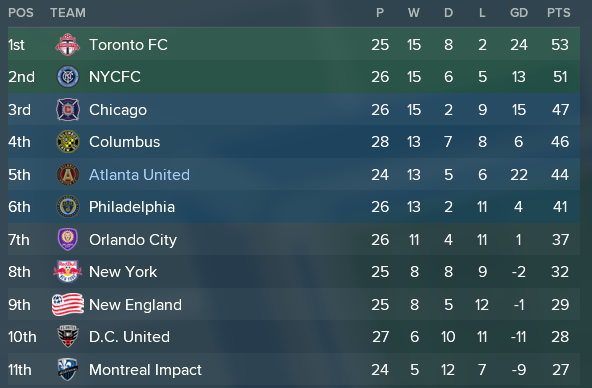 With ten regular season matches to play, this is where we currently stand. It's around about where I expect us to be and we still have a chance of securing a spot in the top-two, although I'm not really too fussed and our form has recently dipped. I'm spending a lot of my time reading up on the draft, which occurs in December, as it's the ideal opportunity for me to bolster my ranks with talented players.
Once again, the important work is being done behind the scenes. I'm delighted to have signed a new contract and, importantly, Josef Martinez has followed in my steps. It doesn't necessarily mean we'll keep him but it does remove his release clause- which is a massive boost, as it means we control the decision on his future.
Anyway, we have work to do as our play-off fate isn't yet secured. It should be in a few weeks but I refuse to give up until the matter is sealed. I've also already started prepping for next season, which is sure to be a stern test.