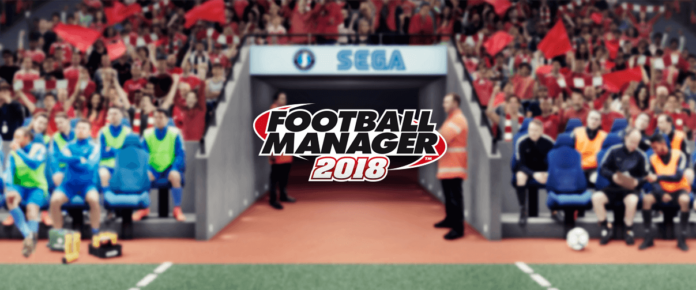 It's crunch time. We stormed to glory in the regular season, winning the Supporter's Shield with ease, and also secured the US Cup. With a double already secured, there's plenty to be excited about but we're not done yet as we look to defend our MLS crown.
Due to our victories, we've skipped the Wild Card round and instead enter in the semi-finals. I'm keeping a close eye on our potential opponents though as we're into the stage of the season where one mistake can be costly. We're the favourites to win, we've just got to live up to that tag.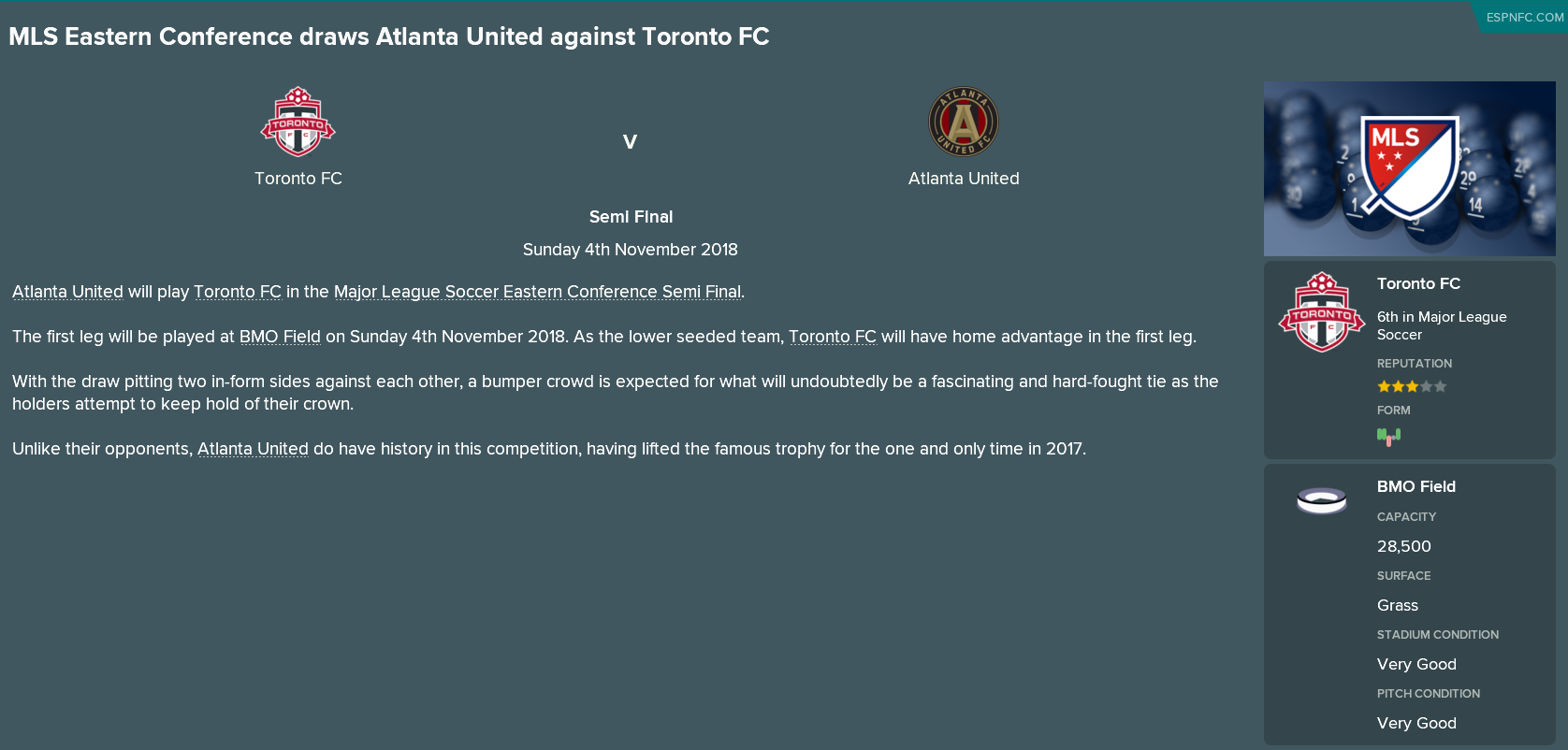 We're heading to Canada. They finished sixth in our conference but beat Montreal in the Wild Card round, so we need to be on our toes. In our four meetings with them thus far, we've lost once, drawn once and won twice. Our most recent meeting saw us win 4-1 in Toronto earlier this year, whilst we drew 0-0 in the opening stages of the campaign.
Filippo De Col and Carlos Carmona are both suspended for the first-leg, which is a real blow, so we utilise Marian Sarr on the right side of defence and Steven Lucimi in the middle of midfield. Andrew Carleton therefore has big boots to fill on the right side of our attacking quartet.
We start well, Josef Martinez having a goal disallowed inside five minutes, before netting again shortly after- and this time it stood. Carleton is then forced off through injury, so young Chris Goslin comes into midfield and we move Lucimi to his more favoured position on the right.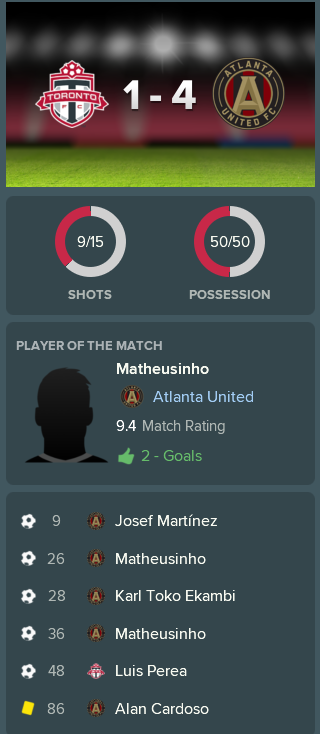 Matheusinho then doubles our lead, Karl Toko Ekambi getting his second assist of the game, before Ekambi netted himself and then setting up Matheusinho for his second goal of the game. Toronto score shortly after the break to keep things interesting but we're steamrolling through them. It finishes 4-1.
In the second-leg, Toko Ekambi scores after just a few minutes and Martinez gets another goal ten minutes later. Lucimi gives us further breathing room but Carlos Carmona receives a second yellow card after the break, giving us a huge whole in our squad for the next match.
It finishes 4-2 on the night, 8-3 on aggregate, setting up a showcase clash with Orlando City. They beat us 2-1 earlier in the year but we then smashed them 5-0, so I fancy our chances of advancing through the two-legged final.
Without Carmona, Marian Sarr fills in at central midfield for us but we don't manage to fire ourselves in front during the first-half. An Orlando man does the work for us though, putting the ball into his own net, and we win 1-0. It's not the performance we wanted but it's a record breaking 27th win of the season. I want 29. Two games to go.
Carmona is back for the second-leg and Martinez, thankfully, passes a late fitness test. Once again, we're handed the opening goal via an opponent as Kaka puts the ball into his own net. Before the break, one of our own does score as Lucimi heads home. Carleton comes off the bench to score, after I withdraw Martinez, and we're into the final after Matheusinho adds to the scoresheet after Orlando pull one back. One game to go.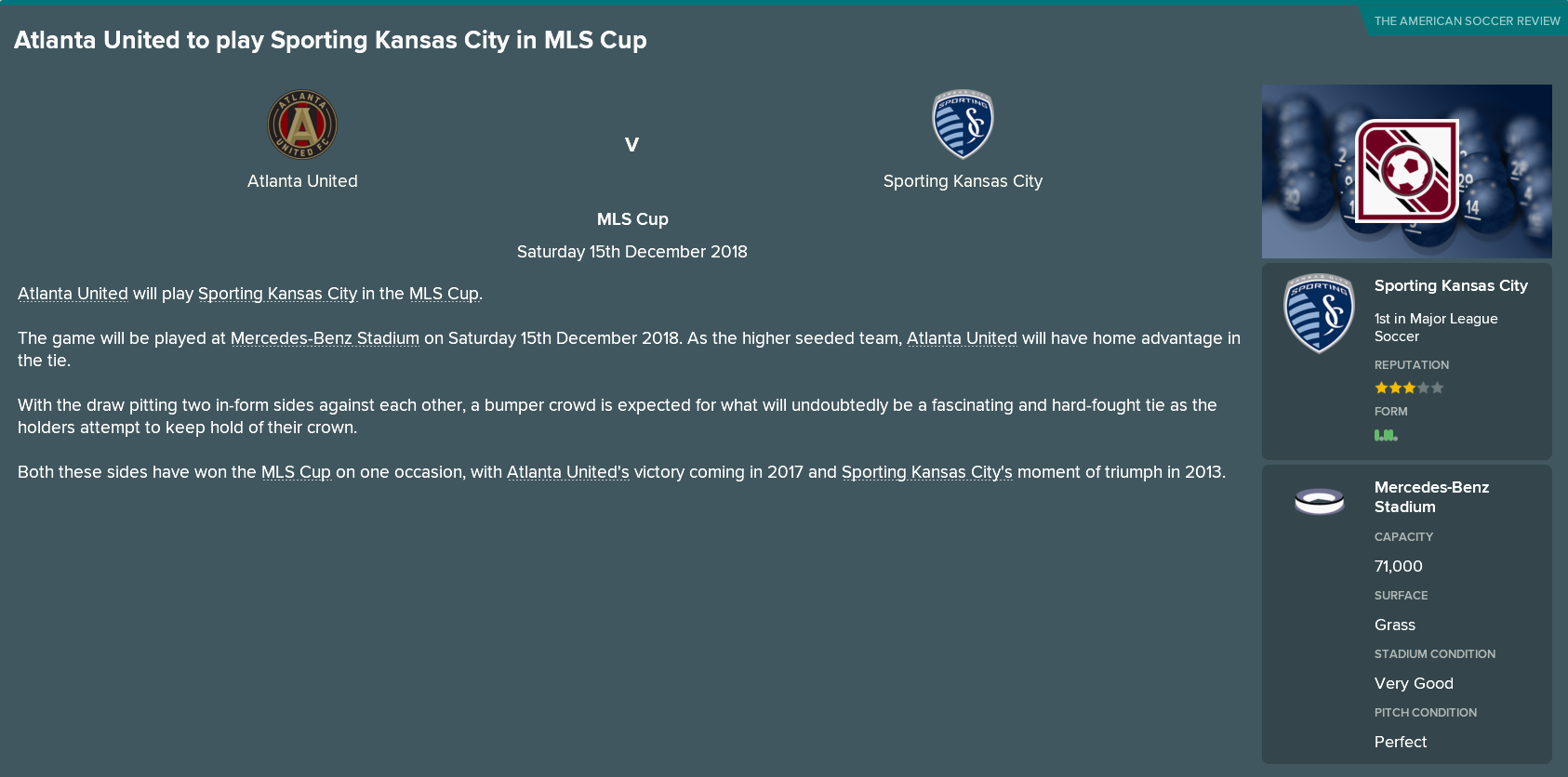 Sporting Kansas City are our opponents for the final, which isn't surprising due to their performance in the regular season. We played them in the early stages of the season, winning 3-0, but I'm expecting a much, much closer game this time around- but we do have an MLS record of 24 games unbeaten.
It doesn't start well, as we fall behind after 14 minutes, and we then swiftly concede a second. Toko Ekambi nets to keep us in it and we get a penalty a few minutes later, which full-back Alan Cardoso dispatches. It's certainly an entertaining first-half and I'm impressed with our determination after falling behind.
With 12 minutes to go, we fall behind again. This time we can't find a response and it's a gutting way to end what has been a spectacular season. That's the challenge of the MLS though, as it can all fall down if you slip. Slip is what we have done and it means I have fallen short of the board's expectations. Will I keep my job? I'd be extremely surprised if I didn't.
Josef Martinez is named MVP and retains his golden boot with 22 goals, whilst goalkeeper Robin Tsosie wins rookie of the year. Filippo De Col wins defender of the year and six of our players make the Team of the Year – including Yamil Asad, who left in the summer