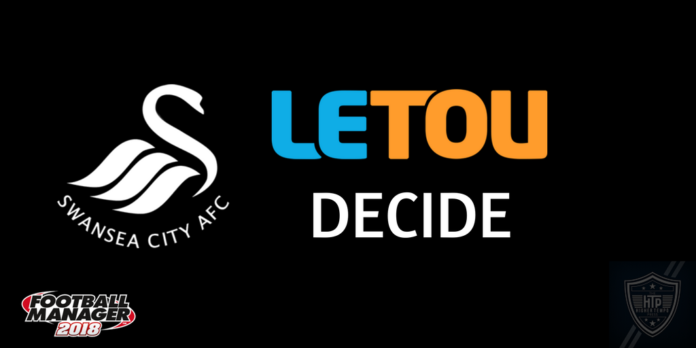 Before going into the press conference, there's the small matter of switching vice-captain to Alfie Mawson to be done. Ángel Rangel has served the club with distinction but realistically he is now a distant second choice behind Kyle Naughton at right (wing) back. We need some English grit and fighting spirit, God knows we need some leadership and with Leon Britton installed as club captain, Mawson serves as his official deputy.
It's time to face the media, let's get this show on the road. My press officer is Mike, lovely chap, affable and helpful. He's also a whizz on 'the' google and social media, top man.
Reporter: Do you feel that your ambitions for the club are matched by the chairman?
Me: Absolutely. I have no doubt that the chairman has the club's best interests at heart and the fans are fortunate to have such an ambitious mind running things. Having said that, I have only met him once and he had a lovely villa.
Reporter: Your first match in charge is against Bristol City in the FA Cup. How well are you prepared for that sort of test first up?
Me: I'm expecting a real challenge and a tough ninety minutes, there's no doubt about that. They'll probably be out to boot us off the park.
Reporter: On the off-chance that any agents read your comment today, is there a particular area of the squad which you are looking to strengthen in the near future?
Me: No comment. Good coaching is what is required here, not throwing money at the problem.
Reporter: While some managers are famous for their hands-on approach, others maintain a more reserved manner with their players. How do you see your management style?
Me: I think things work best when players feel valued as people as well as footballers. But I'm not Don Revie, I'm not soaping the lads down after training.
Reporter: New managers often bring about times of upheaval and some at the club might fear for their jobs. Will there be any changes?
Me: Everyone will have a chance to prove that they are worthy of being here. It was the same in Romania, no new sweeping broom.
Reporter: You arrive at the club as a replacement for Stuart Reid, who was unable to bring success to Liberty Stadium. Do you feel that you are the right person to take Swansea to the next level?
Me: I'm confident and ready to get to work, sometimes pressure is a good thing to work with. Let's face it, if the club were top of the league I wouldn't be here.
Reporter: Will you be targeting competitions like the FA Cup early in your tenure?
Me: I'm just focusing on one match at a time. We'll see what good hard working Swansea fans want on a poll at @thehighertempo.
Reporter: You've had very little time to prepare for your first match in charge against Bristol City; how much – if at all – will that impact upon your performance?
Me: I'm under no illusions about how long it'll take to get things the way I like them here; expecting everything to be in place for the first match would've been churlish to say the least. It's not my performance I'm concerned about it, it's that of the players.
Reporter: It is often said that different managers favour different competitions. Will you be concentrating primarily on getting good results in the Premier Division?
Me: Absolutely, that competition is my main focus. But at the same time, I represent the fans of this football club. We'll see in the vote how they feel.
Reporter: Looking at your first three games in charge, are you confident of getting off to a good start?
Me: I think there are definitely points to be had and I'm keen to get us off to a good start. Watford at home is a crucial fixture to win.
Just as we're leaving, he turns my shoulders and directs me into another room filled with hungry journalists. "Pre-match conference. That one was for your signing." Mike looks sheepish and well he should. I'm not going to tell him this yet but if I can't get out onto the training pitch to whip the team into shape, I will throw him under the bus. Not me personally, but I've got a family member with a similar name as him who specialises in that sort of thing.
Luckily, I've already primed my new assistant Nigel Gibbs to work on defensive positioning in my absence. If we have conceded more goals than anybody else in the league, that's where we begin.
Reporter: Some critics have spoken of the significant number of players out on loan from your club and have accused Swansea of stockpiling players. How do you react to such criticism?
Me: I think these so-called critics should find something more interesting to complain about. I've not even been here five minutes! Give me a break.
Reporter: The public will want to hear a proper answer from you. Some critics have spoken of the significant number of players out on loan from your club and have accused Swansea of stockpiling players. How do you react to such criticism?
Me: Football is a business and players don't increase in value if they're not playing any football. Ask me again Chris Robinson from The Guardian, and I will not answer another of your questions.
Reporter: There has been a lot of speculation this week surrounding the future of Sean Dyche, with pundits critical and some fans apparently losing patience with the Burnley manager. What are your thoughts on the matter?
Me: Sean Dyche is a superb manager. Some of the criticism has been unwarranted. It's an absolute disgrace what he's been put through. Some of you lot should be ashamed.
Reporter: What are your thoughts on playing Bristol City in the FA Cup?
Me: I think it'll be a great spectacle and the sort of match which captures the imagination. Lee has done a good job there and it'll be interesting to see how things turn out. Bristol City are doing well, sixth in the league last time I checked.
Reporter: Given the importance of the upcoming match for the two teams, there is an incredible hunger from the Swansea fans to get a positive result. Does the added pressure, given what's at stake, affect you in your preparations at all?
Me: Far from it, it's business as usual as far as I'm concerned. I want a positive result, same as they do.
Reporter: But the fact is that managers can often crack under the pressure, you seem to handle it pretty well, can the same be said of Lee Johnson?
Me: I think so yes, we're both professionals and are used to dealing with pressure like this, Lee is a very good manager and I'm sure his side will be well prepared. I know his Dad, nice bloke.
Reporter: Recent reports have suggested that you are keen on making Tammy Abraham's loan stay a permanent one. Are you prepared to go on record with your thoughts on this story?
Me: I won't be discussing any transfer stories today, sorry. I've not even made that assessment yet, how could you know?
I can't even get through the door before Karl Halabi (Head Physio) wants a quiet word. I make sure we're out of earshot of the jackals in the press room. It turns out Ángel Rangel got injured in the training session I missed because of these two press conferences.
A hip injury to the 35-year-old might warrant some elder statesman jokes but it does mean that he'll be unavailable for two to three months. Out of respect for his status, I agree to send him immediately to the best specialist we can find. Turns out that appointment of Alfie Mawson as vice-captain might have been a good move after all. I might be onto something here.